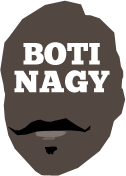 ---
Advertising opportunities available.
Please contact me.
---
FFT1: What's yummy and upset tummy
Tweet
FOOD FOR THOUGHT: There really can be no such thing as an "upset" in Round 1, surely now. And yet, because, incredibly, 10 of 11 road teams won in the NBL and WNBL opening round, we've even allegedly had "boilovers!"
Come on. Seriously now.
All we have to go on as scribes, "experts", commentators, pundits, fans or foes is our own expectations.
So it does crack me up to hear the word "upset" thrown around so freely and frequently when we, as yet, have no true idea where anyone can or will finish.
We only have our own guesswork – in some instances "educated" guesswork, in others, notsomuch – to go by so when Brisbane embarrasses New Zealand in Auckland, the only people "upset" are those who predicted a Breakers win.
Pre-tipoff, can we truly know how new Breakers coach Kevin Braswell is feeling, or that Cam Gliddon will have a career-shooting night?
So the result is not really an upset, except to Breakers fans. For others, it is, at best, a surprise road win. But even then, why should we be surprised?
If you're going to make playoffs, you have to be able to win anywhere, not just in the comfort of your own gym.
And again, what pressures accompany a first game at home, wanting so badly to perform in front of your faithful?
Like I said, 10 of the 11 games were won by the visitors – unprecedented – and it was only in the 11th game that the winner was evident early. (And we all know Perth was never going to lose to a team which had to travel in absurdly cramped conditions on the back of a historic four-overtime home game. If Illawarra had won in Perth, now THAT would have qualified as an upset!)
Perth beating Adelaide in Adelaide … should we assume that's never happened before? Or Adelaide bouncing back after a hard opening night loss to beat a contender next? That's never happened before?
How is a settled Adelaide beating a new-look Sydney, playing in front of a record opening night home crowd full of expectancy, an upset?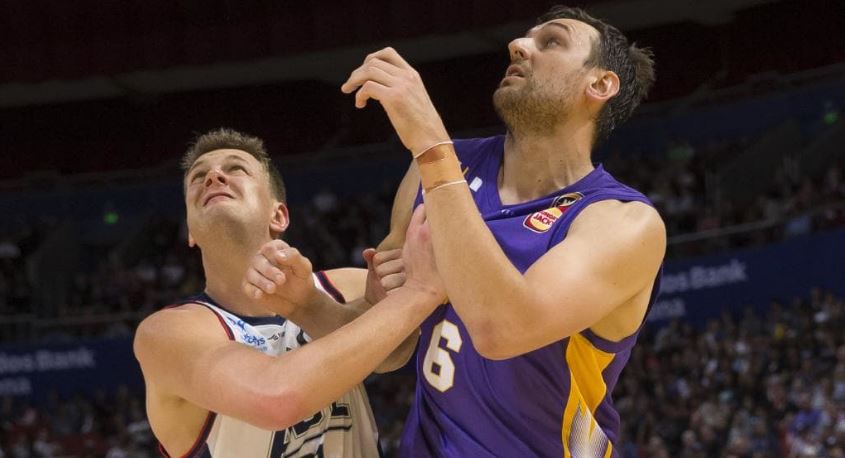 Does anyone know how nervous Andrew Bogut and his teammates may have been? Or does an NBA champ playing his first club game in Australia not get nervous?
Having tipped Illawarra to beat Melbourne, nothing about that contest surprised or upset. OK. Going to four – count 'em, four – overtimes was a surprise for sure. But United winning in the end? It could easily have gone either way.
Cairns ambushing Brisbane. Is that an upset? If the Taipans win the championship and the Bullets finish sixth, in hindsight, will Saturday's win by the Orangemen be viewed as an upset?
Or the Breakers bouncing back after their shock home loss to catch a celebrating Melbourne raising its championship banner but fatigued after their epic hour-long win in Wollongong? An upset?
Honestly. It won't be for quite a few weeks yet before teams start to show some consistency of form and we can truly gauge who is good and who is wood.
* * *
DOES anyone know definitively where Perth Lynx might finish in 2018-19? Of course not. So how can Adelaide Lightning's comfortable win in the west qualify as a "boilover?" Should the Lynx finish last, most people will look back on Saturday's WNBL result in Perth and say: "Yeah, no biggie."
But, apparently, it's a boilover. Week One. A boilover. Pardon me while I slap my forehead.

Canberra beating Sydney was not a huge surprise, unlike Bendigo's win over Melbourne and Dandenong's success in Townsville.
Given that the former of those two is being hyped for the championship and the latter is the defending champion, both of them losing at home might sneak in under the title "upset".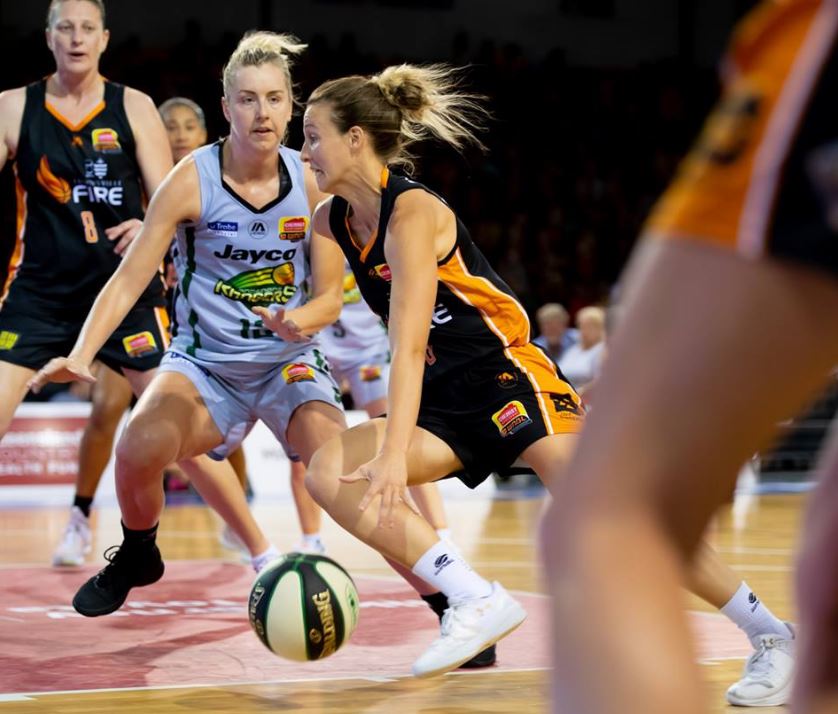 Then again, if Bendigo and Dandenong are contesting the Grand Final Series early next year, no-one will view those opening night wins as upsets, will they?
Because they're not, and they can't be until form within the 2018-19 regular season, genuinely is established.
* * *
MEATBALLS (Formerly "Yeah, No Kidding")
NBL was back on the box in a big way through Round 1, the NBL and WNBL on Fox and respectively also on Nine and SBS. It was fabulous, though not all smooth sailing.
Andrew Mulligan in Auckland had an excellent post-game interview with Brisbane's Cam Gliddon with some top questions and relevant answers. A colleague's earlier interview with a clearly unhappy Corey Webster was the opposite of rivetting television.
Fast forward to Adelaide where Paige Cooper had a pleasant enough debut, before a post-game, on-screen deer-in-the-headlights moment. It's live TV Paige.
When the red light is on, so are you!
That said, otherwise her debut was full of the requisite enthusiasm and there are better times ahead.
Hopefully also for Steve Carfino who mentioned during the Kings-36ers call how Andrew Bogut fouled out in the first half in the loss to Adelaide at the Blitz. He didn't. He fouled out in the game's waning moments.
But Captain Facts?-Who-Needs-Facts? was even less on the ball when he mentioned 36ers import Jacob Wiley was in danger of being sent home. Even Shane Heal baulked at that. Steve? Here's a quote from Joey Wright, 36ers coach, for you regarding Wiley: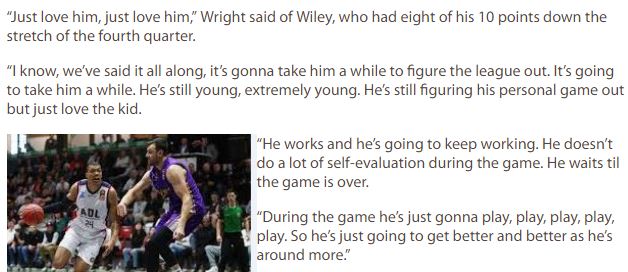 Thanks for the effort Steve.
The Illawarra-Melbourne 4-overtime epic also had an epic call. Hats off to all concerned for so accurately reflecting the drama and theatre of it all.
To Brisbane and a new voice (face? hairstyle?) as legendary NBL "bad boy" Simon Kerle joins the telecast. Softly-spoken (maybe turn up his mike a fraction) and clearly having mellowed, it was a very promising start.
Brad Rosen in Perth? What next? Cam Tragardh in Auckland?
A tough game to finish the NBL round, it's amazing the bias was nowhere near as pronounced as it was in Sydney.
Carly Wilson, meanwhile, did it right in Perth for the WNBL opener, even if the home team received a lot more credit than it deserved as this contest wore on.
IN other media...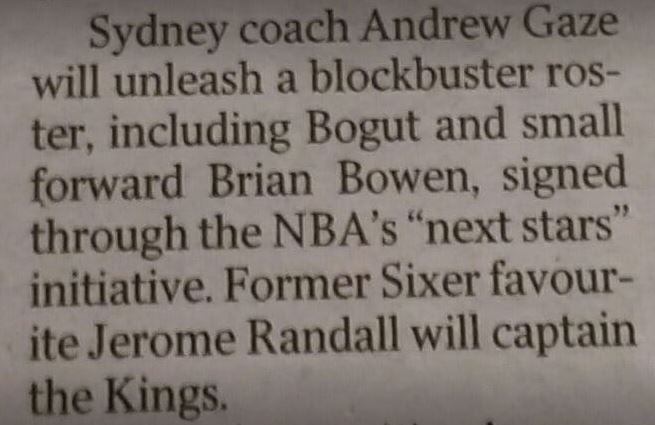 NOT sure if this one (right) was the best blunder of the week but it was one I screenshot.
How quickly they forget, eh Jerome?
There was another beauty, talking about how well 36er Nathan Teys performed against Perth. But that one ultimately was corrected.
Easy mistake to make, obviously.
* * *
BEEF of the WEEK
WHOEVER is responsible for that ghastly, cringe-inducing advertising disaster which is the FirstEver.com TV commercial should immediately forfeit their high school lunch money.
First Ever? Try Worst Ever. And not just dreadful on a scale which starts at Shoot Me and goes all the way up to Appalling, but how about how much it was flogged and flogged and flogged and flogged? The remote mute button and I became even more intimate this past weekend.
Someone at the NBL please, please, please sit through the coverage of a game and watch how quickly that ad goes from annoying to throw-a-brick infuriating. Please. Someone do it. Before automatically rushing to the defence of the NBL's brand, just actually sit through a game as this ad is flogged beyond death.
Then check out the public reaction to the commercial via the social media backlash. And don't think "People are talking about it. This is a good thing." Recognise people are talking about it because they hated it and it will do the brand zero good and unfathomable damage.
Oh, and the Hungry Jack's ad. Again, seen two and three times per ad break FFS. It was so tedious I actually started to look forward to the last shot with the two guys pretending to bite into a Whopper and then pretending to chew the air in their mouths.
* * *
STEWIN'
THE idea of home teams wearing their coloured uniform and every visiting team wearing white (except, thankfully the light blue boys from across the Tasman) long has been a bug bear.
It's simply stupid. It means every week your home team looks the same and every visitor looks the same!
The NBA's general rule-of-thumb is home teams wear their light strip so every team coming in is in its colourful colours. See below...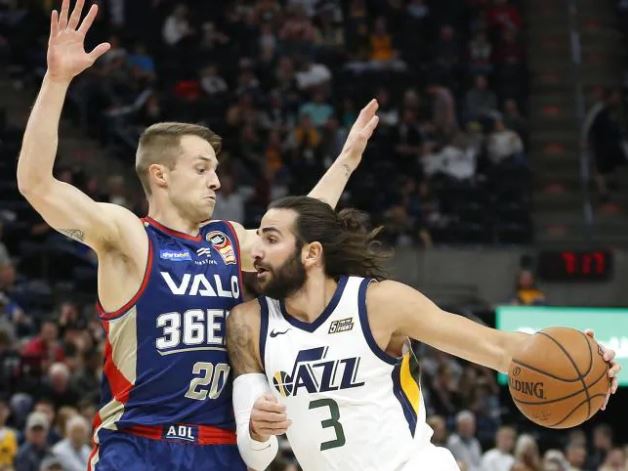 But what made it even more indefensible through Round 1 was that in Auckland, NZ was in black, Brisbane in white. In Adelaide, the 36ers were in navy (near enough to black), Perth in white. OK, let's head to Wollongong where Illawarra is IN BLACK now, Melbourne in white.
Basically, we could be watching black-and-white TV to have the same result! Remember black-and-white TV?
So now picture NZ at home in light blue and Brisbane in its royal blue. Adelaide in white, Perth in red ... does this sound more "colour TV" appropriate?
* * *
BIGGEST WINNERS/LOSERS
CLEARLY Perth looks the obvious biggest winner of the NBL round, beating Adelaide in Adelaide before going 2-0 over a fatigued and flat Illawarra. But actually, Cairns is getting our nod for Round 1 after not only opening its season with a huge road win over derby rival Brisbane, but by doing it despite going 5-of-24 from the 3-point line, one of those Melo Trimble's shot on the siren.
SADLY for Hawks fans, Illawarra was the round's biggest loser. Finally beaten in quadruple overtime, the Hawks then had to bus to Sydney and fly economy to Perth, seven-footers trapped in seating designed for the ordinary folk. When all is said and done though, Illawarra starts with a 0-2 mark no-one covets.
WAS Adelaide without a centre beating Perth in Perth bigger than Dandenong topping defending champion Townsville in Townsville? Um, no. So the WNBL's biggest winner was Dandenong, even though Bendigo also deserves an honourable mention for reasons clear in the next sentence.
AFTER all the buildup and the excellence of their home-game presentation, for Melbourne to lose at home to Bendigo made the Boomers easily Round 1's biggest loser. So much talent, so much potential ... and the L.
* * *
FOR THOSE WHO HAVE ASKED
SINCE being waived by the NBA's Brooklyn Nets, former 36ers captain Mitch Creek has been added to Long Island Nets' G-League roster.
* * *
CONGRATULATIONS to Perth's Rhys Vague. Against the 36ers, the Wildcats big man got away with the most obvious double-dribble in many a fine year.
Not only did he get away with it, but believing his luck was at its best, he then drove to the hoop and was fouled and took two freebies. Nothing Vague about his intentions but do we need four refs now?
* * *
ADRIS DeLeon is loving it in Adelaide, even more than Jacob Wiley (below)...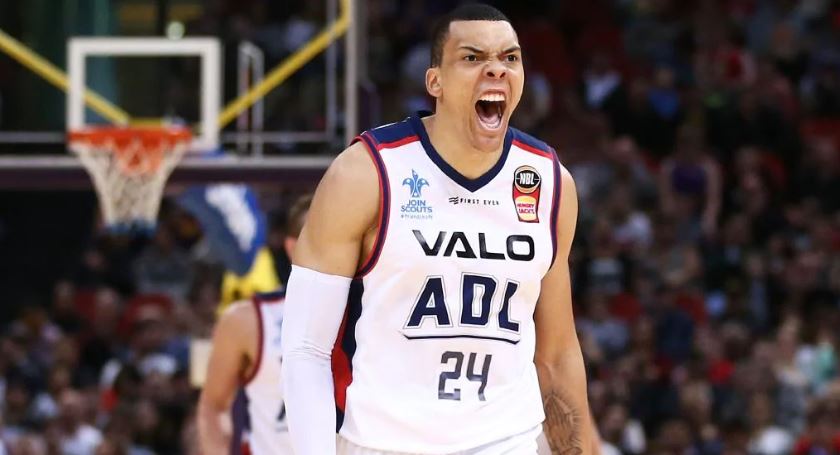 "Of course I love it," he allegedly said. "Man, they've even put my initials on all the uniforms!"