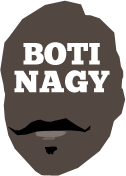 ---
Advertising opportunities available.
Please contact me.
---
FFT10: Formalising 'Indigenous Round'
Tweet
FOOD FOR THOUGHT (Main Course): I'm not historically savvy enough to be sure but I suspect acknowledgement of what Indigenous sportsmen and women have contributed to our elite sporting landscape may have started with Kevin Sheedy's "Dreamtime at the G" innovation.
Back when the former Richmond VFL hard nut was coaching Essendon's AFL team, he initiated the annual innovation with league support, and now it is one of the true highlights of the annual footy playing calendar (below).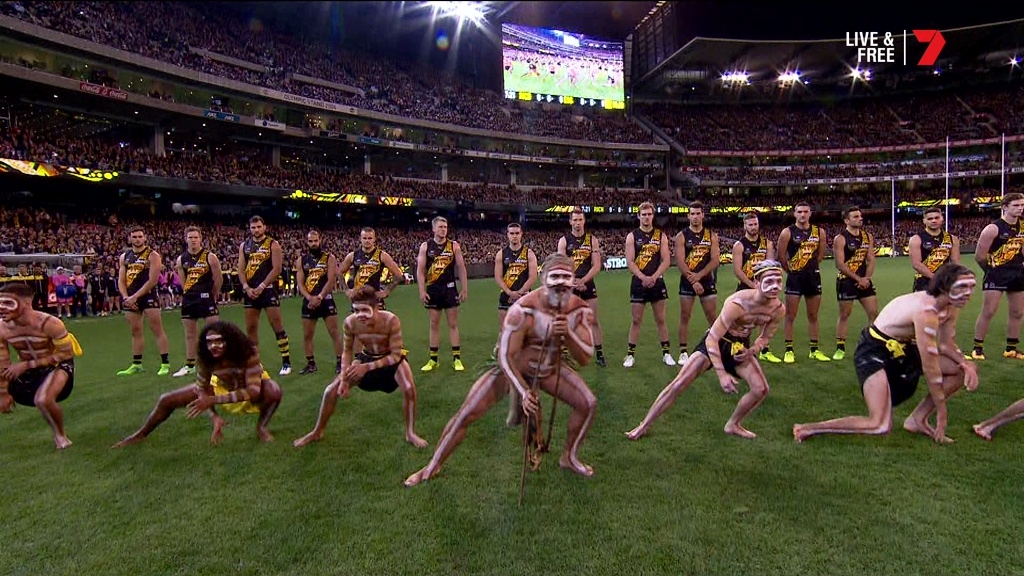 Today, The Age in Melbourne and Daily Telegraph in Sydney were reporting the NBL is investigating an annual Indigenous Round following the overwhelming support for Illawarra Hawks' initiative last week against Sydney.
In the WNBL, Dandenong Rangers and Canberra Capitals also both wore Indigenous-styled uniforms for home fixtures against Bendigo and Perth respectively.
And the Kings have revealed their last game of the regular season against Cairns Taipans now also will follow an Indigenous theme.
Clearly, as evidenced by his supportive and enthusiastic post-game comments in Wollongong, Kings coach Andrew Gaze is a big supporter of the idea.
"Fantastic, I love it, I absolutely love it," he said. "Anytime we can provide recognition to the Indigenous plight, it is a privilege of playing a game that we can be part of a process to educate.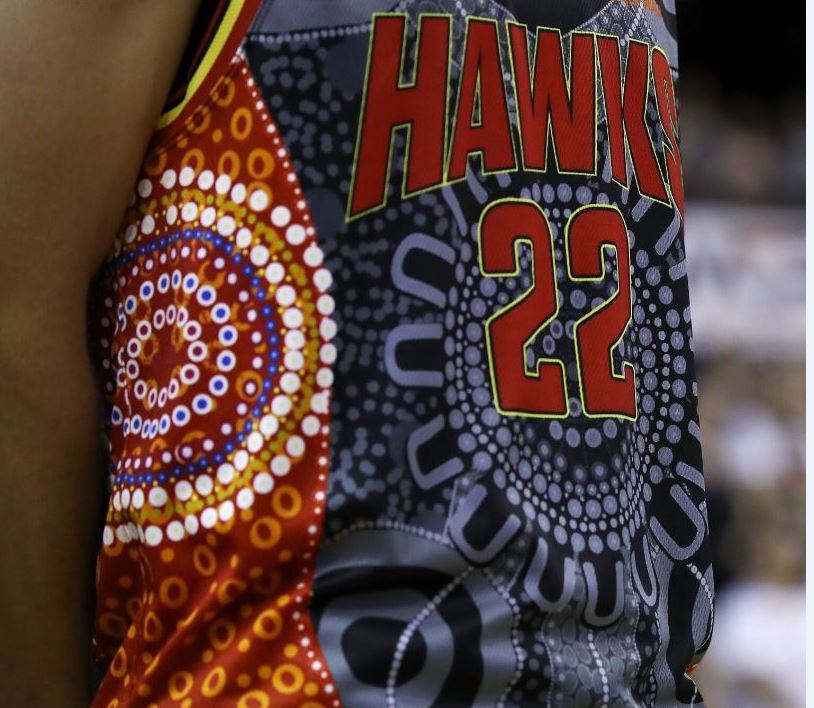 "And to share in this and what Illawarra have done to create that awareness, is something that ... thank goodness it was against us because I think it is an unbelievable initiative.
"We, as a sport, when you think of what many of our Indigenous communities go through, and here we say 'this is the privileges that we have' - it provides a really, really good perspective.
"And through these games, if we can do that, Illawarra does that, we as players just educate ourselves a little bit on some of the challenges that in this society we should be very, very concerned about - to say we as a nation need to do better and it's important these types of things can help us get better, then it's a good situation."
NBL CEO Jeremy Loeliger was on the front foot today, applauding Illawarra's decision and assuring the exploration of a league-wide initiative, Aussie NBA star Patty Mills in the forefront of support for any such move.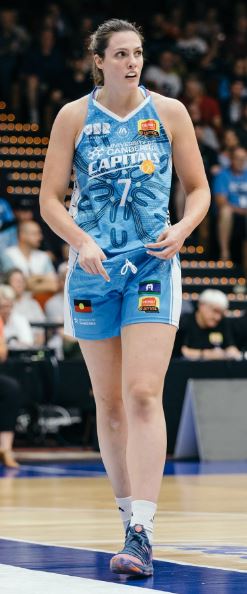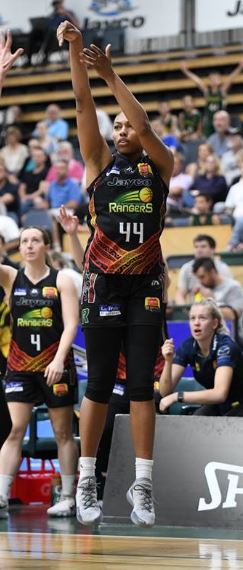 Canberra and Dandenong WNBL teams also looked super sharp, embracing Australia's Indigenous cultural heritage.
"Dandenong did an Indigenous game last year as well, with the African community," WNBL Head, Sally Phillips said.
"I'm absolutely passionate about this and I think BA and the WNBL should look into having a league-wide initiative."
* * *
HORS D'OEUVRES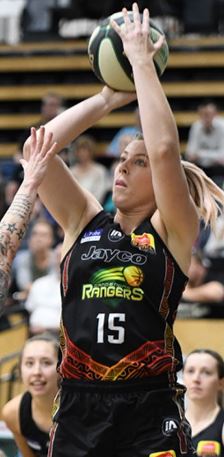 GIVEN when Canberra Capitals played in Adelaide a couple of weeks earlier and Lightning's MC managed to call Kelsey Griffin as Kelsey Grammar, it should be no huge surprise last Friday he managed to call Adelaide small forward Steph Blicavs as Sara Blicavs, her sister-in-law who plays for Dandenong!
Not just once, either.
Nice to know which player is on your home team, right?
Or was Adelaide's MC just getting in early re Sara's first game back for the Rangers on Sunday (pictured right)?
Hard to know. Though not too many would mistake them as twins.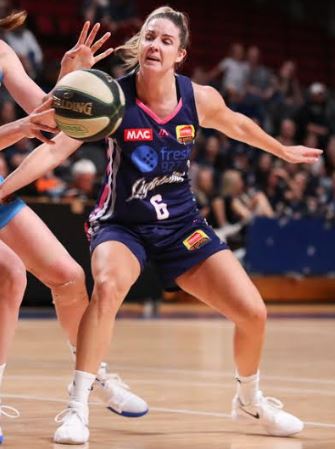 Then again, if you can confuse the star of TV comedy "Frasier" with arguably the most in-form player in the WNBL, nothing should surprise and anything is probably possible.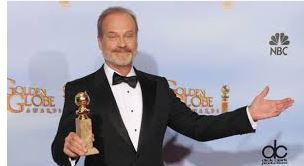 DON'T look at me. I'm listening ... but it makes no sense.
* * *
MEATBALLS (Formerly "Yeah, No Kidding")
LET'S start at the top by congratulating Nathan Strempel and Cam Tragardh for their post-game NBL wrap and work on the Cairns-NZ match.
They filled the time well, their summaries were succinct, pertinent and to the point, with nice turns of phrase, and their look forward to the Melbourne-Perth game actually did excite at its prospects and possibilities.
For anyone in the rest of the broadcast team in any doubt, check the video. That's how it's done.
NOT how it's done is something the team responsible for NBL television coverage doesn't seem to understand when it chooses to cut from live action to replays.
We've seen them miss fullcourt shots before but in Perth, where suddenly there was a question-mark over the Kings' success, the broadcast's director once again got it wrong.
When the refs came back to report Sydney had in fact won the game and it was over, the coverage missed the renewed jubilation because, yet again, the Brad Newley steal and Andrew Bogut ball toss was being replayed.
In the words of James Bowman on Twitter...

WELL done Shane Heal picking up the obvious error in FOXSPORTS' graphic below.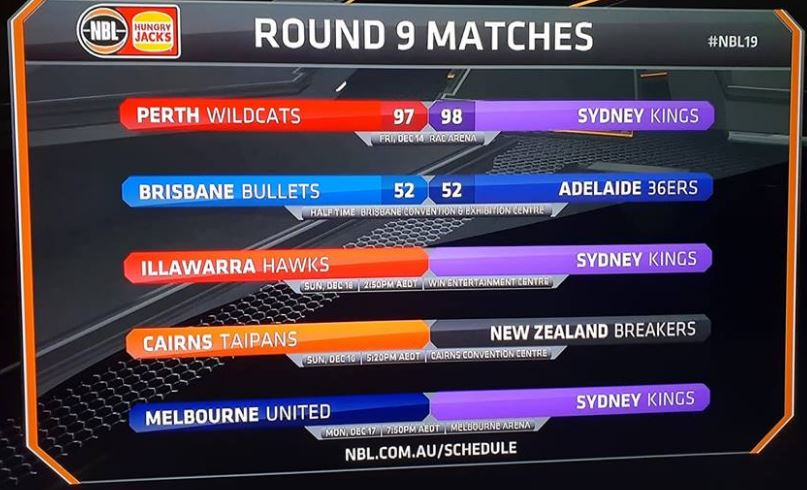 No, Melbourne United were not playing Sydney Kings last night, no.
The post-Illawarra-Sydney banter between Heal and jubilant Kings coach Andrew Gaze also was fun television, though how Drewey likened import David Wear - describing him as a very good shooting Warrick Giddey - to his Melbourne Tigers teammate left some of us baffled.
Giddey was renowned as the NBL's greatest role player and glue guy. Can't see Wear breaking anyone's nose to send a message his team will not be trifled with in a grand final.
* * *
BEEF of the WEEK
IT doesn't take long to count down four seconds, does it?
Only a timeout and a handful of seconds after David Wear and Daniel Kickert celebrated the Kings import hitting the 3-point match-winner over Perth, it was again a "wait and see" moment for the NBL after Brad Newley cut out the pass meant for Terrico White.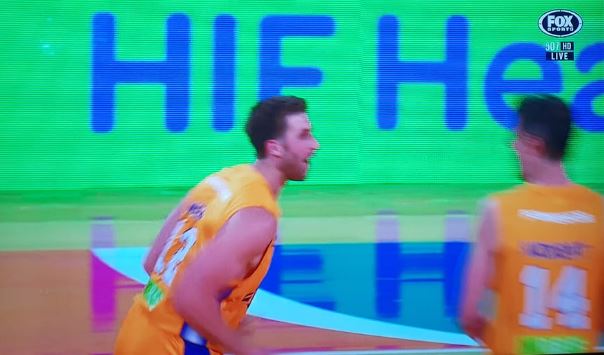 MEANWHILE ... the Wildcats waited patiently in the hope there may still be a zillionth of a second left. Now, OK, we know if it was OUR team, we'd want all the meticulous checking going on, I guess. But who really thought there was still time left on the clock after Andrew Bogut took the ball and sent it skyward, only to hit the scoreboard? Must every thrilling finish need a postscript?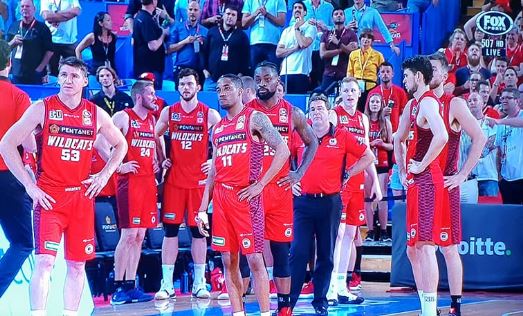 * * *
DESSERT (Formerly Biggest Winners/Losers)
BEATING Perth in Perth, then stopping intrastate derby rival Illawarra in Wollongong on a big day for the Hawks leaves little doubt Sydney Kings were the round's biggest winner. To improve on their home win over the Wildcats, beating them in Perth and WITH Bryce Cotton says much about how Sydney's patient "work-in-progress" is progressing.
BEATEN at home while at full strength, then held to a six-point third period in Melbourne, focus now is shifting to Perth finding a third import. How about some non-Cotton-related offence instead? Still in first place, but Round 9 was unkind and left Perth its biggest loser.
DANDENONG was the WNBL's biggest winner, though some may argue beating the 7th and 8th placed teams isn't cause for too much celebration. However it is when you add whipping the then-league leader Perth the previous week. So yes, the Rangers were the round's biggest winners.
AMAZING but just like their men's team, Perth taking two road welts in Townsville (minus Suzy) and in Canberra has suddenly made the Lynx vulnerable. It also makes them the round's biggest losers.
* * *
SAYING GRACE (Formerly "Quote of the Week")
KINGS coach Andrew Gaze responding to the "pork chop" comment made by Perth pivot Angus Brandt in relation to Andrew Bogut's Twitter presence.
"The pork chop one was interesting, because I … my grandma and my nanna and my grandfather (used to say): 'Stop carrying on like a pork chop'. I used to hear that when I was a little kid and it was one of those sayings you sort of forget about. And I haven't heard it for a long, long time. I like it. I actually like the saying. Now I'm not exactly sure of the evolution of it. My understanding in the context is 'ah you're going off doing flippant things and being a little bit silly but I don't even know what it means. But I like it and I'm going to bring it into the rotation! Because I quite like: 'Hey. Stop carrying on like a pork chop.' It's a good little saying. I like it. It's an oldie, but it's a goodie."