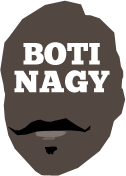 ---
Advertising opportunities available.
Please contact me.
---
FFT2: Bogut gives us a glimpse
Tweet
FOOD FOR THOUGHT: Yes, we all agree Andrew Bogut has a high basketball IQ, is a great rim protector, passer, screener - an elite facilitator. But watching him this round, he really could be a scorer too, if he wanted to be.
Yeah, we actually DO understand that scoring isn't the be-all and end-all of basketball.
If you have talented scorers already, you still cannot succeed without lunch pail and hard hat guys, glue guys, role players and facilitators.
We get it. It takes the right combination to make it work and to win a championship.
We also get that Bogut is at a level all of his own.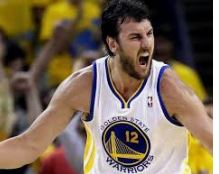 He very well could be doing his thing in the NBA right now, instead of with the Sydney Kings in the NBL.
However the role he is choosing to play at the Kings is similar to that which he played at Golden State Warriors when he was one of the driving forces behind raising them from the wannabes to the highest of heights.
Rim protecting, winning defensive awards - he led the NBA in shot-blocking back in 2010-11 - setting screens and making sweet dishes etcetera made perfect sense when you have Steph Curry and Klay Thompson on your wings. Why even bother looking for a shot?
Win a championship instead.
But Bogut CAN be a scorer. He was at Milwaukee Bucks before injuries played their role in altering the way he would contribute.
On Friday in Adelaide, he scored 16 points fairly effortlessly, to be honest. His coast-to-coast drive, shake-and-bake for the hook shot was a stand-out moment in a stand-out game.
What about his behind-the-back move to score in New Zealand?
Or let's go back to the Rio Olympics and his opening game as Australia sent a message beating France 87-66. Bogues had 18 points at 90 percent, with five assists.
In the NBL, Bogut CAN again be a scorer, if he wants to be. When he's at the top of the key making or faking handoffs to Jerome Randle and Kevin Lisch, he just as easily could wheel to the basket and throw down a dunk. Wouldn't that shake the league to its core?
It's just not his mindset anymore. But anyone who can score 29 in an NBA game can consistently get 18-20 in the NBL. If he wants to. Or realises he can.
* * *
IT appears the WNBL is leaving it up to a computer to work out its weekly championship ladder and the poor thing is somewhat confused.
How else could you explain it?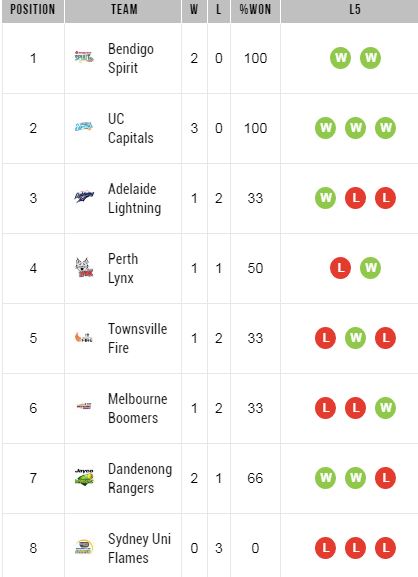 So check it out. Bendigo and Canberra both are on 100 percent as they haven't lost yet.
That's OK. But which one has the better points percentage? Something we can quantify should separate them, surely?
How about Adelaide in third place having won one game out of three, or 33 percent.
You reckon Perth in fourth, with one win from two games - that is, 50 percent - should maybe be above Adelaide?
So then how come Townsville and Melbourne, on 33 percent like Adelaide, are fifth and sixth?
What actually separates Adelaide, Townsville and Melbourne if they all are on 33 percent?
Oops. And right now in seventh spot, it is Dandenong, which has won two out of three games, or 67 percent.
Well, at least Sydney, on no wins, is in the right spot. But this screenshot is from the WNBL's official website on Sunday. It is now Tuesday and STILL no-one has noticed it is mostly incorrect.
The ladder SHOULD look like this:
Pos Team Played Won Lost Win% Pts%

1 Bendigo Spirit 2 2 – 100 123
2 Canberra Capitals 3 3 – 100 114
3 Dandenong Rangers 3 2 1 67 94
4 Perth Lynx 2 1 1 50 99
5 Adelaide Lightning 3 1 2 33 99
6 Townsville Fire 3 1 2 33 98
7 Melbourne Boomers 3 1 2 33 97
8 Sydney Uni Flames 3 – 3 0 86
Obviously a WNBL website upgrade would be "imminent".
* * *
MEATBALLS (Formerly "Yeah, No Kidding")
OH My Lord, Dwayne Russell. What a cringeworthy performance behind the microphone on Sunday's Melbourne-Adelaide match.
Unbelievable. The amount of times Russell repeated the game would go down to a winning shot was mind-numbing. It's typical of footy callers who forget the audience is listening, believe they've said something clever, then repeat it ad nauseum as if the viewers didn't hear it the first few times. We did!!
But even that pales beyond his other great "highlights". Did I - and every viewer of the Sixers-United game on Fox and Go - need to know Jacob Wiley woke up one day to find his father dead on the floor?
Not in sufficiently poor and insensitive taste? Try DJ Kennedy almost saw his brother bleed to death after he was shot six or seven times!
Yes, this was the casual throwaway stuff coming out of Russell's mouth. Mate, that isn't research. That's taking shocking past events in someone's life and flippantly referencing it as a throwaway line.
Sure, let's have a sit-down TV feature with either of those players and perhaps walk them through the most horrific moment of their respective lives, if they even want to have it out there. Or maybe read it in a major newspaper feature, again, if they want it out there.
But Dwayne, if you have any more of those tidbits waiting to go, you know: "He came home to find his house burned down, his wife and family missing but yeah, he still missed that free throw," think it through before you shoot from the lip. That's just embarrassing and in such poor taste.
Still at the Melb-Adel coverage and this time Seb Costello allowed his enthusiasm to get the better of him, talking about the Chris Goulding incident with Frank Drmic.
Someone obviously told him it was Anthony Drmic and he got on the front foot and apologised, so kudos for that. None for Costello's obvious disappointment when co-commentator Corey Williams said he didn't think there was anything in the incident. Clearly, he wanted a different response.
But it pays to listen too, Seb. When you throw to Williams for a closing word and he says: "It was an ugly game but the home team took care of home."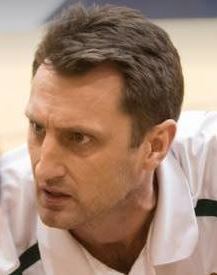 For you to then say: "Fantastic game," isn't actually the right response.
IT was a fine on-air debut for Chris Anstey (pictured) and Mark Worthington, both offering insights of the type we haven't much heard previously. Anstey in particular spoke from a coach's mindset, which the coverage has missed in the past.
Someone should turn up their mikes though.
Matt Russell in Cairns describing a missed shot with: "Did a lap of honour!" I am sure John Casey quickly was on the phone claiming copyright!
And Paige Cooper? Adris DeLeon's name is Adris as you introduce him, not DeLeon. Just sayin'.
* * *
TALK about getting a little too excited in print and check this out: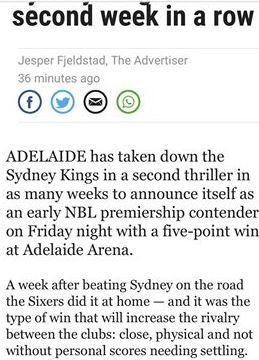 That's called overstating it somewhat.
Adelaide has lost at home to Perth and twice beaten the same team, a Kings outfit which still is a work-in-progress.
So can't really see how Adelaide was able to "announce itself as an early NBL premiership contender" with a five-point win over a team which clearly improved across the week after first losing to the 36ers in Sydney by 11.
Not entirely sure what personal scores were settled either because all most of us saw was an absolute cracker of an NBL game.
The fact Adelaide lost to Melbourne later in the same round possibly suggests going out and proclaiming championship - not premiership - contenders in the middle of the second round of a 28-match regular season may be just a smidge premature.
Meanwhile, here's an example of Journalism 101, spell people's names correctly.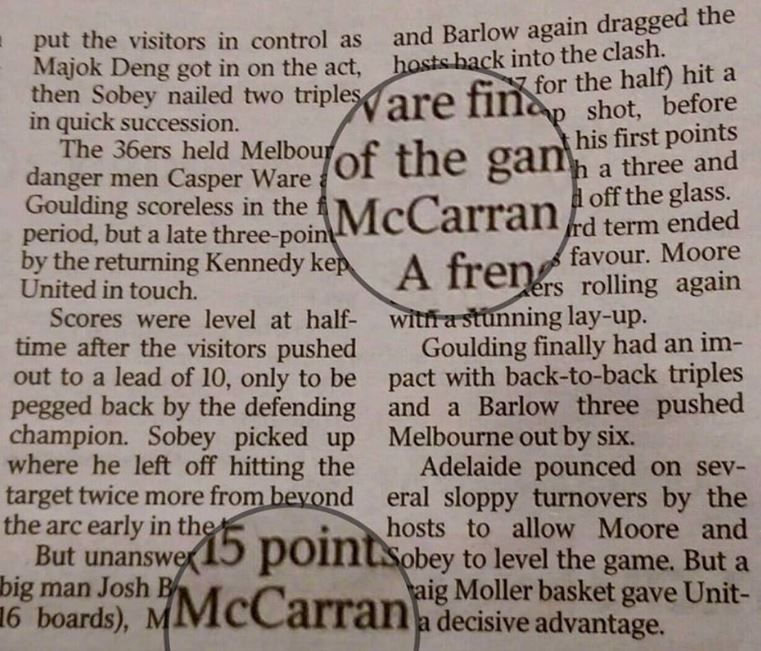 Would that be Mitch McCarron maybe?
* * *
BEEF of the WEEK
THE week's best news was someone lost the firstever TV ads. A nation sighs, relieved and grateful.
And just when I suspected I was turning into a grumpy old man, I see the relentless playing of music in most NBL venues has also caught someone else's eye. Or ear.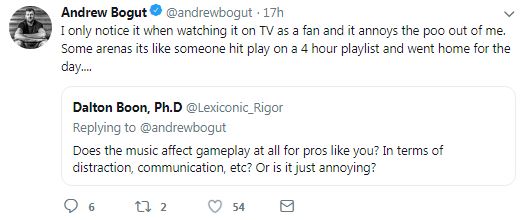 Could not agree more. There's definitely times a shot of music heightens the excitement, tension or drama.
But nonstop blaring and right across the venues, truly is just tedious.
* * *
BIGGEST WINNERS/LOSERS
IT'S impossible to go past Illawarra Hawks as Round 2's biggest NBL winners. Down captain Kevin White and centre AJ Ogilvy through injury, losing Brian Conklin mid-game to an ankle injury he refused to let hobble him, and winning in a Cairns stronghold. It was a major turnaround.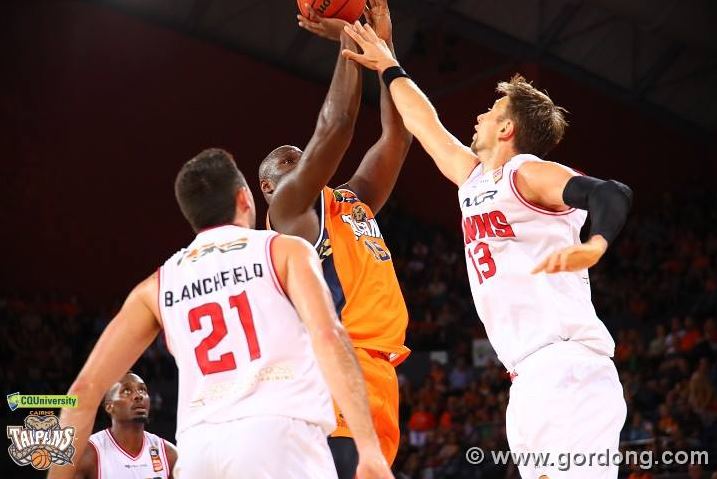 EVEN Adam Gibson called out his Brisbane Bullets for the soft cow pats they laid at The Jungle as Perth gave them a thorough spanking. You've got to have more spine than that fellas. Brisbane, easily, was the round's biggest loser and may boast the league's worst imports.
BEATING fellow championship contender Melbourne in Melbourne, then holding off a spirited Adelaide Lightning challenge - even though clearly "wind assisted" - has Canberra Capitals as early pacesetters and the WNBL round's biggest winners.
SO lucky to get out of jail in Adelaide, defending champion Townsville needed to flex some muscle in Perth and instead was toasted by the Lynx. Having started by losing at home to Dandenong, then barely splitting its first trip of the season, Townsville definitely was the biggest loser.
* * *
PS
REFEREE Chris Reid called David Andersen for an amazing phantom foul as Melo Trimble drove to the hoop late during the Cairns-Illawarra clash. Bad angle? Bad sightline? Bad eyesight? There was enough space between Ando and Melo for Rob Beveridge to limbo dance through. That call just reinforced the contention all a player has to do to earn free throws or a bonus is drive to the hoop and go near a defender.
* * *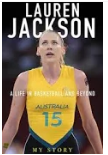 YES, it is here.
The book many of us have waited years to read.
You bet I'm excited.
The inside story of Australia's greatest basketball player?
I'm getting stuck into it.
Look for the Basketball On The Internet review, coming soon!