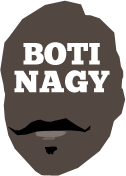 ---
Advertising opportunities available.
Please contact me.
---
FFT3: Wild West is where it's at
Tweet
FOOD FOR THOUGHT: There was a time we universally accepted Victoria and Melbourne was basketball in Australia's Mecca, before Adelaide briefly enjoyed its notoriety as "Titletown." But seriously now, it's definitely "Go West young man, and young woman."
Today's Food for Thought main course may not please anyone east of the WA border but let's look at a few new facts.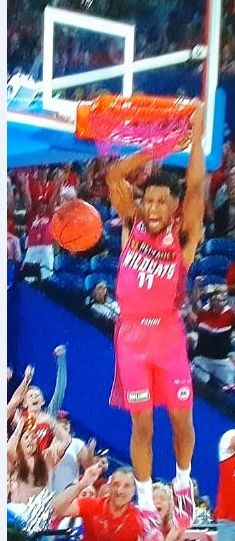 First, the Wildcats went into Adelaide and pantsed the 36ers, grand finalists in 2018.
They subsequently saw off Illawarra and Brisbane, took a welt back up in Brisbane, then responded by beating the defending 2018 champs Melbourne at The Jungle.
It was a gem of a contest too, requiring double overtime to reach a conclusion.
Upshot? Perth customarily remains in first place on the NBL ladder.
Whoa. What about the women though?
Didn't Perth lose its first game of the season? Badly? And at home?
Yes, yes and yes.
The Lynx then beat the defending champion Townsville Fire, jumped what then was the league-leading Bendigo Spirit, then smacked the Rangers in Dandenong.
Upshot? Perth is in first place in the WNBL.
Say anything counter to the argument that you like, but right at this moment, there can be no disputing the West is the place from where the best basketball is coming.
And further accolades to the Wildcats last round for continuing their pink days and helping to raise awareness of breast cancer.
* * *
ENTREES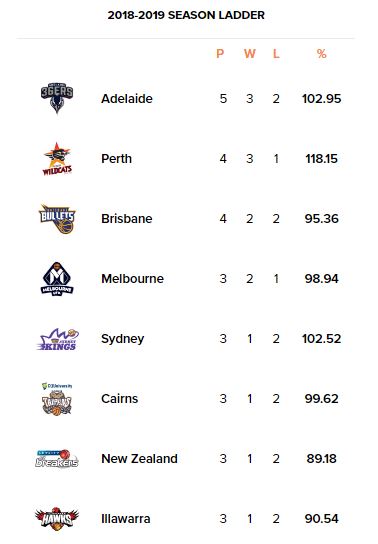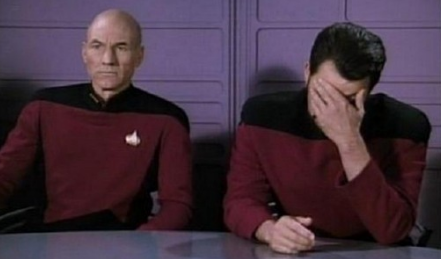 WHILE last week we had to shame the WNBL into taking a look at the championship ladder on its website - which was ridiculously wrong, the good folk at the NBL probably having a good chuckle at it before the ladies corrected it - this week the gents foisted THIS ladder upon us on Friday.
It makes NO sense. Zero. None.
Surely even a blind man can see if the 36ers have won three games and so has Perth, but the Wildcats have only one loss to Adelaide's two, they should be in front?
Or how about Perth's points percentage being 118.15 to Adelaide's 102.95?
All you can figure is whoever compiled this abomination for the world to see at the league's website thought Adelaide playing five games was the key important ladder stat!
The ladder should have looked like this:
Team Played Won Lost Win% Pts%
Perth Wildcats 4 3 1 75 118.15
Melbourne United 3 2 1 67 98.94
Adelaide 36ers 5 3 2 60 102.95
Brisbane Bullets 4 2 2 50 95.36
Sydney Kings 3 1 2 33 102.52
Cairns Taipans 3 1 2 33 99.62
Illawarra Hawks 3 1 2 33 90.54
NZ Breakers 3 1 2 33 89.18
Not that it matters now because more games have since been decided. It's just beyond mind-numbing that the official websites of our two major professional leagues so often can botch the championship ladder. It just isn't that difficult.
* * *
MEATBALLS (Formerly "Yeah, No Kidding)
HATS doffed to the FOX SPORTS team at the Cairns-Adelaide match, namely John Casey, Cam Tragardh and Mark Worthington for a great job of entertaining and informative commentary.
This trio actually gave us some valid insights and observations but what's up with Anthony Hudson calling games in Perth?
OK. Missing Lachy Reid one week is acceptable - 'flu, granny's milestone birthday, daughter's marriage etcetera, we're not unreasonable out here in Viewer Land - but Huddo AGAIN in Perth?
What's going on?
Got to say, continuing to enjoy Shawn Redhage's growth as a commentator and Corey Williams had some moments too.
But guys, look up last week's memo to Dwayne Russell regarding repeating a phrase as though you're doing it for the first time. Yes, we get it. "Big time players making big time plays."
Truly. We did hear you the first time. And finally from Perth...
"89-87. Whose team would you rather be on? The team in front right now?" Hmm Huddo. Truly in-depth, thought-provoking question...
Up to Wollongong where Nathan Strempel made his long-awaited debut and clearly "got the chocolates" - several times, in fact.
It was an impressive start for him though. Anyone who can reference the High Stakes Hoops tournament when talking about a Chris Goulding-Todd Blanchfield shootout clearly knows his stuff. So too does Casey Frank - or Frank Casey for that matter - across the ditch.
And they were just in time mentioning Kirk Penney was working with Finn Delany as the young Breakers forward tore Adelaide apart.
Oh my. Whose idea was it to let Dwayne Russell loose pre-game in United's changeroom? Almost as cringeworthy as Channel 7's footy coverage when Brian Taylor does his half-assed routine in the winning team's changeroom.
Not saying it was a bad idea and plaudits to the NBL for trying new things. But using Russell?
That was. That kind of fun and/or incisive interaction requires a Liam Santamaria or a Tommy Greer who actually listen to responses.
Russell asks Mitch McCarron about his elevation to the starting five (for the injured Goulding) and Mitch jokes about playing the five (with Josh Boone not starting.)
Russell didn't even register what he said, going straight to his next super-serious question. McCarron picked up Russell was on auto-pilot and kept his replies straight from there. What a missed opportunity.
Let's leave the last word though to the inimitable Steve Carfino who at halftime of the Kings-Taipans game was so confident his former club would win, he said: "I think Sydney will win this by more than double figures."
So, triple figures? By a 100 or more? Quadruple figures maybe?
How about they snuck home in overtime? Solid and insightful guesswork, peppered with the usual touch of cluelessness.
* * *
WOULD someone care to write in the actual numbers of Nathan Sobey's triple-double, the first since Cedric Jackson did it in 2005?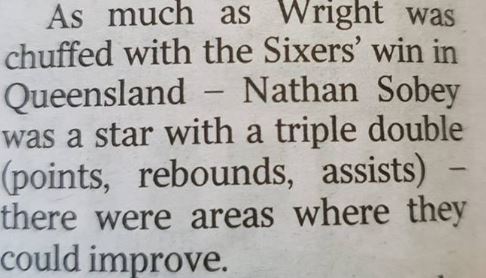 For the record, Sobey had 22 points, 11 rebounds and 10 assists. (Post-game, it was actually 13 rebounds but someone decided that was two too many and amended it to 11.)
Clearly, the journalist was planning to look up those numbers later ... and, oops, forgot.
And whoever proofed his story either overlooked the absence of any numbers, or didn't think they mattered much anyway.
What is a triple-double anyway? A triple Scotch ... and make that a double?
So on to this tender moment.

Apparently Adelaide had only won one game heading into the match with New Zealand.
Or did they mean it was the Breakers which were 1-2, not the Sixers? Probably. But come on now. Sixers, Breakers - what's the difference?
BY the way, it was very amusing to read one journo claiming he had been counting Nathan Sobey's assists and he only had him for nine.
Just wondering if he knew how many steals Adris DeLeon had or how many rebounds Nate Jawai had!!
* * *
BEEF of the WEEK
TELL me after three rounds of NBL on FOX, you don't hate the Hungry Jacks advert with a passion?
Twice in EVERY ad break and even three times at times. And just the same lame ad. What, Hungry Jacks don't have anything but the one television commercial? They can't mix it up at all??
The sportsbet same ad over and over and the Wagner and MG ads are tedious enough but honestly, having them in your face so many times is driving me to McDonalds and UBET.
Variety! Give us some freaking variety. Is it so damn difficult?
I either mute the ads or switch channels while they're on. Don't even start me on the NBL's 3x3 Hustle ad either.
But for how terrific the Hungry Jacks promotion of the cheeseburgers at NBL games is, that advertisement is effing awful.
I've even smashed my KC and the Sunshine band records!
* * *
BIGGEST WINNERS/LOSERS
IT was tough to split Sydney and New Zealand as the NBL's biggest winner this week because both chalked up important home wins to jump right back into contention. The Breakers' first home win came easier though because Adelaide was out on its feet by the last quarter. So we're going for the Kings who, by beating Cairns in overtime, now have the league's best winning streak, at two.
OVER-RUN at home by Adelaide, then beaten in overtime by Sydney, Cairns tumbles to eighth on the NBL ladder so, despite two gritty performances, has to be the loser of the week.
PERTH was the WNBL's biggest winner in Round 3, taking out Bendigo at home, then slapping away Dandenong to climb to the WNBL's highest rung.
STARTING Round 3 in first place, then losing twice on the "doomsday double" run, Bendigo fell to fifth to become the round's biggest loser.
* * *
PS
COULD someone please let Andrej Lemanis know Lamar Patterson is his new Bullets import? Thank you.