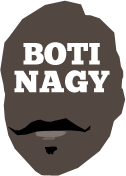 ---
Advertising opportunities available.
Please contact me.
---
Finally, it's Be-WARE the Kings
Tweet
AS IF signing Andrew Bogut last year wasn't enough - the Sydney Kings have locked away championship-winning Melbourne United import Casper Ware to leave zero doubt the club is 100 percent in NBL championship mode for 2019-20.
With all due respect to Nathan Sobey signing in Brisbane, Ware's decision to head to the Harbour City for 2019-20, with an option to return the year after, is the biggest free agent deal of the off-season.
A proven winner, Ware replaces Jerome Randle at the point for Sydney and leaves United with its blessing, the club claiming in a report in The Age it could not match the Kings' contract offer.
Unlike the 2018 off-season when commentators were falling all over themselves predicting a Kings championhip after Bogut formally made the switch from the NBA to the NBL, this time it has genuine legs.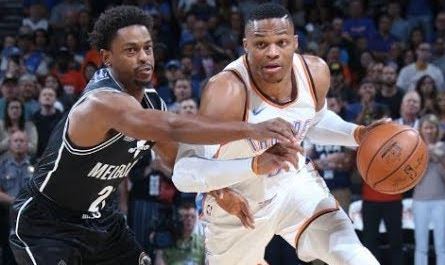 While acknowledging that on their nights, a quintet featuring Randle, Kevin Lisch, Brad Newley, Dan Kickert and Bogut would take some beating, we were never that enamoured with their championship bona fides.
After all, everyone there was on the dark side of 30 - not hideous in itself but if there's a loose ball, is an over-30 as likely to dive on it as a teenager? - and the team also was in the final year of the three-year "Andrew Gaze as an NBL coach" experiment.
It's fair to say that didn't go quite as well as expected, while instead of continuing as a 40-50-90 guy, Kickert just played as if he was aged 40-50-90.
David Wear was - let's be blunt - a bust. Yes, we all recall his game-winner in Perth. But there were 29 other games Kings fans were less thrilled about.
And let's just say for an incoming MVP of the last SEABL competition, Tom Wilson was more-or-less a castaway.
When we foreshadowed Wilson's imminent move to the AFL here, the denials came thick and fast, his decision now to quit the Kings and pursue that AFL career perhaps hastened by the amount of time he spent riding the pine in his NBL debut.
(Here's a small sample of what I copped on Twitter for apparently being "premature" on Wilson...)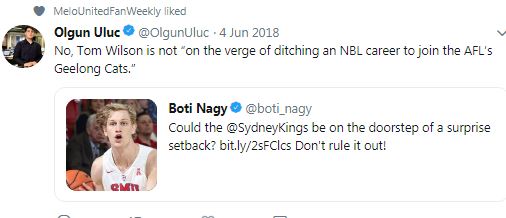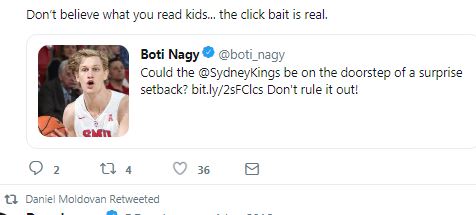 But more recently...

Once he had a successful FIBA World Cup qualifier or two with the Boomers, what was left? So apologies for digressing but the reality now is new Kings management is focused as ever on the prize and Ware is the proof.
Signing Will Weaver as head coach - you know the club must have run that past one A.Bogut surely, given his respect for Rob Beveridge - was an interesting step which also raised eyebrows.
Truth is, American coaches who have come into Australia "cold" - as in, haven't played here or been part of our system for a few years in the way coaches such as Joey Wright, Brian Goorjian, Bruce Palmer etcetera who were all "Australianised" have - pretty much have struggled.
Look at Dean Demopoulos or Joe Connelly as recent examples. Clubs for years have made mistakes bringing in American guys who did not intimately understand the Aussie psyche.
So there are three categories of Americans who coach in the NBL. Those who were here and were "Australianised" and who, as a result, are successful. Those who came in "cold" but with big reps and wraps who, as a result, usually were spectacularly unsuccessful.
And Category 3. Those who haven't been "Australianised" but have spent time with Aussie players and do have some insight.
Mike Dunlap, who coached the 36ers for three years in the 90s, fits that category, having visited Australia for years beforehand, working with Goorjian and Palmer while also recruiting Aussies into his US college teams.
Weaver, who has been a Boomers assistant coach to Andrej Lemanis and worked with Brett Brown before that, therefore also fits Category 3. He had Mitch Creek, the former "face of the 36ers" playing for him as well at Brooklyn's NBA G-League affiliate Long Island Nets.
So like Dunlap and unlike Demopoulos, he doesn't come into the NBL "cold". His experience with Kickert on Boomers teams also may rekindle the power forward's game and give him a new lease of life.
So with Lisch and Newley back, Bogut returning after his NBA championship drive with Golden State Warriors concludes, Kickert rejuvenated and now Ware signed, maybe this off-season's predictions for glory might be closer to the mark.
Let's just not go out too early again, with "experts" claiming this latest Kings outfit as our "Greatest of all time".
Lisch, Newley, Kicks and Bogut didn't get younger during the off-season so how Weaver and Kings' management further complement them with young talented guys still will have much to do with how their NBL 2019-20 unfolds.
That said, it's pretty safe to say, Be-WARE the Kings.