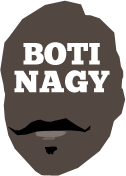 ---
Advertising opportunities available.
Please contact me.
---
Finally, Maher makes it into FIBA Hall of Fame
Tweet

HE was the coach who took Australia from a "wannabe international powerhouse" and on to the medal dais for real, in the process showing all future Opals teams how it could and should be done as Australia reached for the sky, FIBA's Hall of Fame finally recognising his great and unique service to the game.
As unique a coaching talent as Australia ever has produced, a sound case can be made for Victorian doyen Tom Maher as our greatest ever women's basketball mentor.
Sure, Jan Stirling took the Opals to their historic (and only) Gold Medal at the 2006 FIBA World Championship but in fairness, her team largely revolved around two of Australia's greatest players, the mercurial Lauren Jackson and the tournament MVP Penny Taylor.
Jackson, our only basketballer to ever be ranked as the world's indisputable #1 player, still was a 17-year-old wunderkind when Maher's Opals won Bronze at the 1998 Worlds, and 19 when he steered the Aussies to Silver at the 2000 Sydney Olympics.
When he - and it was loooong overdue - inherited the national team after it failed to qualify for the 1992 Barcelona Olympic Games, Maher changed the culture and commitment.
Within two years of that non-qualifying disaster, at FIBA's 1994 World Championship, he had Australia playing for the Bronze Medal, narrowly beaten by the USA.
By the 1996 Atlanta Olympics, Australia was winning Bronze and two years later at the FIBA World Championship, once again the Opals were on the medal dais.
Even the team's nickname of "the Opals" was a quest driven by and a challenge brought to fruition by Maher's dedication to cementing Australia as a readily identifiable women's basketball super power.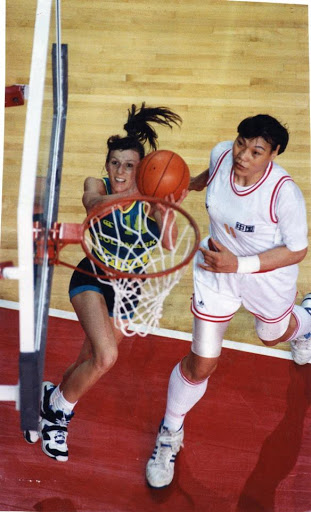 In Sydney at the 2000 Olympic Games, Australia graduated to the Silver Medal, beaten in the Final by the USA but with inspirational captain Michele Timms playing injured.
Identifying China as a major obstacle in the local region, Maher sought games and series against the Chinese to demystify players such as the mercurial Zheng Haixia (right, dwarfing Rachael Sporn).
It worked as China steadily regressed from being Australia's master to a team choking on the fumes of an Opals' bus driving on to bigger and better things.
Having served his two four-year cycles - did we get this dopey idea from US presidential elections? - Maher instead took New Zealand's Tall Ferns to the 2004 Athens Olympics where they achieved that country's greatest result, finishing eighth.
Desperate to return to international prominence, China hired Maher to lead its team back into medal contention at the 2008 Beijing Olympics and he did just that, driving them to the Bronze Medal game.
A year later, Great Britain was knocking on his door to lead its team into the 2012 London Olympic Games, which he did before returning to China for the 2016 Rio Olympic campaign.
That made it a monumental six consecutive Olympic Games, steering the fortunes of four different national teams.
Domestically, Maher's teams have won an incomparable nine WNBL championships.
He coached Nunawading Spectres to six titles, Perth, Canberra and Bulleen to one apiece, with a 10th eluding him in 2001 when he prematurely left his role as Sydney Flames coach to take up the head coach role at the WNBA's Washington Mystics.
Sydney was comfortably in first place when he left, continuing on to win the championship and gifting his assistant Karen Dalton with her solitary coaching title.
The WNBL's Coach of the Year in 1987 and 1992, Maher also is a Life Member of the league.
That's just a thumbnail of what this man has done - and continues to do - in coaching, without even delving into his titles at the Australian Club Championships.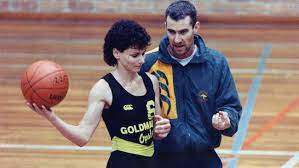 PAST TO PRESENT: Tom Maher mentoring star guard and now Opals coach Sandy Brondello.
That's where I first really encountered him, a hard-ass, straight shooting, straight-talking sideline commander coaching at an ACC at Albert Park Stadium sometime in the early 80s.
I'd seen him before at the Warrnambool Seaside Carnival, working as Ray Tomlinson's assistant, a young man who appeared intent to learn and grow as a coach.
Anyway, at the ACC, one of his players went down in a screaming heap - I think it was Merryn Ashley-Cooper but don't quote me! (how long have I wanted to write that statement??) - and he was decidedly unmoved.
I didn't know if the player had any sort of injury "history" but when she was being taken to the ambulance, felt he could maybe have shown a moment's interest.
I wrote something to that effect, he tracked down my phone number and called to talk about it. I'll tell you now, I've always, ALWAYS respected anyone, player, coach, umpire, administrator, who has read something I wrote, didn't like it or wanted clarification and caught up to talk about it.
He wasn't the least bit angered by my observation, more intent on explaining it. I'd like to think that was where our friendship started. I know with absolute certainty it was where my respect for him as a man matched my great respect for his coaching ability.
Tom talked the talk and walked the walk. And there are many, many people, usually in administration, who find that very confronting and difficult to handle.
Occasionally stepping on toes? Tom calls a spade a spade which means occasionally grinding on toes. Just don't doubt he is the best there is in this country and this most recent era.
When it comes to the greatest coaches of women's basketball in Australia, I have two names on a pedestal - the late great Merv Harris and the often-misunderstood and unnecessarily maligned Tom Maher. Then there is daylight.
He enters the FIBA Hall of Fame with another of the world's great coaches, longtime Detroit Pistons head coach, the late Chuck Daly, the only man who could keep the disparate egos of the 1992 Barcelona Olympics USA "Dream Team" all on the same page.
The 2021 inductees also include Panagiotis Giannakis (Greece) and Ettore Messina (Italy), Olympian and three-time FIBA AfroBasket winner Mathieu Faye (Senegal); Olympic gold medalist and world champion Sergey Tarakanov (Russia); three-time NBA All-Star Detlef Schrempf (Germany); leading scorer of the 1956 Olympics for bronze medal winners Uruguay Oscar Moglia (Uruguay - posthumously); five-time Czechoslovakian League champion and FIBA EuroBasket runner-up Stanislav Kropilak (Slovakia); Olympic silver and bronze medalist Penka Stoyanova (Bulgaria - posthumously); Olympic silver and bronze medalist Zheng Haixia (China), FIBA Women's Basketball World Cup runner-up and FIBA Women's EuroBasket champion Hana Horakova (Czech Republic).
Irony?
Zheng Haixia and Tom Maher heading into the Hall together. Life can be beautiful.