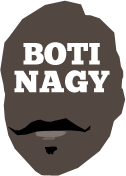 ---
Advertising opportunities available.
Please contact me.
---
Fire turns up WNBL Championship heat
Tweet
TOWNSVILLE yesterday put one hand on the WNBL Championship trophy when import Sydney Wiese cut loose to set up a 69-64 Game 1 win in the Best-of-3 Grand Final Series.
Wiese's big threes in the third period gave Townsville the momentum and a Darcee Garbin triple to close the quarter had the home crowd roaring, the Fire bumping its lead to 48-40, Melbourne in deep trouble.
Liz Cambage (26 points, 13 rebounds) led a final quarter onslaught as the Boomers endeavoured to dig out of the deficit and with 6:15 left, she had her team within touch at 51-52.
This time import Laurin Mincy stepped up for a three-point play for the Fire, before Suzy Batkovic stuck two free throws to give the home team breathing space.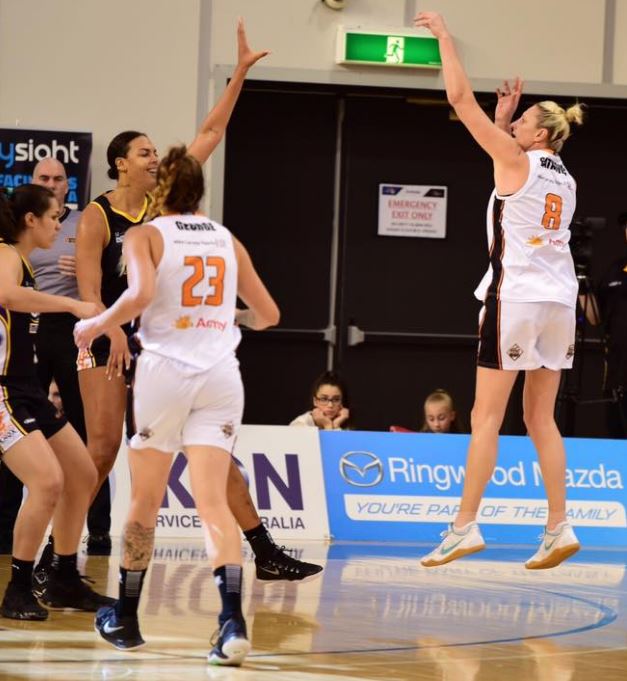 BATGAL: Suzy Batkovic struggled early but got her offence going. Pic courtesy Townsville Fire.
It was Melbourne which started, well, on fire, running up a 6-0 start before Cayla Francis got Townsville's scoring underway.
Batkovic could not buy a basket as Melbourne looked to capitalise but could not effectively convert Townsville's tensions into scoreboard pressure.
Fire coach Claudia Brassard conceded it had been a tremendously nervous start in front of the huge crowd at Townsville Stadium and ... it "wasn't pretty."
But as Melbourne focused on containing Batkovic, George and Garbin, Townsville's shooters fired up.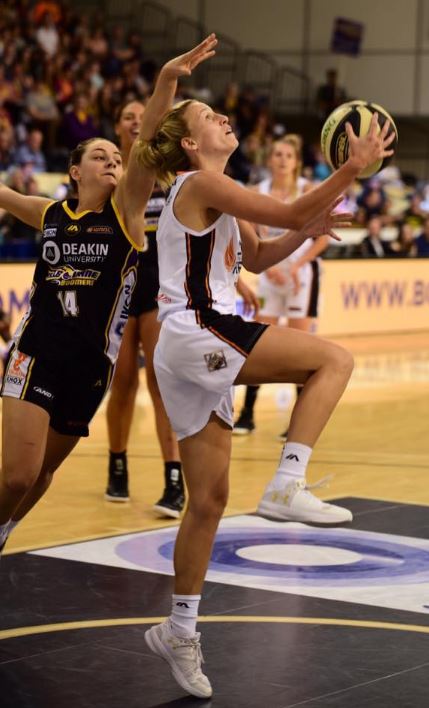 BACK AT YA: Mikhaela Donnelly with the reverse. Pic courtesy Townsville Fire.
"If they want to focus on our post players, obviously we've got some shooters that can shoot the ball, even though our post players can shoot the ball," Brassard said.
"Certainly when we put the team together, that was a big part of the plan.
"They were the best defensive team all competition and they showed that here tonight.
"They kept us to 69, which is way below our average, so I think that finals are always a bit of defensive grind and at the end of the day, that's pretty much what won that game."
Cambage would not be denied, dominating in the keyway despite relentless pressure. But ultimately, the Fire's plan to "stop the others" paid off, no other Boomer reaching double figures.
"She's the leading scorer in the competition, she's a phenomenal player, she's going to get her points. She's tough to stop," Brassard said of Melbourne's 203cm star.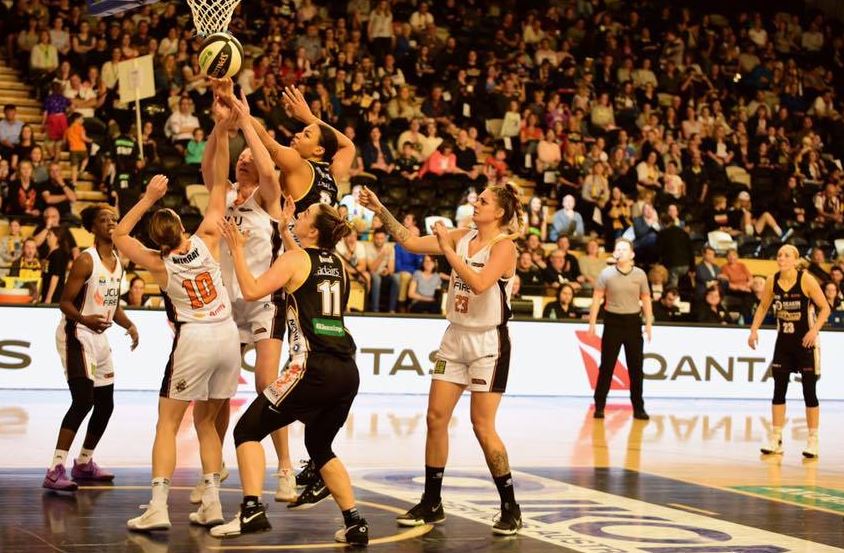 CAMFORCE: Liz Cambage was the keyway's primary presence. Pic courtesy Townsville Fire.
"Our bigs battled and battled all night in there.
"You can just try to limit her as much as you can and then try to stop all the others."
Mission accomplished.
Wiese hit another big 3-pointer late and Kelly Wilson saved her best for last, with several big plays down the stretch, putting the result out of reach.
Jenna O'Hea finished with nine points, 10 rebounds and four assists for Melbourne, Kalani Purcell with 11 rebounds and four dishes. But not enough Boomers found meaningful ways to contribute, something which is sure to change when the series shifts to Melbourne and the State Basketball Centre for Thursday's Game 2.
GRAND FINAL, BEST-OF-THREE CHAMPIONSHIP
GAME 1: TOWNSVILLE FIRE 69 (Batkovic 16, Wiese 14, George 13; Batkovic 15 rebs; Mincy, Donnelly, Wilson 4 assts) d MELBOURNE BOOMERS 64 (Cambage 26, O'Hea 9; Cambage 13 rebs; Purcell, O'Hea 4 assts) at The Fire Station, Townsville Stadium. Fire leads 1-0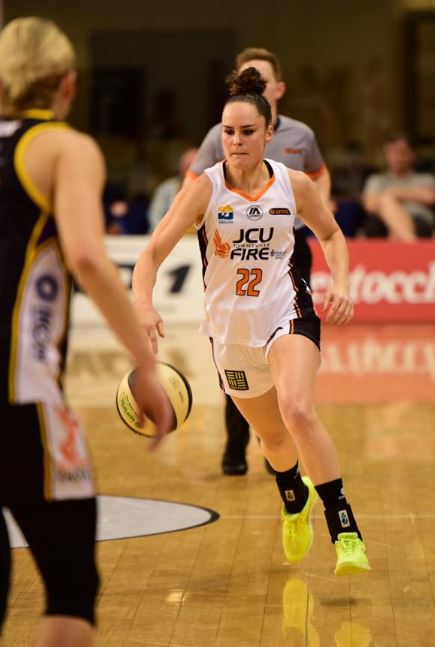 WILSON!!!! Fire guard Kelly Wilson finished strongly. Pic courtesy Townsville Fire.