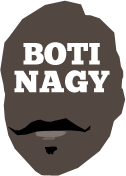 ---
Advertising opportunities available.
Please contact me.
---
FLASHBACK 106: October 22, 2013
Tweet
KEN Richardson – a name still conspicuous in its continued absence from Basketball Australia's Hall of Fame – passed away on October 22, 2013. The next day, I wrote the obituary for one of Australian basketball's and the NBL's all-time greatest.

"I LIKE to play."
With those four words Ken Richardson summed up why he had forsaken the prospect of sitting on an NBA bench somewhere, waiting for an opportunity, to instead travel the world playing basketball.
He only got as far as Australia before he fell in love with the country but it still seemed the ideal quote to use to open my first newspaper article on Ken, almost 40 years ago now in March of 1974.
He had arrived in Australia to play for a West Adelaide Bearcats club he would not only grow to love but to treasure.
It is no less appropriate today because Richardson loved to play - on and off the court - and was the first of the all-time great imports to hit Australia from the US.
Richardson, 63, died peacefully in a Darwin hospital yesterday, losing his battle with cancer but leaving a legacy of such extraordinary depth it is astonishing Basketball Australia's Hall of Fame committee could not fit him into this year's induction, at the very least.
"It's for the best," he told me a few weeks ago when BA delivered the potentially devastating news any Hall honours for Ken would come posthumously.
"I don't want my presence there to make it a downer for the other inductees."
That was typical Ken, always thinking of others first and not wanting his "little contribution" or his failing health to intrude on the party.
Born in Zanesville, Ohio, Richardson arrived wide-eyed in Adelaide after having turned his back on any NBA career.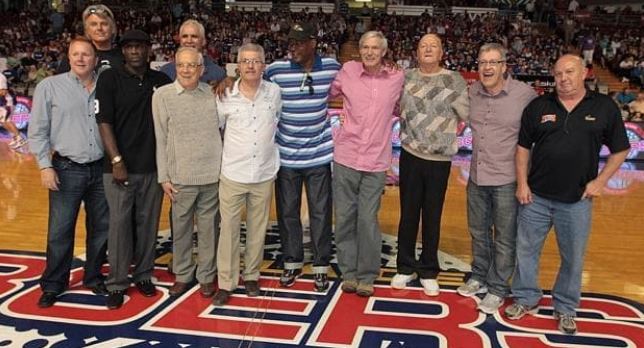 WHEN WEST WAS BEST: The Bearcats' 1982 NBL champs gather for the 30th anniversary celebrations in 2012 with, from left, Greg Mules, Brad Dalton, Al Green, manager Keith Woods (front), Joe Theil (back), Ray Wood, Leroy Loggins, Ken Richardson (playing coach), Ken Cole (guest assistant), Peter Dawe, Trevor Maddiford.
From junior college in Florida, he attended university in Ohio and was invited to attend Houston Rockets' camp, albeit at his own expense.
With a typical shrug of those broad shoulders, Richardson settled for Adelaide instead, taking West to the 1974 grand final, then winning the championship a year later while also becoming the first American to claim the Woollacott Medal.
For the next two years he dominated in Victoria before being lured back by his beloved Bearcats with the playing-coach role.
It is hard to even comprehend how grandly he stood over basketball in Australia at the time or that his legend and legacy could grow further.
But he took West to an unprecedented five straight championships while overseeing the "changing of the guard" as icons such as Werner Linde, Glenn Marsland, Roger King and Alan Hughes steadily made way for Peter Ali, Ray Wood and a new era of national league play.
As West's playing coach for four years of NBL, Richardson steered them to fourth, second, third and first.
After losing the 1980 grand final significantly to Brian Kerle's St Kilda powerhouse and its superstar import guard Rocky Smith, Richardson said he needed a player to counter him.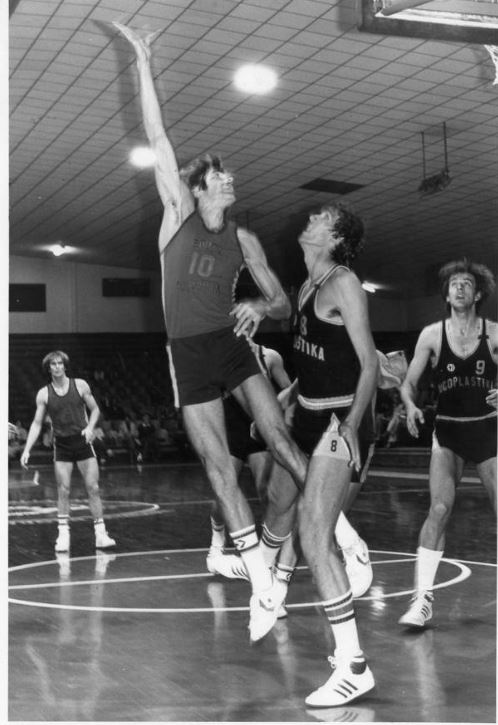 That brought Al Green to the Bearcats in 1981 and a year later, Richardson recruited Leroy Loggins.
West's 1982 NBL champion is the only one to include three league MVPs, Richardson the inaugural winner of the outstanding individual player award in 1979, Green in 1982, Loggins 1984-86-87.
"If you're talking about three best imports of all time, they'd be Kenny, Leroy and Rocky Smith," Kerle said, the Hall of Famer coaching all three.
Richardson was the last and best of the great 70s imports, handing the baton on after helping to establish the NBL as the competition it still is today in its 35th year.
He was a straight-shooter, full of candour, humour and searing honesty, a man's man and a character, though never a caricature.
"You've got to get the latest Tom Petty and the Heartbreakers album," he'd call up excitedly.
Or he would sit for hours with my late father-in-law, Ilmars Blicavs, himself a coach, talking hoops into the night.
Ilmars reminded Ken of his own gruff-exterior father, though, in truth, Richardson made friends and devotees wherever he went with his easy smile and disarming folksy charm.
If Richardson's life on the court was rich with success, his story off it was no less rich.
Growing up in Ohio, he was an expert tracker.
"He could always tell where people had walked in the bush," his longtime friend Steve McGugan said.
It made him invaluable in Vietnam as a soldier leading men into battle, when he and his team weren't being dropped into the surrounds of the Ho Chi Minh Trail to report back on enemy advances.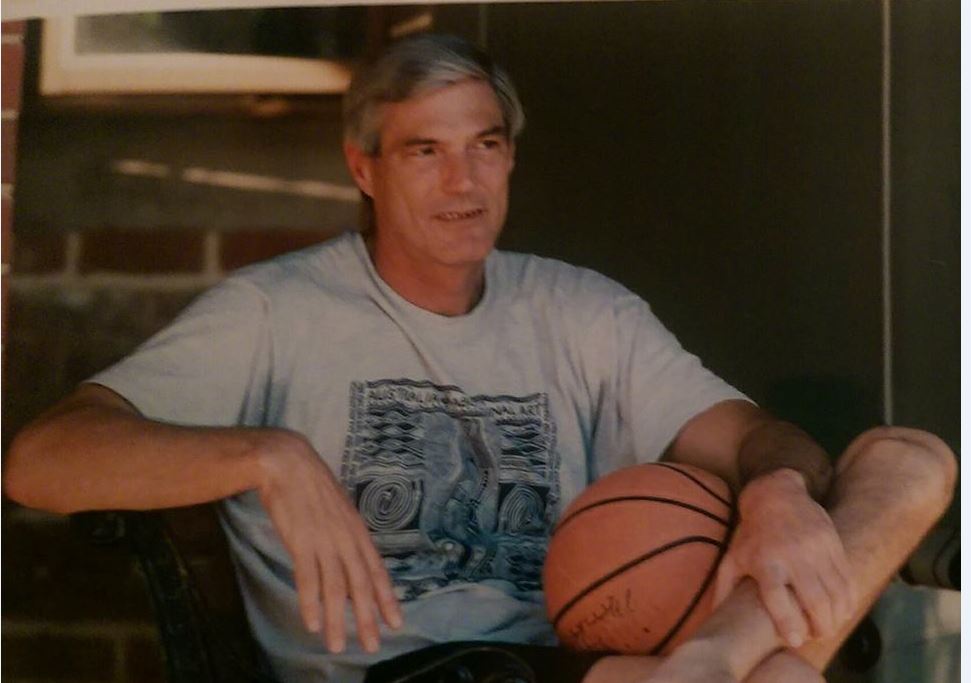 "We had what might have been the first of the night-vision glasses," he recounted once.
"We'd see the enemy coming, radio it in, then run like hell."
When it came to repossessing a car from a sacked NBL import as he had to in Geelong, or firing up a group of hardened basketball players, it is not hard to see why they held no fear.
"Geelong did turn into a bit of a nightmare," he said.
"Whether we got paid each week was determined by how the team owner did at the races on Saturday."
Post-basketball, Richardson worked on oil rigs and on the Princess of Tasmania, his love of the ocean and the open sea and support of the Maritime Workers' Union something many knew little about.
I played my first district game against West Adelaide in 1974, subbing into it about ten minutes in and ready to strut my stuff.
At my first chance, I took my defender off the dribble, drove to the elbow and released my jumpshot.
Thwack!
The ball went flying back past my ear, swatted by Richardson as his Bearcat mosquitos took off down the floor on the resultant fast break.
I was still in slight disrepair as he ran past and patted me on the butt, not in a condescending way but more in a "welcome to the big league" manner.
That was the same man who years later would tell me: "If you can't reach me for a quote, just make up what I would say.
"It will probably make me look smarter anyway."
Then, as an afterthought: "Just don't get me in the shit."
That was the same man who last week mailed me a cluster of USBs featuring a video of him saying his thank yous and goodbyes to the people who meant so much to him - many of them the members of that epic 1982 NBL champion.
When I rang him after receiving it, he was having a cigarette.
Don't you have cancer, I asked him?
"Mate, I'm riddled with it," he laughed. "Everywhere except my lungs."
That was Ken.
He could make you laugh even when all you wanted to do was cry.
He loved to play.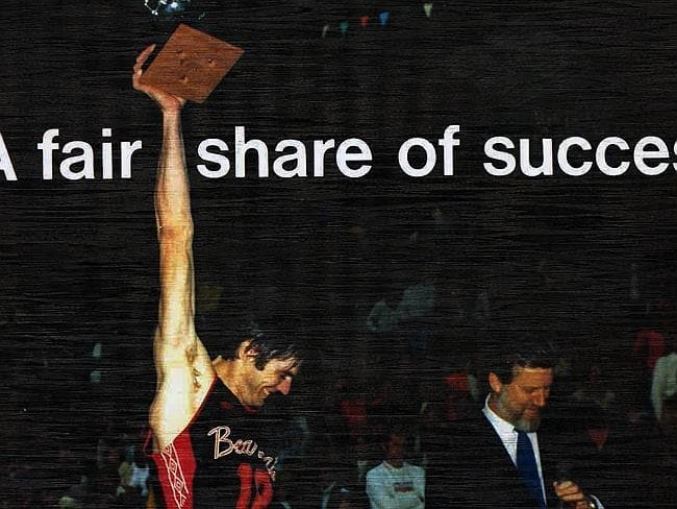 CHAMPS: Ken Richardson holds the 1982 NBL Championship trophy aloft after receiving it from Dr John Raschke on this brochure detailing West Adelaide's success as a club.

*1974, as a player, led West Adelaide into the SA Championship grand final.
*1975, as a player, led West Adelaide to the SA Championship, defeating Glenelg Tigers in the grand final.
*1975, became the first American to win the Woollacott Medal as the fairest and most brilliant basketball player in SA.
*1976, transferred to St Kilda Saints in Victoria, leading them to the championship.
*1976, led South Australia to a dramatic victory over the 10 Victorian Olympians at Apollo Stadium.
*1977, led St Kilda to the Australian Club Championship title and led the scoring at the tournament in Sydney.
*1978, returned to SA as playing-coach of West Adelaide and in that capacity led them to a record five consecutive SA Championships, winning the titles in 1978-79-80-81-82.
*1979, he led West Adelaide into the NBL and to a fourth-placed finish.
*1979, was the inaugural winner of the NBL's Most Valuable Player award, while averaging 26.2 points per game (#2 in the league).
*1980, playing-coached West Adelaide into the NBL grand final where it lost to St Kilda.
*1980, his 24.1 points per game was #4 in the NBL.
*1980, named in the NBL First Team, the first all-star five in NBL history.
*1981, missed the season with injury but coached West Adelaide to third in the NBL.
*1982, brought himself off West Adelaide's bench, averaging 14.5ppg at 58.8% (143/243 - #2 in NBL), 6.2rpg, 1.4 apg.
*1982, West Adelaide Bearcats won the NBL championship.
*1982, West went 21-5, an 81% success rate and averaged 97.1ppg, conceding 83.7, a winning differential of 13.4ppg.
*In four years as West's NBL playing coach, his win-loss record was 67-27 (71.3%), the best record of any coach at a single club. West finished 4th, 2nd, 3rd and 1st in his four NBL years as its playing-coach.
*1986, coached Geelong Cats to a 14-12 record, missing the playoffs on percentage.
*His overall NBL coaching record is 98-58, 63%, the second-best all-time mark for any coach who coached at least 100 games, behind only his one-time assistant at Geelong, Brian Goorjian.
*Hall of Fame playing and coaching legend Brian Kerle rates Ken as "one of the three best Americans to ever play in Australia".
*In the late 70s, when Ken strongly was considering taking out citizenship, on the assumption he would, then Boomers coach Lindsay Gaze suited him up for Australia to play against a visiting US college team. That makes him the only American who was STILL an American to officially play for Australia.
Ken Richardson May 24, 1950 - October 22, 2013

THE Adelaide 36ers will wear black arm bands on Friday night in Cairns and again on Sunday against Melbourne as a mark of respect for American-born South Australian basketball icon Ken Richardson.
The 196cm centre-forward, who won the first NBL championship for the state in 1982 when he player-coached West Adelaide to the title over Geelong in an epic grand final in Newcastle, died on Tuesday, aged 63.
West Adelaide ceased to play NBL as a separate entity ahead of the 1985 season, merging into the composite Adelaide 36ers, club general manager Dean Parker saying it was appropriate to recognise and honour Richardson's legacy.
"West Adelaide became part of the 36ers but even without that, Ken's contribution to South Australian basketball is beyond question," Parker said.