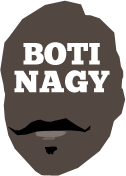 ---
Advertising opportunities available.
Please contact me.
---
FLASHBACK 108: May 9, 1995
Tweet
*FLASHBACKS, my irregular "lucky dip" where I just reach into my drawers of old Australian basketball stuff and transcribe or post whatever I find for you ... and wow, did something interesting pop up this week!*
In the aftermath of the dreadful "Melee in Manila", many in the Philippines - including media - have tried to paint the Boomers as the aggressors in the disgraceful scenes which marred the Boomers' 89-53 rout of the home team.
Slanted TV shows, absurd denial-based commentary, even a ridiculous faked racist "tweet" allegedly by the mob violence's biggest bashing victim Chris Goulding, have been pulled from the Filipinos' bag of tricks as they desperately try to influence FIBA's ongoing investigation of the worst international basketball incident of the century.
Today, even the ABC filed an erroneous "report" claiming imagined racist taunts led to attacks still chilling in their excessive violence and disregard for fellow human wellbeing.
Seriously now, this type of thuggish behaviour has been going on for decades.
Here's a quick reminder from May 9, 1995: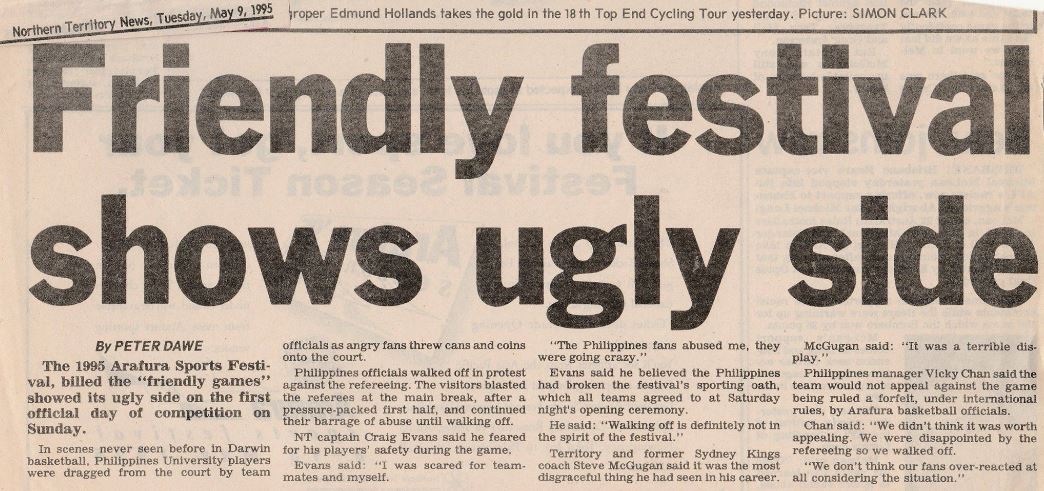 It is taken from the Northern Territory News so for those unable to read the fine print, the article, written by Peter Dawe, says:
The 1995 Arafura Sports Festival, billed the "friendly games" showed its ugly side on the first official day of competition on Sunday.
In scenes never before seen in Darwin basketball, Philippines University players were dragged from the court by team officials as angry fans threw cans and coins onto the court.
Philippines officials walked off in protest against the refereeing. The visitors blasted the referees at the main break, after a pressure-packed first half, and continued their barrage of abuse until walking off.
NT captain Craig Evans said he feared for his players' safety during the game.
Evans said: "I was scared for teammates and myself.
"The Philippines fans abused me, they were gooing crazy."
Evans said he believed the Philippines had broken the festival's sporting oath, which all teams agreed to at Saturday night's opening ceremony.
He said: "Walking off is definitely not in the spirit of the festival."
Territory and former Sydney Kings coach Steve McGugan said it was the most disgraceful thing he had seen in his career.
McGugan said: "It was a terrible display."
Philippines manager Vicky Chan said the team would not appeal against the game being ruled a forfeit, under international rules, by Arafura officials.
Chan said: "We didn't think it was worth appealing. We were disappointed by the refereeing so we walked off.
"We don't think our fans over-reacted at all, considering the situation."
* * *
SO there you have it. Even 20-plus years ago, they couldn't or wouldn't cop to their own outrageous behaviour. Except back then, sections of Australia's own media were not as quick to try and excuse them or seek to justify such loutish thuggery.
The Territory team needed a police escort to get safely out of its own venue in Darwin!