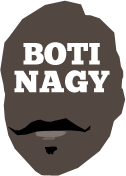 ---
Advertising opportunities available.
Please contact me.
---
FLASHBACK 77: Olympic themed reads 2
Tweet
*FLASHBACKS, my irregular "lucky dip" where I just reach into my drawers of old Australian basketball stuff and transcribe or post whatever I find for you.*
THE Rio Olympics is only a week away and the Boomers' "Quest for Gold" being followed by an entire nation.
We had a good shot at a medal - maybe not Gold - but definitely a medal in 2000 when Sydney staged what universally was regarded as the greatest Olympic Games.
"BASKET CASES" is a basketball ebook I was working on for several years and this is my chapter of the events in Sydney as they unfolded.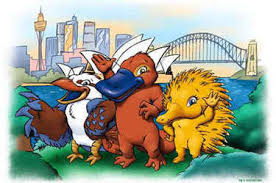 "Basket Cases - A First Hand Account of Basketball in Australia" is a book about major events in our sport over the past 40-plus years that I was fortunate enough to see or experience first hand, and my insider retelling of those events. But a word of warning: this is a CHAPTER from a book so it's by no means a five-minute read. I hope you enjoy it, but grab a cup of coffee and settle in first...
Fool's Gold
The Boomers at the Sydney 2000 Olympics

AUSTRALIA failed in Sydney.
Let's get that established and out there straight away.
Yes, the Boomers finished fourth which equals the men's basketball team's best result at an Olympic Games. But did it really?
Let's stop masquerading it as our best result and put it into context. When you reach the semi-finals of a major event and finish fourth then surely you achieved the worst possible result.
In 1988 at the Seoul Olympics, Australia stuck its nose into the medal party for the historic first time. It achieved a fourth placing that was a landmark for Australian men's basketball. National coach Adrian Hurley oversaw the selection of the bulk of Australia's key international players such as Phil Smyth, Larry Sengstock, Wayne Carroll, Ray Borner and Brad Dalton - guys who gladly would bleed for the green 'n' gold - with a couple of reasonably talented chaps by the name of Andrew Gaze and Damien Keogh returning for their second Olympics.
Hurley took a mighty punt and gambled on three fairly raw but exciting prodigies he was nurturing at the Australian Institute of Sport, namely Luc Longley, Mark Bradtke and Andrew Vlahov.
Today, it seems amazing to think those selections were the subject of quite some debate, scrutiny and criticism across the nation. Hurley had seen the future and wanted it now. When he was being lambasted for one-eyed blindness where his AIS tyros were concerned, he should have been being lauded for the visionary he proved to be. But I suppose for many that can only come with hindsight.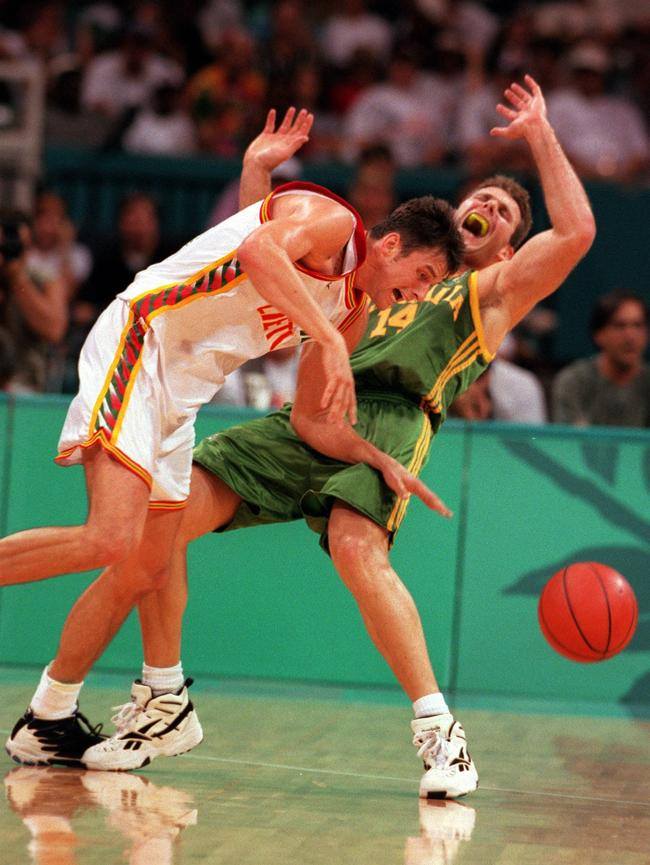 VLAHOV TAKES CHARGE: Andrew hits the deck against Lithuania, putting his body on the line.
(It was the same four years earlier for then Olympic coach Lindsay Gaze who had to take some heat for the selection of son Andrew in the Los Angeles Games team. The critics in those instances look pretty damn foolish now.)
Hurley's 1988 Seoul campaign had been brought to the boil by two major tours of Australia in 1987 and 1988 by the Soviet Union's super-powered team. The Soviets would knock out the USA in the semi-finals - bringing about the advent of NBA players into the Olympics - and Yugoslavia had its way with Australia in the other semi 91-70.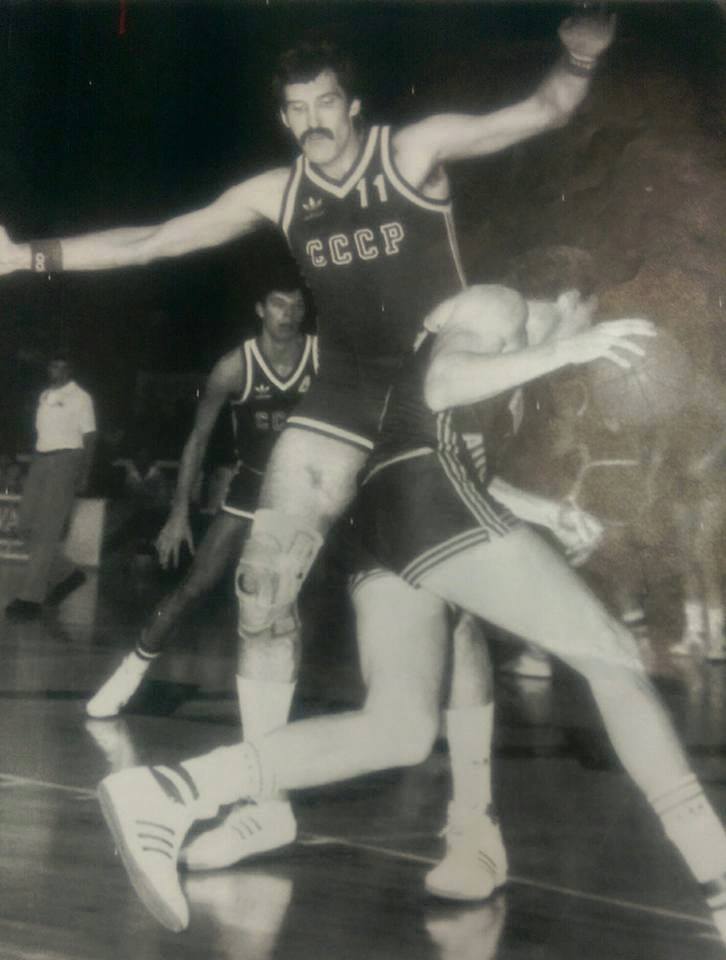 BACK WITH THE U.S.S.R.: The Soviets toured in 1987-88
The Boomers then fronted the USA for the bronze medal. Now this may have been the last time the USA would send its finest college players to represent it at an international event such as a world championship or Olympics, but that's not to say this team lacked talent. The line-up included David Robinson, Danny Manning, Mitch Richmond, Dan Majerle, Stacey Augmon, J.R. Reid - all guys who had more than just notable NBA careers. Stung by being out of the gold medal game they believed was their birthright, they gave Australia a 78-49 lesson in defensive pressure.
Nonetheless, it was fourth place at an Olympic Games for Australia and a fourth place of which we could be proud.
Australia's record may only have been 4-4, but its losses were exclusively to the gold, silver and bronze medallists, basketball's superpowers. The Aussies beat Puerto Rico 81-77, Central Africa 106-67, Korea 95-75 and Spain 77-74 in a quarter-final. Its two preliminary round losses were to the USSR 69-91 and Yugoslavia 78-98. In the semis, it was the Yugos again who claimed the Boomers' scalp and in the bronze medal game, the USA.
Fourth place in Seoul, 1988, was a watershed in Australian basketball and definitely something to savour.
Eight years later in Atlanta and with Barry Barnes the head coach, Australia again finished fourth. This was an Olympic campaign to remember, the Boomers bouncing Korea 111-88 before losing to superpower Yugoslavia 68-91. A memorable double-overtime 109-101 win over Brazil was followed by another dramatic 101-96 success over Puerto Rico before a 103-62 cruise against Greece.
Australia again had made it to the quarter-finals where Tony Ronaldson would sink a late 3-pointer that would be his career's defining moment, the Boomers upsetting Croatia 73-71.
Australian basketball fans were celebrating across the nation even though we knew bronze would be the ultimate target because the Boomers had a semi-final meeting coming up against the USA.
This was no "Dream Team" but it still had the likes of David Robinson, Charles Barkley, Karl Malone, Scottie Pippen and John Stockton from the original bunch plus some fairly useful pros such as Shaquille O'Neal, Hakeem Olajuwan, Grant Hill, Penny Hardaway, Gary Payton, Reggie Miller and Mitch Richmond. Put it this way. Without overstating it at all, Australia's chances of winning this semi-final were basically just slightly below corpse.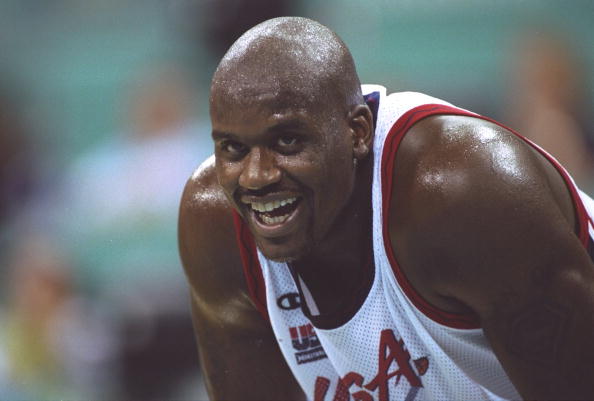 USA AT ATLANTA: Shaquille O'Neal joined five Dream Teamers.
So it proved, the Americans winning 101-73 on their way to the gold medal with a 95-69 win in the final over Yugoslavia. That left Australia to play Lithuania for the bronze medal and it definitely had a shot at joining the Opals on the medal dais.
For its tiny population and seeming eternity of occupation by bigger, more aggressive countries, Lithuania is a mighty basketball nation. A European champion in the 1930s it bred a myriad of stars including several members of the USSR's Seoul Olympic gold medallist such as Arvydas Sabonis, Rimas Kurtinaitis and Sarunas Marciulionis.
Luc Longley was injured and out of this particular Australian Olympic campaign and though Mark Bradtke battled gamely all match against Sabonis, the 220cm giant with the deft passing touch and 3-point range was a huge hurdle. At one point, when he bear-hugged and lifted John Dorge off the ground and placed him away from a developing "situation", you just knew this was no ordinary man or basketballer. Dorge, you should recall, was 210cm and 120kg at the time and Sabonis lifted and moved him like a sack of apples.
It was a game-and-a-half, the Boomers battling to the siren but beaten 80-74, the bronze medal slipping tantalisingly from their desperate grasp. Fourth place in Atlanta then, again was a monumental achievement. This particular group of Boomers had no meaningful NBA experience and had done it the hard way. And all we heard for months after the Games was that "if Luc Longley had been available, we would have had an answer for Sabonis".
A fit and available Longley, at 218cm and with a wealth of NBA experience, undoubtedly would have made a difference. Whether he would have been the foil for Sabonis was wonderful conjecture and speculation. That's all it was though. The point here became we were being led to believe a bronze medal was realistic.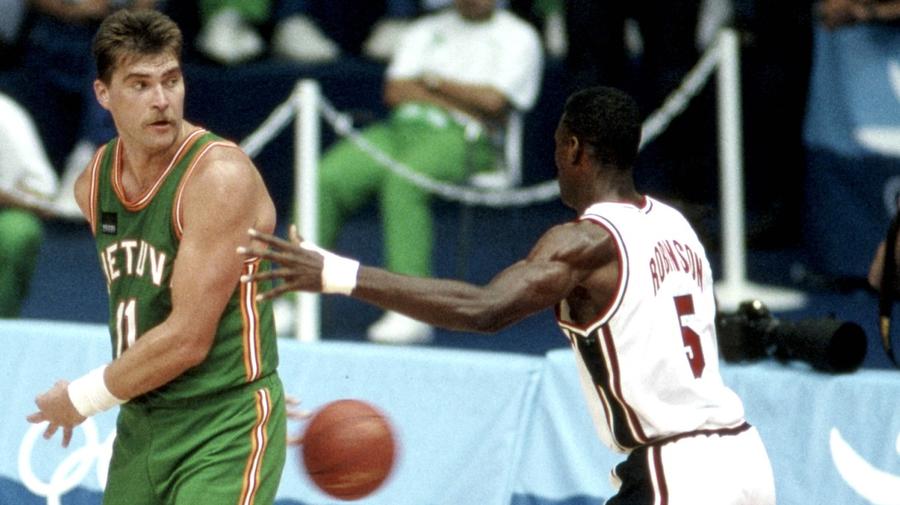 BEHIND-THE-BACK: Arvydas Sabonis may have been the best passing big-man of all time.
Fast forward now to Sydney 2000 and "the greatest team Australia had ever assembled". Those aren't my words. They came from within the team itself, just as predictions of a silver medal were expectations created from the team, not by the public or the media. Seized on by the media - you bet - but the expectations came from within.
Barnes and his assistants Alan Black and Brett Brown were all back from Atlanta and had assembled Australian basketball's first "super team". No less than seven of the 12 players had some measure of NBA experience. Ricky Grace (Atlanta Hawks), Andrew Gaze (Washington Bullets/San Antonio Spurs) and Paul Rogers (LA Lakers, Toronto Raptors) had all had a taste. Mark Bradtke (Philadelphia 76ers) and Shane Heal (Minnesota Timberwolves) both had a season buried on those clubs' respective benches.
Longley (Phoenix Suns) was a three-time NBA championship starter with the Chicago Bulls and Chris Anstey was logging time with Dallas Mavericks before being traded to Chicago.
The magnificent seven boasted the most NBA experience and exposure Australia had ever brought to a significant international basketball event.
Rogers also was coming off an NBL championship season with Perth Wildcats in which he won the league's Most Valuable Player award and Adelaide 36ers captain Brett Maher had won the Larry Sengstock Medal as the grand final MVP in 1999 and just been named in the NBL's All*Star Five.
Gaze, Bradtke, Rogers and Sam Mackinnon completed that Star quintet and "Slammin' Sammy" had shown he could live with the NBA's best when he lit up the USA in a pre-Olympics match in Melbourne.
In Barnes' words, small forward Martin Cattalini of the Adelaide 36ers finally gave Australia that mid-range athletic player so prominent on the European teams, giving the Boomers "a new dimension". It was a dimension Barnes never saw fit to use, exploit or even visit. But hey, it was handy to know the option was there.
Victoria Titans off guard Jason Smith had made major strides during the year, adding the mantle of the NBL's best 3-point shooter to his impressive defensive reputation. Smith was a far more complete player now and with his extraordinary athleticism to boot, at the top of his game.
Perth Wildcats veteran Andrew Vlahov had shown in the lead-up to the Games that his heart and muscle would be invaluable for this one final campaign that would net Australia a medal of some hue, be it silver or bronze. He would remain an integral member of this Boomers team to "end all teams".
Let's recap. Seven guys who had tasted the NBA, the Seoul tyros of Bradtke, Vlahov and Longley at or near full maturity as players, Gaze still the greatest player in Australian basketball history, Heal back from a successful European stint and ready to lead the side onto the medal dais. Big young athletes such as Rogers and Anstey ready, willing and able to step into the breach. Great backcourt options in Grace, Maher and Smith, plus two exemplary small forwards in Mackinnon and Cattalini. A coaching staff which already had braved the elements four years earlier to challenge for bronze and finish fourth.
This was going to be it, baby. Charge your glasses folks cause this is going to be the Australian team we'll still be talking about in 20 years' time. The team that broke the medal ceiling. And hey, why shouldn't they? As host nation, Australia did not have to qualify so any energy channelled into the biennial tryst with New Zealand could be spent forging ahead with the medal plan which surely already must have been being hatched in the wake of the Atlanta Olympics.
Surely.
So Barnes, Black and Brown, with the unqualified backing of Basketball Australia, had four years to get it right for Sydney. Now don't go jumping up with that "they didn't even pick the team until a couple of months out" waffle because after Atlanta and barring injury - and there were none of substance - the 3Bs would have already had a fair idea of who would comprise the main portion of the Boomers' Sydney rotation.
Let's get real here. Gaze, Bradtke, Heal, Vlahov, Longley, Mackinnon - the potential starting line-up in Sydney 2000, plus one - would have been certainties after the 1996 Games, with Brett Maher and Tony Ronaldson probably pencilled in as well. Barnes, Black and Brown - but mostly Barnes, who had the national coaching job fulltime - would have known well in advance who the players in their most desirable rotation would be.
You can debate ad infinitum whether Longley was ever a certainty until the last minute. Anyone who knows Luc even passingly knows he would have busted a gut to ensure he was on that Olympic team playing in his home country. Questions about his availability just don't constitute a valid argument.
The 3Bs could not have known yet after Atlanta that Grace, Smith and Cattalini would make their team or that Rogers and Anstey would emerge over the next couple of years, ultimately leading to Ronaldson's demise.
If you accept the premise Heal and Gaze would be the starting backcourt, Mackinnon at small forward, Bradtke and Longley in the power forward and centre spots, you can recognise the coaching staff had ample opportunity to start devising the most appropriate offensive and best defensive strategies for those key personnel. If you still want to give the coaching staff an "out", then let's fast-forward two years to the 1998 world championship.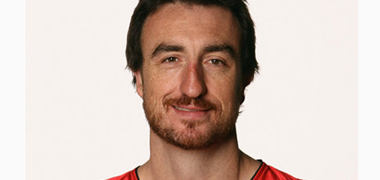 That's where Rogers (above) emerged in the absence of Bradtke and Longley, and Anstey also showed he could handle the step up in company. So if you want to keep giving the coaching staff an escape route for not starting planning properly after Atlanta, surely you have to agree that after the 1998 worlds in Athens, the 3Bs had to have a fair idea that Gaze, Heal, Mackinnon, Vlahov, Bradtke, Longley, Rogers, Anstey and Maher would be virtual certainties for the Sydney Games team and the preferred options.
That's why it was ponderous, to say the least, to find the Boomers still searching for the right offensive construct just two months out from the Games. What had these guys been doing for four years? Okay, for two years at least then. Navel gazing?
Sure, Ronaldson and Simon Dwight allegedly were being given every opportunity to force their way into the expected final 12 but even if they made it now, they were going to be bit players at best. In other words, selection of the appropriate offensive strategies to suit the personnel was not going to hinge on any late developments.
I wasn't originally going to the Olympics so I was only following the team's preparation with a bit more than casual interest. I guess that's why I was quite flabbergasted when, six weeks out from the Games, the Boomers decided to ditch what they had been trying to run in favour of the Auburn Shuffle. Now if you're new to basketball or aren't all that up with its more technical side, let me just tell you that the shuffle offence is what Lindsay Gaze has been running with the Melbourne Tigers since a week after James Naismith nailed the peach baskets to the YMCA wall in Springfield, Massachusetts.
That's not to say there's anything wrong with the offence. It's a Tigers staple and helped them to two NBL championships and a couple of other grand final appearances in the '90s. Before that, it helped Melbourne Church become one of the premier teams in Australia and the No.1 club on several occasions. But any offence which caters to 3-point shooters and cutters, under-utilises its taller players and even sends them out to the 45s or wings as passers, has something intrinsically awry for a line-up which includes seven-footers.
The shuffle originally was designed for a team without a centre, where the five players were relatively interchangeable. If you ran the system through five times, each player would fill each position at some point. It did not cater so much for players who could do something off the dribble but served those who could move or work well without the ball. The Melbourne Tigers had made a slight modification so their evolved version of the shuffle included a play for Mark Bradtke. But the Boomers adopted only the basic system.
Again let me stress that at the elite level of basketball, there are no truly bad offences. There are just inappropriate ones to run with certain types of personnel. It is a coach's biggest single mistake to put a favourite offence of his/hers over the needs of his/her personnel. Back in the Sixties when there was no abundance of genuinely big men in Australian basketball, the shuffle was near-enough to a perfect attacking system. With Lindsay Gaze's tinkering and modifications, it stayed a very successful offence for the Melbourne Tigers.
For the Boomers?
Well, as either Luc Longley or Paul Rogers said - I can't remember which - when the offence took them out to the 45 or wing, "I was a turnover waiting to happen".
You could appreciate Barnes, Black and Brown's flawed logic that with Longley's deft passing skills, he could be an ace-in-the-hole whipping the ball to cutters from the outside. Why didn't Phil Jackson ever think of that, eh? Longley looked as comfortable out there as a Zulu at a pygmy convention.
There was unquestionably great personnel on this Australian team but it was almost as if at some point, the 3Bs decided Andrew Gaze and Shane Heal would be Australia's only reliable scoring avenues so the offence had to suit them. As far as that went, they finished the Olympics as the No.1 and No.2 scorers but the Boomers were in the stands during the medal presentations. And this was the one time they should not have been.
They had ample preparation with the Slam Down Under series bringing Russia, Canada and New Zealand into the Sydney SuperDome for a four-nation tournament in June. That was followed by a three-game series against the Russians which started with a 69-75 Boomers' loss at the Glasshouse in Melbourne. The match was still hailed as wonderful for it marked the return of the little Aussie hero Shane Heal into the green and gold after a pro stint overseas. Game 2 of the series in Adelaide actually gave a terrific encapsulation of what was in store at the Olympics. The Russians led early, Australia played some great ball to lead 49-41 by halftime, then the visitors went on an 18-3 tear to be out 59-52 and in the boxseat.
Brett Maher, Simon Dwight, Andrew Gaze and Martin Cattalini then led a tremendous fightback which saw Maher tie the game at 63-63 inside the final five minutes. Okay, maybe this wasn't an Olympics encapsulation in the way you may have imagined because Maher and Cattalini didn't get to play in Sydney and Dwight was not selected. But this game told the story of the Games to come because the Aussies were down, they were up, they were down again and so much still hinged on Gaze's performance. That was the Olympics in a nutshell. But wait, there's more.
With 1:35 left, Maher's shot gave Australia the edge but Russia's exceptional guard Zakhar Pachoutine found enough room with 46.1 seconds remaining to drain a 3-pointer for the lead, 70-69. The Boomers missed their shot at the lead and Andrei Kirilenko was fouled to stop the clock at 21.7 seconds. Barnes sent Heal in to join Maher and Gaze as 3-point threats, correctly assessing Kirilenko would convert both freebies. He obliged, but the Russians quickly undid Australia's plan by fouling Heal and sending him to the stripe for two free throws only, the Boomers down 69-72.
With 10.3 seconds to go, Heal scored one and Kirilenko was off down court with the ball. Incredibly, he slipped over and Australia had possession with 5.2 seconds left.
Time-out Australia and a 6000-plus crowd at the Clipsal Powerhouse excitedly awaited the grand play that would either see Australia go for the triple and the win, or a quick hit play for the draw and overtime. The place was buzzing. Heal received the inbounds pass, drove the baseline where the Russian forest blocked out the sun, he flipped up a reverse lay-up prayer that bounced aimlessly off the ring to the sound of the siren. Say what?
It was an anti-climax of monumental proportions. The prevailing feeling in the stunned stadium was: what the hell was that? Well that folks was the Sydney Olympics in a single game - down, up, down, so much promise, ultimately disappointment.
Russia eventually swept the series. Within a fortnight though, enthusiastic Boomers captain Andrew Gaze declared Australia could beat the USA, given the right set of circumstances. Barnes was quick to hose that down in a subsequent press conference. "Andrew doesn't drink either, so I was amazed he said that," Barnes quipped.
"But I think that's a great attitude to have. Remember, no-one expected Australia to win the America's Cup." (Or New Zealand to beat Australia in an Oceania Series a year later, for that matter.)
Barnes said what most were thinking - that the USA and Yugoslavia would probably rank at #1 and #2 for the Games and that Australia was "in the mix with everybody else". The US was putting another NBA-outfit on the hardwood but if you're waiting for it to be called "Team USA" or "Dream Team III, IV or V" in these pages, think again. That "Team USA" tag is just typical American BS and while they appear to love it - or it's shoved down their throats regardless - you can have it if you want it. But seriously, who calls their national side "Team Australia" or "Team Germany"? It's what we delicately call in the newspaper game "wank" and its perpetrators - American or otherwise - "wankers".
Australia's preparation was topped off by an Opals-Boomers double-header against the USA in Melbourne a week before the Games. The Americans were Shareef Abdur-Rahim, Ray Allen, Vin Baker, Vince Carter, Kevin Garnett, Tim Hardaway, Allan Houston, Jason Kidd, Antonio McDyess, Alonzo Mourning, Gary Payton and Steve Smith. It was an okay team but miles from the best the USA could have sent. Let's face it, there was a better-than-even smattering of crass and class in this outfit. For every solid citizen with an appreciation of the world outside the US borders, there was an obnoxiously arrogant, young millionaire with a chip on his shoulder. If not two.
The game was off to a lively start with an "incident" between Gaze and Carter when the duo hit the floor after a missed Gaze 3-point attempt. Players surged in and of course Heal, infamous for "doing-the-rooster" with Charles Barkley four years earlier in a similar exhibition match leading into the Atlanta Games, was straight in there sharing Gary Payton's space and exchanging unpleasantries. It settled down fairly quickly but became the major talking point, a shame really because Sam Mackinnon's aggressive performance warranted greater kudos and recognition.
But a bit of biffo - even if there was none - always gets the adrenalin pumping, especially for editors who are stashed away in an office somewhere but can tell you all about the big brawl you obviously missed. Not long after the game resumed, referee Bill Mildenhall took a tumble at mid-court and could not continue. It wasn't yet two minutes into the contest and already there was plenty about which to write. NBL ref Mal Cooper was sought out of the stands but he had no gear. Instead, Carolyn Gillespie, who had called the earlier women's game, was recalled courtside and took over from the injured Mildenhall.
Barnes had said he intended to run everyone but Australia was living with the Americans across the first half and the opportunity to create an international incident must have superseded that plan. It meant we had another glimpse of what was to come in Sydney. At halftime the US led 34-27, Gaze following three successful free throws with a 3-pointer to keep the Boomers in touch.
Mackinnon, Mark Bradtke and then Gaze with another triple had the deficit back to 34-36 with 18:01 left in the second half but that was as close as Australia would come. Payton, Garnett and Carter - who was hearing "Carter's a wanker" from the crowd a lot of the time, no doubt curious what it meant - helped push the USA back out to 47-40 and an unchecked 11-0 run had the game out of reach with 12:34 to go. We got a brief look at Ricky Grace, and Brett Maher hit an NBA 3-pointer but the 89-64 final scoreline was fairly reflective of how the match had panned.
Martin Cattalini had four minutes and thirteen seconds of action, Jason Smith saw 4:15, Maher 6:16, Grace 8:50. The Americans had the idea of playing everyone down to a much finer art, Mourning playing the most with 21 minutes, McDyess the least with 11. It was on to Sydney, the Olympics and the chance at last to finally see our men wearing a medal, no-one more deserving of concluding an incomparable international career with a gleaming piece of metal hanging from his neck than the master Gaze.
The men's teams were seeded into two groups, Australia in Pool B with Russia, Angola, Canada, Spain and Yugoslavia. Pool A had the United States, Lithuania, Italy, France, China and New Zealand. To advance to the second stage, Australia had to finish its intragroup matches in the top four but fourth place in the pool needed to be avoided at all cost. The cross-pool quarter-finals had the teams finishing first against those finishing fourth, seconds against thirds. That meant finishing fourth in Pool B would pit that sucker against the team finishing first in Pool A, and that team was going to be the USA. In other words: "Goodnight, thanks for coming, enjoy the fifth-to-eighth positional playoffs".
Australia had drawn Canada for its Games opener, a good test against a team the Boomers had seen several times during the build-up and across the preceding two years. In Olympic competition, the sides had met twice and the Canadians were 2-0, not that such a stat makes any difference once the ball is airborne for the opening tip.
The Boomers opened with Heal, Gaze, Mackinnon, Mark Bradtke and Luc Longley. Canada started with Steve Nash, Sherman Hamilton, Rowan Barrett, Michael Meeks and Pete Guarasci. Could the Boomers have asked for a better opening than Bradtke hitting Gaze for a 3-pointer after just 25 seconds?
It was 11-6 on another long Gaze three and 16-8 when Longley grabbed an offensive board and passed to Bradtke for the easy two. Mackinnon split a pair of triples by Barrett and Meeks with a dunk and the Boomers were back out to an eight-point advantage when Longley fed Mackinnon's cut at 14:32. The Boomers led by nine at 36-27 and it was 38-32 to Australia when Ricky Grace fed Paul Rogers for a dunk just 6:41 from halftime.
It was all about to change as Canada's NBA point man Steve Nash evolved from pest to pestilence. He lobbed to Barrett for 34-38 and the start of a 9-0 run that swept the Canadians to a 41-38 lead. Longley's baby hook cut it back to one point but Guarasci pushed it back to three. Ricky Grace's shot kissed the glass but Guarasci again made it 45-42. Grace then nailed a 3-pointer to tie it before stealing the ball and converting the lay-up to push Australia back into the lead at 47-45. That, of course, was the signal to take Grace off.
Free throws from Heal and Longley had the Boomers out 51-46 with 1:50 to the break and for almost two minutes, both sides could not complete a play. But with six seconds to the interval, Nash pounced on a Heal turnover for a fast break, reducing the gap to 48-51 and sending Canada into the changerooms on a mini-high.
Nash killed Australia from there, scoring the second half's opening bucket before Meeks iced a 3-pointer for a 53-51 Canadian lead inside the first minute. Canada was now in the driver's seat.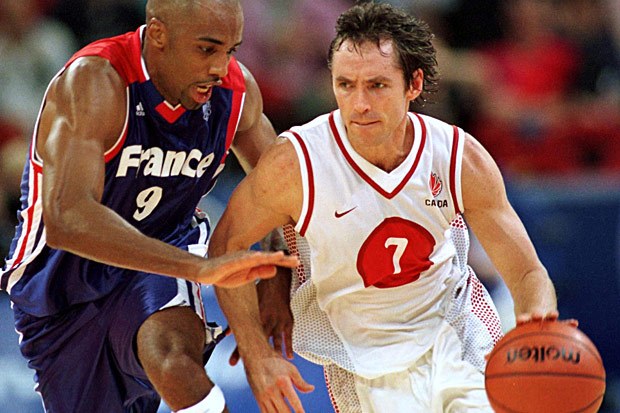 CANADIAN CLUBBER: Steve Nash had a great tournament but particularly rocked the Boomers.
Nash's quicksilver penetrations were slicing through Australia's defence like a laser beam through jelly, his next assist setting up another three by Meeks. Just for good measure, Nash drained a triple of his own before setting up Hamilton with another assist.
Mackinnon, Gaze, Heal could do nothing about the slick little Dallas Mavericks dynamo who burst through, around and about Australia's defence like a black-haired spinning-top. Canada was ahead 67-59 when Barnes finally tried Grace on Nash, 12:15 left in the game. Andrew Vlahov nailed an offensive rebound and dished it to his Perth teammate, Grace answering the call with a 3-pointer and 62-67. Forty-two seconds later, Grace's assist allowed Chris Anstey to make the scoreline 64-67 and at 10:19, the Amazing One hit another triple for 67-67. After Canada's David Daniels and Gaze swished 3-pointers within 12 seconds of each other, Bradtke grabbed a big defensive board, outletted to Grace who threw a long pass for Anstey on the break.
Mugged, Anstey converted a free throw and Australia was ahead, 71-70. Anstey put the Boomers ahead again at 8:27 (74-72) and 7:03 (76-74) with a dunk. Paul Rogers, who managed just eight minutes and fifty-five seconds of court-time, fouled out with 6:18 left and the scores tied at 76-apiece. That was the last deadlock. Guarasci restored Canada's lead and Meeks completed a three-point play for 81-76.
Again it was Anstey who stepped up with a three-point play of his own before Nash reasserted himself, feeding lumbering NBA big man Todd MacCulloch for an 83-79 lead. Anstey left the game 13 seconds later due to the blood rule, a foul-hampered Longley checking back in. At 3:50, Meeks swished a triple for 86-79 and 35 seconds later, the end was in sight for Australia when Bradtke fouled out, Meeks completing the three-point play from the stripe, Canada cruising 89-79.
There was still time for Longley to join Rogers and Bradtke on the bench - another big man disconsolate after fouling out - and this was all but over. The Canadians were understandably jubilant with their 101-90 victory, dynamo Nash the destroyer with 15 points at 50 per cent, a whopping 15 assists, six rebounds and just inspirational basketball from start to siren.
What the hell had happened? When Nash's skill and quickness was turning Australia's defenders into a succession of lead-foots, why did it not occur to any of the 3Bs to gamble on Maher or Smith? At this stage, it was not yet apparent how far out of favour Maher was with the team strategists but even with hindsight, Jason Smith - who later would get some chances - could have been punted on. What did the Boomers have to lose? Sure, it was not all devastation because there was plenty of time and plenty of games to rectify the situation.
But suddenly the prospect of a fourth-placed finish and a quarter-final with the USA crossover was looming largely. While no-one would necessarily admit it publicly, the Boomers definitely would have pencilled Canada in as an opening victory. The fact it was not and that Yugoslavia was next on the schedule - and that would have been pencilled in as a likely defeat - had everyone around the Boomers program feeling just a tad nervous.
Yugoslavia had opened its Olympics by beating Russia 66-60 and at this early stage of the tournament, already was in most people's calculations as a potential medal contender. Australia opened with the same starting quintet, the Yugos with Dejan Bodiroga, Predrag Danilovic, Sasa Obradovic, Dragan Tarlac and Dejan Tomasevic, a line-up in which Obradovic, at 198cm, was its shortest player.
The Boomers skipped off to a reasonable start with a 6-0 run including a pair of Shane Heal baskets and a Luc Longley feed to Mark Bradtke for a 6-2 lead. Unfortunately for the Aussies, that would be their biggest lead of the evening. An 8-0 run capped by a 3-pointer from Obradovic took Yugoslavia from 4-8 to 12-8 before Barry Barnes swung in Paul Rogers for Longley and Jason Smith for Gaze. Considering he saw no action against Canada, Smith's sudden elevation to first cab off the rank was indicative of an erratic substitution pattern which months earlier should have been resolved.
That's not to say elevating Smith was a bad call by the 3Bs. It just further made you recognise how confused they had it against Canada. The entry of Smith and Rogers with 12:48 to go in the half, did little to stall the Yugoslavian run. It continued from 8-0 out to 14-0 and down 8-18, the Boomers already were starting to look under siege. Smith went out at 7:41 and did not return to the game. Did I mention anything about an erratic substitution pattern?
Australia's offence was struggling against the Yugoslavian pressure and defensively, Bodiroga was proving a handful. The 205cm forward would finish the match with 19 points at 73 per cent and six assists. By late in the first half, Yugoslavia was motoring away, the Boomers unable to reward many defensive stops with a basket, their frustrations growing.
Chris Anstey got antsy with Zeljko Rebraca, a 211cm centre you really wouldn't want to mess with and Luc Longley collected his third foul two minutes from the interval, Yugoslavia ahead 38-23. In the final half-minute to the break, simmering Australian tensions peaked with Heal and Longley getting entangled with Bodiroga, Predrag Danilovic and Dejan Tomasevic, Obradovic throwing an elbow. With 8.1 seconds left, Obradovic was given a foul for his overly enthusiastic defence on Heal, who converted one free throw for 28-42. But the last laugh went to Obradovic who beat the halftime buzzer with his third 3-pointer of the half, Yugoslavia comfortably ahead 45-28.
The prognosis for Australia was not good. It needed a new or revised strategy, an offence that could produce more than 28 points in a half and for a lot of things to go right. When Longley picked up his fourth foul inside two minutes of the tip, you knew things were not going to go right. Gaze strung together five points to eat into the deficit and Anstey converted a free throw after Obradovic, who was promptly benched, gave up an unsportsmanlike foul.
On the additional possession, Gaze exhorted the crowd to try and lift his team's flagging spirits but the depth of the Boomers' dismay was evident when the normally unflappable Mackinnon clashed with Dragan Lukovski. Australia needed someone to step up in a hurry.
To his credit, Anstey tried to do it. He knocked a bouncing Yugoslav shot off the ring and scored from a reverse, a jumpshot and his favoured corner. But his six-point string was interrupted each time by Yugoslav baskets, the Boomers' defence making no consistent impression. Down 44-64 with 10:30 to play, this was all over, the Boomers finally done 80-66 and now with a 0-2 win-loss record. This definitely had not been the plan.
Forget worrying about finishing fourth and facing the USA in a quarter-final - the need for a win right now was starting to take on a monumental proportions. For morale and confidence, a breakthrough was essential though Russia in the next round appeared an unlikely place to find it.
In the meantime, the US was doing its bit in the rival pool to win friends and influence others. Unable to put aside their baser instincts and competitive foolishness, the Americans insisted on trash-talking their international opponents. That is, of course, despite most of them not understanding a word.
During their 119-72 rout of China, for example, several of the American contingent were bad-mouthing their opponents with inane comments such as: "Go home boy, you can't guard me in my house or anywhere else". While that might be a typical NBA remark, it gets lost in translation somewhere on a Chinaman just trying to maintain a defensive posture. And since when was Sydney the "home" of the American team? For those not dazzled by the exceptional athleticism and skill of the USA but instead disappointed by their cocksure arrogance, ignorance and immaturity, this team's antics did little to enhance the reputation of the United States in the international community. Not that too many of these guys would have cared.
Australia, meanwhile, was gearing up for its pivotal game of the tournament so far. A loss to Russia would mean a fourth-placed finish at best, elimination from the quarters at worst. This was going to be huge. Barry Barnes stuck with Heal, Gaze, Mackinnon, Bradtke and Longley as his starters, the Russians going with guards Evgueni Pachoutine and Zakhar Pachoutine, Andrei Kirilenko, Andrei Fetissov and 211cm Nikita Morgunov.
The Russian guards immediately started by driving on their Boomer counterparts, clearly under instructions to exploit their lateral quickness, or lack thereof. Gaze fouled on the first drive and was beaten on the second and there was immediate trepidation across the press gallery. Many among us like to make their judgments early - and harshly. Personally, I'm usually patient enough to wait until at least the game's second minute before I'm leaping to any conclusions. Bradtke missed under pressure, then Heal missed and the tension was evident.
But when Longley opened the scoring at 18:09 and Gaze found Mackinnon for a dunk 14 seconds later, Australia had the crowd roaring. Leading 6-5, the Boomers produced a telling 64 seconds, Longley hitting Gaze for a 3-pointer, Mackinnon going coast-to-coast, then stripping the ball free for Gaze to produce a classic three-point play. Suddenly, the Aussies were ahead 14-5. Fetissov's free throw broke the run but the Boomers' passion was apparent when Mackinnon located Longley for a slam dunk. Australia was ahead 16-6 and Russia calling a time-out to regroup.
It made little difference. Longley grabbed an offensive rebound and fed Gaze for a triple and a 19-6 lead with 13:49 to halftime, Australia on a 13-1 run. Longley was energising the Boomers, his three-point play immediately cancelling Serguei Tchikalkine?s 3-pointer. Then Longley double-pumped and sank a jumpshot. At 10:41, Longley had another assist, this time for Bradtke and a whopping 26-9 lead.
But within 30 seconds, the NBA championship-winner had his third foul for a defensive reach-around, Paul Rogers checking in but the sight of Longley heading for the seats not comforting. An active Mackinnon intercepted a ball for Jason Smith to hit his first basket and Russia again was calling time-out, Australia ahead 28-9 with 9:46 to halftime. Playing some great defence, Bradtke stopped Serguei Panov and Smith rewarded that effort with a jumpshot in transition, the lead blown out to 30-9.
By now the crowd supporting Australia at The Dome was in full voice and even the usually reserved press gallery was whooping it up. This was more like it baby. Gaze hit a three and lobbed for a Rogers dunk but Russia was finding its target with a long-range missile bombardment. Nikita Morgunov hit two 3-pointers, Fetissov and Pachoutine one apiece before Zakhar Pachoutine successfully completed a three-point play for 26-37.
It was time-out to Australia this time, 3:08 from halftime and Shane Heal's turn to get the offence ticking over with two triples and a jumper. Andrew Vlahov showed there was some serious resolve this time out when he nailed Valentine Koubrakov and Gaze's drive made it another 10-0 run for a 47-26 buffer. Russia managed a basket in response but did not do enough with two Australian turnovers in the last 30 seconds, the Boomers heading into the changerooms ahead 47-30 and with the sounds of a standing ovation ringing in their ears. There had not been too many of those.
Australia came out just as ready to play when Mackinnon popped in the second half's opening score off the glass. Then Heal stroked a three in transition before a drive and mid-range jumpshot. It was 54-30 and still 18:04 to go. The sting slipped from the contest as the Boomers led 61-39 on a long three from Vlahov. The lead was still at 22 points when Bradtke scored off the second attempt with 12:33 left. Surely this was now just a formality?
Think again.
In just about two minutes, Russia put together a nine-point stand that altered the match dramatically. Australia's lead had whittled from 63-41 to 63-50 and no longer looked so very imposing. Mackinnon worked hard to stretch it back to 65-50 and Vlahov pulled off a steal but the Boomers were visibly slowing down. If we could see it in press row, you knew the Russians could sense it too.
A Pachoutine three-point play and two 3-pointers later, the deficit had been ruthlessly slashed from 15 to six and at 65-59 ahead with 6:14 to play, Australia was looking decidedly shaky. All that emotion-charged energy had drained a lot of the Boomers' adrenalin and those players who weren't now running on empty, certainly were only running on the smell of an oily rag. The question along the Aussie press table no longer was: "How far Australia?" It had become the far more desperate: "Can we hold on"?
Longley offered hope with his fourth assist giving Bradtke another easy basket for 67-59. But that hope slipped to alarm when the Russians stroked a 3-pointer followed by a slam dunk from Andrei Kirilenko for 64-67 with 4:50 left. The alarm turned into panic when Pachoutine pounced on a Heal turnover for a lay-up, Australia's lead now just one point with 4:11 left.
At 3:49, it was Longley again to the rescue with his fifth assist, Bradtke again the recipient of a pass which allowed him to unshackle the Aussies somewhat at 69-66. But it was looking desperate again when Pachoutine swept past the Boomers to the hoop at 2:52 for 68-69. The Boomers were hanging on like grim death when Tchikalkine delivered a potential dagger to the heart. Inside the game's final two minutes, the 197cm guard didn't just give Russia the go-ahead basket, he did it with a 3-point swish.
It was a pandemonium of exhilaration on the Russian bench. And why not? From 24 points down two minutes into the second half, they were 71-69 ahead with less than two minutes to go. One of the great comebacks in Olympic basketball history was just about complete.
Just about.
With Longley's sixth assist, he had saved the best for last. Showing all the composure and poise of a three-time NBA champion - not to mention flair - Longley flicked a behind-the-back pass to Bradtke who made no mistake, 71-71 with 101 heartbeats to go. The sheer audacity of Longley's pass said more about how this would finish than anything that had gone before.
Pachoutine made a rare turnover inside the final minute and in the classic storybook finish, Andrew Gaze - the man most deserving of an Olympic basketball medal - hit the 3-pointer from which Russia could not recover. The Dome was in near hysteria over the final rush-hour seconds but Australia would not be denied, coming up again with the ball as Russia fouled and time expired. Someone hit another free throw for the final 75-71 scoreline but we were too busy jumping around in the press aisle to care.
The scene was being repeated right across the sold-out stadium, right down to the Australian bench. Who says the media is impartial? It's a lot more fun writing about wins than defeats, of heroes and heroics than wasted chances and the culprits behind them. It's a lot more enjoyable interviewing winners than losers, of experiencing the bliss - even if only peripherally - than the despair and anguish. Australia's bounding big male kangaroos had given the Russian bear a black eye. More importantly, the Boomers' hopes of going through to the quarters and missing the USA in the crossover were alive again.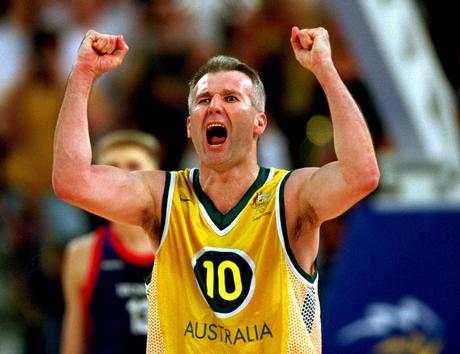 Gaze (above) and Heal had 15 points apiece, Bradtke 12 and seven rebounds, Mackinnon eight points, eight rebounds, five assists, two blocks and two steals. But in just under 22 minutes of play - about 10 minutes less than each of his fellow starters - Longley had delivered 11 points on 5-of-7 shooting, six rebounds and six assists. For a guy already 218cm tall, he was pretty damn big.
The mood in the camp now, of course, was considerably lighter. "You back on us boys?" Andrew Gaze jovially quizzed a contingent of the press corps as it arrived to watch the Boomers' training.
Angola was next on the schedule, another game pencilled in as a win but only very lightly. Angola had derailed Australia at the 1986 world championship and most people in the game at this level knew that story only too well. Australia still needed to beat the Angolans and Spain to avoid the Americans in the crossover quarter-final.
Russia belted Canada 77-59, which would prove an important result, shortly before the Boomers squared up to the Africans. This was anything but a pretty game. There were 12 lead changes before it was settled and with 12:55 left, Victor Carvalho had put Angola ahead 59-55. But that was all she wrote.
Luc Longley passed one to Chris Anstey for 57-59, Gaze swished a three for 60-59, then Longley added a hook, Shane Heal a 3-pointer and a mid-range jumpshot. In just over four minutes, Australia had put together a 12-0 run to lead 67-59. Angola got it back to three but Longley then hit four straight points and when he put down a dunk in the last five minutes, the Boomers were finishing too strongly for their gallant victim.
Australia led 86-70 before Angola shaved off five points in the last 40 seconds, the final scoreline 86-75. It had been far from an impressive performance from the Aussies - they were 11-of-22 from the free throw line - but they had done enough, brought their record to 2-2 and kept themselves alive in the medal hunt. Mark Bradtke had a night of sevens, hitting a perfect 7-of-7 from the floor and grabbing a game-high seven rebounds in 27 minutes. Bradtke had 17 points, as did Heal, Gaze leading the way with 18. Longley had 14.
It was going to now come down to the Boomers' final game against Spain. A loss would mean fourth place in Group B and the dreaded quarter-final against the US. Victory could mean anything, depending on other results. Spain had beaten Angola but lost to Canada, Yugoslavia and Russia. The Spaniards also could still go through to the quarters but had to beat Australia to do so. There was always going to be a lot riding on this game. As it stood, going into the last day of intragroup play, Canada, Russia and Australia appeared headed for a three-way tie.
Russia always was going to beat Angola and if Australia beat Spain and Canada lost to Yugoslavia as expected, the three teams would all be tied on 3-2 win-loss records. In that scenario, only their results against each other would be calculated to determine the final order of the trio, behind Yugoslavia. Canada had beaten Australia 101-90, Australia had taken out Russia 75-71 and the Russians had turned Canada into maple syrup 77-59.
In their three-way tie, they all shared 1-1 win-loss marks but Russia's points difference was 148-134 for a points average of 110.447. Australia was 165-172 or 95.93 and Canada was 160-167 or 95.81.
Effectively, if the last round of matches went to script, Yugoslavia would win the group 5-0, Russia would finish second, Australia third - by .12 of a percent - and Canada fourth, copping the Americans in the quarters.
It was a great relief to Australia. Of course, giant-killing Canada had other ideas anyway and caused another sensation when it opened the evening session by beating Yugoslavia 83-75. Steve Nash again was the destroyer with 26 points at 50 per cent and eight assists as Canada battled back from 12 down. Still trailing 72-73 going down the straight, the Canadians went 11-2 the rest of the way to push themselves to the top of the group. They were already through as the group's top seed and would face the struggling French team, which only beat minnows China and New Zealand to make it into the quarters at all. France was swept by the US, Italy and Lithuania, the Canadians confident they were a win away from the semis and the medal rounds.
The upset win over Yugoslavia now made the equation much simpler for the Boomers. Beat Spain and Australia would finish third because in its one-on-one tie with Russia, its victory over the Russians would give it the higher placing. Lose to Spain and it would be left on a 2-3 win-loss mark with the Spanish and sent crashing down to fifth place and out of the quarter-final race. Pretty simple.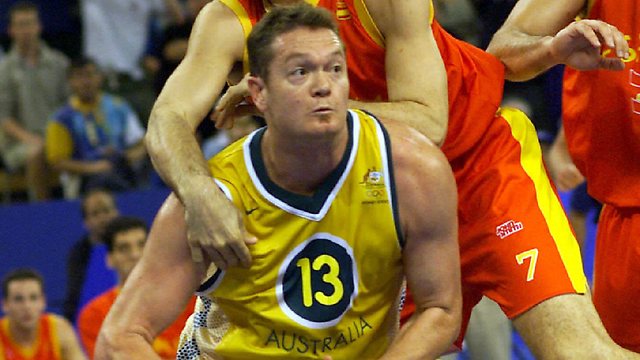 TENSION: Luc Longley in action against Spain.
The atmosphere in The Dome was one of tense anticipation as the full house erupted to welcome the Boomers on court. Spain looked fairly cool and composed. After all, what did it have to lose? It opened with captain Alberto Herreros, Ignacio Rodriguez, Carlos Jimenez, 202cm Alfonso Reyes and 218cm centre Roberto Duenas. Australia opened with the usual suspects, missed a couple of shots and added a couple of turnovers as Spain jumped to 6-0 before Sam Mackinnon hit a free throw just inside three minutes.
Shane Heal and Rodriguez were busy getting acquainted as Jimenez nailed a 3-pointer to give Spain a 9-1 lead. Barry Barnes had seen enough and called time-out to settle the troops. Longley responded by hitting Australia?s first field goal, a jumper from the corner of the foul-line for 3-9. Herreros swished a three and it was 12-3, pushed out further to 16-5 by Rodriguez. The Boomers finally managed a mini 5-0 run to come from 7-18 to 12-18 before John Rogers - now there's a Spanish name if ever I've heard one - iced a 3-pointer. With a quarter of the game down, Spain looked in the better frame of mind.
But that changed soon after as Mackinnon located Mark Bradtke for two, Longley put away two free throws, then blocked Herreros, Gaze sticking a mid-range jumpshot off a sweet drive. Australia was back to 18-21 and Spain calling time-out. Rodrigo de la Fuente scored to give Spain a 23-18 buffer but the momentum had shifted.
Shane Heal missed but Jason Smith soared for the rebound and hammered down a put-back dunk for 20-23 as The Dome came to loud life. It was roaring again 40 seconds later when Andrew Gaze pulled up outside the 3-point line in transition and drained a triple to tie it up. Spain had it back to 27-24 before Paul Rogers stepped up the tempo.
He scored off an offensive rebound for 26-27, then threw down an emphatic dunk to give Australia the lead for the first time. Spain grabbed it back through Raul Lopez before Heal scored a three for 31-29. It was time for some Herreros heroics and he delivered, helping Spain push ahead to 40-34 before Bradtke beat the halftime siren with a jumpshot for 36-40.
Bradtke started the second half strongly, completing a three-point play before Heal gave Australia the lead 42-40 in the second minute. It was point-for-point as de la Fuente put Spain ahead for what would turn out to be the last time at 47-46, 16:12 left in the game. It was Gaze-time, the Australian skipper hitting consecutive threes for a 52-47 lead. Herreros' free throws pulled it back to 49-52 but Heal then scored a three, Longley put away a jumpshot and Gaze closed a 14-2 run with another triple, Australia bolting to 60-49.
Jimenez scored to give Spain hope but it was quickly erased as Heal went to the hoop for a basket and converted the bonus free throw. Then Gaze lobbed a ball for a Paul Rogers slam as Spain's offence unravelled under the strain. Gaze's free throws made it 67-51 and when Heal drove to the hoop for 69-51, there was 8:51 left of Spain's quarter-final dream. From 46-47, Australia had put together a 23-4 run and had looked like the team we had expected would be playing off for a medal. The Spaniards only once again scratched the deficit under double figures, at 78-87 inside the last 90 seconds.
Herreros had done his darnedest to lift his side with three 3-pointers in the final six minutes but this one was over, Australia finally winning 91-80 to advance to the quarter-finals as Group B's third-ranked team. Russia belted Angola as expected but it made no difference, the final order being Canada, Yugoslavia, Australia and the Russians.
That night as I was walking with my wife through the Olympic grounds back to the press centre bound for the Media Village, we bumped into Brett Maher and his wife Tanya having a bit of a wander. At his second Olympics, Maher had yet to hit the court but you wouldn't have known it from his demeanour. He was just as jubilant the Boomers had beaten Spain and while it was evident he had been sacrificed from the playing rotation, he was still being the "good soldier". The guy was all class, which made his absence-from-action all the harder to watch night-in, night-out.
The US escaped Group A unscathed, though it had a couple of closer-than-anticipated shaves with Lithuania and France, the French actually drawing great confidence from their 94-106 loss as coach Jean Pierre de Vincenzi would later explain. The final order was the US first, Italy second, Lithuania third and France fourth. That meant Canada would play France in one quarter-final, Yugoslavia had drawn Lithuania, Australia had Italy and Russia would play the US. Australia's record against the Italians was 1-2 in Olympic play though they had not met since the Los Angeles Games in 1984.
In 1980 in intragroup play at the Moscow Olympics, Australia beat Italy 84-77 but lost to Cuba 76-83. Only one possible but implausible result could keep the Boomers from the medal round - Italy beating Cuba by precisely seven points. Guess what happened? Italy won by seven and from there made it all the way to the Olympic final, picking up silver behind Yugoslavia.
Australia finished eighth, equalling its best result at an Olympics, having achieved the same placing at Montreal 1976. But there was no boycott of the Montreal Olympics as there was of Moscow and Los Angeles, four years later. So was that eighth place in Moscow as good as the eighth place in Montreal? That's for you to determine. In Montreal though, Italy and Cuba didn't get to stage-manage a result that would leave the Aussies out in the cold.
This was going to be a memorable quarter-final and the massive crowd that filed into the Superdome knew it. With gymnastics concluded at the Superdome, the basketball shifted across from The Dome into this sensational 18,500-capacity venue, the like of which the sport had never before seen in Australia. A capacity or near-capacity house at the Superdome was an extraordinary sight and sound. Be under no illusions; for international basketball, this was an international-style venue.
I had watched Italy play a number of times in the tournament and had been waiting for Andrea Meneghin to do some real damage. The 201cm swingman had been dynamite for Varese Roosters at the 1999 McDonald's Championship in Milan and the type of athletic forward who could play inside and out. He was the style of player Barry Barnes had in mind when he mentioned Martin Cattalini had given the Boomers that new dimension. Barnes had meant players such as Meneghin, the son of Italian megastar Dino. But Meneghin never really got his game together in Sydney and this match was no exception.
Italy opened with Meneghin, American-born guard and captain Carlton Myers, Gianluca Basile, 210cm centre Roberto Chiacig and lanky 215cm forward Gregor Fucka. Now there was one mean mother. Okay. Before we go any further, Fucka's name is pronounced Foosh-ka. Need I tell you, ethnic names are often interesting but Fucka takes the cake.
Just while I remember, he was the cause of one of the funniest four paragraph "filler" stories I have ever thrown together, and there was not a single intentionally humorous line in it. It happened a couple of years earlier at The Advertiser newspaper when Italy was sending a touring team out to play a series against the Boomers. There had been a few tours by national teams promising to bring their elite but arriving with their effete. Consequently, Basketball Australia had taken a financial hammering as discerning crowds stayed away from watching sub-standard outfits. It was shortly after a couple of particularly disastrous tours that Italy was due to come. Knowing the European scene, Barry Barnes checked off the touring party list and immediately sensed trouble when Fucka's name did not appear. Fucka is one of Italy's bona fide superstars.
So that's pretty much how the story read. Not wanting another low-quality team touring Australia, Barnes wanted to know where that Fucka was. It turned out he was playing somewhere in Europe - Spain, Yugoslavia - I can't remember where now but it wasn't in Italy. He had taken ill - the reason he wasn't touring - and it was believed he had gone home to convalesce. That was the gist of my little filler story. Barnes wanted answers and was even prepared to ring his home and Mother Fucka to find out about the health, or otherwise, of her son. The heading on the yarn was hastily changed before it went to print from "Where is that Fucka?" to "Italian star out of tour". Not really hard to see why.
The joke along the press gallery was that Fucka - who was a genuine NBA talent in the Toni Kukoc mould - had been avoided by American pro scouts after one had inquired whether he would be prepared to change his name if he played in the US. Apparently he had replied: "But I like Gregor."
Lame jokes notwithstanding, press row was just as excited pre-game as the fans who poured into the Superdome. Australia opened its customary five but looked a little nervous as Luc Longley missed consecutive shots while Fucka was causing immediate headaches. He went strong to the hoop for 2-0, then hit a jumpshot for 4-0. It seemed like that Fucka was everywhere. (Sorry.)
Sam Mackinnon finally opened the tally off an Andrew Gaze pass but Basile's three-point play gave Italy a 7-2 lead. (Who even suspected then that this would be Italy's biggest lead of the game?) It was Longley's turn to take over. He took a Mackinnon pass and turned it into a dunk. Then at 15:22, he made a sweet spin move off the low post and hammered down an emphatic two-handed dunk for 6-9. When he went strongly to the hoop, it was 8-9.
Meneghin and Myers nudged the score back out to 13-8, but Gaze's drive sliced it back by two, then Mackinnon went baseline for Australia's third dunk and 12-13. Longley next dropped a sky hook and 11:10 from halftime, Australia was ahead for the first time, 14-13. Mackinnon and Shane Heal combined to put together a mini outburst as the Boomers ran it out to 21-15. Into the final few minutes of the half, Fucka bobbed up again with a drive and a lay-up to give Italy back the lead.
But Gaze cleaved a 3-pointer and Jason Smith finished off a fast break to put the Aussies out 31-27, 43 seconds from the interval. Basile had two free throws at 16 seconds left but was wayward with both, then Myers travelled into the last five seconds and Australia took a 31-27 lead into the break.
Gaze had five points at halftime but in the second half produced one of those awesome displays where he simply took over and dominated the contest. Video of his performance should be locked in a time-capsule for future Australian generations to be able to marvel at not just his extraordinary ability and skill, but the sheer power of his will. This was Drewey at his finest. He had enjoyed bigger games on the world stage but, as Sports Tonight host Tim Webster once called him, "Andy Gaze" was supreme.
Chiacig's travel was ignored to start the second half, his basket drawing Italy to 29-31. Gaze's free throws tugged it back out to 33-29, then Heal hit the first of consecutive 3-pointers, Carlton Myers sandwiching a bucket for Italy in between. Fucka got away with another travel for 33-39 before Gaze swished a second pair of free throws. The pressure was building appreciably as Meneghin hit a jumpshot but Gaze completed a fast breakaway from a Mackinnon tap to retain Australia's buffer.
After a turnover, the Italians took time out at 14:40 and immediately got the benefit of a highly dubious charging call against Mackinnon, Fucka dropping in a three. Gaze promptly cancelled it with a 3-pointer of his own and when Longley plopped a hook shot with 12:01 left, the Boomers were enjoying a 10-point lead at 48-38. That's when the wheels - and the axle - fell off.
Michele Mian's 3-pointer heralded the start of a stunning 14-0 scoring run by the Italians which swept them to a 52-48 lead. In the process, Italy showed it would go to any lengths to win when 210cm Giacomo Galanda dragged Longley to the floor, fisting the ball away from the play. Barry Barnes took a time-out in an attempt to stall the run midway but it made no difference and with still more than eight minutes left, Mark Bradtke moved onto four fouls.
With 6:30 left, Chris Anstey nailed a jumpshot, breaking an Australian offensive drought of almost five-and-a-half minutes. At 6:07, Longley's fourth foul put Chiacig to the line and he converted one free throw, the tension across the Superdome palpable. But it was Gaze-time.
At 5:43, he cut loose for a trademark 3-pointer that tied the game at 53-apiece. Mian's free throw at 5:03 gave Italy back the lead but Gaze played exemplary defence on him to get Australia back the ball, then hit a triple in transition to put the Boomers out 56-54.
With 4:01 left, Fucka stole along the baseline to tie it up and a minute later, Meneghin's free throws put Italy back out to 58-56. With 2:43 left, Sam Mackinnon made what appeared a fatal turnover off an inbounds pass and 16 seconds later, Galanda's jumpshot had Italy ahead by four at 60-56. But Gaze again came to the rescue.
This time he drove hard to the hoop, lost control of the ball in traffic, regained it, scored and drew Fucka's fourth foul in the process! His bonus free throw was nothing but net for 59-60 and the game was into its final two minutes. At 1:45, Galanda was able to put back a miss to give Italy a 62-59 edge but while his team was basking in that, Gaze immediately attacked and drew a foul.
With 98 seconds left in the contest, Gaze swished both free throws and it was back to 61-62, a one-point game and the crowd beyond fever pitch. When Myers missed and Shane Heal collared the rebound, the Boomers had possession and the game was heading into its final minute. With 44.6 seconds left, Longley's pass located Bradtke who was fouled and put to the line. Not surprisingly, Italy called time-out. This is a great tactic. Not only can you discuss and set up your strategy, but the break in play gives the free throw shooter time to think about what's at stake. Many a player has frozen in the glare of that pressure.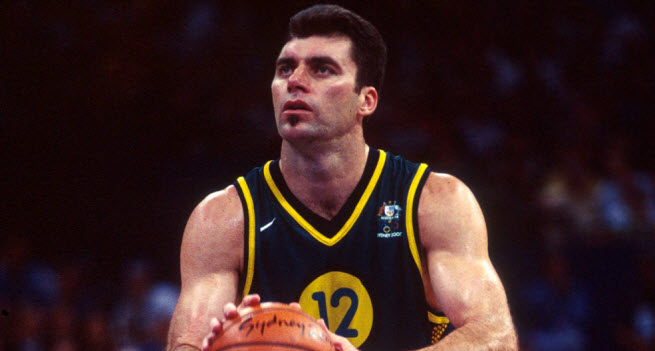 Bradtke's defining moment was advancing as he strode to the free throw line. Across his career, Bradtke (above) had stroked foul shots at 67 per cent. But interestingly, in playoff games his accuracy from the stripe went up to 70. He was better under pressure. No-one could remember that at the time though and most of us in press row were confident he would get at least one. The first one dropped in to level the score and the Superdome went wild. Just as quickly, it went to a hushed reverence before Bradtke's second free throw also came through the bottom of the net, giving Australia a 63-62 lead.
There's not much doubt Italy was looking for a good last shot and it didn't get it when Claudio Scarone missed. He was 0-of-4 for the night and not the best option. But everyone wants to be a hero. Scarone's miss was ripped in by Sam Mackinnon who put the ball into the safe hands of this game's genuine hero, Gaze.
The Italians fouled quickly, stopping the clock with 13.5 seconds to play to give themselves a chance at a last shot. Gaze's free throws would determine Italy's strategy. If he missed both, Italy could win with a regulation basket. If he made one, they needed a regulation shot to tie, a 3-pointer to win. If Gaze made both free shots, they would need a three just to force overtime.
Again the hush fell across the Superdome as he lined up to shoot his first. The eruption of elation would have left a blind man in no doubt he had converted it, 64-62 to Australia. His second was no less dramatic and no less effective. The Boomers were ahead 65-62, the continuous roar in the Superdome at deafening levels, the game still there to be saved by Italy as it tore the ball forward. But in Italy's haste, Mackinnon was able to deflect the ball out of court off Myers and with 4.1 seconds left, Australia had possession, had the ball game, had its ticket to the semi-finals.
The scenes at the siren were of wild delight, Australia now set to play the winner of the Canada-France match in the "softer" semi-final, having again avoided the US who were slated for the rival semi. Gaze had finished with 27 points, 22 in the second half, 13 of Australia's 15 points over the last 5:43. Not only that but his game-high tally came on a superb 7-of-10 shooting from the floor, a sizzling 4-of-5 threes and a perfect 9-of-9 free throws. For good measure, he also led the game with four assists - half Australia's total - not to mention adding a steal and a blocked shot. Like I said earlier, this was vintage Gaze and the reason he is the "Bradman" of Australian international basketball. Nothing more needs to be said.
Bradtke led the game with eight rebounds and Fucka led the Italians with 17 points but there was jubilation in the "mixed zone", the area in which the media could access players as they headed into the changerooms. I grabbed Bradtke to tape some quotes on how he felt lining up for his two free throws while colleague Grantley Bernard took quotes from Gaze. This was going to be a fun story on which to collaborate.
Through a translator at the post-game press conference, Meneghin gave the appropriate platitudes to a great game, then added: "What Mister Gaze did to us today?" shaking his head in admiration at the great man's exploits.
"Both Italy and Australia played the game in the spirit basketball should be played at," Barnes told the press conference. "We feel their pain today and get no joy from their loss." But there was plenty of joy from Australia's win, its fourth in succession since dropping the first two to Canada and Yugoslavia.
Now it would have a chance at the gold medal game, only having to reverse its earlier, mistake and confusion-riddled loss to Canada or to stop a French team which, for all intents and purposes, had barely made it into the quarters by the skin of its teeth. The Canada-France quarterfinal was the next game on the programme and rapidly turned into another gem.
France opened 218cm centre Frederic Weis - the giant over whom Vince Carter of the US had jumped for the tournament's most spectacular dunk during intragroup play - Antoine Rigaudeau, Yann Bonato, Stephane Risacher and Jim Bilba. If these guys had been a movie, it would have been Five Easy Pieces. At least that's what everyone had thought. But at every international championship, an unlikely team emerges and while many of us had already figured that team to be Canada, France assuredly had other ideas.
It managed to get a job done on Boomers-destroyer Steve Nash who still had eight assists and 10 points but committed nine turnovers. Starting with the game's first four points, Canada looked in sync, bullocking 213cm centre Todd MacCulloch on his way to a match-high 23 points on a terrific 9-of-11 shooting.
But the small fries didn't respond to Big Mac and instead it was the French who sizzled, carefully nudging their lead out to 38-23 by halftime. Canada scored the first four points after the break but Rigaudeau's 3-pointer took the wind from the inroad. Canada's Rowan Barrett scored off a fast break and France took time-out at 17:45 after Weis had fouled.
Canada had grafted it back to 34-41 but France always maintained an ascendancy. MacCulloch at 13:38 cut it under 10 again with an offensive rebound put-back and just over a minute later, Nash lobbed the ball for Michael Meeks. The 205cm forward scored the bucket and drew a foul, France taking time-out before his bonus free throw as its margin dwindled, Canada on its best run of the match at 7-0.
Rigaudeau swished two more 3-pointers for the half and France was back to a 58-44 lead, the strain starting to show on Canada. MacCulloch and Nash worked hard to drag the Canucks back within reach but France was not going to be denied. Free throws from Meeks with 44.6 seconds left brought Canada to 60-65 but it was in a losing war with the clock. Typical of Canada's performance was one of its last plays, a frantic, time-conscious Nash streaming coast-to-coast with the ball, only to have it slip from his grasp at the critical moment.
France was through, 68-63 and Australia had the semi final match-up most figured would be a walk in the park. A win here and the Boomers would be guaranteed of a medal, albeit a silver one because no-one was ready to beat the USA just yet. That would have to wait another two years.
This was the "dream" match-up. No Yugoslavia, no Lithuania, no Croatia or Russia - teams still viewed as comparative superpowers to the Boomers. Just piddly France. When was the last time the Froggies had done anything in international basketball? That was the prevailing mood.
Er, try the 1948 London Olympics. France won a silver medal behind the USA. Like that was going to have any bearing on Sydney 2000! Getting to the gold medal game was in the bag and despite our initial fears, the early losses, the erratic substitution pattern and lack of playing time for quality personnel, the Boomers had come through and now were just a game away from fulfilling all expectations.
On the other half of the draw, Lithuania surprised a disjointed and clearly unhappy Yugoslav team 76-63 to advance to the semi final against the US which had to ward off a tenacious Russia before escaping 85-70 in their quarterfinal. An escape was all it was too, the game much closer than the final scoreline indicated, the Russians behind and forced to foul to stop the clock. The Americans pulled away from the free throw line. But their narrow escape didn't handicap or restrain their arrogance and putdown trash-talking mentality.
The match ended rife with ill-feeling - virtually completely created by the US team - and Russian captain Evgueni Pachoutine had to physically restrain his younger brother Zakhar after he had endured unceasing taunting from the millionaire punks. No matter how much we once - and still - admired the NBA of Magic Johnson, Larry Bird, Julius Erving and Michael Jordan, this US team was an embarrassment to itself and to its nation. Don't take my word for it though. Track down the Boston Globe articles from the Games or a holy host of others. The US press contingent was even more infuriated by this cocky team of loud mouth trash-talkers than those of us who simply shook our heads wondering why.
In contrast, we were rubbing our hands with eager anticipation and excitement as Australia and France warmed up for their semi final. The Boomers were on a roll and no bunch of cheese-munching, burgundy-swilling "sacre bleus" was going to do them out of a medal. (Oh my. I'm not sure that was politically correct.)
Maybe we should have suspected something when France opened differently to their quarterfinal, 195cm guard Laurent Sciarra replacing Yann Bonato, with Antoine Rigaudeau, Stephane Risacher, Jim Bilba and Frederic Weis. Australia started its usual quintet and Weis scored the opening basket when Luc Longley was adjudged to have illegally rejected his shot on its downward path. If you're going to give up a basket, that's a good way to do it. It sends your man a message.
Mark Bradtke quickly tied it up and Sciarra showed one of the reasons he had been elevated to an opener with a sweet 3-pointer. Who would have guessed that after Sciarra's basket, France would never again be headed? Certainly not anyone at the Superdome as Longley hit from mid-range to make it 4-5. It was not really time yet for alarm bells either as France cobbled together six straight points for 4-11 and Longley collected an offensive foul.
Running the lane well, Longley finished a play for 6-11 before Weis responded with consecutive baskets for 15-6. A Bradtke lay-up and a Gaze drive for 10-15 suggested we were still very much in the "feeling out" period, Weis' baby hook making it six straight points for him, a 17-10 lead, time-out to Australia and Paul Rogers in for Longley. At 8:55 to halftime, the Boomers still looked alive when Bradtke converted a free throw for 17-21 after surviving a serious mugging by Henry Palmer. Disaster was about to follow.
Bilba slammed down a put-back dunk before Sciarra hit a runner. Heal's shot was rejected and Sciarra rewarded the defence with a lay-up. Suddenly it was 27-17 to France and Australia was taking its second time-out with 5:57 remaining in the half. It was like unfolding an umbrella as protection from an avalanche. Back on-court, Australia's offence could find nothing against the French and Cyril Julian's tip-in only made it worse.
Then the ever-dangerous Rigaudeau nailed a triple and this was starting to get seriously bad for Australia. Longley travelled which Palmer punished with a jumpshot, France away at 34-17. When Longley dropped in a hook shot at 3:32, he ended a 13-0 French scoring spree while also breaking an attacking drought of 5:25. It was precisely a six-minute drought between field goals, going back to Rogers' cut at 9:32.
No sooner had Longley converted to lift sagging Australian spirits than Sciarra pulled up for a 3-pointer. The French were delirious with delight on the bench. Anything Australia did, they had an answer waiting. Shane Heal put away a 3-pointer for 22-37 and within 20 seconds, Sciarra cancelled it with a three of his own. Again France was enraptured with its ability to produce an immediate and demoralising answer.
The Boomers had nothing to offer. They were like helpless little Aussie lambs sauntering into a French slaughterhouse. Gaze cut for two, Palmer and Laurent Foirest added four. Five of Australia's first half 29-point tally came in the final 36 seconds, France in control at the break by 15 points. As the Boomers trudged off into the rooms, their body language was far from encouraging. They were trying to keep each other buoyant about the second half's prospects but the purpose, poise and preparation of the French made prospects of a comeback look anything but reassuring.
If France's defence in the first half had been solid, in the second half it stepped up a notch.
Australia blew its first possession and the silky Rigaudeau signalled what was to follow when he put away a 3-pointer. It wounded deeply. Heal worked to draw a foul, converted the freebies and the Boomers worked tenaciously in their next defence. They forced a 30-second shot clock violation for a sliver of hope. But Heal's turnover led to Rigaudeau's drive and when Weis threw down another dunk, France was out 51-31 with 16:09 to play and Australia about as far from the gold medal game as it had looked with its opening night loss to Canada.
Barnes called time-out but clearly Australia had no answers. Weis soared to reject a Rogers dunk attempt and Risacher worked inside for 53-31. The Boomers' offence was in complete disarray, unable to handle France's pressure and anticipation. Bradtke added another free throw but it was becoming embarrassing as Risacher took the score to 55-32 before Rigaudeau became a flying Frenchman, tipping a Bradtke shot off the rim.
These guys had wings, Rigaudeau making the score 57-32. Finally, with 12:42 left in the second half, Andrew Gaze put away a lay-up for Australia's first field goal. Typically, Bilba nailed his only 3-point attempt of the night and, yet again, France had rammed a whopping great baguette into the Aussie bread-basket. The score was 60-34 and the Boomers had turned the corner from Embarrassment Street into Humiliation Drive. Whatever, they were trudging down the boulevard of broken dreams - sorry, just had to use that line - as Chris Anstey tried to spark a revival in the nine minutes of court-time he had been allotted. He hammered down a dunk and added a bonus free throw to pull Australia back to 20 down. Can you believe it was exciting at that point to think the Boomers were just 20 in arrears?
This semi final had way too easily disintegrated into Australia's worst match of the Games. The French had dropped a nuclear bomb in the Pacific and Australia had waved flowers as a response. It was exposed in so many areas. The over-use, mis-use and non-use of the Boomers' personnel came home to roost in this one, even though Brett Maher and Martin Cattalini were finally allowed to stretch their legs across the last 2:42. Maher managed a basket and an assist, Cattalini a rebound and a turnover, Australia's remaining hopes in the tournament taking a further blow when Longley hobbled off the court late, clutching his right knee.
France's 76-52 victory was a win of gigantic proportions and should not be underplayed for a second. Their Olympic tournament - which saw the team much-maligned in their press at home - was coming to a perfect conclusion while in the Australian camp, there was just disappointment and confusion.
Whether it was the aftermath of the emotional win over Italy or just simply the better preparedness of the opponent, in its biggest match of the 2000 Olympic Games, Australia had turned in an absolute shocker. Sure, they're only human and it can happen. It just should not have. "We didn't seem to be able to get in sync at either end of the court," Barnes told a shell-shocked media contingent.
French coach Jean Pierre de Vincenzi was a happy man, graciously suggesting Australia had its additional difficulties carrying the expectation of a host nation. As for his team? "Since the (intragroup) game against the US, we've lost all our inhibitions," he said.
The Boomers' 52-point total was their lowest of the tournament, the 24-point margin their biggest. The French shot at 50 per cent to Australia's 43.5 and their 3-point accuracy was 42.1 per cent to 25. They won the boards 30-23, had six steals to two and turned over the ball just seven times to Australia's 15. They blocked four shots to two and shot at 80 per cent from the free throw line to 69.
"Obviously it was a very disappointing game for us," captain Gaze stoically mustered. "In just about all facets of the game we were outplayed. We weren't able to perform at a level we've been accustomed to. We now look forward and regroup to win a medal at these Olympics. Our goal is still achievable and we still have a real chance."
Okay, we thought. So we won't be winning that highly-prized silver medal after all. A bronze would still look pretty good. After all, who's never heard of the bronzed-Aussie? While we were trying to take some comfort from the devastation, the thought occurred about Longley. Were his Olympics over and how would that impact on the bronze medal game?
"At this stage I believe it's a muscle condition," he told the media. "The doctors seemed to think it wasn't a major situation." But it was major enough to keep him out of the bronze playoff game and a fair chunk of the New York Knicks' following NBA season. With Longley out, Paul Rogers, who had played 17:36 in the French loss, looked the most likely starter. Anstey, after all, had seen just 9:04 so was probably out of favour.
Australia would be playing Lithuania for bronze because it was only a formality the US would take out the tiny Baltic state in their semi final. It would be a US-France gold medal game. Of course, the Americans' 85-76 intragroup success over the Lithuanians had been much tighter than anticipated but a Lithuanian semi final upset? Nah. Couldn't happen.
Actually, it could have. And, as it turned out, quite easily. The Lithuanians choked, the referees came to the rescue and the US scrambled out of jail 85-83! It could so very easily have been an upset of the USSR-USA 1972 Olympic final proportions and finally rested on Ramunas Siskauskas, Lithuania's young small forward.
The US, with its typical ignorance-based arrogance had sufficiently tapped into its reserves of talent and athleticism to lead 48-36 at halftime, coach Rudy Tomjanovich clearly with little or no idea how to properly marshal this undisciplined team. Lithuania's livewire guard Sarunas Jasikevicius - who never saw a shot he didn't like and had left me cold a few times in previous outings with his individualism at the expense of open teammates - finally found the groove.
He had taken enough shots all week and done so with apparent impunity so it was no real surprise when he started connecting against the Americans. Well, maybe it surprised the Americans. But Jasikevicius is the type of character who galvanises opinion - you're either going to love or hate him. This night, he was everybody's favourite player on his way to 27 points at 50 per cent, including 5-of-11 triples and 6-of-6 free throws.
He opened the second half with such audacity the Americans did not know what had bit them. From 39-52 down, he led an amazing recovery in which Darius Songaila and Saulius Stombergas also had a major hand. A 17-2 run that had people returning to their Superdome seats saw Lithuania take charge 56-54 and Rudy was prancing around on the sideline like a cat on a boiling hot tin roof.
Word spread quickly about the Lithuanian revival - there were spectators on mobile phones everywhere and people started pouring into the venue to witness possibly the sudden and unexpected end of NBA-led US domination of the international game. The scene was almost surreal, the panic on the US incredibly satisfying. Despite a raucous fan base of friends, family and other US sportsmen and women, there was no doubt which team had the majority of the crowd on side.
There was nothing between the teams all the way to the wire, the score tied 13 times and American tension on the court - amid nine lead changes - was obvious and audible. With no expectations, the Lithuanians were loose and now in control of the tempo as the Americans continued to seize, relying almost solely on individual brilliance. They had that and athleticism in abundance though, scores wedged tight at 80-80 into the last minute.
That's when Siskauskas had his chance for a moment in the sun. Open for a 3-pointer, he let fly, only to have Antonio McDyess come crashing into him, giving up the foul. Alonzo Mourning had already fouled out and the friction and ego-mania was never more evident than when Tomjanovich's assistant-coach Larry Brown - who had the team's reins during the 1999 pre-Olympic qualifying tournament - simply took over a late time-out from the head coach. Oh yeah, this was a team in harmony and on the same page - NOT.
There were 43.4 seconds left in the game when Siskauskas lined up for his three free throws. When it had lost to the Americans in intragroup play, Lithuania scored a paltry 27-of-43 free throws. In the context of what blew out to a nine-point loss, those numbers were huge. Now Siskauskas had the chance to push his team three points clear and match its biggest lead of the semi final at a time when the US was on the verge of self-destruction.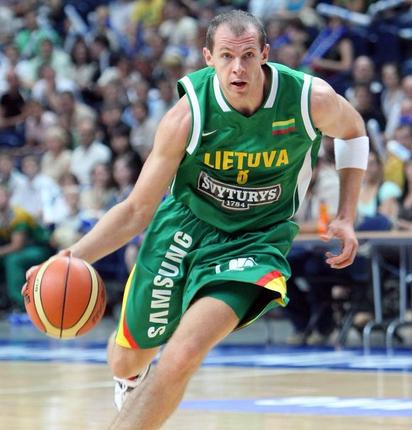 FREE THROWS OF INFAMY: Ramunas Siskauskas would like to take them again.
But right when they needed him to stay loose and cool, Siskauskas let the significance of the occasion overwhelm him. His first free throw barely made it to the front of the rim, a sure sign he had tightened up in no uncertain manner. Naturally, the Americans let him know he had choked as he tried to settle himself for his second. This one was only fractionally better, at least getting deeper to the rim before it careened aimlessly away. Siskauskas had shot himself in the foot and his body language said it all.
Lithuania had the US at its mercy and let it off the hook. Mercifully for Siskauskas, his third free throw tumbled in to give Lithuania an 81-80 lead. Vince Carter put the US back in front with 31.3 seconds remaining, 82-81. With the Americans pressing up, the ball was knocked loose and Mindaugas Timinskas fouled Kevin Garnett, virtually on the inbounds.
It gave Garnett two free throws to put the US three clear with the clock down to 25.9 seconds. Garnett reinforced his multi-million-dollar value by missing both. That's when Italian referee Tiziano Zancanella and France's Pascal Dorizon had simultaneous brain lock. McDyess and Carter wrestled their Lithuanian opponents to the floor, literally hanging on until they could fling them off. Clear and obvious fouls. It was as if the entire US team had the instruction to grab the nearest opponent and get them to the floor. Bear in mind, this happened in a split second. There were players everywhere as McDyess freed himself of his entanglement and scored a put-back freebie to give the US an 84-81 lead.
I've never seen anything like it. I expect the officials figured everyone was involved and to call a foul would be unfair. But to be fair, can anyone truly believe it was a plan by the more slightly built Lithuanians to wrestle bigger, stronger and more athletic players when in any such physical confrontation they could only possibly finish second?
All was not lost though. Jasikevicius, doing a more than passable Tonny Jensen impersonation - if you don't know or remember who 1996 Australian Olympian Tonny Jensen is, ignore the reference - drove like a madman to lay the ball up through the bemused Americans for 83-84 with 10.8 seconds left. These boys from the Baltic weren't going to buckle.
With the Lithuanians instantly fouling at 9.4 seconds, it was the turn of US co-captain Jason Kidd to show his onions under the spotlight's glare. He made just one free throw to give the Americans an 85-83 lead, the Lithuanians scrambling to force a jumpball with 5.2 seconds remaining. A "violation" in the jump gave the ball back to the favourites with 4.6 seconds left and they held on to win, 85-83.
The scenes at the siren were remarkable. The US players danced and carried on as if they had just won Game 7 of an NBA championship - probably the only thing that really matters to them. Well, to some of them. They were chanting "U-S-A, U-S-A", loudly and vehemently proclaiming their superiority. Huh. Some superiority. They had so very, very luckily escaped the ignominy and infamy that awaited their world championship team of 2002. Gracious winners? Not these sportsmen.
Believe me, the standing ovation was almost exclusively for the Lithuanians as they slumped from the court confines, well aware how close they had come to creating Olympic history. Siskauskas was inconsolable. It seemed strangely paradoxical to be standing and applauding the Lithuanians for their grit, guts and effort when, in just two days time, they would again be the enemy team blocking Australia's way to a bronze medal.
Four years earlier in Atlanta, Lithuania's mighty Arvydas Sabonis had stood between the Boomers and the medal dais and, without Longley, the Aussies could not find a way around him. Now once again fate had dealt Australia a bad card with Longley unable to suit for the bronze medal game. But on the plus side, Sabonis would not be playing either. And we still had the "best Boomers line-up of all-time" and would be playing in front of an emphatically supportive home crowd in Australia's quest for its first men's basketball medal.
Australia had the disappointment of its sub-par semi final performance to deal with but one abhorrent display could be dismissed as a one-off abomination. Lithuania's young team, in a rebuilding mode, had to bounce back from the potentially soul-destroying truth it had blown one of the great opportunities in Olympic history. It had a chance to create some of its own and now would be just another footnote to a US gold medal. That was going to take some serious fast-talking by coach Jonas Kazlauskas to get his team back into the right mental frame of mind to deal with the Anzacs.
Right off the bat, Barnes pulled another surprise by starting Chris Anstey in Longley's place. That's not to say it was a misguided choice at all but what was Anstey to think, having played just nine minutes in the previous game? Where was the consistency? Paul Rogers was now the odd-man out of the big-man rotation and would play less than 12 minutes and almost seven less than veteran Andrew Vlahov. And Vlahov had played just eight minutes against France.
Sure, you can make the "horses for courses" argument but in a sport such as basketball, truth is if you want to draw the utmost from players, they need to know, understand and embrace their roles. That's nearly impossible to do if the coaching panel only knows what it expects of a couple of its players and plays Russian roulette with the rest.
Lithuania showed its faith in Ramunas Siskauskas by starting him alongside Jasikevicius, Saulius Stombergas, Darius Songaila and centre Guintaras Einikis. But Siskauskas was still a haunted man and played just 18:52 for one point on 0-of-3 shooting, three fouls, one turnover and 1-of-2 free throws. The poor bugger just wanted to go home and hide under a couch for a year.
Not so his teammates though. They were in Sydney to win a medal and if bronze was on the table, it was the colour they wanted to be taking home to Kaunas. Stombergas opened the scoring, Andrew Gaze hit two free throws to tie it before Songaila made it 4-2. Still inside the first minute, Anstey hit a jumpshot for 4-4 and that was the last time Australia was level. Jasikevicius nailed a 3-pointer, Stombergas a two and it was a 9-4 game.
Relishing his elevation, Anstey hit another jumpshot but before Gaze added another two, Einikis and Stombergas pushed Lithuania out to a 13-6 lead, the latter scoring off a Boomer turnover. Jasikevicius was having his way with the Aussie defence and when he followed a regulation basket with a 3-pointer, Lithuania was 18-8 and Barnes calling time-out. Another turnover and Stombergas had another fast break lay-up for 20-8 and the Boomers already were starting to look as if this game also was heading for the toilet.
Once again the Australian offence could not offer up enough options to keep Lithuania under sustained pressure, Songaila clicking the score along to 32-16 with 8:21 left to halftime. Having checked into the game, Paul Rogers finally got the Boomers moving, his put-back followed by a free throw in Australia?s next offence. With a little more resolve in the defence, the Boomers nudged a point closer when Gaze hit 1-of-2 freebies before Sam Mackinnon drove coast-to-coast.
Anstey then drew a charging foul from Mindaugas Timinskas, prompting a Lithuanian time-out as they sensed the Australian resurgence. Ricky Grace, making a guest cameo on-court appearance, put away two free throws and the Boomers had gone 8-0 to halve the deficit from 16, trailing 24-32 with 6:12 to halftime. The rot quickly set back in and while the Boomers grafted for baskets, Jasikevicius nailed another 3-pointer - he would go 6-of-10 from behind the arc - and the margin was back out to double digits.
It was all the way back to 16 when Jasikevicius kissed another three off the glass for 46-30 and that was the lead at the interval, Lithuania looking in control, ahead 51-35. There was little optimism in the press area where there was dismay at the apparent lapses in intensity by an Australian team supposedly in pursuit of a medal. They looked like they were more in pursuit of their own tails, which were tucked between their legs as they shuffled off. The general consensus of the Boomers was: "They're gone."
Now just think about that for a moment. Having watched the team through the Games and through much of its preparation, the press corps was virtually unanimous that the Boomers were out of the game. We had seen nothing to suggest Australia could reverse its fortunes. Now maybe I am being naive here, but surely when you are pursuing the historic first medal for your nation, you should be leaving no stone unturned to get the job done. A drastic situation called for drastic measures. Change the line-up, change the defence, abandon the offence for something different.
For God's sake, do something. It's times like this you need a Ron Barassi at the helm, someone prepared to try something out of left-field if it means reversing the fortunes of a moribund outfit.
But when the second half tipped off, it was just more of the same. More of the same dreary, unimaginative formula that had proved vastly inadequate against France and was about to make no difference against Lithuania. You felt like screaming at the top of your lungs: "Hey, you're still playing for a medal! Go for it!" But Barnes has never erred on the side of the gambler. The conservative route was the path well worn and Lithuania was going to benefit as Songaila opened the scoring and Mackinnon bricked two free throws in response.
Jasikevicius hit a 3-pointer and within three minutes, Barnes had been forced to call time-out as the match slipped way out of reach. Back on court, Jasikevicius hit another triple and Lithuania was away 59-35 and never going to be caught. It was on an 8-0 start to the half and a 13-0 run stretching back to the first half when Gaze's free throws with 1:24 left had closed the Boomers to 35-46. Once again Australia's offence was being exposed, Anstey scoring its first point of the half from the free throw line with 16:22 left.
It would not be until there was 13:23 to go in the game that Mark Bradtke scored a jumpshot from the corner of the foul line for the Boomers' first field goal of the second half. Australia's previous actual field goal came with 2:08 left in the first half when Gaze converted a trademark cut. That's almost a quarter of the match without a field goal. That's sure got to lift your confidence in what you're doing at the attacking end. But not only that; the consistent failure to reward defensive effort with baskets ultimately erodes the defensive effort. It's an inevitable byproduct of the frustration.
Down 40-62, veteran Vlahov tried to lift his team with a 3-pointer before turning back the clock and going coast-to-coast. But 45-62 was Australia's last hurrah. Lithuania led 89-68 when Vlahov hit his second three of the night, closing his international career with a successful long bomb for a final 71-89 scoreline. All that was missing from Vlahov's career resume - and those of Gaze, Longley and Bradtke, the men who first came together in Seoul, 1988 - was a medal.
Gaze scored 22 points at 50 per cent but was 0-of-5 from outside the arc where Vlahov's two triples accounted for Australia's 2-of-14 attempts. Lithuania was led by Stombergas' 28 points at 71 per cent and Jasikevicius had 22 at 58. There was no comparison between the offences, the bronze medallists scoring at 58 per cent to Australia's 40. It was over. Another medal dream shattered. It was failure.
Lithuanian coach Jonas Kazlauskas said: "I'm proud of this young team and I think they've got a bright future." But for Australia, the future had been the present. It was now or never and never should not have been an acceptable option. Unfortunately, it was. From the bulk of the Aussie media contingent, there was sympathy for the Boomers but not a great deal of empathy. Adelaide colleague, columnist and a one-time mentor of mine, Geoff Roach, could not contain his anger and disappointment at how Barnes and his staff had let slip this golden opportunity. His question about whether Barnes felt any guilt over not playing certain players while over-playing other defensively delinquent ones met with the predictable response.
A true-blue Aussie and as decent a bloke as you could hope to meet, Barnes simply said he hoped in a few years' time, he could sit down and have a beer and a laugh with players such as Brett Maher and Martin Cattalini. Could you have gotten a more genuinely endemic Australian response? Asked whether he would consider continuing as Boomers coach, Barnes said: "I'll put my hand up again."
Back home in Adelaide about a week later, I spoke with Brett Maher, essentially about being back in the 36ers' environment and how he was feeling about the forthcoming NBL season. During that interview, I got a much better story than I had anticipated when Maher said he did not intend to again stand for national selection while Barnes was head coach. In actual fact, Maher's comments were not inflammatory but honest.
"I will retire from international basketball if he's reappointed," Maher told me. "It was my second Olympics and you don't really expect to play much at your first. But I'd done my apprenticeship and I've improved in the past four years. He obviously doesn't rate me so I'll retire and someone else can get a chance."
It seemed a fair and reasoned enough response and assessment of where he stood in Barnes' estimation. He never said Barnes should not be reappointed. Merely he would not stand if he was. Now anyone who knows Maher knows he is all class and a thorough gentleman. I did not take his comments as a bitter attack on Barnes. Naturally though when the story hit, it hit big and was picked up and run with interstate. Somewhere along the way, Maher's comments were distorted into something else but above is exactly what he said.
Exactly.
In Melbourne's Herald Sun newspaper, Chris Anstey weighed in supporting Maher and saying he could not fathom Barnes' coaching. And he didn't stop there. Anstey, in fact, was considerably more outspoken than Maher had been. Maher limited his comments to his own specific circumstance and was not critical of the team or its results. But over time and in the resultant brief media frenzy, the comments of Maher and Anstey meshed, were embellished and turned into something different. Even now, any reference to the post-Sydney Olympics fall-out begins and ends with Maher's alleged vehement attack on Barnes.
Trust me.
It never happened.
And Barnes, probably recognising his time was up, quietly stepped away from the international arena, using the Sydney Games as his swansong. His record as national coach is impeccable but don't kid yourself about Sydney. Fourth place there was NOT a success.
Fourth place in Seoul remains Australia's greatest Olympic achievement and Atlanta's fourth runs a close second. Why doesn't fourth in Sydney rate alongside those two? Okay, I'll keep the summary brief.
For a start, in reality, Australia is behind the USA and probably also Yugoslavia, Croatia, Russia and maybe Lithuania in the international pecking order. To put it all in context, when Australia reaches the top five - fifth is its best world championship result, fourth its best Olympic - it is probably doing about as well as it should. That having been acknowledged, it is rare for all of those national teams to make it through qualifying to get to the two big events - the worlds and the Olympics.
That means we more often than not have a real crack at making the top four. In Sydney, Australia had a red carpet leading to the medal dais. It had the greatest basketball team this country has assembled - the NBA experience and other credentials were listed at the start of this chapter. It was playing at home so it did not need to waste any energy on pre-Olympic play, having automatically qualified as host nation.
As host, Australia was going to have the kind of support it would never again receive, certainly not in my lifetime if the gap between the 1956 Olympics in Melbourne and 2000 in Sydney is anything to go by. It was NEVER going to have a better shot at a medal. And then, to make the ride even smoother, it did not cop a superpower in the semi final but a relative outsider in France. Having bungled that, they then had a shot at bronze against a Lithuania to which the Boomers had lost by just six in the bronze medal game in Atlanta.
And that Lithuanian team had the man who beat the Boomers, Arvydas Sabonis. Remember we had been told if we had Longley, he would have cancelled Sabonis. Well in Sydney, Sabonis was out and, as fate would deal it, so was Longley. So unless they were talking shite in Atlanta, Lithuania was there for the taking, a medal there for the grabbing.
Instead, the Boomers clutched air - again. To then have some subsequent boasting from at least one overly publicised team identity that this had been Australia's most successful Olympic campaign made me want to puke. Not enough players - or the coach - stood up and said what we were really thinking which was simply this. "We should have won a medal. Yes, we equalled our best placing but we had a great chance for silver or bronze here and we didn't get it done. We are all disappointed."
I think the Australian sporting public could have accepted that and lived with it. Why? Because that is the truth. USA won the gold medal in typical chest-beating style, beating France 85-75.
France and French basketball was the winner on the day though. The loser was Australia.