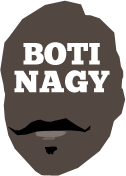 ---
Advertising opportunities available.
Please contact me.
---
Flyers-Caps to fight out championship
Tweet
DEFENDING WNBL champion Canberra tonight kept its grand final appointment with regular season champion Southside, leading Melbourne from start-to-siren to clinch Game 3 of their semi final series 77-64.
Opals Olympian Marianna Tolo's 12-point third quarter in a game-high 20-point haul at 67 per cent, kept the Boomers at bay while French international playmaker Olivia Epoupa was sensational again.
Epoupa tickled a triple-double once more with 11 points, eight rebounds and nine assists, her two steals also significant.
But it was her rare 3-point attempt with 2:39 left and the Caps hanging on to a 65-61 lead, which settled the issue. As it sailed through for a 68-61 lead, Canberra's pursuit of a ninth WNBL championship and back-to-back crowns very much was in tact.
Venue villain Sophie Cunningham easily was Melbourne's best, its only player in double figures on 14 points, Canberra's defence a huge factor but the Boomers' offensive arsenal drying up on this grand stage.
Lindsay Allen was dreadful for nine points on 4-of-12 shooting, and three of those points came on the game's second-to-last play. She also had just two assists, no rebounds and if she wasn't injured, her disinclination to get involved was disheartening to behold.
Cayla George delivered eight points on 3-of-11 shooting but worked hard defensively for five steals, two blocks and more deflections than any player in the game.
Her 12 rebounds also paced the match but without her offence and with Maddie Garrick only scoring her first basket at 5:55 in the third quarter, the Boomers simply ran out of players to consistently put the ball in the hoop.
Two three-second calls on Ezi Magbegor in the game's opening plays - there wasn't another three second violation called in the game so either the players adjusted or the referee in question did - unsettled her and Kia Nurse opened with a 3-point bomb.
She closed the match as she had in Game 1, taking a triple but was fouled this time, coolly converting all three freebies for the final scoreline.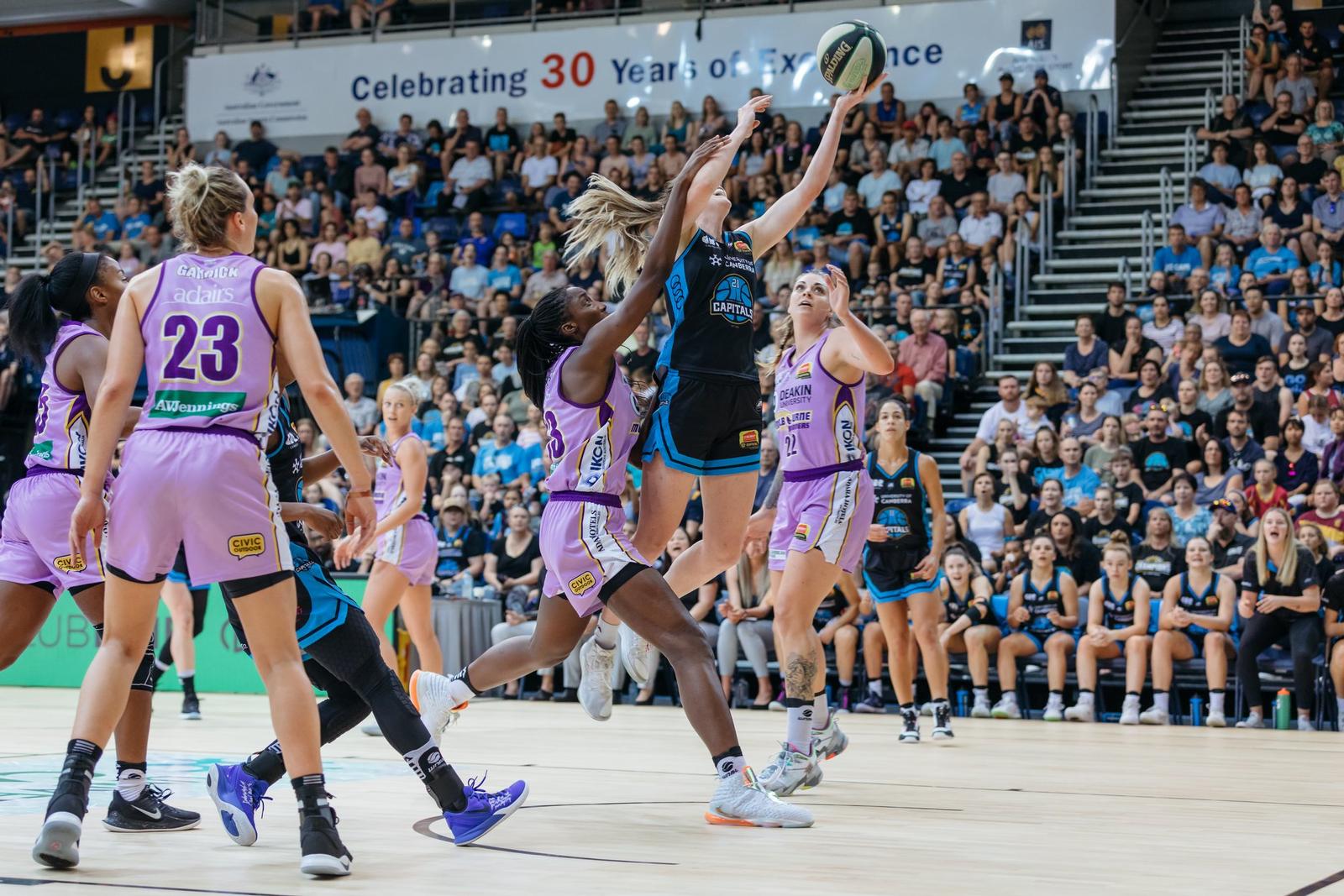 It wasn't a super game by Nurse's lofty standards, finishing with 18 points on 6-of-21 shooting, scoring the Capitals' first six points and their last three.
Her second quarter circus shot from around the foul-line was wicked though and helped Canberra maintain a 10-point buffer. Toni Farnworth hit two threes when introduced and Cunningham cut the deficit back to 28-33 but Epoupa then went to work.
First she blew past George as though she was a statue, then she went hard to the hoop again and fed Kesley Griffin (19 points at 67 per cent, nine rebounds, four assists, four steals, one block).
Ahead 37-28 at halftime, it was Tolo's turn to go to work, Canberra's lead out to 42-30 and Allen uncharacteristically throwing up consecutive airballs.
A triple from George and a turnaround swish were her best personal offensive moments as the Boomers grafted back to 37-44. Like Farnworth in the second, Penina Davidson came in and contributed seven points, including a very rare 3-pointer to keep Melbourne in the hunt.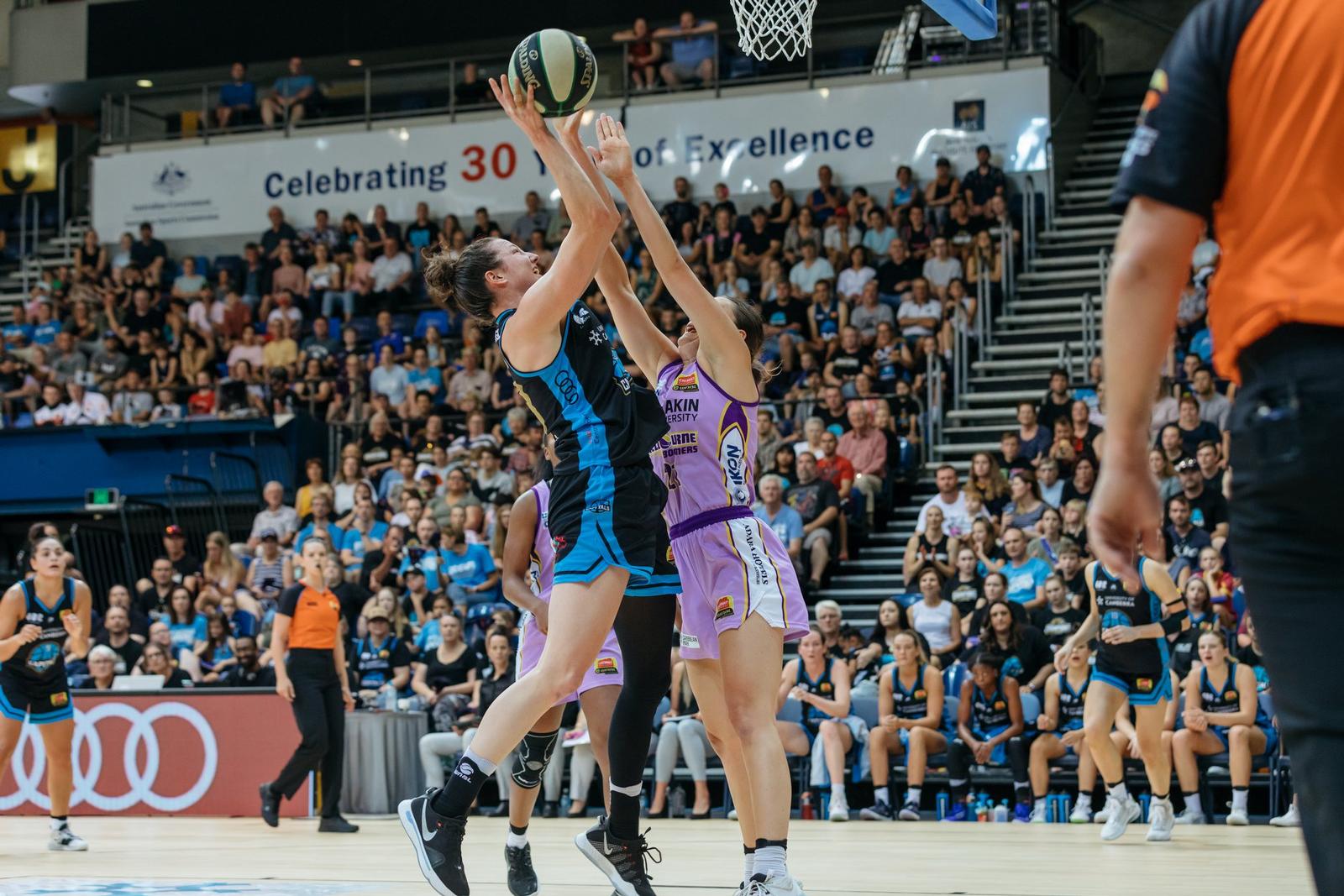 Trailing 50-59 with a period to play, Garrick stuck a triple and Melbourne could smell something afoot. Cunningham dragged it back to 57-61 before a Magbegor turnover and Epoupa steal.
Epoupa then fed Nurse but Magbegor smacked her shot away.
George-to-Cunningham and Melbourne was at 59-61. Tolo's three-point play held it off before Magbegor drove hard for 61-64. But that was the end of the road.
Canberra peeled off the next 10 points and this one was in the bank, Melbourne also ruing the loss of Stella Beck to an ankle injury in the first quarter in a post-season where injuries have played a crucial role across all four teams.
In good news for Southside fans, captain Jenna O'Hea (broken wrist) has been cleared to return and will be in uniform for the best-of-three Grand Final Series.
That tips off Sunday at Dandenong with Game 1, Game 2 on Wednesday in Canberra and Game 3, if necessary, back at Dandenong on Sunday, March 8.
WNBL SEMI FINALS
2 V 3
GAME 1: UNI of CANBERRA CAPITALS 84 (Nurse 25, Epoupa 19, Froling 11, Tolo, Rocci 10; Griffin 12 rebs; Epoupa 6 assts) d DEAKIN MELBOURNE BOOMERS 70 (Allen 17, Garrick 16, Cunningham 14, George 12; George 8 rebs; Allen 5 assts) at Study Hall, AIS Arena.
GAME 2: DEAKIN MELBOURNE BOOMERS 88 (Allen 25, Garrick, Magbegor 17, George 13; Magbegor 9 rebs; George 5 assts) d UNI of CANBERRA CAPITALS 76 (Griffin, Nurse 17, Tolo 14, Epoupa 13; Froling, Griffin 7 rebs; Nurse 4 assts) at The Boomerang, State Basketball Centre.
GAME 3: UNI of CANBERRA CAPITALS 77 (Tolo 20, Griffin 19, Nurse 18, Epoupa 11; Griffin 9 rebs; Epoupa 9 assts) d DEAKIN MELBOURNE BOOMERS 64 (Cunningham 14; George 12 rebs; George 4 assts) at Study Hall, AIS Arena.
Canberra advances to Grand Final 2-1
WNBL SEMI FINALS
1 v 4
GAME 1: SOUTHSIDE FLYERS 68 (Russell 20, Mitchell 15, Cole 13; Russell 19 rebs; Mitchell, Cole 4 assts) d ADELAIDE LIGHTNING 65 (Nicholson 14, Talbot 13, Turner, Brook 11; Talbot, Turner 9 rebs; Talbot 6 assts) at The Hangar, Dandenong Stadium
GAME 2: SOUTHSIDE FLYERS 82 (Cole 19, Clydesdale, Mitchell 18, Russell 15, Blicavs 12; Cole 10 rebs; Mitchell 9 assts) d ADELAIDE LIGHTNING 79 (Turner 25, Westbeld 18, Nicholson 16; Turner 18 rebs; Seekamp 11 assts) at The Lighthouse, Titanium Security Arena.
Southside advances to Grand Final 2-0