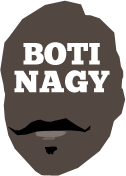 ---
Advertising opportunities available.
Please contact me.
---
Flyers dominate Adelaide Lite
Tweet
WNBL leader Southside burst out of the blocks at Dandenong tonight and was never headed as it swatted away a depleted Adelaide Lightning 81-69, leading by as many as 21 points and rarely seriously threatened.
The win, coming on the back of a 24-point home humiliation at the hands of Canberra last round, guaranteed the Flyers a first-place finish and homecourt advantage throughout the playoffs.
Rebecca Cole led the assault with 28 points at 58 per cent with five assists, though she had 20 at halftime and looked unstoppable.
Leilani Mitchell had a 16-point first-half, which helped establish Southside's match-winning 52-35 interval lead, and finished with 21.
Cole, Mitchell, Mercedes Russell and Sara Blicavs (below) - four of the Flyers' "big five" which is now absent captain Jenna O'Hea (wrist) for the rest of the season - scored 77 of Southside's 81 points.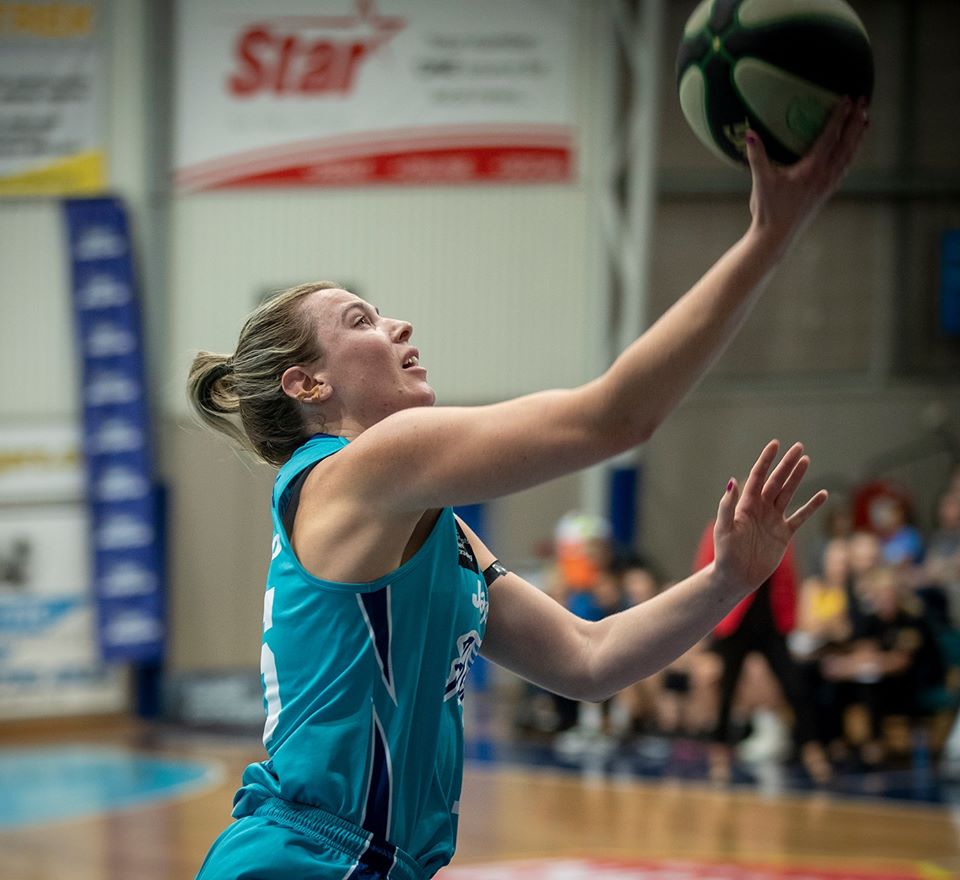 Adelaide went into the match without seven-time WNBL champion Natalie Hurst (foot injury) and lost Opals off-guard and defensive specialist Lauren Nicholson, who aggravated a thumb injury she suffered at practice on Thursday, during the warmups.
Early foul woes then hampered import Kathryn Westbeld who managed just 11:24 minutes before fouling out, unable to make an impact at any stage.
With plenty to prove after last week's humiliation, Southside jumped out to a 9-1 lead and was never caught, despite a couple of valiant attempts by the Lightning.
Brianna Turner (20 points, eight rebounds, four blocks) worked her way into the game and Nicole Seekamp (16 points, five assists) tried to pick up the first quarter slack with nine of her points in that period.
But down 16-31 after one, Adelaide rallied behind Steph Talbot (16 points, 10 rebounds, six assists) and Turner to claw back to 28-34 with a 12-3 start to the second period.
Mitchell, Russell and two 3-pointers each to Cole and Mitchell quickly ended the fightback.
Cole started the second half scoring a jumper before Russell bumped the buffer to 56-35.
Again Lightning grafted the deficit back to 14 before a Blicavs three ignited an 7-0 response, Southside nursing a 15-point lead going into the last.
It blew out again for the home team before Hannah Kaser and Laura Hodges managed to get the deficit back to 12, where it stayed for the rest of the journey.
SOUTHSIDE FLYERS 81 (Cole 28, Mitchell 21, Russell 15, Blicavs 13; Blicavs 9 rebs; Cole 5 assts) d ADELAIDE LIGHTNING 69 (Turner 20, Talbot, Seekamp 16; Talbot 10 rebs; Talbot 6 assts) at The Hangar, Dandenong Stadium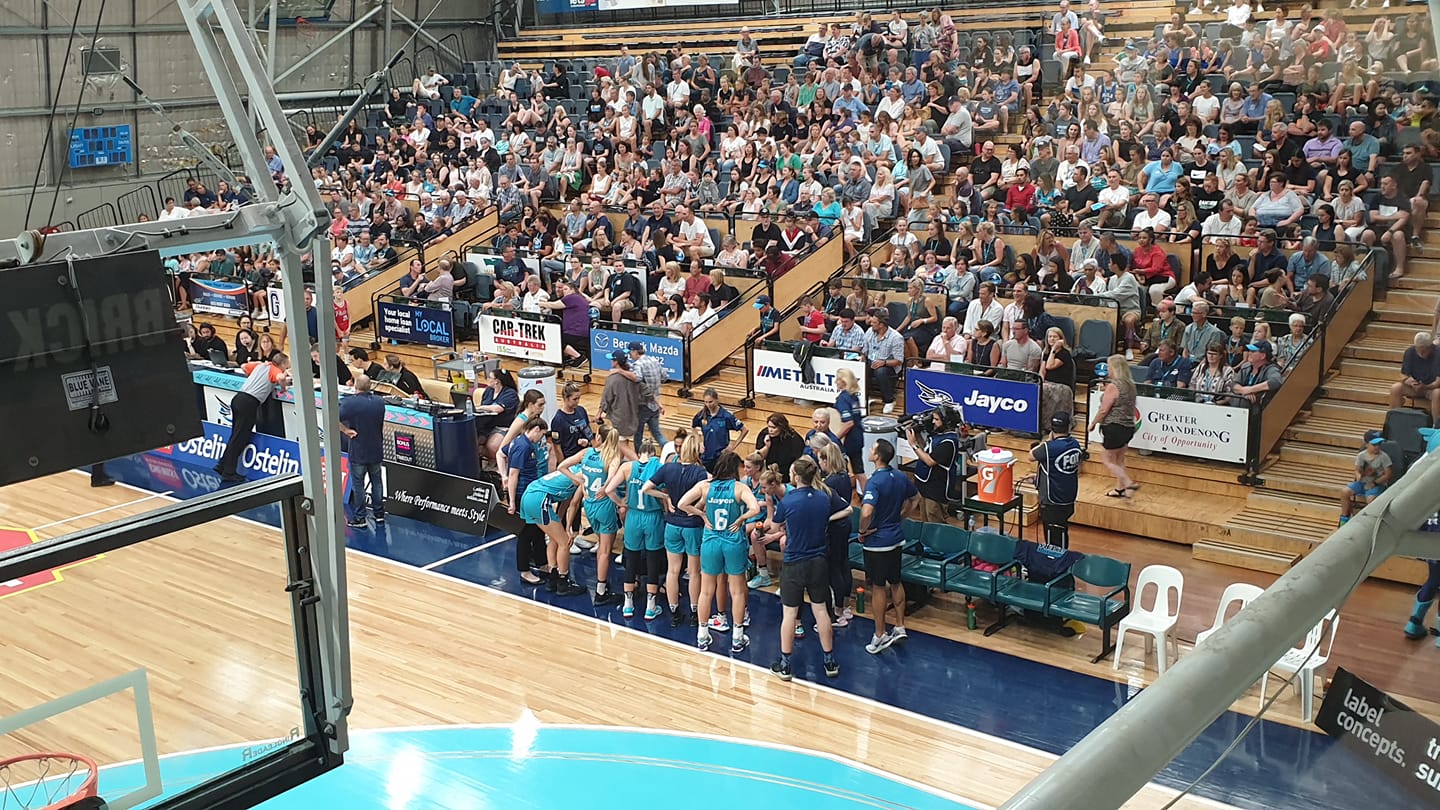 In Canberra, the round started with the postponed match between the defending champs and Perth, with all eyes focused on the return of Kelsey Griffin.
Back from an ankle injury and a hamstring tweak, the league's 2019 MVP played 21:37 for eight points on 4-of-8 shooting, nine rebounds, three assists, two steals and three blocks to underpin an 89-75 victory in front of 1,361 home fans.
Marianna Tolo's 22 points at 73 per cent led the Capitals, the Opals "big" also snaring nine boards, dishing three assists and blocking two shots.
Again threatening to triple-double, Olivia Epoupa had 12 points, eight rebounds and eight assists while Maddison Rocci maintained her form of last week with 17 points at 67 per cent and five assists.
Perth's cause was not aided by the loss to a foot injury of Alison Schwagmeyer-Belger, Marena Whittle again showing her skillset with 18 points on 6-of-10 shooting, with 4-of-6 triples.
UNI of CANBERRA CAPITALS 89 (Tolo 22, Nurse 20, Rocci 17, Epoupa 12; Griffin, Tolo 9 rebs; Epoupa 8 assts) d PERTH LYNX 75 (Whittle 18, Ebzery 16, Atkins 13, Mansfield 10; Allen 10 rebs; Mansfield, Ebzery 4 assts) at Study Hall, National Convention Centre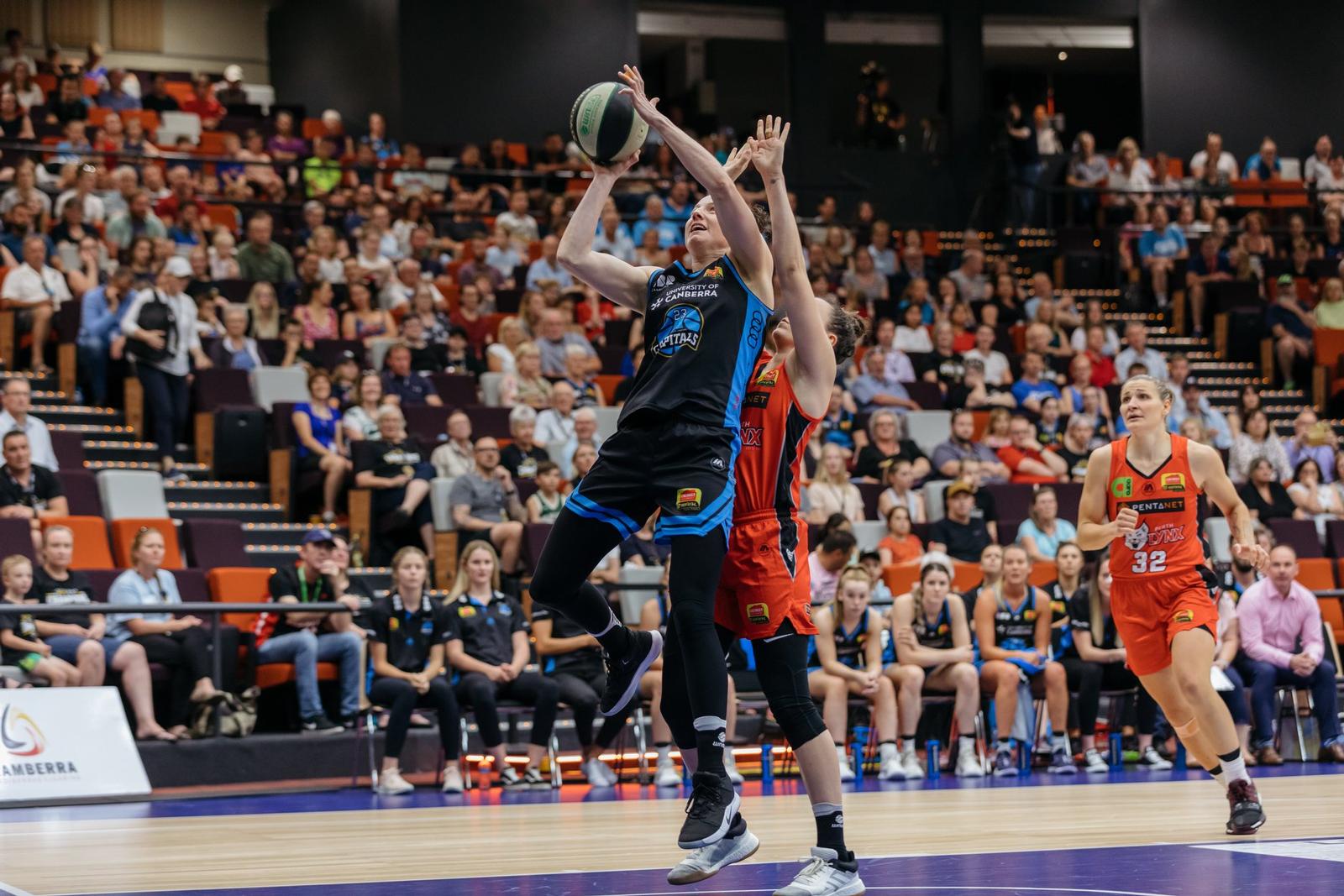 IN Bendigo, the celebrations for Kelly Wilson breaking the WNBL games played record held by former Dandenong and Canberra star Jessica Bibby as she ran out for #395 were set back as Perth rocked to an 89-66 rout.
The game, which also celebrated Gabe Richards' last home match before retirement, instead was a monster performance by the depleted Lynx, which led by as many as 33 points after a stunning 31-13 second period was encored with a 22-11 third.
Katie-Rae Ebzery lit up for 28 points with 4-of-6 threes and Marena Whittle added a further 18, also dialling 4-of-6 from long distance.
Richards had 16 points on 7-of-11 shooting with seven boards but Wilson was surprisingly scoreless, Shyla Heal again leading Bendigo's scoring, this time with 17.
PERTH LYNX 89 (Ebzery 28, Whittle 18, Atkins 16, Payne 13; Atkins 10 rebs; Mansfield 9 assts) d BENDIGO SPIRIT 66 (Heal 17, Richards 16, Wehrung 14, Lavey 12; Heal 8 rebs; Lavey 5 assts) at The Spirit Level, Bendigo Stadium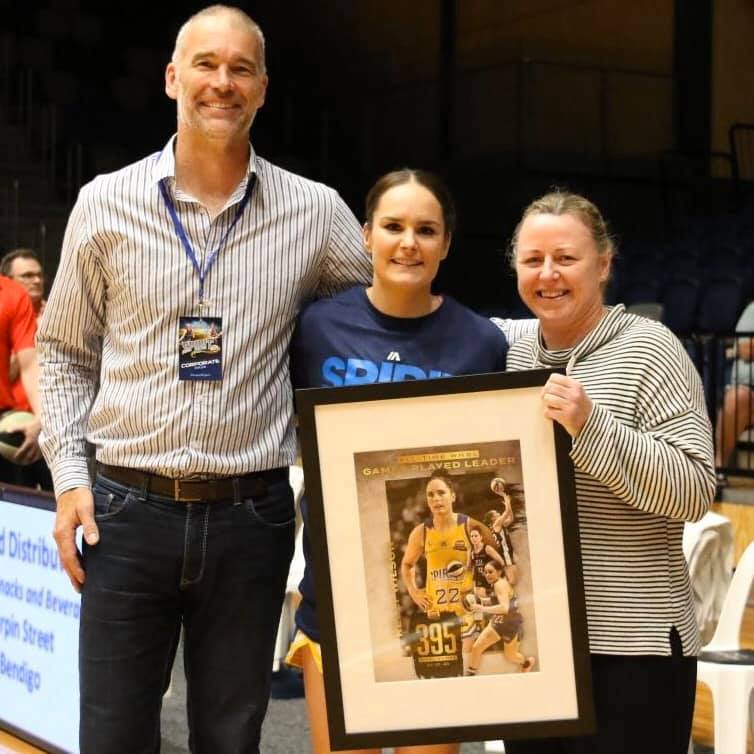 NEW RECORD: BA's Paul Maley and superstar Kristi Harrower on hand to award Kelly Wilson.
IN Townsville, the Fire put up a brave fight against championship contender Melbourne but could not withstand the Boomers' 28-13 final quarter rampage which consolidated their 79-68 win.
Lindsay Allen again did not play but Ezi Magbegor's 21 points at 60 per cent made the task a big one for the Fire, which had Bridget Carleton go off for 16 points at 67 per cent, six rebounds, five assists and four steals.
The win keeps the Boomers in second place ahead of Canberra, at least until tomorrow when the Caps host Sydney.
DEAKIN MELBOURNE BOOMERS 79 (Magbegor 21, George 19, Cunningham 15; Garrick 7 rebs; Farnworth 5 assts) d JCU TOWNSVILLE FIRE 68 (Carleton 16, Garbin 13, Cocks 12, Madgen 10; Boag, Garbin 7 rebs; Vanloo 8 assts) at The Fire Station, Townsville Stadium