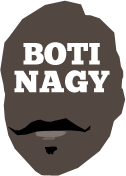 ---
Advertising opportunities available.
Please contact me.
---
G2: Sixers seize series momentum
Tweet

ADELAIDE 36ers surfed home on a tidal wave of hometown support and emotion today to claim Game 2 of the NBL's best-of-five Grand Final against Melbourne 110-95, but may have paid a huge price levelling the series 1-1, with Josh Childress hurt late in the game.
Childress, who had 13 points and eight rebounds in 27:51 of action, had just been reintroduced in the final quarter to a rousing ovation from the relentlessly loud crowd, but hit the floor hard with just over five minutes to play after a physical clash with United's David Barlow.
No call was made as Barlow struck a 3-pointer to bring the deficit back to 13 with 5:26 left, play stopped to allow Childress to leave the court confines (below), ultimately clutching his left arm which hung ominously limply beside his torso.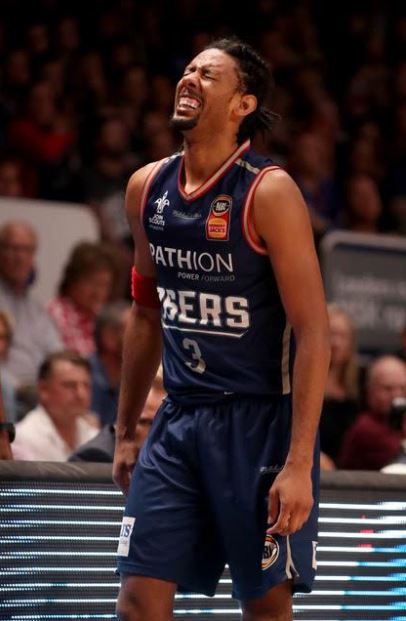 It was a sight no Sixers fan wanted to see after having led by as many as 27 points (74-47) on a Nathan Sobey 3-pointer with 6:17 left in the third period.
"The doctors will take a look at him and give me a review," 36ers coach Joey Wright said.
"He had an issue with his shoulder. Obviously we all saw that. But they haven't given me an indication what's happening with it."
Scans and a full diagnosis are likely tomorrow, Childress' status critical to how this enthralling series plays out.
"We'll get scans and see what comes back," Childress said. "Until then, it's just therapy."
Today at Titanium Security Arena, a full and raucous house turned back the clock to the 36ers' glory days with a loud and vociferous reception for Melbourne, which won Game 1 on Friday 107-96.
In winning 110-95, Adelaide scored the most points in a 40-minute Grand Final match since St Kilda won the 1980 Final from West Adelaide Bearcats 113-88, while also topping the NBL's second 40-minute era's highest Grand Final score - United's 107 on Friday.
The 36ers also became the first team in either of the league's 40-minute stanzas to boast seven double-digit scorers, led by Majok Deng's 18 points, with 17 apiece to Mitch Creek and Ramone Moore, Daniel Johnson with 15, 14 to Sobey, Childress on 13 and Shannon Shorter 10.
(That has only once happened previously, in 1994's 48-minute Grand Final, North Melbourne Giants with seven double-figure scorers in Game 2.)
Deng again seized his opportunities, instated late in the first quarter and scoring the tap-in which gave Adelaide its 27-19 buffer on the buzzer.
His 18 points came on 7-of-8 shooting while the NBL's Sixth Man of the Year, Ramone Moore came off the bench for 17 points off a 7-of-9 return.
"I just say this over and over and over. Majok's a scoring machine. If he's on the court and he gets minutes, he just finds a way," Wright said.
"We ran a few things for him tonight but not a lot.
"For him for the minutes he played, he just finds a way to put the ball in the hole and get it done.
"It's just great to have him and obviously Ramone has been great for us all year, coming in and being able to give us buckets. And not just that, but control the tempo for us and give us D as well."
NOT TODAY: Sixers Nathan Sobey and Majok Deng sandwich United's Craig Moller.
Adelaide's defensive pressure was far more intense, leading 10-8 early before Casper Ware's three gave United its only lead at 11-10.
Childress struck a 3-pointer and by the first break, nine Sixers were on the scoresheet. As Adelaide threatened to pull away in the second, Casey Prather hit consecutive threes, giving United an outside option to contrast Tai Wesley's inside work.
Prather dragged United back to 39-42 before the 36ers reeled off 11 straight points, Moore and Deng particularly active. Even a Dean Vickerman timeout mid-sequence did little to stem the tide.
Two more big baskets from Deng had the lead out to 57-41 and he was active on United's last attack of the half, knocking the defensive rebound clear.
"We're not surprised by Majok's scoring, by any stretch," Sixers centre Matt Hodgson said.
"We see it every day, you see it in stretches in games where he's out there playing defence like he was doing. He had two or three great possessions on the block.

"Dave Andersen was posting up and Dave Andersen's an ex-NBA player. Majok did a great job holding him up. Made him take tough shots and forcing misses. He was everywhere tonight – awesome.
"When he does that, he just obviously feeds everyone else so much more."
Deng was back into the fray early in the third when Creek collected his third foul for a charge and the combination of Deng and Johnson worked as foils for Josh Boone and Wesley.
Ahead 60-45, the 36ers again ignited for 11 points without reply, Deng starting it with a putback. Great defensive work and a boards domination - it would be 53-36 by game's end - sent Adelaide running, Johnson with a classic power basket off a rebound on which he also was fouled.
He converted the bonus for a 65-45 lead, then pulled up to swish a 3-pointers in transition, forcing Vickerman to again call timeout.
It made little difference as Johnson finished his own little mini 9-0 run with a second triple for 71-45. Wesley pulled back a bucket before Shorter secured an offensive rebound, dished it to Sobey who nailed his second 3-pointer of the period.
Barlow, Wesley and the always-efficient Dave Andersen dragged Melbourne back and when Prather closed the third quarter scoring, United was alive, though still down 64-82.

GONE! Casper Ware fouls out with six points and two assists in 18:44.
When Ware fouled out just over a minute into the last, the trek back was going to be too far. That said, Melbourne came after it - much as Adelaide had done when Game 1 seemed hopelessly out of reach.
"Casper, you know, 18 minutes, fouled out – some ones that you just question when you're sliding and you're showing your hands, the things that we talk about trying to coach," Vickerman said.
"At that point, I was like I just don't know how to coach. Right now our players to be able to slide and try and stay in front of someone, I thought that's what we're trying to achieve with this league.
"To say: 'If you show your hands and you use your chest', they're the calls that aren't going to be called. To take him out of the game with a fourth foul on something that was, to me, coaching the right way and playing the right way, was certainly a disappointment.
"But I've been here before. They've shot 40 free throws before. It's nothing new. The crowd does a great job. Once they get running and they put their head down, they're pretty tough to stop."
Two triples apiece by Goulding and Barlow in the last saw Melbourne close to within 13 before Moore and Deng again grabbed centre-stage.
Sobey-to-Creek made it 99-82, then Sobey-to-Creek for a dunk made it 101-82 and suddenly, Game 3 was all this series is about.
"I thought right from the first initial play with Creeky getting up and denying the ball and trying to get a deflection, and Sobes picking up full court, that's the energy that we do need to play with," Wright said.
"Once again we're playing our best basketball when guys are out, we've got different multiple scorers, guys are attacking from different areas – if we rebound the basketball, it just helps.
"They're a team you have to limit them to possessions. If they get multiple shots, multiple attempts at the rim, you're going to struggle.
"I thought they got out tonight and just played the brand of basketball and just got back in (to the series). Although it's a game, you play every single game to win, no matter if it's the first game or your last game of the year.
"If you try to go: 'OK, I'm going to play a little harder right now, because it's a final', that's when you get yourself in trouble.
"That's what I think we did and that actually backfired on us in the first game."
The only backfire in this one is the tense wait on Childress' status and whether he can emulate Mark Davis in 1994 for the 36ers, or Willis Reed for the New York Knicks against Wilt Chamberlain in the NBA's 1970 Finals.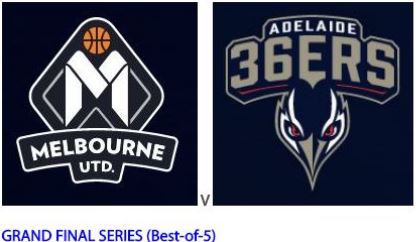 MELBOURNE UNITED (1) v ADELAIDE 36ERS (2)
GAME 1: Melbourne United 107 (Goulding 26, Ware 20, Boone 17, Prather 13, Wesley 11; Boone 7 rebs; Hooley, Wesley 5 assts) d Adelaide 36ers 96 (Johnson 18, Shorter 16, Creek 14, Childress 12, Hodgson, Moore 10; Creek 9 rebs; Moore, Creek 4 assts) at Hisense Arena.
GAME 2: Adelaide 36ers 110 (Deng 18, Moore, Creek 17, Johnson 15, Sobey 14, Childress 13, Shorter 10; Creek 9 rebs; Sobey 5 assts) d Melbourne United 95 (Prather 20, Goulding 19, Barlow 13, Wesley 12; Prather 7 rebs; Wesley 3 assts) at Titanium Security Arena. Series tied 1-1.
GAME 3: 7.30pm, Friday, March 23 at Hisense Arena, Melbourne.
GAME 4: Sunday, March 25, Titanium Security Arena, Tip-off time TBA
GAME 5 (If Required): Saturday, March 31, Hisense Arena, Tip-Off time TBA