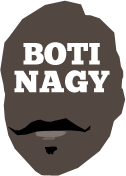 ---
Advertising opportunities available.
Please contact me.
---
Giannis the giant as Bucks wrap it up
Tweet
FROM US Correspondent BOB CRAVEN
KAREEM Abdul-Jabbar, the star of the Milwaukee Bucks' 1971 NBA championship team, two weeks ago on national TV said he didn't think the Bucks could win the NBA title they were about to contest.
Yet when the Bucks slipped behind 0-2 in the best-of-seven championship against Phoenix Suns, he amazingly tweeted he had "the Bucks in 6. Fear the Deer."
Having played against him in college for two years and having followed his career since he was in high school, I had no idea he also could predict the future against significant odds.
But today the Bucks did just that — beat the Phoenix Suns in Milwaukee 105-98 to win the series 4-2 for the team's and the city's second NBA title, exactly 50 years after Kareem and Oscar Robertson guided them to their first title.
This Covid-addled season was mostly played with no fans present, but there were 17,000 or so in the arena, and the city allowed around 65,000 people to populate the large plaza outside the arena to watch the big screens set up on the outside wall.
And who knew Giannis Antetokounmpo was Superman?
In an incredible Finals performance, he scored almost half his team's points and finished with a line of 50-14-2, plus 5 blocks, all of them big ones. Perhaps even more amazing was that he hit 17-19 from the charity strip — not too bad for a mediocre foul shooter (well under 60 per cent) under the biggest of all pressure spotlights.
And, of course, he was voted MVP of the Finals. He also was the first ever to score that many points, have that many rebounds, and block that many shots in a Finals game, at least since 1974.
The game started off with yet another amazing block by Antetokounmpo with barely a minute played. Then things slowed down, becoming very ragged with a lot of poor shooting and ball handling for most of the rest of the quarter.
Antetokounmpo and the Bucks picked it up noticeably near the end to be up 13 at the quarter break, 29-16.
Milwaukee seemed to leave its game on the bench as Phoenix immediately went on an 10-0 run to start the second period, and it took the Bucks almost four minutes to score a point.
After six minutes, Milwaukee was 1-of-12 from the floor. Khris Middleton also picked up his third foul at about that point and was a spectator for the rest of the half.
With three minutes left in the quarter, Milwaukee had scored only seven points, ultimately outscored 31-13 to be down 42-47 at the half.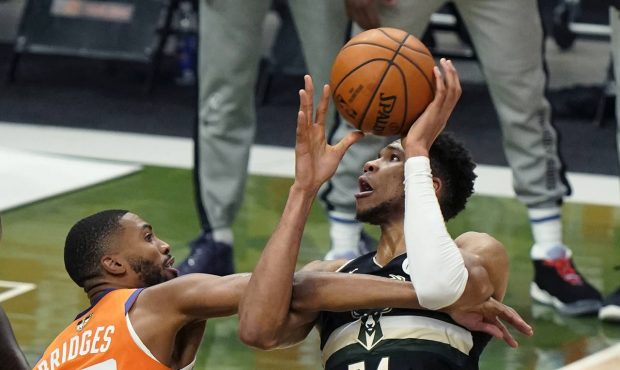 Antetokounmpo led the Bucks at that point with 17 points, 7 boards and 2 blocks, but he was almost alone on the offensive end. Jrue Holiday had another terrible offensive first half (two points on 1-of-11 shooting), but he did add 5 boards and 6 assists.
Chris Paul had 13 points and 4 boards for the Suns. Reserve Cameron Payne added 10 in only 6 minutes for Phoenix.
Both teams picked up offensively in the third quarter, Antetokoumpo with a 3-point play and a 3-point FG in the first 90 seconds. He had at that point scored more points than the rest of his teammates combined and he finished scoring 20 points in the third quarter alone.
Brooke Lopez scored three consecutive buckets at one point to help out, the score tied 77-77 heading into the last.
The Greek Freak had 37 and 10 rebounds at that point, Lopez had 10 points and 8 rebounds and Holiday had a line of 9-6-9.
In an ominous note for the Suns, big man Deandre Ayton picked up a fourth foul near the end of the quarter and had to leave. Barely four minutes deep into the final quarter, he picked up a fifth, leaving a noticeably smaller Jae Crowder trying to keep Antetokounmpo from scoring and from getting rebounds.
The Bucks took a lead almost immediately in the fourth quarter and it started to look like they would be the team of destiny on this night, and with not a lot of drama in the interim, that's the way in ended up: Bucks 105, Suns 98.
For the Bucks, behind Antetokounmpo's amazing stat line, Khris Middleton added 17-5-5 and 4 steals, Holiday almost had a triple-double, despite poor shooting (4-of-19), with a line of 12-9-11 plus 4 steals. Bobby Portis off the bench added 16 points and 3 boards, while playing some very tough defence in only 17 minutes.
The Suns were led by Chris Paul with 26 points and 5 assists, Devin Booker had a relatively quiet game with a line of 19-3-5. He was only 8-of-22 from the floor, missing all seven 3-point attempts.
Crowder was tough on defence and on the boards, while playing a lot in place of the foul-plagued Ayton. He scored 15 points and added 13 rebounds, 4 steals and a block.
But this was always going to be Giannis and the Bucks' date with destiny.