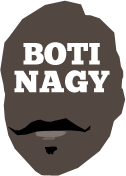 ---
Advertising opportunities available.
Please contact me.
---
Has Matt been knighted once too often?
Tweet
MATT Knight's withdrawal from the Perth Wildcats' team for tonight's NBL match with Sydney now must surely raise serious concerns about his playing future and general well-being.
Knight, 32, who has had numerous concussion issues over his stellar career, is out after suffering another head knock.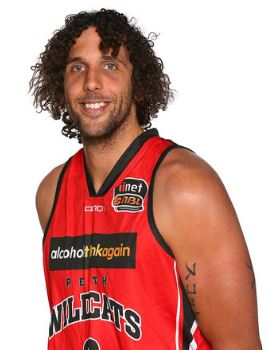 This follows a knock he took to the chin in Cairns recently – and truthfully it did not look like much more than a brush with his chin but clearly it did enough to send him to the bench for the rest of that match.
In TV close-ups as he sat there, Knight unquestionably looked somewhat dazed and little glazed.
Most people can understand his decision to play on in 2017-18 and fulfil his role in the club's first shot at a threepeat since it won titles in 1990-91.
But if it continues to be at the risk of his long-term health, it surely must be time for the club to enact its duty of care and stand him down, no matter how much he craves to continue.
You know if it's always left to the player to make the ultimate decision, more often than not he/she will err on the side of going on.
But this is a man who has given the Wildcats incredible service, is a Ray Borner Medallist and a multiple NBL champion for Perth.
He is a stalwart and a future Hall of Famer who has meant so much to the club that now it might be time the club recognised its duty to him.
Whether playing as centre or at power forward, starting or coming off the bench, Knight is and always has been a great club man prepared to put his body on the line.
That's why he continues to suffer now. It would be a terrible shame and something of a tragedy if he was unable to live life beyond basketball to the fullest just because he always gave the fullest and his utmost in the Wildcats' cause.
The responsible club Perth is, I have no doubt it continues to monitor Knight's condition closely. The danger is valuing his elbow jumpshot over his best interests. Matty Knight is a great guy beyond being a great player.
He deserves every chance to still live the best life possible.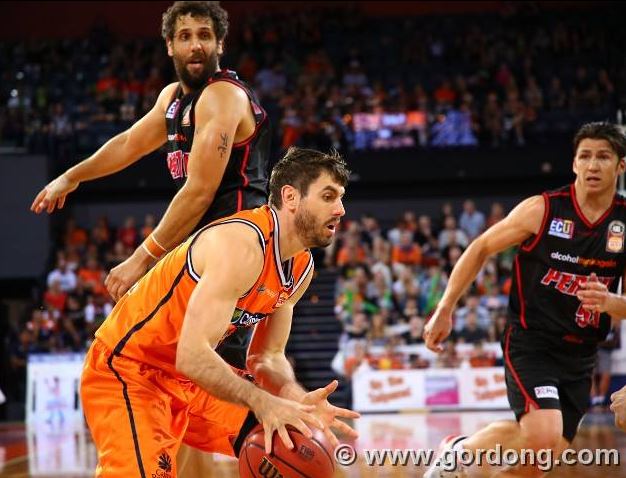 WILDCATS STALWARTS: Matt Knight, left, in Cairns before suffering a knock to the chin.
LEAGUE greyhounds Adelaide came to a grinding, tumbling skid in Auckland last night where 20 offensive rebounds by the Breakers underpinned their work-rate and desire in a misleading scoreline that read merely as a 92-88 win.
"We talked about being able to defend the pick-and-roll," 36ers coach Joey Wright reminded his Sixers at a timeout midway through the second period after repeatedly being exposed. "Right now we're not doing a great job of it."
Meanwhile in Paul Henare's Breakers' time-out, he repeated: "Horn/shakes? Go at Johnson again. Horn/shakes, go at Johnson again."
Clearly, the Breakers identified 36ers' All Star Daniel Johnson as Adelaide's defensive weak link, an issue the 211cm offensive weapon has to eradicate to fulfil his potential as a big man who plays both ends.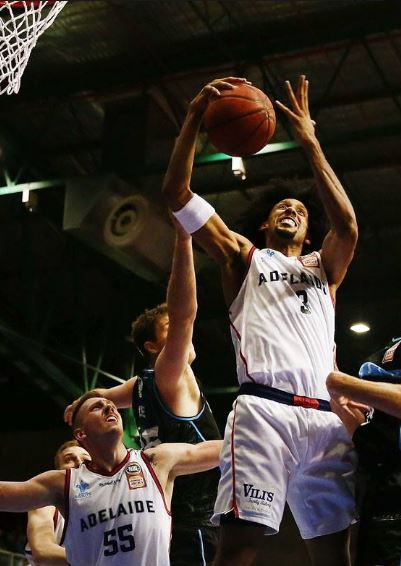 Possibly, newest Adelaide addition Josh Childress (pictured) could have seen more action.
"He's still fitting in. He's a conscientious guy so he's more worried probably right now of getting in our way than helping," Wright said.
"We've just got to let him get to his brilliance. That's going to take a while.
"Any person that does care about a team, they've got to go through that phase. If you don't care, then you'll just come in and take all the shots and you'll look good but the team won't be good.
"He's aware of it. He wants us to keep running our stuff and do well at what we do so he'll fit in, he'll be fine.
"A great player like he is and as smart as he is, he'll be fine."
New Zealand led by as many as 14 points and perennially kept the 36ers at arm's length, despite the tightish finish.
"They did a great job in the first half of getting easy buckets, whether it was offensive rebounds or whether it was attacks on the rim," Wright said.
"Those are the things we like to do and they did it better than we did tonight.
"They're the only team that plays as up-tempo as we do.
"Nobody's going to have the ability to go through this season and dominate the competition. We just need to get ourselves together and try to worry about what we do."
Adelaide, which faces Melbourne in Melbourne tomorrow, has shown an uncanny ability to bounce back on the road.
Whacked by the Hawks in Illawarra to open the 2016-17 season, the 36ers responded by beating United in Melbourne on the same trip.
Humbled by United in Adelaide earlier this season, the Sixers flew on into Sydney and decked the Kings.
Melbourne belted Cairns 87-65 last night, the Taipans tomorrow hosting New Zealand but not before a rejuvenated Melbourne hosts a 36ers team it twice has handled in Adelaide, by two and by 20.
"Adelaide are a different beast," United coach Dean Vickerman said in the afterglow of the convincing rout of the Taipans.
"Even coming off a road trip to New Zealand, they're going to come in and play the way they play.
"They're going to be aggressive and disruptive defensively and they're going to run as hard as they can the other way.
"Now bringing Childress in is something we haven't seen yet playing against them – another guy who can get on the rim and, you know, certainly switch a lot of things defensively."
Melbourne-Adelaide will be live on SBS Viceland and Fox 503 from 5:30pm AEDT, 5pm in SA before the Taipans-Breakers goes live on Fox 503 and SKY from 7.30pm AEDT.