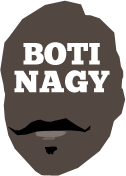 ---
Advertising opportunities available.
Please contact me.
---
Hawks on the fly
Tweet
IT was, without doubt, one of the greatest NBL wins of a tremendously even season and one of the finest come-from-behind playoff series wins in league history.
Illawarra Hawks did themselves, their fans and their community immeasurable good by not only the way they eliminated regular season champion Adelaide from the Swisse Semi Finals but also how they carried themselves throughout.
Personally, I've always believed teams reflect the personality of their coach and in Game 3's 106-98 finals, the Hawks were confident, purposeful, mindful of the game plan and not the mind game, and never lost focus of the bigger picture.
As a result, they now are in the Swisse Grand Final against Perth Wildcats, albeit with a significant disadvantage.
Marvelle Harris knew even before tip-off against the 36ers at Titanium Security Arena, he would be flying out post-game to Los Angeles to be with his critically ill father.
"He only played (Game 3) because he thought his father would have wanted him to," Illawarra coach Rob Beveridge revealed.
Of course the Hawks are hopeful he will be back to play a role in this Championship Series but when or where are up in the clouds.
"He has more important things to think about right now," Beveridge said.
"We're putting no pressure on him whatsoever. What he is going through now is far bigger than basketball."
It is typical of Beveridge's "priorities right" earthy attitude which is what makes him one of the game's most beloved figures. If, as the saying goes, you're only as good as your last game, then he's also the NBL's top coach right now.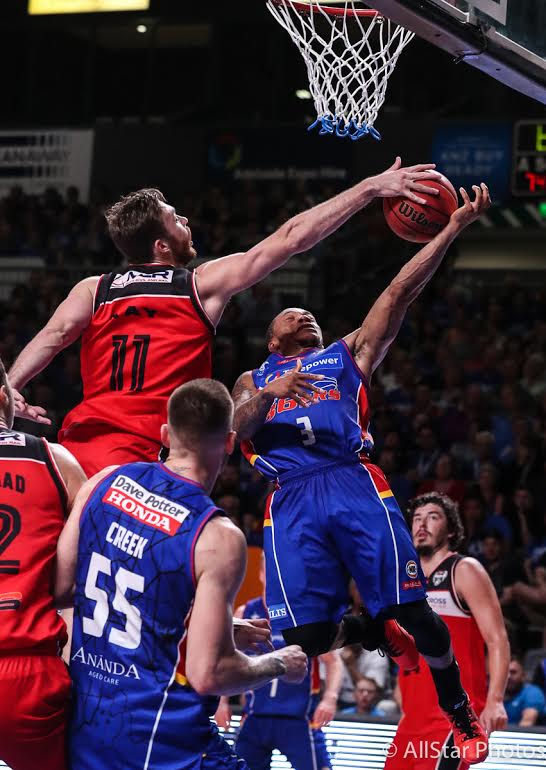 GET OUT! Nick Kay rejects Jerome Randle as the Hawks send Adelaide out of the playoffs.
Game 3 was there for the taking by Adelaide.
It was back at Titanium Security Arena, in front of some 7,000 loud and rabid fans. It was under the gun to perform, which, for the most part of 2016-17, had been the formula it needed to rise to its peak.
On the flipside, Harris had to be distracted by his personal issue. AJ Ogilvy rolled his ankle and after trying to return, limped off with just 7:15 of action under his belt.
Nick Kay had two fouls in the first 17 seconds! (His third foul, midway through the second quarter was beyond belief that such irrelevant, incidental off-the-ball rubbish could even be called but let's steer clear of how dreadful the officiating was, as normal.)
Ahead 8-4, the 36ers should have already been double-digits ahead but fumbles, flubbed passes, missed shots were the order of the day. Second-guessing and passing up open shots to try and "create" better situations - which never were better - steadily infiltrated the 36ers' game as they looked far from the confident crew which ran up eight straight wins, then a further six.
Harris started the run for Illawarra with a triple, then Ogilvy scored on a cut before Rhys Martin and Rotnei Clarke stuck 3-pointers.
An 11-0 run, it swept the Hawks to 15-8 with 4:15 left in the opening period ... and Adelaide never caught them again!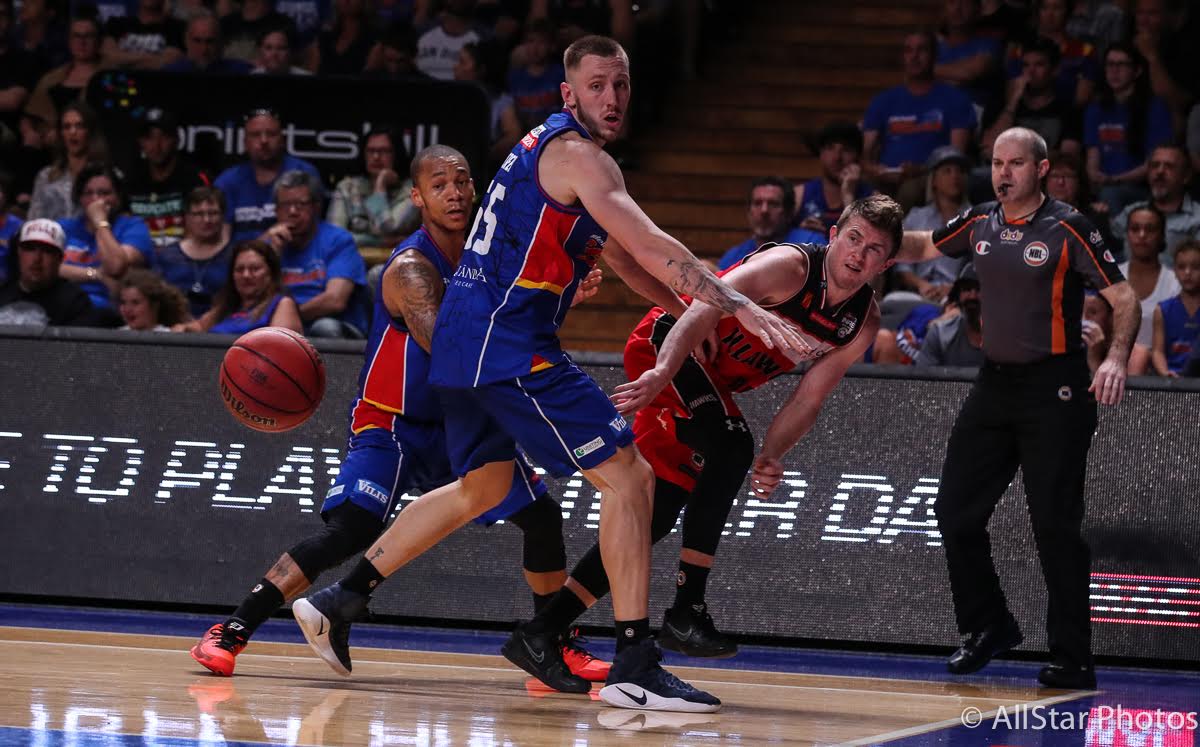 TEAMWORK: Rotnei Clarke beats the 36ers' double-team, the Hawks never flustered.
Think about that for a second. Yes, there were some great runs, some magic by the Sixers and even plenty of refereeing inconsistency to get fired up about.
But just before Jerome Randle beat the halftime buzzer with a three, Illawarra led 56-39.
Rattled again during the third, Adelaide had no answer as Illawarra twice sliced through its press for consecutive Michael Holyfield slams, Martin slipping past on a backdoor cut, Cody Ellis and Kevin White scoring threes.
This was TEAM basketball at its finest. Forget talent. This was one team showing its superiority, for the fifth time in seven 2016-17 meetings.
A Tim Coenraad three followed by a Kay basket made it 95-74 with 6:03 left in Adelaide's season.
Nathan Sobey then ignited the 36ers to a 13-0 run to bring fans to full voice.
Clarke then put down the revolt with a huge 3-pointer.
When Randle and Sobey sparked the deficit back to 93-98 with 2:13 left, the noise in The Fortress was deafening.
But just inside the final minute, Clarke again nailed a three and everyone in the arena knew for sure, Illawarra was heading on into the best-of-five Swisse Grand Final.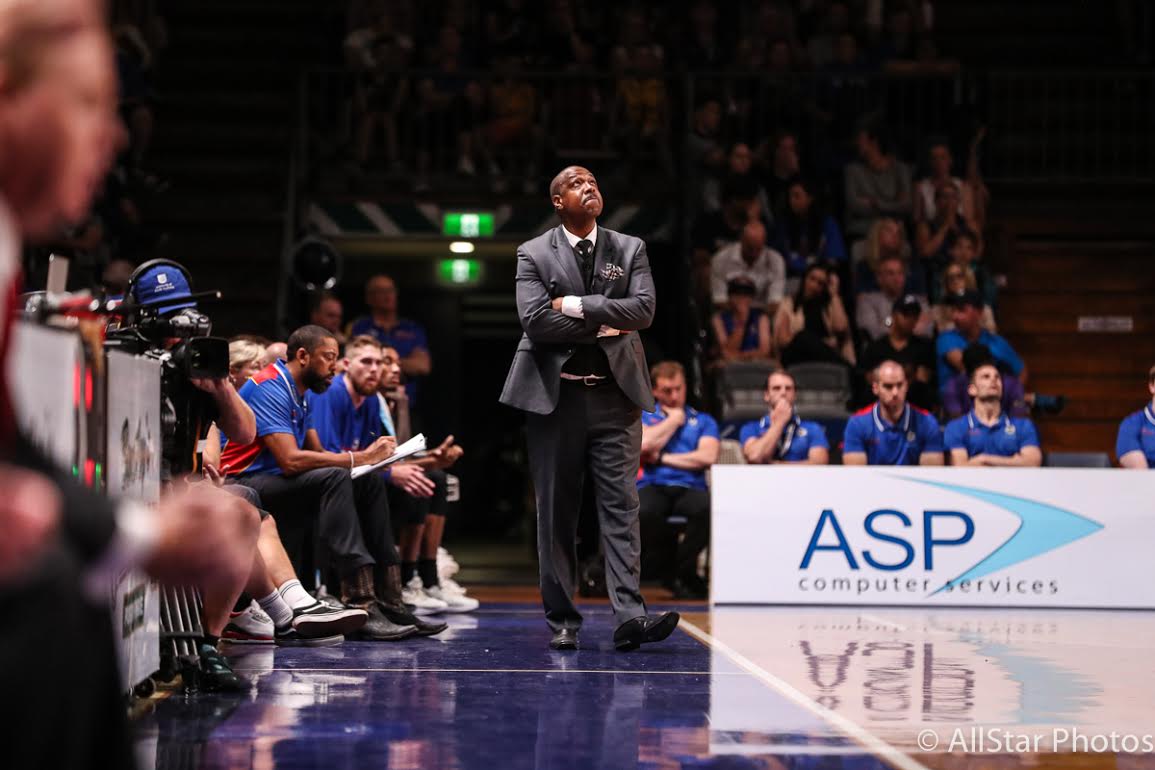 RUNNING OUT OF TIME: 36ers coach Joey Wright checks out the clock as time runs out.
"That was our most selfless win of the season," an elated Beveridge said. "It was magical.
"To lose AJ and have everyone step up like that...
"We don't put any pressure on ourselves.
"We just go out and play our arses off.
"I have always said on any given day we can beat anyone."
The same was true of Adelaide but not this time around.
So now it is on to Perth, without Harris, Ogilvy doubtful and with a touch of irony given Beveridge was coaching the Wildcats when they beat Illawarra in the 2010 grand final.
"It is a very tough environment where we are up against 14,000 screaming fans," he said.
"It is going to get loud and stuff but we have to find a way.
"I believe in our group and they believe in themselves so we can make it happen.
"It is pretty surreal.
"I just think, well here we go I am up against my (former) boys again. But we were 2-2 this year. We beat them in Perth so we are going in with a swagger.
"They are the ones that have the expectation that they will win.
"That is exactly the same as Adelaide."
The Wildcats erased Cairns 2-0 in a far more one-sided affair in the second v third Swisse Semi Final.
The Swisse NBL Grand Final Best-of-5 Championship Series schedule:
Perth Wildcats v Illawarra Hawks
Game 1 – Sun, Feb 26 – 4pm local, 6.30pm SA, 7pm AEDT at Perth Arena
Game 2 – Wed, Mar 1 – 7:30pm AEDT, 7pm SA, 4.30pm WA at WIN Entertainment Centre
Game 3 – Sun, Mar 5 – 12pm local, 2:30pm SA, 3pm AEDT at Perth Arena
Game 4 (if required) – Fri, Mar 10 – 7:30pm AEDT, 7pm SA, 4.30pm WA at WIN Entertainment Centre
Game 5 (if req) – Sun, Mar 12 – 4pm local, 7pm AEDT, 6.30pm SA, at Perth Arena
Swisse Semi Final Results:
1 v 4, Adelaide 36ers v Illawarra Hawks
Game 1: ADELAIDE 36ERS 93 (Randle 26, Sobey, Johnson 16, Creek 11; Hodgson 11 rebs; Sobey, Randle 4 assts) d ILLAWARRA HAWKS 78 (Coenraad 26, Clarke, Harris 10; Ogilvy 9 rebs; Kay 4 assts) at Titanium Security Arena.
Game 2: ILLAWARRA HAWKS 100 (Coenraad, Norton 17, Clarke 15, Kay 12, Martin 10; Ogilvy 11 rebs; Kay 5 assts) d ADELAIDE 36ERS 94 (Randle 20, Johnson 17, Jacobsen 12, Teys 11, Drmic 10; Hodgson 8 rebs; Randle 7 assts) at WIN Entertainment Centre.
Game 3: ILLAWARRA HAWKS 106 (Clarke 20, Harris 17, Martin 13, Ellis 11, Holyfield, Coenraad 10; Forman, Holyfield 6 rebs; Coenraad, Martin 4 assts) d ADELAIDE 36ERS 98 (Randle 26, Sobey 22, Creek, Drmic 10; Teys 8 rebs; Sobey, Randle 6 assts) at Titanium Security Arena.
Illawarra Hawks win series 2-1.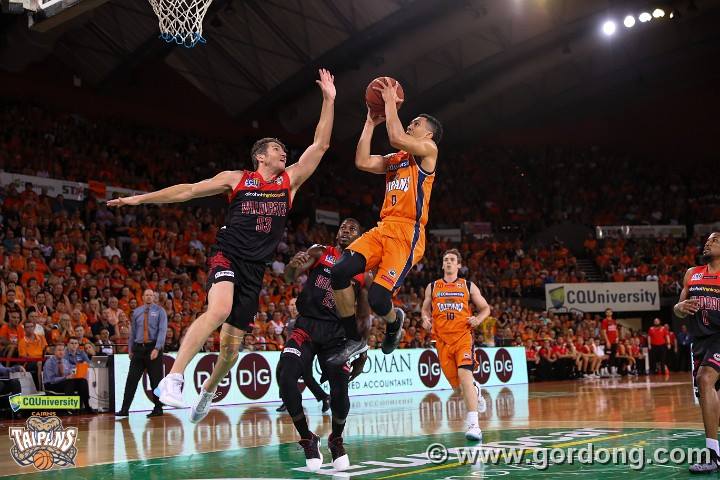 2 v 3, Cairns Taipans v Perth Wildcats
Game 1: PERTH WILDCATS 91 (Cotton 34, Prather 22, Knight 14, Wagstaff 11; Knight 6 rebs; Cotton 5 assts) d CAIRNS TAIPANS 69 (Trice 15, Worthington 11; McCarron 7 rebs; Gliddon 5 assts) at Cairns Convention Centre.
Game 2: PERTH WILDCATS 74 (Prather 24, Wagstaff 20, Knight 12; Prather 10 rebs; Cotton, Prather 4 assts) d CAIRNS TAIPANS 66 (Trice 22, Mitchell 17; Gliddon 8 rebs; Trice 5 assts) at Perth Arena.
Perth Wildcats win series 2-0.