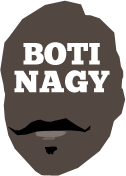 ---
Advertising opportunities available.
Please contact me.
---
Here come the (WNBL) playoffs
Tweet
IT'S likely no coincidence the clubs preparing for the WNBL playoffs are the ones which, for the most part, know how to stage a women's basketball event.
Notice that said "event", not how to "stage a women's basketball GAME."
Perth's ride to the top of the WNBL tree, ably and avidly was supported by its Red Army of fans and Melbourne's return to the post-season at the other end of the Final Four also was built on support some clubs have trouble either igniting or maintaining.
(Go to a MAC Adelaide Lightning stand-alone and it is the usual hardy 300-400 diehards in attendance. The club's answer? More double-headers with their NBL brother Adelaide 36ers.
It's not, "let's go out and build this brand and its following" which is a shame.)
When only small change-short of 3,000 attend a virtually meaningless Melbourne Boomers-Dandenong Rangers derby to close the regular season, you know that club is doing something right.
The game-night experience is an event.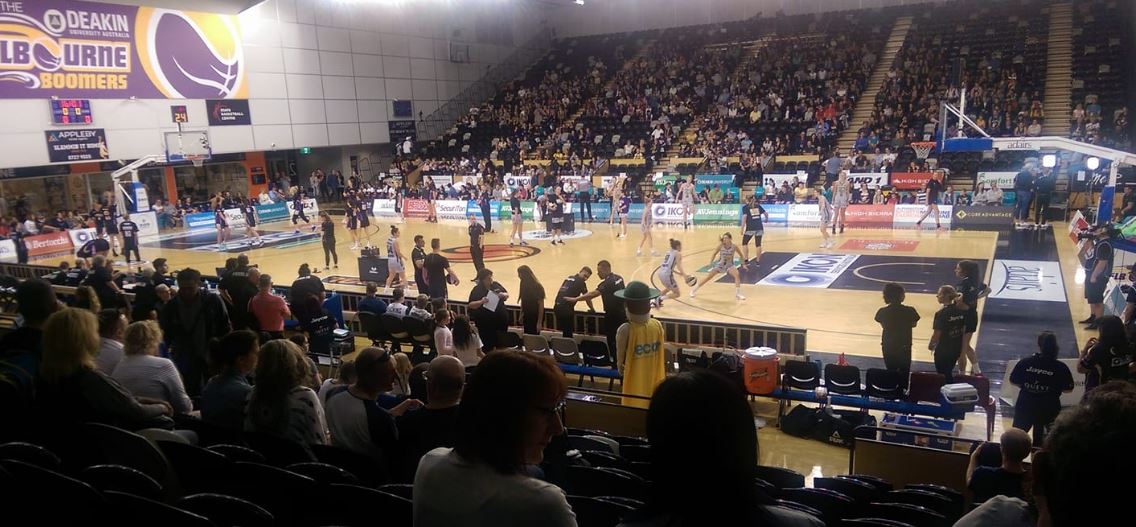 FILING IN: The crowd begins to build for the Boomers-Rangers' derby fixture.

AHEAD OF HOME INTROS: Yes, that's pyro going on.
AND THIS IS ALL BEFORE TIP-OFF: The Boomers are introduced.
There's music, giveaways, competitions and the State Basketball Centre is chock full of young girls all keen to emulate their heroines.
Post-game they will line up as the Boomers players all take a seat, ready to sign autographs, sign balls, sign Boomers gear, pose for selfies - and there's no shortage of fans queueing for the chance to mingle.
In between, there's the game (below) too!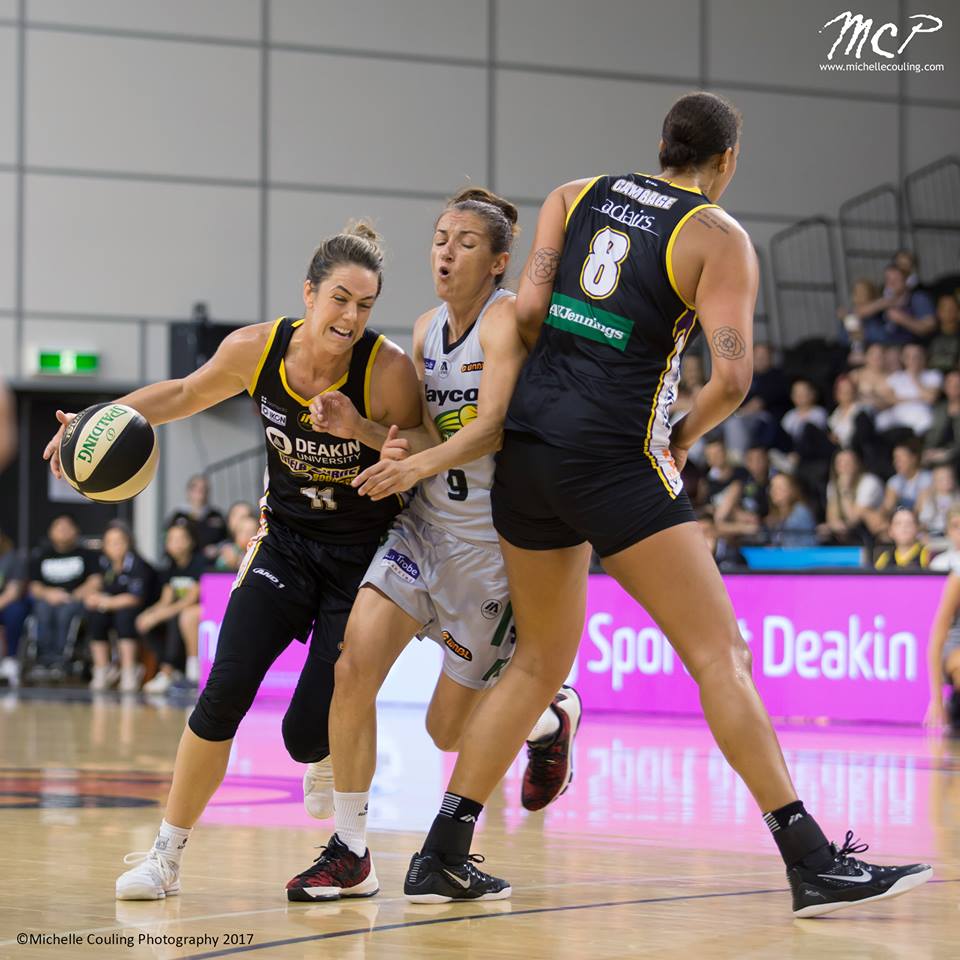 The atmosphere is electric, despite the Rangers managing somehow to go scoreless for the entire last quarter. But that's not who the fans are here to watch, even if Dandenong brought along their Ranger mascot to mix it with Melbourne's Dexter.
It's no secret it takes work and a genuinely dedicated team - not lip service - to make game nights work. And much of the work is done beforehand, ensuring there will be fans to entertain.
Women's sport is experiencing a Renaissance, possibly sparked by the AFLW. But it CAN be made to work. It just takes time, energy and effort. Not to mention commitment.
The Perth-Melbourne best-of-three semi final series assuredly will be full of action. But it will be happening all around, not just on the court.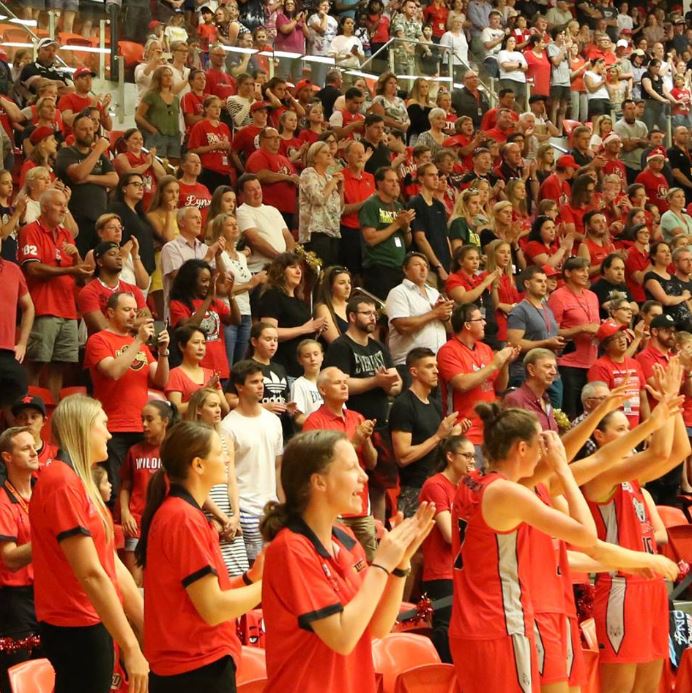 RED ARMY: The Lynx do it right too!
* * *
ON the news front, Perth is breathing a sigh of relief with co-captain Sami Whitcomb (pictured below against Canberra) cleared of structural damage to her right wrist.
Whitcomb suffered the injury on Sunday in the "dead rubber" against the Fire in Townsville.
The star guard and fellow import Amanda Dowe (knee) still face a race to be fit for tomorrow night's semi final Game 1 against Melbourne at the State Basketball Centre.
Whitcomb crashed to the floor during the second quarter against Townsville, leaving the court in agony and taken to a Townsville hospital amid fears she had broken her right wrist.
Scans have revealed bone-bruising and a sprain, which is a relief. But it is to Whitcomb's shooting hand.
"We need to work with her over the next couple of days to see if she can play," Lynx coach Andy Stewart told The West Australian newspaper yesterday.
"Her strength is her shooting so we still have to do testing to see if she can catch and shoot the ball. But we feel like we've dodged a bullet."
Dowe hurt her knee in Friday night's loss in Canberra and missed Sunday's game.
For Melbourne, Bec Cole will be back from injury and Liz Cambage played against Dandenong, allaying fears her finals campaign might be compromised after she missed the previous game, on the road in Perth.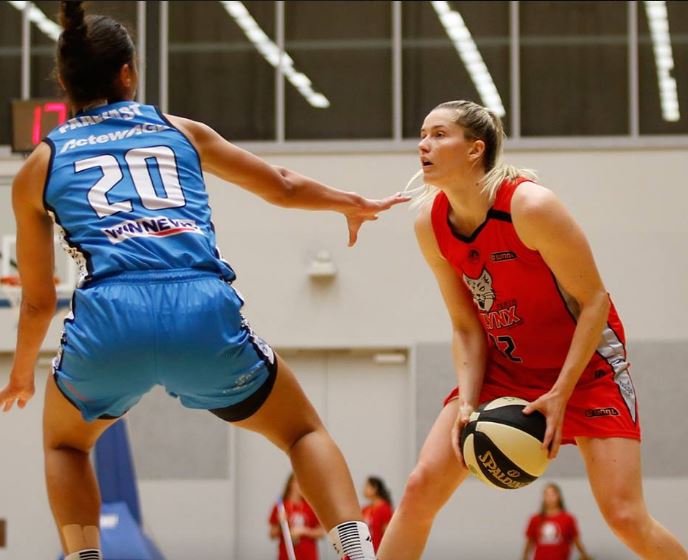 * * *
SYDNEY and Townsville resume their burgeoning rivalry in their semi final series which tips off in Townsville on Thursday.
Even if they weren't Flames and Fire you know this would be a hot one after Sydney dominated their last meeting to secure homecourt advantage in the playoffs.
But in an away/home/home best-of-three format, is homecourt that big an advantage? After all, lose that first one in your rival's gym and now Game 2 becomes about staying alive at home! And that's just to even force a deciding game.
Game 3 definitely presents the advantage. It's just getting that far which becomes problematic.
* * *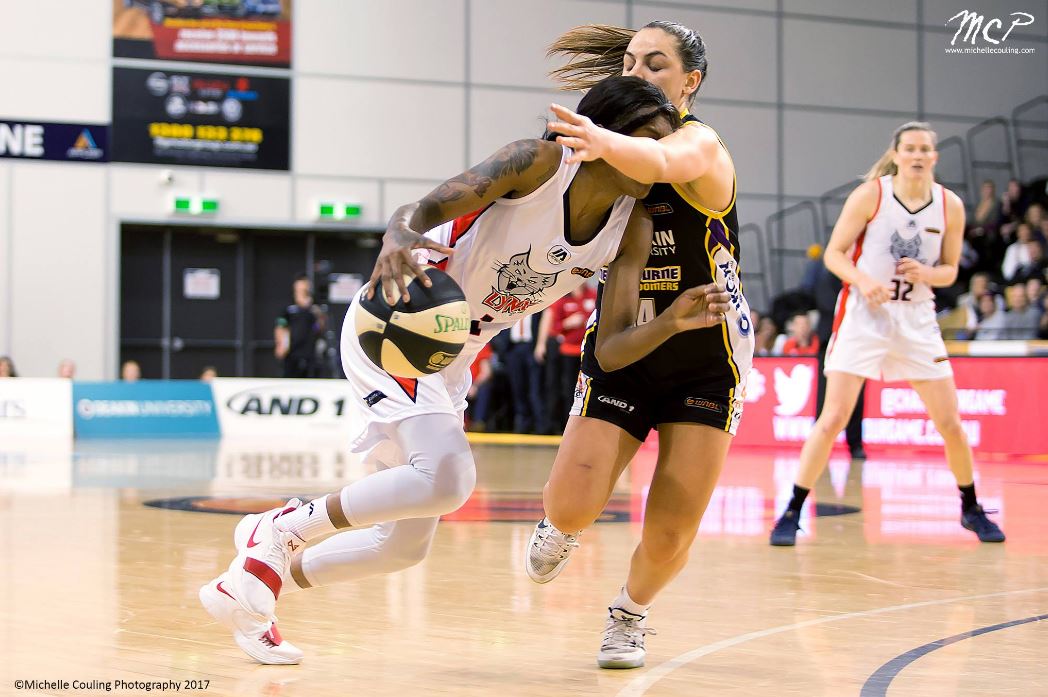 SEMI FINAL 1: PERTH LYNX (1) V DEAKIN MELBOURNE BOOMERS (4)
Game 1: Wed, Jan.3, State Basketball Centre, Wantirna South, Melbourne, 7:30pm AEDT
Game 2: Fri, Jan.5, Jack Bendat Stadium, Perth, 9:30pm AEDT
Game 3 (if req): Sun, Jan.7, Jack Bendat Stadium, 5pm AEDT
2017-18 REGULAR SEASON MATCHUPS:
MELBOURNE BOOMERS 79 (Cambage 23, Smart 16, Garrick 15; Cambage 23 rebs; Cole 8 assts) d PERTH LYNX 77 (Williams 20, Standish, Whitcomb 18; Whitcomb 10 rebs; Ciabattoni, Williams, Whitcomb 3 assts) at State Basketball Centre, Melbourne, October 21. PERTH LYNX 92 (Whitcomb 28, Williams 26, Standish 15; Dowe 8 rebs; Whitcomb 7 assts) d MELBOURNE BOOMERS 89 (Cambage 38, Garrick 16, O'Hea, Cole 14; Cambage 17 rebs; O'Hea 8 assts) at State Basketball Centre, Melbourne, December 17. PERTH LYNX 84 (Williams 19, Whitcomb 17, Kunek 12; Farnworth, Whitcomb 7 rebs; Williams 7 assts) d MELBOURNE BOOMERS 66 (O'Hea 15, Grant 11, Garrick 10; Purcell 11 rebs; O'Hea 6 assts) at Jack Bendat Stadium, Perth, December 23. [Lynx 2-1]
* * *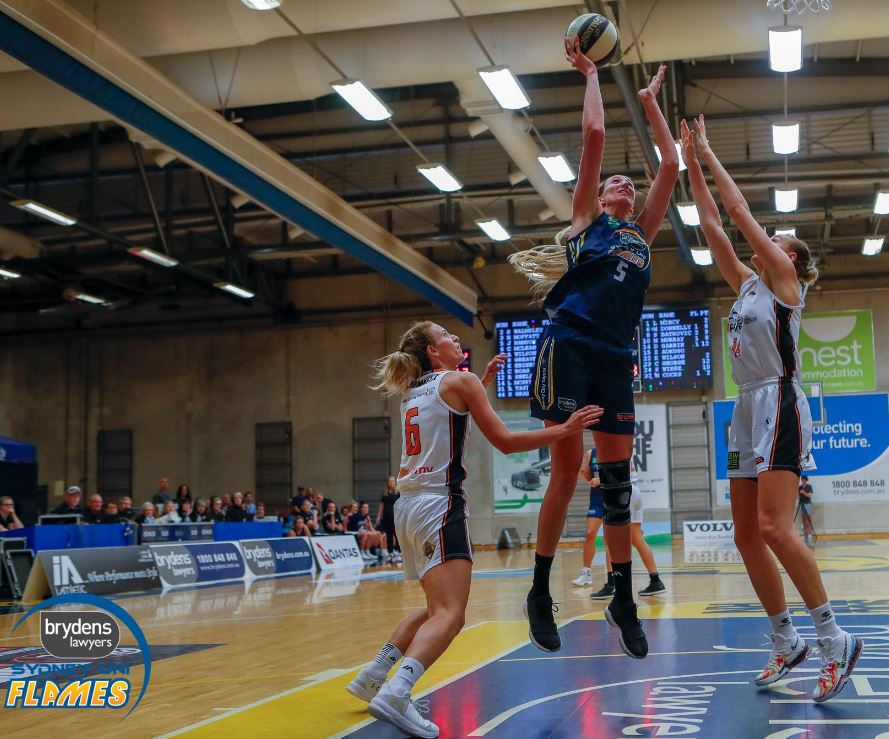 SEMI FINAL 2: SYDNEY UNI FLAMES (2) V JCU TOWNSVILLE FIRE (3)
Game 1: Thurs, Jan.4, Townsville Stadium, 7pm (local)
Game 2: Sat, Jan.6, Bryden's Stadium, Sydney, 3pm AEDT
Game 3 (if req): Mon, Jan.8, Bryden's Stadium, Sydney, 7.30pm AEDT
2017-18 REGULAR SEASON MATCHUPS:
SYDNEY FLAMES 66 (Ebzery 22, Taylor 19, Wilson 11; Taylor 10 rebs; Snell 6 assts) d TOWNSVILLE FIRE 63 (Batkovic 22, Murray 11, George 10; George 15 rebs; Wilson 4 assts) at Townsville Stadium, October 19. TOWNSVILLE FIRE 88 (Batkovic 26, George 14, Wiese, Garbin 13; Batkovic 11 rebs; Donnelly 7 assts) d SYDNEY FLAMES 85 (Ebzery 21, Wilson 18, Hamson 15, Taylor 11; Hamson 9 rebs; Snell 6 assts) at Bryden's Stadium, Sydney, December 2. SYDNEY FLAMES 107 (Hamson 24, Snell 19, Taylor 18, Ebzery 13, Wilson 10; Taylor 11 rebs; Snell 10 assts) d TOWNSVILLE FIRE 81 (Garbin 20, Wiese 13, George 12; Garbin 11 rebs; Cocks, Donnelly 4 assts) at Bryden's Stadium, Sydney, December 29. [Flames 2-1]