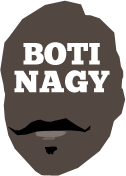 ---
Advertising opportunities available.
Please contact me.
---
Here we go - G5 and other stuff
Tweet
THERE'S every reason for Melbourne United fans to be confident today ahead of the deciding Game 5 of the NBL's epic Grand Final Series, and no reason Adelaide 36ers supporters shouldn't feel likewise.
Quite apart from what happens this evening when the ball is thrown up to start the championship decider, history is in United's corner.
For starters, all games in the series so far have gone with home court and Melbourne is at home today.
The winner in Game 1 of a series has won the title 88 percent of the time. Melbourne won Game 1.
Adelaide has not won a match in Melbourne this season.
On the other side of the coin, Adelaide lost Game 1 in Melbourne by 11, then succumbed in Game 3 - its first in the series playing without starter and NBA warrior Josh Childress (shoulder fracture) - by three. (Majok Deng even had a last pressured shot to try and force overtime.) To 36ers fans, that reads like steady improvement.
So does last week's win, as Adelaide adjusted to life without Chill.
And, of course, Adelaide has not won a match in Melbourne this season which, to 36ers fans, only means it is overdue.
The reception today at a sold-out Hisense Arena will be hostile - and you wouldn't want it any other way - as Melbourne declares "We Are One".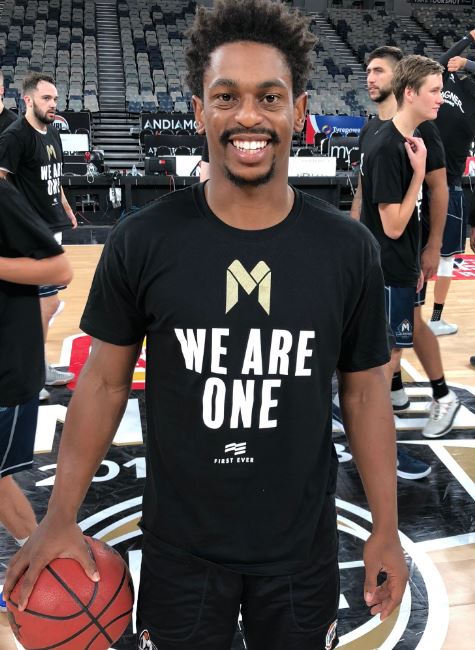 Um, yeah. Last week, across the border, it was:

Come on. You've got to love the levels of passion on display right now.
This is what awaits United fans at Hisense: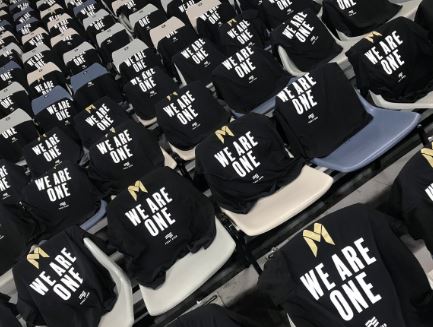 But I'm guessing this crew from Adelaide will be sitting on those T-shirts, not wearing them: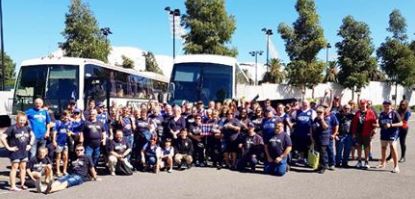 Good luck to United. Good luck to the 36ers. Good luck to the officiating trio. May the best team win, and without controversy.
* * *
HALL of Famer Ken Cole, coach of the 36ers' legendary 1986 "Invincibles" and the club's first NBL champion, took to social media today from his home in San Diego to send the following message: "Good luck tonight to coach Joey Wright and the fabulous team he has developed.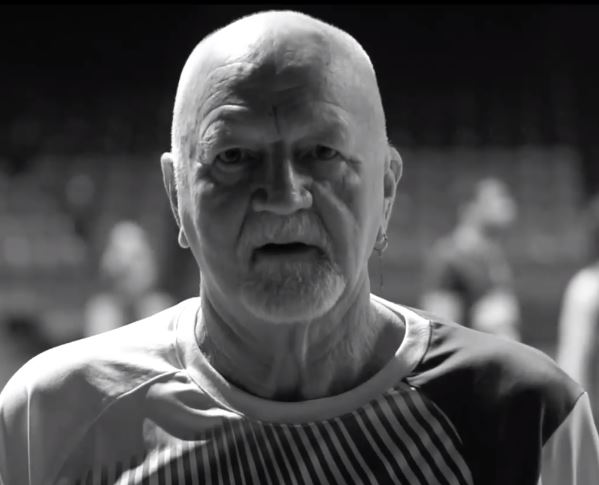 "I thank Joey and the team for allowing me into their family.
"You have done the hard work, now go ahead and implement all you've spent the year building, trust each other and totally commit, write your own piece of a proud club's history.
"Congratulations to Grant and the entire super-talented group that make up the 36ers, and thanks to Guy and Mandy for their wonderful help on our recent visit, and thanks to the amazing fans - you are a great part of the team's success.
"GO TEAM ..."
Meanwhile, here's an interesting stat from Games 1-4. The winning team in all four games of the championship so far has led at quarter-time. How big is Quarter No.1 today?
* * *
HIGHLY credible New York Times basketball writer Marc Stein dropped a bombshell by revealing the New Zealand Breakers have reached out to venerated NCAA championship-winning college coach and Hall of Famer Rick Pitino to take on the role vacated by Paul Henare. Stein tweeted: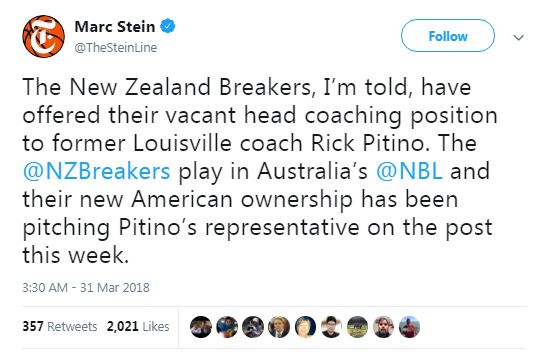 While it set social media into meltdown, Pitino was less impressed.
"It's total BS - someone trying to poke fun at me," the former Louisville coach said via text message to the Louisville Courier Journal's Tim Sullivan. "Lot of comedians out of work."
Breakers general manager Dillon Boucher says his club has contacted Pitino's representatives.
Guess we know his answer.
* * *
ELSEWHERE, Henare has added his former Cairns coaching rival Aaron Fearne to his staff at the Tall Blacks.
Fearne comes aboard as an assistant for the Commonwealth Games next month.
"I have always had an enormous amount of respect for Aaron, for his ability to get the best out of players, but also a program with limited resources, as has typically been the case throughout his career in Cairns," Henare told Liam Costello in NZ.
* * *
SPECULATION is rampant Cam Gliddon, who played all of his 172 NBL games as a Cairns Taipan, will emerge in the Brisbane Bullets' fold next season.
Earmarked to be Perth-bound as the Wildcats look to restructure their team, reliable source Lachy Reid in the west says his info has Handy-Cam in the Queensland capital in 2018-19.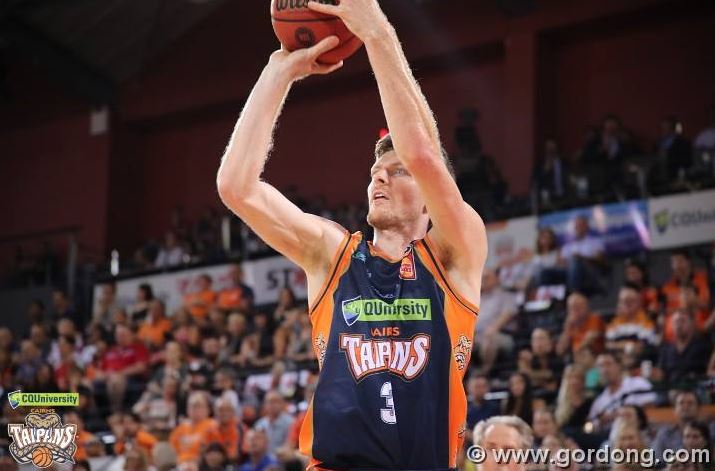 How much did Hugh Greenwood's defection to the AFL and the Adelaide Crows set back the Wildcats' longer-term plans?
Greenwood was regarded as the heir-apparent to Damian Martin's throne, allowing Damo to remain spiritual leader of the team but not have to play 30-plus minutes anymore.
If Perth has missed on Gliddon, it definitely is at the drawing-board. But there are free agents galore coming onto this year's market.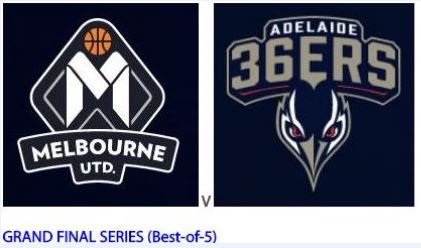 MELBOURNE UNITED (1) v ADELAIDE 36ERS (2)
GAME 1: Melbourne United 107 (Goulding 26, Ware 20, Boone 17, Prather 13, Wesley 11; Boone 7 rebs; Hooley, Wesley 5 assts) d Adelaide 36ers 96 (Johnson 18, Shorter 16, Creek 14, Childress 12, Hodgson, Moore 10; Creek 9 rebs; Moore, Creek 4 assts) at Hisense Arena.
GAME 2: Adelaide 36ers 110 (Deng 18, Moore, Creek 17, Johnson 15, Sobey 14, Childress 13, Shorter 10; Creek 9 rebs; Sobey 5 assts) d Melbourne United 95 (Prather 20, Goulding 19, Barlow 13, Wesley 12; Prather 7 rebs; Wesley 3 assts) at Titanium Security Arena.
GAME 3: Melbourne United 101 (Ware 25, Prather 23, Goulding 15, Boone 10; Prather 6 rebs; Hooley, Ware 3 assts) d Adelaide 36ers 98 (Johnson 20, Moore 18, Deng 16, Shorter 15, Creek 14; Deng, Creek 8 rebs; Creek 5 assts) at Hisense Arena.
GAME 4: Adelaide 36ers 90 (Johnson 21, Sobey 16, Shorter 14, Deng 13, Moore 12, Creek 10; Johnson 9 rebs; Shorter 3 assts) d Melbourne United 81 (Prather 23, Goulding 15, Ware 13, Boone 10; Prather 7 rebs; Goulding 4 assts) at Titanium Security Arena. Series tied 2-2.
GAME 5: Saturday, March 31, Hisense Arena, Tip-Off time, 6pm local (5.30 SA). SOLD-OUT.
LIVE coverage on FOXSPORTS and SBS Viceland.