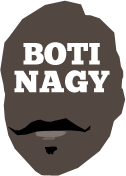 ---
Advertising opportunities available.
Please contact me.
---
He's coming! The Beast is Back!
Tweet
NATHAN Jawai, the almost mythical "Beast of Bamaga", will be back in a Cairns Taipans uniform tomorrow night against the Adelaide 36ers at Titanium Security Arena.
One of the NBL's biggest drawcards, Jawai made his official return last round against NZ Breakers in Auckland where he played 14:25 for five points, two rebounds and a steal in Cairns' 69-82 reversal.
But it was just great to see the 208cm superstar back on the hardwood after injuring his foot in Round One of the 2017-18 season.
He had 12 points on 5-of-6 shooting and four rebounds in minimal first-half minutes before suffering the injury, Cairns holding off Illawarra Hawks 88-87 in a thriller.
Jawai, who won an NBL championship at Perth Wildcats before returning home to Cairns last season, is an immovable force in the keyways.
He also terrifies many of the NBL's finest post men with not only his size but his first-step quickness and athleticism.
Adelaide twice beat the Taipans in front of the Orange Army in Cairns - in-form Daniel Johnson a huge factor - but on Christmas Eve, Aaron Fearne's hardy crew blew into Titanium Security Arena and stuffed coal in the 36ers' stocking, winning 94-75.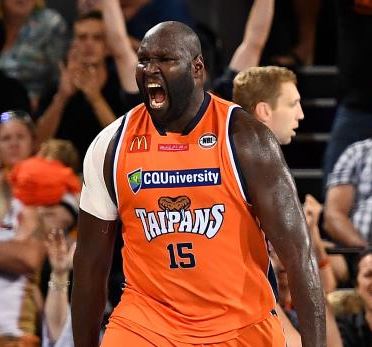 Now Jawai returns, ready to wreak havoc. With Alex Loughtnon in close to career-best form, the Taipans will have plenty of size to match the home team.
The Sixers are in on a mini three-win streak and each win has been impressive, first beating title contenders New Zealand and Perth before travelling to Brisbane and beating the Bullets in overtime.
Coach Joey Wright's decision to start with Shannon Shorter, Nathan Sobey, Mitch Creek, Josh Childress and Johnson has been highly productive.
It also keeps big-man Matt Hodgson - the most referee-persecuted centre in the NBL - out of the initial going when our over-zealous officials are anxious to find two quick fouls on him to maintain their 2017 tradition.
Adelaide also has Majok Deng as an ace it may not have played against the Taipans previously when they ran amok at The Fortress.
Mitch McCarron has become a rebounding monster in recent weeks, moving out from under Sobey's shadow as "Nathan Sobey II" and establishing himself as the league's premier guard/rebounder.
This game tomorrow night has all the hallmarks of another Adelaide-Cairns classic, and there's been myriad at Titanium - with players such as Darnell Mee, Anthony Stewart and Travis Trice scoring match-winning buzzer-beaters in seasons past.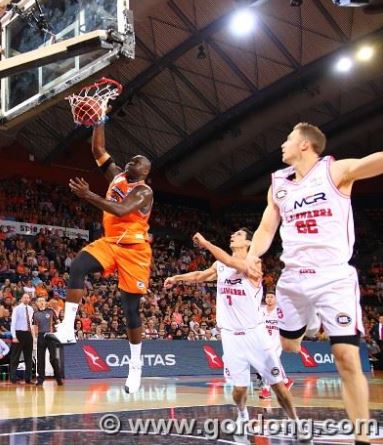 INATE: Nathan Jawai, seconds before injuring his foot in Round One.