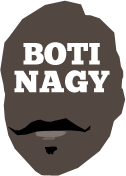 ---
Advertising opportunities available.
Please contact me.
---
Hooley duly steps up ... again
Tweet
WHEN United's NBL All Star Five playmaking import Casper Ware went down in the first quarter of Grand Final Game 1 last night, Melbourne needed a hero. Enter Adelaide's Peter Hooley.
Three years ago, almost to the day, Hooley had his first moment in the spotlight but last night he was required to "hold the fort" after Ware hurt his hip and Kyle Adnam quickly picked up two fouls.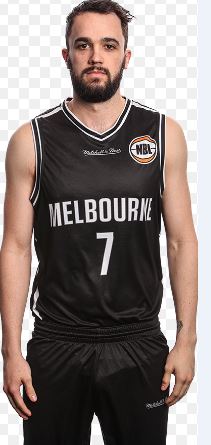 He did far more than that, finishing with five points at 50 percent, four boards, five assists and a steal in 17:26 of action, including all of the second quarter.
Ware returned from treatment to find United leading Adelaide, coach Dean Vickerman complimenting on Hooley most for his composure.
"He just did what he does," Vickerman said.
"He's going to throw a couple of wild shots up there, that's how he plays and to me, he's kind of the Rhys Carter that I had in New Zealand.
"There's going to be a couple of things that he does that you may question but you live with that for the energy, the defence, the high level – he's got great vision.
"He showed that with the five assists tonight. I thought he just rushed one of his 3-point shots there deep in the corner after he'd already made one.
"Just being that multiple threat, for him to be able to get on the rim, people have to come to him and he's a good passer as well. As long as he stays in that aggressive mindset, we'll live with some of the aggressive mistakes he makes."
Melbourne captain Chris Goulding, who did much of the damage with 15 points in the third quarter of the 107-96 win, including 13 points in a 16-point sequence interrupted only by a David Barlow 3-pointer, was strong in his praise of Hooley.
"He was great and he stepped up on plenty of occasions," Goulding said.
"I think most people would have seen the shot he hit in college. You know he's played in big games.
"He played a year professionally overseas so although he is an NBL rookie, you know he's done some things in his basketball career that he doesn't seem too fazed by this.
"When guys work hard at their craft and they stay prepared, good things happen."
They certainly did for Hooley, on virtually the three year anniversary of his last big moment ...


(March 16, 2015)
EMMA Hooley was screaming, her father in tears and an angel named Sue smiling as Peter Hooley hit the match-winning basket to push University of Albany into the NCAA Tournament.
It was around 4am local time on Sunday when Peter caught the ball at the top of the key and let fly a three-point attempt that beat Stony Brook 51-50 to clinch the America East Conference tournament.
That meant continuing into the aptly-named "March madness", pandemonium ruling on both sides of the Pacific Ocean as Hooley rightly was hailed a hero, dropping to his knees near the scoretable to reflect on his prayer being answered.
"With angels watching over you, you can do anything," he said.
Hooley, 23, had an angel watching over him, his mother Sue dying from cancer on January 30. "Mum was definitely there, watching over him," said Emma, Peter's twin sister.
Peter, a former Eastern and Norwood guard who cleared to South Adelaide, is in his junior year at Albany.
He returned in mid-January when Sue's condition worsened, spending every day with her until she passed.
"The funeral was on Wednesday the fourth," said Emma who, with their father Jeff, accompanied Peter back to the US to help him settle back in.
"We were going to stay for a week but we didn't need to, they looked after him so well."
Dad and daughter huddled together in their Hahndorf home in he Adelaide Hills to watch the game on ESPN at 1.30am on Sunday.
"I'll be honest - with about 30 seconds to go I said to dad: 'He's going to have the game winner'," said Emma, channelling her twin instincts.
"When he did it, I screamed the neighbourhood down. Dad was in tears. It was unbelievable."
Emma, who had her own Premier League game to play for Eastern on Sunday afternoon against North, said there was no going to sleep.
"I didn't get back to sleep, random people in America were calling, messaging," she said.
"It was crazy."
Albany also beat Stony Brook for the title last year, rallying from a deficit for a 69-60 triumph.
But Saturday's game was even more dramatic.
Albany trailed by seven with just under three minutes remaining, then clawed back to within one at 49-48.
Stony Brook's Carson Puriefoy split a pair of free throws with 16.9 seconds left to make it a two-point game.
Albany went for the tie, but Ray Sanders's layup went high off the glass and the rebound was tapped back.
Hooley gathered the ball and made the shot to put Albany ahead for the first time in the second half.
"It was a perfect moment," said Sam Rowley, a senior forward at Albany, which is part of the State University of New York system.
Great Danes coach Will Brown agreed that "we could not have drawn up a more fitting ending than for the ball to end up in Peter Hooley's hands."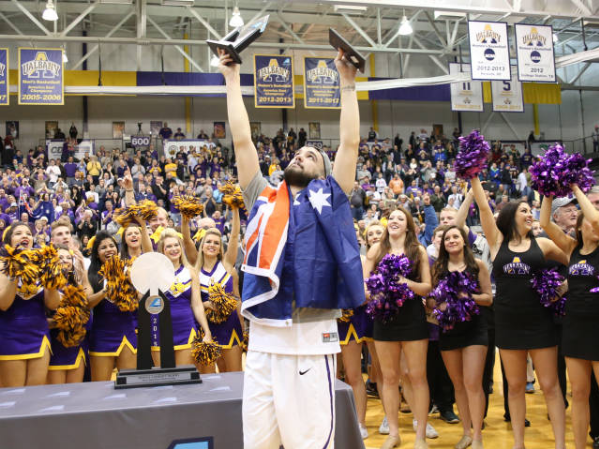 Amen to that.