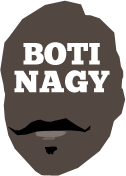 ---
Advertising opportunities available.
Please contact me.
---
It's a bird, it's a plane, it's OKC
Tweet
HATS off to the Oklahoma City Thunder. Not only did Russell Westbrook complete a record triple-double as OKC routed the Bulls 101-69 yesterday but it came after the team's charter plane took a severe mid-air jolt en route to Chicago.
The Thunder lost 116-119 to Minnesota on Friday, then caught a charter flight to Chicago. But at 30,000 feet, NBA basketball was the last thing on everyone's mind when their plane hit something - or something hit it - leaving an amazing dent in the front of the aircraft.
Anyone who has ever experienced severe turbulence would know there's nothing like having your feet back on land as the heart stops pounding.
The team landed safely in Chicago, but take a look at the nose of the aircraft.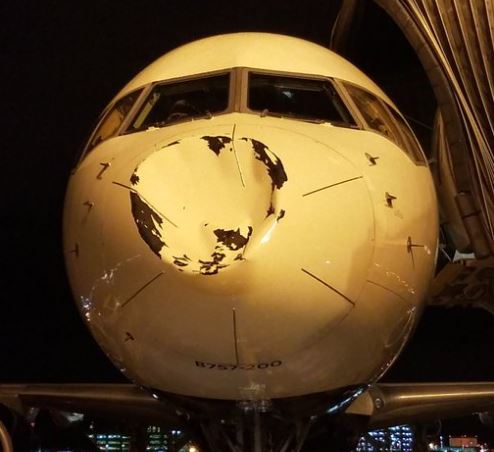 What on Earth - what OFF Earth - could cause a dent like that?
According to Delta Airlines, a bird.
"Delta flight 8935, operating from Minneapolis to Chicago-Midway as a charter flight for the Oklahoma City Thunder, likely encountered a bird while on descent into Chicago," Delta claimed.
"The aircraft, a Boeing 757-200, landed safely without incident; customers have since deplaned and maintenance teams are evaluating. Safety is Delta's top priority."
Is Big Bird safe on Sesame Street? Has anyone seen him since yesterday?
Come on now. A bird?
What about a Raptor? When's Toronto on the schedule?
Even our own Steven Adams - yes, let's claim Steven Adams, after all, he's from New Zealand and the Breakers play in the NBL - was dubious it was a bird when he tweeted: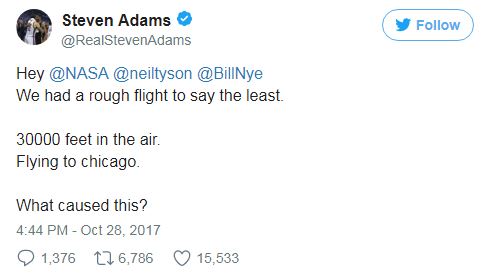 Smashing the Bulls, even though they are miserable this season, still was a quality effort as anyone who has experienced a rough flight can tell you.
Westbrook went for 12 points, 13 rebounds and 13 assists, the Bulls the only team against which he had not previously enjoyed a triple-double.
That ticks the last box on a triple-double against all 29 opposition teams.