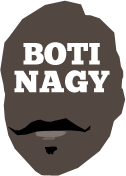 ---
Advertising opportunities available.
Please contact me.
---
Japan lowers the boom
Tweet
AUSTRALIA's dreams of reaching the "sweet 16" of consecutive international wins tonight abruptly ended 79-78 at the hands of a brilliant Japanese team which executed a masterplan and with it, the Boomers.
From tip-off at Chiba Stadium, Japan had a defensively rotating strategy it worked on to perfection, severely reducing the effectiveness of the disjointed Boomers' offence.
Having settled in its two huge "ins" – Rui Hachimura and naturalised Nicholas Fazekas – more seamlessly than the Aussies integrated Matthew Dellavedova and Thon Maker, Japan took the lead early and kept the Aussies playing catch-up for most of the evening.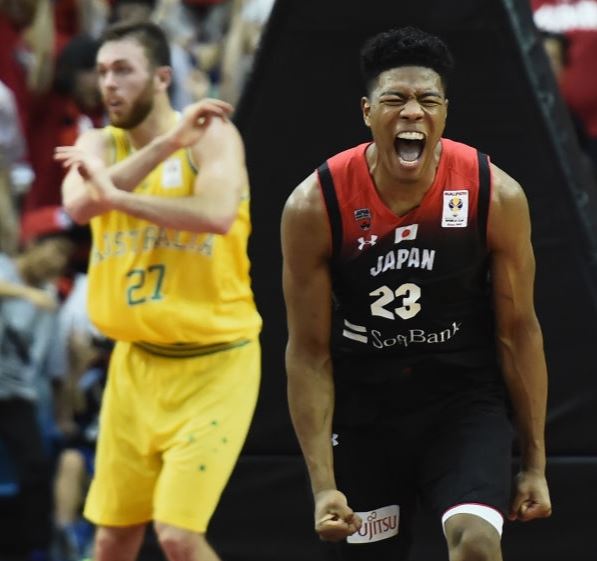 COOKED! Japan's Rui Hachimura celebrates his slam dunk for Japan's unassailable lead.
Hachimura's 3-pointer closed the first period with Japan ahead 23-16 as he finished the quarter with 13 points on 5-of-7 shooting.
When the Boomers began to rally in the second quarter, it was Fazekas with consecutive threeballs who blew the home team's lead into double figures.
Offensively, only Chris Goulding was having any impact for the Boomers, who trailed 33-42 at halftime.
"I thought we played a little tentatively in the first half," Australian coach Andrej Lemanis said. "I think both offensively and defensively, we didn't assert our authority onto the game and as a result we were sort of a step behind the whole way and allowed Japan to find a rhythm.
"That was basically the message at halftime, (that) we can control a lot of what was going on, that we just needed to lift our intent, we needed to be more disruptive defensively and I thought we came out and made a change in the second half."
Dellavedova scored his first points in the third period and followed up with a floater which trimmed the deficit to 39-44.
Then Maker swished a 3-pointer but it was at 4:59 as Goulding struck the second of consecutive threes Australia had the game tied at 50-50.
At 4:06, Mitch McCarron, who should have seen more action than 11:52 minutes, put Australia in front 52-50 before the officials found an unsportsmanlike foul on the Aussies.
That turned into a four-point possession before Fazekas had Japan further ahead 56-52 with a quarter remaining.
"We put a lot of work in (over) the last three-and-a-half weeks," Fazekas said. "We've done a lot of preparation, coach (Julio Lamas) has some great ideas to combat what they were going to do against us.
"I think you've got to give credit to the zone (defence) and we made shots. We came out hot and played ahead the whole game, which played into what we wanted."
The zone and its various alignments was the perfect foil for a Boomers team which missed Mitch Creek's effervescence but perhaps, even moreso, Jesse Wagstaff's relentless keyway tenacity and energy.
(Wagstaff's late withdrawal with a minor calf strain may have been the biggest unforeseen blow for the Boomers.)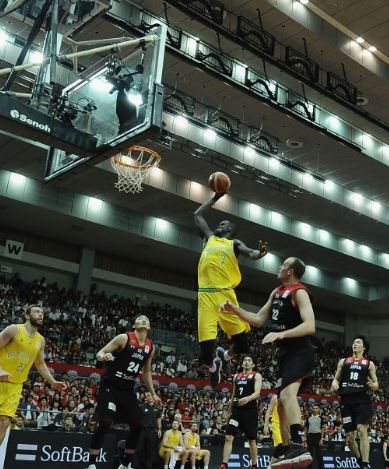 In the fourth, Maker threw down a monster slam dunk, his three-point play pulled Australia to 71-73 and McCarron trimmed it to 72-73 as the game rolled into its dramatic final heartbeats.
Nick Kay, who was 4-of-19 from the floor on the night, made that fourth shot to again cut it to 74-75.
But when you're having such a poor shooting night, you need to sometimes realise why you're the open man on ball movement, his jumpshot for the lead instead opening up the floor for a Ryusei Shinoyama layup and 77-74 Japanese lead.
With 3-point shooters Goulding, Dellavedova, sorely under-utilised dual NBL MVP and Rio Olympian Kevin Lisch and Maker all on the floor for Australia's shot to tie, again it was Kay who Japan left open.
Kay's errant three – and we have all seen him make triples at this level, but it wasn't on a 4-of-19 night – led to Hachimura dunking it at the other end and the Boomers were cooked, down 74-79.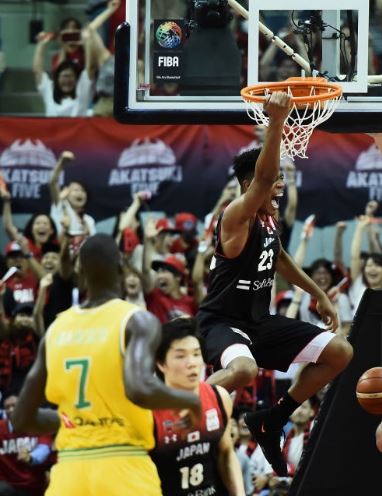 With 9.9 seconds left, Goulding made the front end of two free throws, Dellavedova ran down the ball and Goulding produced another 3-point long-bomb miracle for the final scoreline.
"I thought we didn't come out with the intensity and the intent required to play at this level and as a result, we were sort of on our back foot for a little bit in that first half," Lemanis said.
"(I) Thought Japan did a nice job of exposing us. They were aggressive, they moved the ball well and they scored. They made some shots.
"To our credit, we fought our way back into the game, gave ourselves a chance to win. That second half is much more like Australian basketball and I think we need to take some learnings from that, going into the game against the Philippines.
"But all said-and-done, what it comes down to is shooting percentages. I mean, we had 22 offensive rebounds to their 10, we had only six turnovers, they had eight.
"We took 82 shots, they shot 69 shots so we gave ourselves plenty of opportunities. (It's) just we shot at 34 percent and they shot it at 44.9 percent, so it's going to be hard to win basketball games when you\re shooting at that percentage.
"We've got some things to work on but all credit to Japan – they came out and they played hard and they gave themselves the chance to win."
Outcoached and outplayed, the Boomers' historic best-ever run of 15 wins over the FIBA Asia Cup, FIBA World Cup qualifiers and Commonwealth Games, came to abrupt end.
"It was a tough one for us tonight," Dellavedova said. "We didn't play very well on either end but you have to give Japan a lot of credit.
"They played really well, knocked down shots – the big fellas played well so you've got give them credit."
Yes, we should. But the Boomers-in-transition lacked cohesiveness and will need to improve ahead of the Philippines on Monday night.
JAPAN 79 (Fazekas 25, Hachimura 24; Fazekas 12 rebs; Hiejhima 6 assts) d AUSTRALIA 78 (Goulding 22, Maker 13, Kay 12, Kickert 10; Maker 12 rebs; Dellavedova 8 assts) at Chiba Stadium. All pics courtesy GETTY IMAGES.