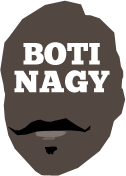 ---
Advertising opportunities available.
Please contact me.
---
Joey's media stance? I'm not sure
Tweet
ADELAIDE 36ers owner Grant Kelley says his club fully respects the NBL but he also understands the stand his coach Joey Wright has taken with his self-imposed gag with the media.
And Sixers captain Brendan Teys says Wright has the team's complete backing, true to its in-house motto: "One In, All In".
Since being hit with a $5,000 fine after Game 1 of the Grand Final series against Melbourne United for alluding to a conflict of interest, Wright has reverted to answering questions with variations of: "I'm not sure" and "We'll do our best."
As frustrating as that has been for viewers and media which thrives on his often thought-provoking, outspoken and in-depth analysis, he has adopted what appears to be a "once bitten, twice shy" position.
Adelaide is at Melbourne's Hisense Arena on Saturday for the deciding Game 5 of their epic and engrossing championship series.
"Our belief is we should focus on the game at hand on Saturday in what has been an exciting, enthralling championship," Kelley said today.
"We respect the NBL tremendously, and how far the league has come in just a few short years under Larry Kestelman's stewardship.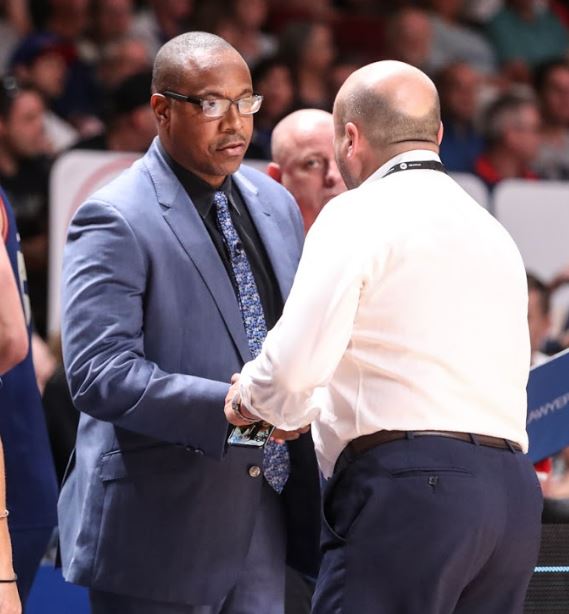 ALL THE BEST: Joey Wright greeted by NBL owner Larry Kestelman before Game 4. Pic: ALLSTAR PHOTOS
"And we understand that we have responsibilities to the media and the basketball public.
"But we also understand our coach has a job to do and that is to focus on winning the club's first title in 16 years and that is his priority."
Teys said the Wright was wary of upsetting anyone and was putting his energies into the title quest, locked at 2-2 and with Adelaide trying to win in Melbourne for the first time this season.
"As a team, we're completely behind Joey," Teys said.
"It's part of our team motto of 'One in – All In' and we back each other.
"Right now everyone is pretty pumped about Saturday and hopefully, everything goes to plan."
* * *
Or by ... nine?
* * *
GREAT to see the NBL's other great Larry - Larry Sengstock - courtside yesterday for Game 4 of the NBL Grand Final.
Obviously there to present the championship MVP medal named after him, the question of who that might be remains intriguing.
Casey Prather, Casper Ware, Chris Goulding all would be United candidates ahead of the decider, Daniel Johnson, Mitch Creek, Ramone Moore, Nathan Sobey and Majok Deng all around the mark for the 36ers.
* * *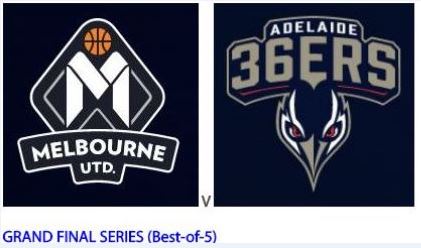 MELBOURNE UNITED (1) v ADELAIDE 36ERS (2)
GAME 1: Melbourne United 107 (Goulding 26, Ware 20, Boone 17, Prather 13, Wesley 11; Boone 7 rebs; Hooley, Wesley 5 assts) d Adelaide 36ers 96 (Johnson 18, Shorter 16, Creek 14, Childress 12, Hodgson, Moore 10; Creek 9 rebs; Moore, Creek 4 assts) at Hisense Arena.
GAME 2: Adelaide 36ers 110 (Deng 18, Moore, Creek 17, Johnson 15, Sobey 14, Childress 13, Shorter 10; Creek 9 rebs; Sobey 5 assts) d Melbourne United 95 (Prather 20, Goulding 19, Barlow 13, Wesley 12; Prather 7 rebs; Wesley 3 assts) at Titanium Security Arena.
GAME 3: Melbourne United 101 (Ware 25, Prather 23, Goulding 15, Boone 10; Prather 6 rebs; Hooley, Ware 3 assts) d Adelaide 36ers 98 (Johnson 20, Moore 18, Deng 16, Shorter 15, Creek 14; Deng, Creek 8 rebs; Creek 5 assts) at Hisense Arena.
GAME 4: Adelaide 36ers 90 (Johnson 21, Sobey 16, Shorter 14, Deng 13, Moore 12, Creek 10; Johnson 9 rebs; Shorter 3 assts) d Melbourne United 81 (Prather 23, Goulding 15, Ware 13, Boone 10; Prather 7 rebs; Goulding 4 assts) at Titanium Security Arena.
GAME 5: Saturday, March 31, Hisense Arena, Tip-Off time 5.30pm local
GAME 4 match summary here.
AROUND Game 4 of the NBL championship tidbits here.