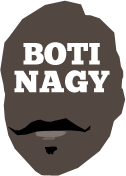 ---
Advertising opportunities available.
Please contact me.
---
Booming on Court: Just Wrapping 10
Tweet
TICKETS for the Boomers' two home games in their FIBA World Cup Asian Zone qualifiers at Margaret Court Arena in Melbourne are expected to be in huge demand when they go on sale Thursday.
One of the world's greatest sporting cities, Melbourne in February is about as perfect a city to be in as is possible to find, Australia facing the Philippines on the 22nd and Chinese Taipei on the 25th.
Australia and the Philippines are unbeaten at the top of the group, both with wins over Japan and Chinese Taipei.
"Competing in meaningful games on home soil is such a special experience for our team," Boomers coach Andrej Lemanis said.
"It was a wonderful experience seeing the reaction from our guys as we prepared to play in Adelaide during round one – the pride and sense of responsibility in each and every member of the team was amazing to witness.
"For those fortunate enough to be at the game live, I'm sure they would attest to the fact that feeling came through in the way the team played – they played hard, they played for each other and they played for the love of the country – a pretty special experience for all.
"These two Melbourne games are key in terms of not only advancing to the next round, but also positioning ourselves favourably in the next round.
"I ask the Melbourne fans, who have always been great basketball fans, to come and help us on the journey, and in the process, get to experience the true feeling and meaning of international basketball – it doesn't get much better than this."
* * *
HE did it again. Fox caller Ben Waterworth - he who renamed Jenni Screen as Jenni Sweet when introducing her ahead of a WNBL game - this week managed to turn Carly Wilson into Kiley Wilson.
But these things will happen, I guess. Just like this "updated" NBL ladder after the Perth-Adelaide game.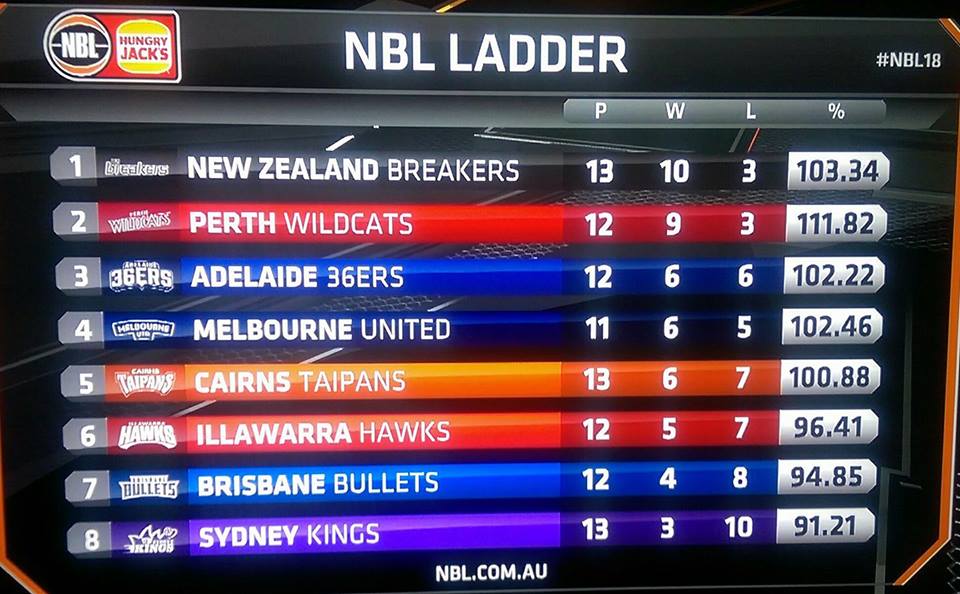 So with Adelaide's win-loss record there at 50 per cent, is that really better than Melbourne's 55 per cent win ratio?
Oh, to hell with accuracy!
* * *
NICE work by the often under-rated Aaron Fearne in bringing up his 125th career victory in his 250th game as NBL coach of the always-competitive Cairns Taipans.
Even down Nathan Jawai, Michael Carrera and Stevie Weigh, the Orange proved too good again as a unit for the multi-talented Melbourne.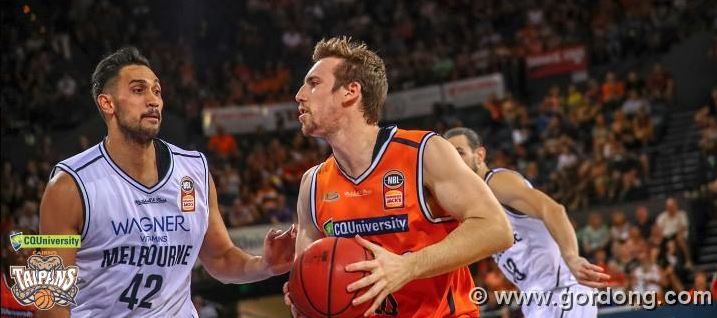 ORANGE APPEAL: Mitch McCarron starred for the Taipans.
* * *
PERTH Wildcats star import Bryce Cotton, nailing 7-of-12 threes yesterday against Illawarra, en route to a 36-point game, has claimed his second Basketball On The Internet Player of the Week award.
In twin wins over Adelaide 36ers and the Hawks, Cotton averaged 25.5ppg, 3.0rpg and 2.5apg, while sticking 10-of-19 triples - or at 53 percent.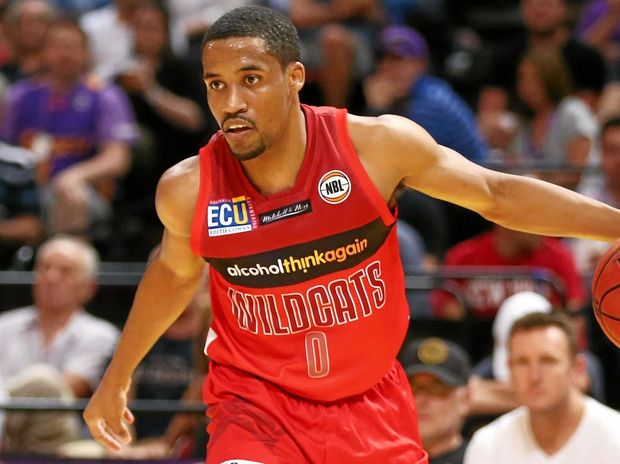 Over two games, he just pipped Cairns' Mitch McCarron and teammate Lucas Walker, whose 12 offensive rebounds in the home win over Adelaide was the mnost in the NBL's second era of 40-minute games.
B.O.T.I. NBL Player of the Week
Rd1 Casper Ware
Rd2 Perry Ellis
Rd3 Edgar Sosa
Rd4 Shea Ili
Rd5 Edgar Sosa
Rd6 DJ Newbill
Rd7 Bryce Cotton
Rd8 JP Tokoto
Rd9 Bryce Cotton
* * *
IT was a Perth double for Players of the Week, with last season's regular winner Sami Whitcomb securing her first prize of the 2017-18 season.
Sami finally ended the little streak teammate Courtney Williams had going and also pipped Liz Cambage who had a 32-point haul against Adelaide but a less imposing 11 against Bendigo.
Sami stuck 7 threes as Perth saw off Dandenong, then had five more in the road win over Sydney.
For the round, she averaged 22ppg, 6.0rpg, 4apg and 2.5spg - not a bad weekend's work!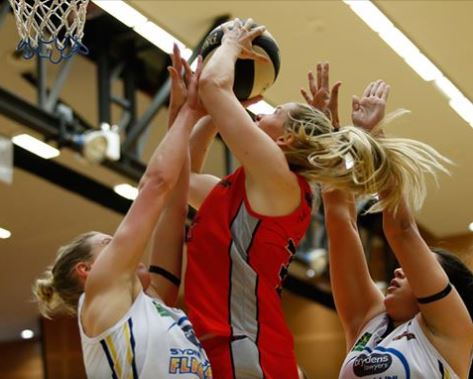 B.O.T.I. WNBL Player of the Week
Rd1 Cayla Francis
Rd2 Abby Bishop
Rd3 Liz Cambage
Rd4 Suzy Batkovic
Rd5 Asia Taylor
Rd6 Liz Cambage
Rd7 Liz Cambage
Rd8 Courtney Williams
Rd9 Courtney Williams
Rd10 Sami Whitcomb
* * *
THERE's no end in sight to the lameness of the NBL's marketing and social media gurus who have again chosen to focus on the negative and try to play it up as "fun" or giggleworthy.
Their regular inability to separate positive imaging and classy action from trashy and cringeworthy moments was on display with the GIF the league's Twitter account gleefully ran, showing a frustrated and agitated Chris Goulding ripping the ball away from someone standing at courtside.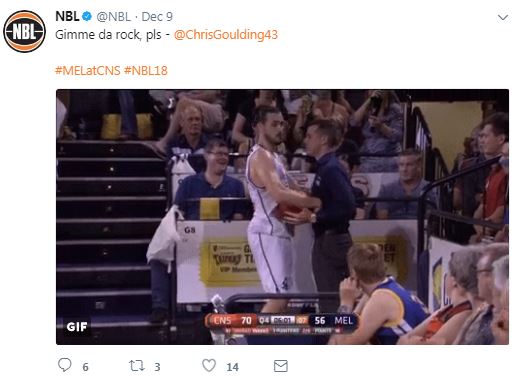 That "someone" at courtside was actually Taipans marketing manager Greg Reynolds who had just corralled the errant ball and was about to give it to the United Olympian who, in that hectic moment, clearly was not on his best behaviour.
So yes of course. Let's highlight that! It's typical of the social media strategy it seems (for more on that, go here) because, as is becoming evident, those responsible may not actually "get" what's going on between the lines. It's all about: "Hey, did you see what Chris Goulding just did? Let's get that out there, haha."
Here's a sample of the fan reaction: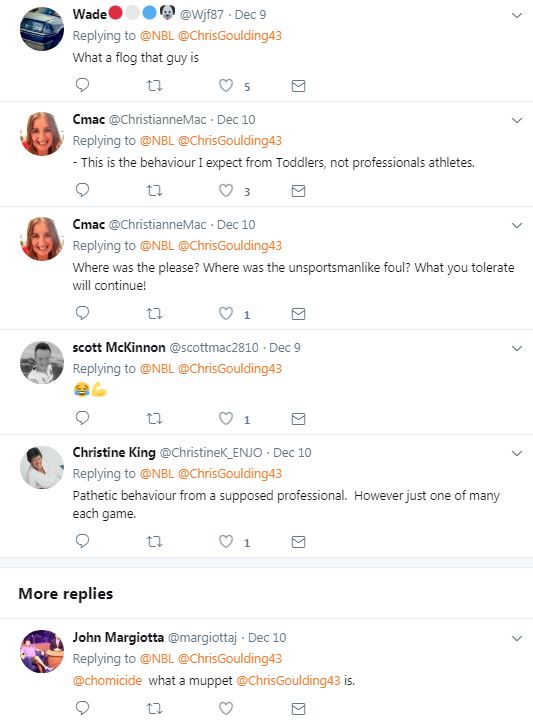 So yes, let's snap Goulding, one of the few Australian faces of the NBL, and show him off in one of his more inglorious moments for all to guffaw.
OK. That done? Great. Now don't forget to turn up the volume and get the rock concert back on.
* * *
THE NBL joining forces with the world's biggest family entertainment brand, The Walt Disney Company, to create the Disney Round for Australian fans at venues in Melbourne, Sydney, Brisbane and Adelaide from December 21-24 makes so much more sense now.
With its social media and officiating mirroring Mickey Mouse, why not have the actual character at a few NBL games?
* * *
BIGGEST WINNERS/LOSERS
TAKING care of business has always been Perth's mantra and it did just that, first manhandling Adelaide at The Jungle, then kicking sand at Illawarra in Wollongong, results which, combined with New Zealand's loss to the 36ers, have pushed the defending champs back into top spot. Clearly again, Perth was the round's biggest winner.
TONIGHT's loser of the Melbourne-Sydney matchup is the NBL round's biggest loser. United already lost a key road game in Cairns while Sydney stumbled at home to Brisbane - defeats neither club could afford. Neither team can get it together it seems so whoever drops tonight is definitely lost.
BUMPING their WNBL winning streak out to 11 with a classic road win over defending champion Sydney has ensured the Lynx have taken a stranglehold on a Final Four berth (if not top spot) and makes Perth the round's biggest winner.
LOSING to the Lynx was on the cards for Dandenong but also dropping to last-placed Canberra, and at home, suggests the run home for the Rangers isn't as easy as some have been saying. Twin losses to drop to 7-9 makes Dandenong the round's biggest loser.
* * *
NBL Rd.9
NEW ZEALAND BREAKERS 96 (Abercrombie 22, Newbill 17, Loe 12; Abercrombie 12 rebs; Newbill 8 assts) d BRISBANE BULLETS 89 (Jervis 20, Kickert 16, Buford 11; Buford 8 rebs; Trice 8 assts) at The Breakwater, Spark Arena.
PERTH WILDCATS 88 (Tokoto 19, Wagstaff 17, Cotton 15, Brandt, Walker 12; Walker 16 rebs; Kenny, Martin 3 assts) d ADELAIDE 36ERS 79 (Johnson 21, Moore 13, Sobey 11, Deng 10; Childress 8 rebs; Moore, Sobey 4 assts) at The Jungle, Perth Arena.
BRISBANE BULLETS 85 (Trice 19, Buford 12, Te Rangi, Kickert 11; Buford 9 rebs; Trice 6 assts d SYDNEY KINGS 77 (Tyler 23, Randle 22, Newley 12, Ellis 11; Tyle 8 rebs; Randle 4 assts) at The Kingdome, Qudos Bank Arena.
CAIRNS TAIPANS 79 (McCarron 13, Loughton 11, Patton, Weeks, Evans 10; McCarron 9 rebs; Gliddon 5 assts) d MELBOURNE UNITED 70 (Wesley 20, Prather 14, Ware 13; Boone 8 rebs; Ware 4 assts) at The Orange Grove, Cairns Convention Centre.
PERTH WILDCATS 99 (Cotton 36, Cooke 19, Tokoto 13; Cooke 7 rebs; Martin, Cotton 4 assts) d ILLAWARRA HAWKS 91 (Conger 30, Clarke 12, Kay 11; Ogilvy 7 rebs; Ogilvy, Clarke 3 assts) at The Sandpit, WIN Entertainment Centre, Wollongong.
ADELAIDE 36ERS 95 (Sobey 22, Johnson 17, Childress 15, Shorter 11, Drmic 10; Johnson 7 rebs; Sobey 6 assts) d NEW ZEALAND BREAKERS 92 (Sosa 24, Abercrombie 14, Vukona 11; Penney, Abercrombie 6 rebs; Ili, Newbill 4 assts) at The Fortress, Titanium Security Arena.
MELBOURNE UNITED v SYDNEY KINGS - Tonight at The UN, Hisense Arena. B.O.T.I. predicts United to prevail.
* * *
WNBL Rd.10
SYDNEY UNI FLAMES 73 (Wilson, Ebzery 17, Snell 16, Hamson 15; Hamson 17 rebs; Snell 10 assts) d Uni of CANBERRA CAPITALS 67 (Bass 16, Hooper 11, Magbegor 10; Magbegor 8 rebs; Hurst 9 assts) at The Alphabet Soup, National Convention Centre.
DEAKIN MELBOURNE BOOMERS 86 (O'Hea 18, Cole 15, Conti, Garrick 12, Cambage 11; Cambage 13 rebs; O'Hea 6 assts) d BENDIGO SPIRIT 42 (Laney 16, Richards 14; Payne 12 rebs; Laney 5 assts) at The Kangaroo Courts, State Basketball Centre.
MAC ADELAIDE LIGHTNING 79 (Novosel 21, Seekamp 14, Nicholson, Planeta 12, Hamblin 10; Bishop, Hamblin, Seekamp 9 rebs; Clydesdale 7 assts) d TOWNSVILLE FIRE 64 (Batkovic 25, Murray 12; Batkovic 13 rebs; Mincy 5 assts) at The Fire Station, Townsville Stadium.
PERTH LYNX 78 (Williams 27, Whitcomb 21, Kunek 13; Williams 8 rebs; Williams 5 assts) d JAYCO DANDENONG RANGERS 73 (Pedersen 19, St Blicavs 13, Mijovic, Todhunter 12; Pedersen 10 rebs; Pedersen, Palau 6 assts) at The Zoo, Bendat Stadium, Perth.
DEAKIN MELBOURNE BOOMERS 64 (Cambage 32, O'Hea 12; Cambage, Purcell 11 rebs; Cole, Smart, O'Hea 4 assts) d MAC ADELAIDE LIGHTNING 62 (Seekamp 16, Planeta 12; Bishop 14 rebs; Seekamp 6 assts) at The Lighthouse, Titanium Security Arena.
PERTH LYNX 84 (Kunek, Whitcomb 23, Williams 18; Dowe 10 rebs; Whitcomb 5 assts) d SYDNEY UNI FLAMES 79 (Wilson 22, Snell 18, Hamson, Graham 11, Ebzery 10; Hamson 16 rebs; Ebzery 11 assts) at The Hothouse, Qudos Bank Arena.
TOWNSVILLE FIRE 99 (Wiese 29, Batkovic 20, George 10; Mincy, Wiese 5 assts) d BENDIGO SPIRIT 62 (Hurst 15, Spencer 12, Laney 10; Laney 7 rebs; Laney, Richards 3 assts) at The Spirit Level, Bendigo Stadium.
UNI of CANBERRA CAPITALS 81 (Hooper 21, Hurst 15, Bas, Wehrung 12; Bass 8 rebs; Hurst 9 assts) d JAYCO DANDENONG RANGERS 78 (St Blicavs 29, Mijovic, Todhunter 13, Pedersen 12; Pedersen 8 rebs; St Blicavs, Richards 5 assts) at The Ranger Station, Dandenong Stadium.
THE WNBL showed again how unpredictable is can be with Adelaide upsetting the Fire in Townsville, then losing at home to Melbourne, while Dandenong dropped a huge one at home to Canberra. Perth bumped its winning streak out to 11 in Sydney, giving me a dismal 4-4 round.
But the NBL went much better, with five tips from six games played, Sydney slumping at home to Brisbane the one which caught me out.