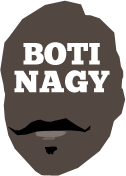 ---
Advertising opportunities available.
Please contact me.
---
Just Wrapping #2 (Includes PotW)
Tweet
WEEK Two of the NBL and it's another tantalising round marred, as sadly was Week One, with the loss to injury of a marquee player, this time Kevin Lisch.
Lisch, a dual-league MVP and Rio Olympian, injured his right calf during the third quarter of the Kings' win over Illawarra yesterday and will be out for at least 3-4 weeks.
"He didn't feel it beforehand and he hasn't felt it throughout the pre-season. It was just one of those things," Kings coach Andrew Gaze said.
"He pushed off and unfortunately it sounds like a nasty one. And literally, when I say 'sound', I was a metre away."
Sydney now strongly is considering activating its third import option to cover Lisch's absence, especially if the worst case scenario - out indefinitely - becomes reality.
"Unfortunately in that particular position (point guard) we're light on, so we might need to find some help at that particular spot," Gaze said. "We've got some things in place and we'll do our best to try and cover for it."
It's a huge blow for the Kings, who deserved to be celebrating after bouncing back from their loss to the Breakers in New Zealand on DJ Newbill's buzzer-beating layup.
Lisch's injury of course threw a pall over post-game proceedings, just as the injury in Round One to Cairns' award-winning former Boomers centre Nate Jawai dampened their 2-0 season-start.
* * *
BAD news at Adelaide too where replacement import Alan Wiggins Jr, who only arrived last Thursday and met his teammates Friday, had a light shootaround on Saturday and actually played against Melbourne, broke his arm in the game.
It happened when he took a charge and hit the floor hard, the break above his wrist requiring surgery and ruling him out for eight weeks.
How do you like Adelaide's luck? First they get a guy who says he's injured and doesn't want to play. Then they replace him with a guy who's prepared to play when he's not really ready ... and gets injured!
* * *
IN positive injury news, the fall Casey Prather (below) took in the second quarter, during which 36ers swingman Mitch Creek careered into his leg, is not as bad as first feared.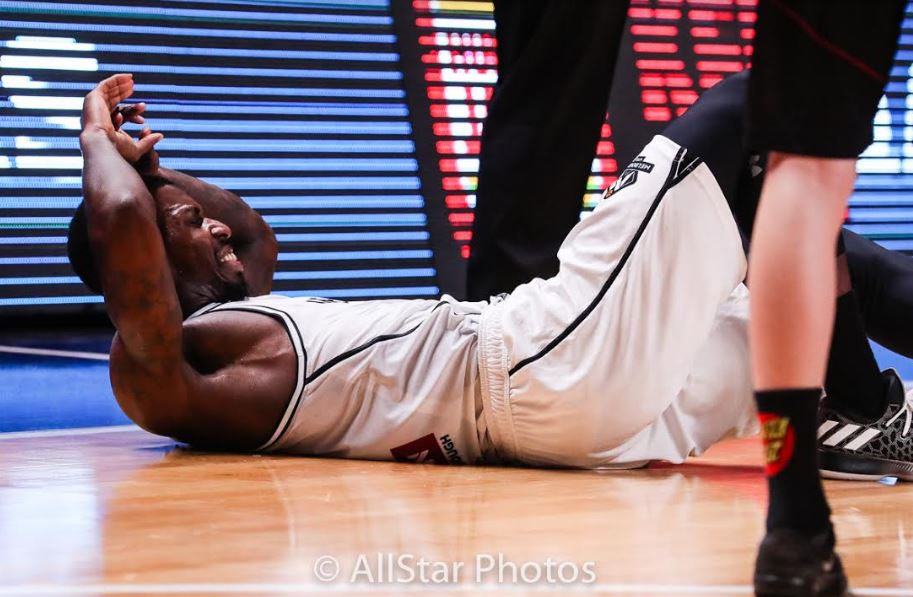 The clash and its aftermath looked worrying, for sure. But early signs have been positive and he is in the mix to play this week's blockbuster against Perth Wildcats.
Going back to The Jungle is one he surely would not want to miss!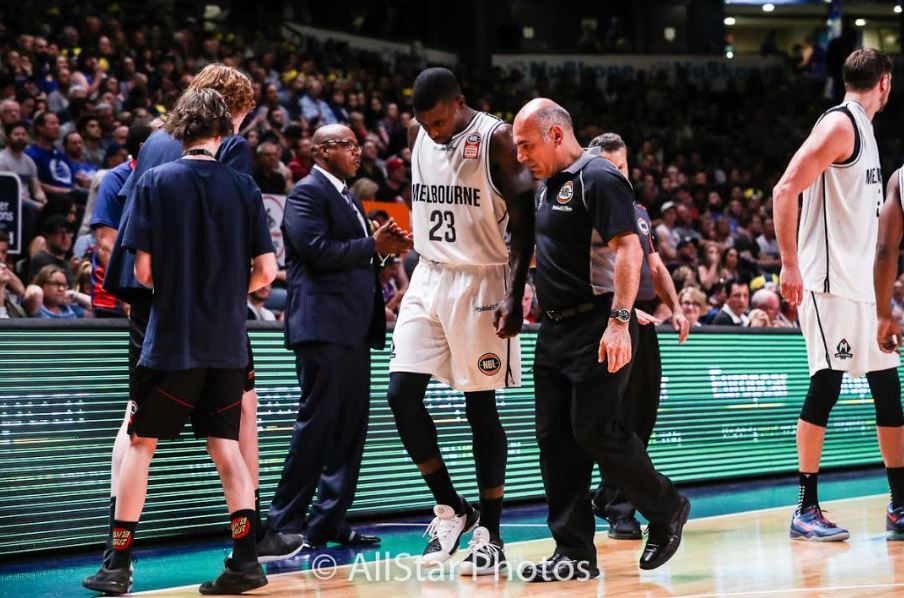 * * *
ENOUGH with the injuries then ... almost!
Lightning veteran Laura Hodges tomorrow goes in for surgery on her broken ring finger, an injury she suffered in the preseason - go here for more - but which she taped up and played with in Adelaide's first two games!
Check out the X-rays again. Whoa.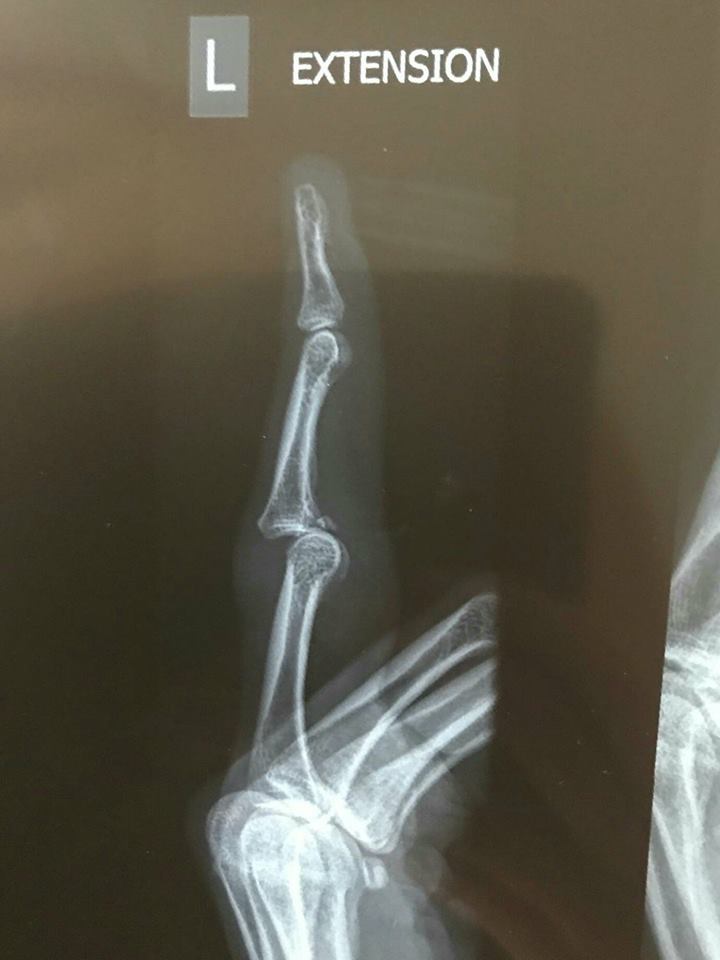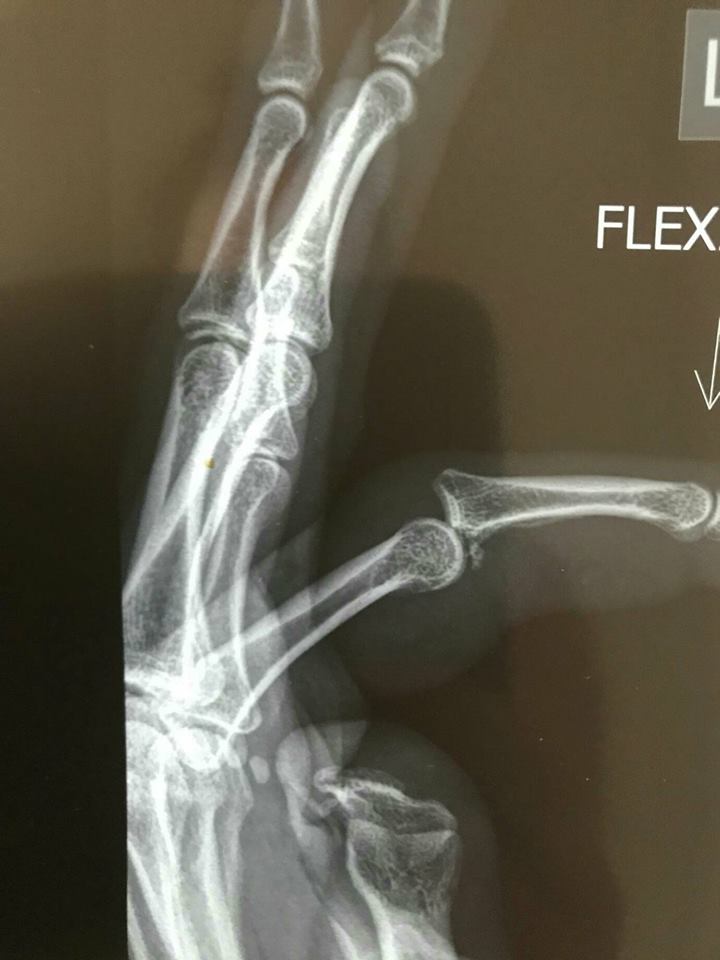 Yep. That's what you call a break.
* * *
B.O.T.I. Player(s) of the Week
IT was a tough call in the NBL because Kyle Adnam really stepped up in Adelaide, with a career-high 23 points in United's 99-79 road rout.
Everybody loves it when a guy who has worked his butt off to break through succeeds and Adnam was pivotal in sinking the Sixers, Melbourne already down Chris Goulding and Peter Hooley, then losing Casey Prather to a leg scare in the first half.
Adnam's 23 points came on 8-of-12 shooting, with 6-of-8 threes. He also dished three assists.
"He hit good shots and made good plays, there's nothing else we could really do different," 36ers coach Joey Wright - who had Adnam as a 36ers development player in his first year at Adelaide's helm - said. "You're not going to trap Kyle and leave Casper (Ware) open. I don't care. You're just being stupid if you do that."
Adnam said the double-teams on teammates opened up his opportunities.
But just as we here at the B.O.T.I. offices started to gift-wrap his vanilla slice as this week's winner, Perry Ellis stepped into the frame.
Sydney's key import delivered a season-high 33 points yesterday as the Kings sent Illawarra back to the drawing board, and that came on top of his 19-point game in the 85-87 road loss to the Breakers. It was Ellis who tied up the game with just heartbeats to go at 85-85.
All in all, he had a quality round, averaging 26 points and with his round including the season-high individual score, Ellis (pictured) snatches the prize for Round 2.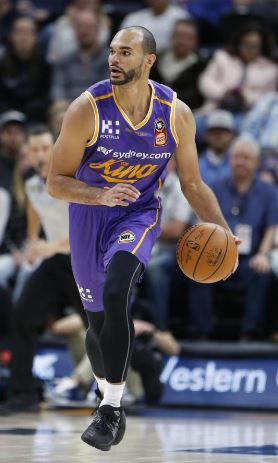 B.O.T.I. NBL Player of the Week
Rd1 Casper Ware
Rd2 Perry Ellis
* * *
HAVING lost backup forward Laura Hodges to injury, Adelaide's frontcourt was looking lean against Perth Lynx but never fear, Abby Bishop was there.
Bishop hit a season-best 35 points, at 60 per cent from the floor, and coolly slotted 9-of-9 free throws as she led Lightning back from a double-digit deficit to a triumphant 89-81 home victory.
Tha captain (below) led from the front, additionally with 10 rebounds, three assists, three steals and three blocks in a comprehensive all-court performance which made her the standout recipient of Round 2's Player of the Week award.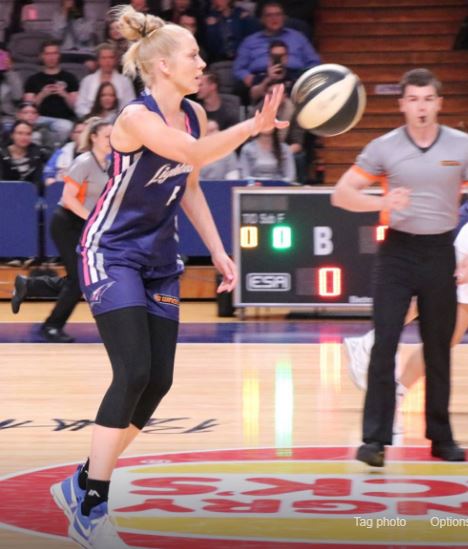 B.O.T.I. WNBL Player of the Week
Rd1 Cayla Francis
Rd2 Abby Bishop
* * *
CAM Tragardh on FOX commentary barely had finished saying how much he admired the basketball IQ of 36ers forward Daniel Johnson as he dominated Cairns, when DJ gave up a brain-fart foul on a 3-point shot.
Full credit to Cam though. Just as I was about to say in my own living room how unfortunate Trigger's timing had proven, he said it himself. Good job.
And how is this for coaching honesty? Sydney's Andrew Gaze, his team 13 points in the hole at halftime in New Zealand, said this on national TV:
"We had our problems at the offensive end. We missed some shots that we needed to make. then we decided to force the issue and become very terminal.
"When we ran through some motion, we generally - we didn't always make them - but we got decent shots.
"But that defence was deplorable.
"I mean it was beyond ... you're not going to win a game in this league playing that type of defence.
"Our ability to guard the middle on-ball was non-existent. And we tried a number of different options in there and then, you know, we made some switches and then you're getting beaten on the second shot!
"So we're a long, long, long way off where we need to be at the defensive end if we're going to be competitive in this league."
Wow.
Finally on the calls - great to have Warren Smith on the WNBL game - how positive and strong has Tommy Greer been throughout the entire NBLvNBA three-game preseason series?
He's been honest, provided accurate background information and called it as he's seen it, even predicting that outstanding performance from United against OKC.
Has he been terrific for ESPN and for NBL basketball?
Absolutely!
* * *
NBL Round 2
ADELAIDE 36ERS 96 (Johnson 32, Creek 17, Shorter 11; Sobey, Creek 6 rebs; Shorter, Creek 6 assts) d CAIRNS TAIPANS 70 (Heuir 13, Weigh 11; Loughton 6 rebs; Smith 3 assts) at the Orange Grove, Cairns Convention Centre. NEW ZEALAND BREAKERS 87 (Penney 25, Newbill 22, Ili 15; Loe, Abercrombie, Newbill, 7 rebs; Ili 4 assts) d SYDNEY KINGS 85 (Ellis 19, Lisch 17, Leslie 15, Blanchfield 13, Newley 11; Blanchfield 8 rebs; Blanchfield, Lisch 4 assts) at Spark Arena. PERTH WILDCATS 74 (Brandt 17, Tokoto 14, Kernich-Drew 11, Walker 10; Brandt, Tokoto, Martin 5 rebs; Martin 5 assts) d ILLAWARRA HAWKS 64 (Conger, Clarke 16, Coenraad 11; Johnson 8 rebs; White, Kay 3 assts) at The Jungle, Perth Arena. MELBOURNE UNITED 99 (Adnam 23, Boone, Ware 18, Wesley 12, Andersen 10; Boone 10 rebs; Ware 8 assts) d ADELAIDE 36ERS 79 (Creek 20, Drmic 16, Moore 13; Creek 9 rebs; Sobey 6 assts) at The Fortress, Titanium Security Arena. SYDNEY KINGS 103 (Ellis 33, Cadee 17, Newley, Leslie 14, Humphries 11; Humphries 8 rebs; Blanchfield 6 assts) d ILLAWARRA HAWKS 87 (Conger 21, Clarke 15, Ogilvy 14; Coenraad, Johnson 6 rebs; Martin 5 assts) at the Kingdome, Qudos Bank Arena.
WNBL Round 2
MAC ADELAIDE LIGHTNING 89 (Bishop 35, Nicholson 14, Seekamp 13, Planeta 11; Nicholson 12 rebs; Seekamp 7 assts) d PERTH LYNX 81 (Williams 25, Standish 14, Ciabattoni 13, Whitcomb 12, Kunek 11; Standish 11 rebs; Standish 4 assts) at The Lighthouse, Titanium Security Arena. MELBOURNE BOOMERS 90 (Cambage 25, Duever 12, Cole, Garrick 10; Cambage 14 rebs; O'Hea 5 assts) d BENDIGO SPIRIT 63 (Payne 16, Karaitiana 11, Rolph 10; Laney 7 rebs; 3 with 2 assts) at Geelong Arena. TOWNSVILLE FIRE 76 (Batkovic 20, George 14, Mincy 13; Batkovic 12 rebs; Batkovic, Donnelly 4 assts) d CANBERRA CAPITALS 65 (Scherf, Hurst 13; Scherf 8 rebs; Hurst 6 assts) at The Fire Station, Townsville Stadium. BENDIGO SPIRIT 106 (Laney 27, Payne 24, Banham 19, Griffin 17; Griffin 8 rebs; Laney 9 assts) d PERTH LYNX 71 (Williams 19, Whitcomb 14, Kunek 11; Williams, Dowe 5 rebs; Williams, Whitcomb 5 assts) at The Spirit Level, Bendigo Stadium. SYDNEY UNI FLAMES 70 (Taylor 17, Snell, Wilson, Ebzery 14; Hamson 11; Taylor 11 rebs; Ebzery 5 assts) d DANDENONG RANGERS 65 (Pedersen 19, St Blicavs 15, Sa Blicavs 14; Pedersen 9 rebs; Pedersen, Lavey 4 assts) at Study Hall, Bryden's Stadium. MELBOURNE BOOMERS 92 (Cambage 27, O'Hea 19, Smart 16, Cole 11; Cambage 9 rebs; Cole 5 assts) d CANBERRA CAPITALS 63 (Magbegor 11, Hurst 10; Magbegor 4 rebs; Rocci 4 assts) at The Alphabet Soup, National Convention Centre.
Pleased to say, of the 11 NBL-WNBL matches in Rounds 2, B.O.T.I. correctly predicted 10 of the winners, Sydney Kings beating arch foe Illawarra Hawks our only blemish.
TOMORROW: White-out this colourless call