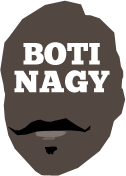 ---
Advertising opportunities available.
Please contact me.
---
Just Wrapping #3 (Inc PotW)
Tweet
HOW feisty did it all get in Round 3? Sean Gottliebsen and Co had to activate their DVD players, order in a couple of pizzas and prepare to lay down the law on our overly passionate NBLers!
Tony Mitchell just sent a hastily hand-written apology for missing the replay of the Cairns-Perth match.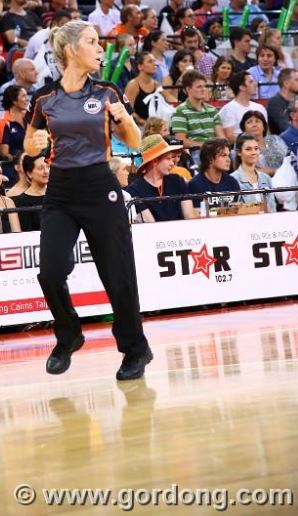 And Brisbane's Travis Trice took timeout to re- read Matt Knight's sweet letter from last season, as everyone geared for tomorrow's findings of the Game Review Panelbeaters.
Brisbane-Illawarra and Cairns-Perth had their moments of angst and the replays suggest the refs in Cairns didn't get that one completely right.
We'll see what the GRP thinks. Meantime referee Toni Caldwell (pictured) deserves a medal for getting in amongst it to try and keep the peace.
Or at least a pair of new shoes!
* * *
IT appears the words of MAC Adelaide Lightning captain Abby Bishop about WNBL officiating, have been met with unanimous support from fellow elite league players.
But this news isn't going to thrill any WNBL players.
My (e)mail is there's a huge disconnect between the WNBL and NBL because Peter Carey did not feel obliged to work with Scott Butler on referee education.
That's fine, but it just means the NBL now no longer sees the WNBL as a pathway to becoming an NBL referee. Instead it will head-hunt whoever it likes and invite them to join their elite referee program.

The lack of correct/adequate referee education the WNBL is serving up was at odds with the NBL and my info is the WNBL refs boss didn't much care.
Of course, I could be wrong. Or I could be blowing the whistle.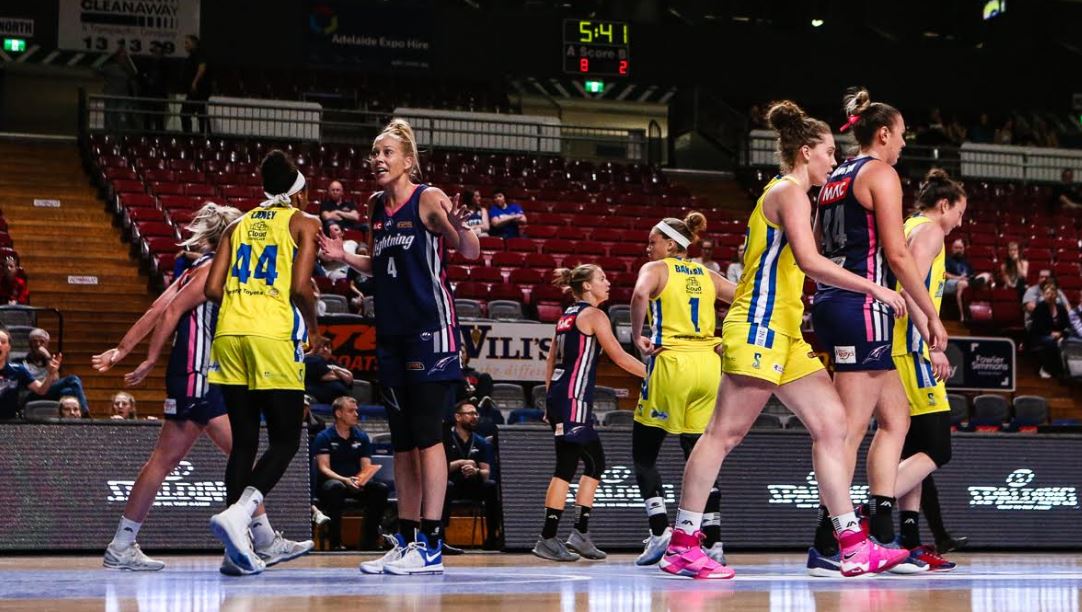 WHO KNOWS? Now we do, as to why WNBL refereeing is at a new low. Pic ALLSTAR PHOTOS
The social media response to Abby speaking out was extraordinary and running at 100 per cent support.
Of course it guarantees she will foul out next game, but that will just be a coincidence, of course.
* * *
HAVING watched the Perth-Melbourne NBL blockbuster on FOXSPORTS, everyone else goes to bed so I'm just channel surfing and suddenly - WHAM! - I've turned on ABC-TV.
No, it's not Antiques Roadshow or the even more rivetting Question Time.
But it's ... the Perth-Melbourne blockbuster. On the ABC!
No, not on SBS - that's not til Saturday anyway. But on the ABC. The same night as the game!
Free to air TV coverage has tripled this season, with two games a week live on SBS Viceland at 5.30pm on Saturday and SBS at 3pm on Sunday (AEST).
And the ABC is broadcasting Friday night games at 11pm. NBL chief executive Jeremy Loeliger said coverage of the league is bigger and better than any time in its history.
"This is a great endorsement of the strength of the NBL," he said. "Fans are the big winners."
They certainly are. No more switching to World Movies after the NBL.
* * *.
LAUREN Jackson said it, when you want to close out a game, make sure the ball is in the hands of Spanish superstar Laia Palau.
That's what Dandenong did yesterday in Canberra, trailing 75-76 with just three seconds left. The ball inbounded to the mercurial wizard, she drove to the hoop with her left-hand for the layup match-winner.
The lead changed five times - FIVE! - in the last 63 seconds before Palau went Kapow.
* * *
PSST. At last it can be told.
The real reason the 36ers let Ronald Roberts go was because everyone was fed up trying to remember not to call him Roland Roberts.
* * *
ROTNEI Clarke, Lord of the Long Range Rings, Prince of the Perimeter Prayer and Master of the Mesmerising Make, put in a blinder to help Illawarra to its first win of the season - at home against Brisbane - and went within a Sunday wafer of Basketball On The Internet's NBL Player of the Week honour.
Unfortunately for The Rot wheeler-and-dealer, one of the Unusual Suspects pipped him at the post, with New Zealand's Edgar "Kaiser" Sosa taking the chocolates.
The Kaiser had two very consistent performances with an equal game-high 19 points in the home rout of Sydney, his tally coming at 63 per cent and accompanied by seven assists and three steals.
He backed that up with 17 points, three rebounds, five assists and a steal in the Breakers' massive road win over Melbourne to sneak ahead of several other solid one-game performances across the round.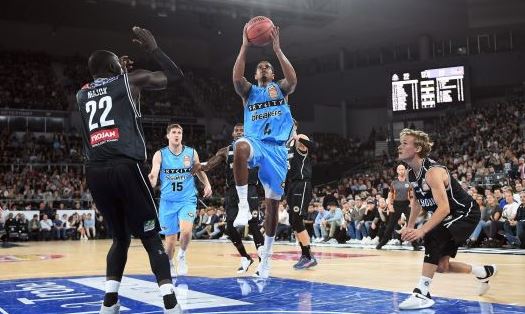 B.O.T.I. NBL Player of the Week
Rd1 Casper Ware
Rd2 Perry Ellis
Rd3 Edgar Sosa
* * *
AT the risk of growing suspicions B.O.T.I. has a thang for 4-5s - our fondness for superstar Suzy Batkovic is now no longer a secret - for the third round in a row it is a keyway controller who has scored the Player of the Week prize.
Melbourne's Liz Cambage paired 23 points with 23 rebounds as the Boomers, down Jenna O'Hea and Louella Tomlinson, managed to stave off Perth 79-77 in one of two overtime thrillers at the weekend.
(Not to mention Dandy's last-shot win in Canberra!)
Colleen Planeta was huge in Adelaide 79-75 O/T win over Bendigo with 21 points, 9 rebounds, 4 steals and a key block at the death, to warrant an honourable mention as well.
B.O.T.I. WNBL Player of the Week
Rd1 Cayla Francis
Rd2 Abby Bishop
Rd3 Liz Cambage
* * *
GOOD to have Brad Rosen and Tommy Greer back on FOX commentary this week, where the only major issues seemed to be with the scoreboard and clock updates.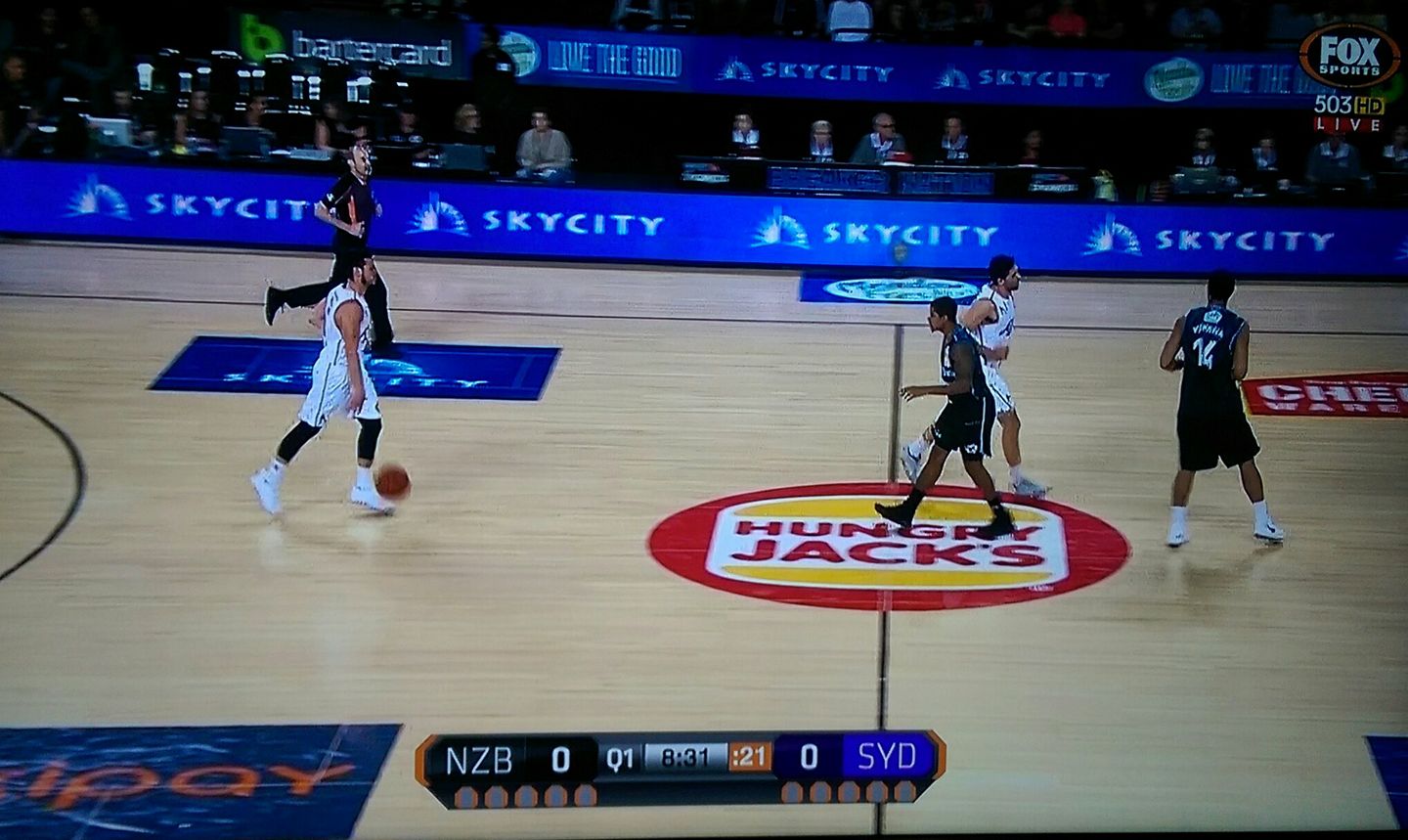 When this screenshot was snapped, the score was actually 4-0 to New Zealand...
* * *
THE NBL continues to appear to have some issues with its new championship ladder.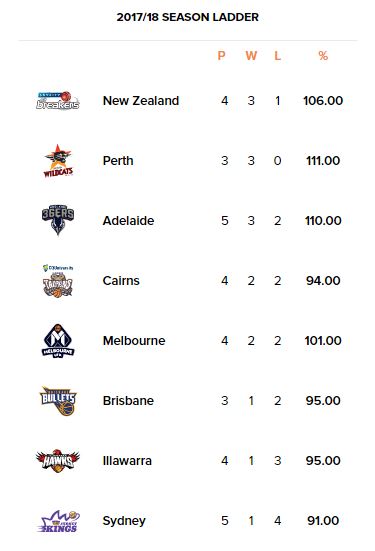 This was what it showed today at the end of Round 3, even though Perth now has lost a game and Cairns, if I'm not mistaken, is 3-2.
OK. They forgot to add that result.
They'll get around to it, I'm sure.
But even as it stands, the standings would be wrong.
If Cairns was 2-2 (still) and Melbourne 2-2 - so both sharing identical 50% win-loss records - how is it possible the Taipans on 94% on the points percentage, is ahead of United's 101%?
What is the point of the switch to points percentage if the league itself doesn't understand how to apply it?
Ah don't worry.
I'm sure it will be fixed soon.
We understand it's a busy weekend with so many incidents for the GRP to review and adjudicate.
Championship ladders aren't that important, are they?
* * *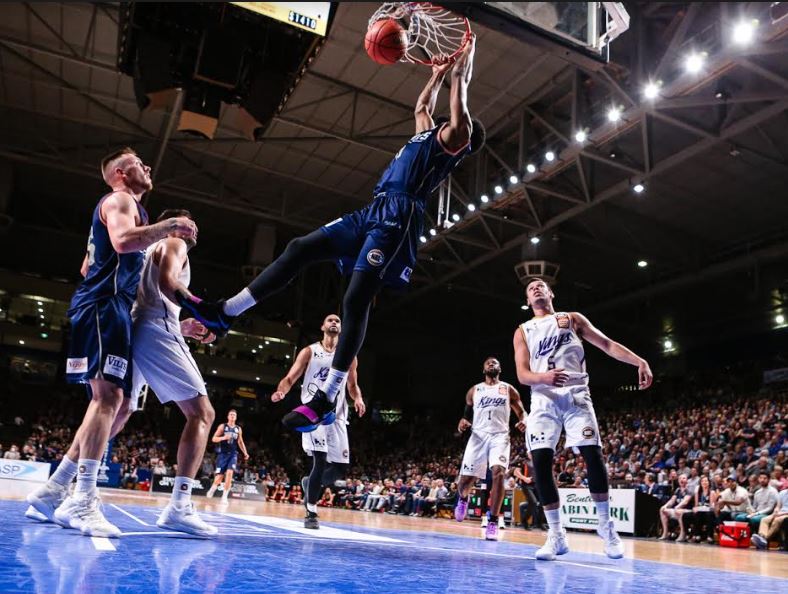 MOORE FUN: Ramone Moore throws one down for the 36ers. Pic courtesy ALLSTAR PHOTOS
LOVE that shot, and that moment from Ramone Moore.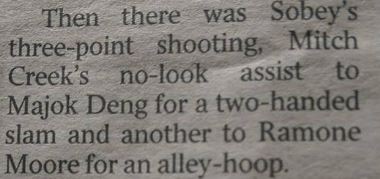 But it was only in one of Sunday's newspaper match reports (right) most of us became aware that this shot was, in fact, an "alley-HOOP" and NOT an alley-oop as we have been led to believe all these years.
Must confess I hadn't read it when vigilant reader William Ford drove it to my attention.
Folks, we must all slouch corrected!
* * *
GREAT stat from The Statman this week.
Saturday afternoon A-League: Melbourne City v Wellington (NZ). Crowd 9091
Sunday afternoon NBL: Melbourne United v NZ Breakers. Crowd 10,300
* * *
COME on now. How much better did the Breakers look in light blue against Melbourne's black on Sunday?
Or Perth in black against the Taipans' orange in Cairns?
Way better than Brisbane in white at Illawarra, Sydney in white in NZ and Adelaide.
Just saying, this issue isn't black and white.
* * *
BIG WINNERS/LOSERS
NZ Breakers were the NBL's biggest winners of the round, easily erasing Sydney at home, then travelling without Kirk Penney to Melbourne, coach Paul Henare again fashioning a terrific road win over a United team which struggled all day to maintain its focus.
OBVIOUSLY the Sydney Kings, beaten in Auckland, battered in Adelaide, were the round's biggest losers, despite coach Andrew Gaze again baring his soul at the post-game grilling.
DANDENONG had Carley Mijovic firing to douse Townsville Fire at Stud Road, then escaped Canberra unscathed when Laia Palau showed her value with a match-winning bucket to make the Rangers the round's biggest WNBL winners.
HELD to 5 first-quarter points at home by Sydney in what ultimately would be a bitter defeat, then spanked on the road in Dandenong, Townsville went from the Fire to the Charred Ruin despite Suzy Batkovic's best efforts. They were the round's biggest loser. Who said this was a two-team race?
* * *
NBL RD.3
NZ BREAKERS 90 (Pledger, Sosa 19, Vukona, Newbill, Ili 10; Vukona 12 rebs; Sosa 7 assts) d SYDNEY KINGS 73 (Ellis 16, Leslie, Newley 10; Humphries, Leslie 4 rebs; Cadee 3 assts) at The Breakwater, Spark Arena.
BRISBANE BULLETS 83 (Jervis 18, Buford 17, Petrie 12, Trice, Kickert 10; Jervis 8 rebs; Trice 7 assts) d CAIRNS TAIPANS 78 (Loughton, Smith 15, McCarron 13; Weeks 5 rebs; Egwu 4 assts) at The Armoury, Brisbane Convention Centre.
PERTH WILDCATS 89 (Cotton 18, Brandt 16, Cooke 10; Brandt, Tokoto 6 rebs; Martin 5 assts) d MELBOURNE UNITED 84 (Prather 16, Ware 15, Wesley 12, Adnam, Boone 11, Goulding 10; Prather 9 rebs; Goulding, Ware 3 assts) at The Jungle, Perth Arena.
ADELAIDE 36ERS 114 (Sobey 25, Shorter 19, Hodgson 14, Deng, Johnson 13, Moore 10; Johnson 8 rebs; Shorter 6 assts) d SYDNEY KINGS 84 (Leslie 25, Newley 15, Ellis 13; Kendle, Ellis, Leslie 6 rebs; Cadee 7 assts) at The Fortress, Titanium Security Arena.
NZ BREAKERS 88 (Abercrombie 21, Sosa 17, Newbill 15; Newbill 7 rebs; Sosa 5 assts) d MELBOURNE UNITED 76 (Boone 22, Prather 20; Boone 14 rebs; Ware 6 assts) at The UN, Hisense Arena.
ILLAWARRA HAWKS 105 (Clarke 26, Conger 21, Ogilvy 15, Kay 13; Conger 6 rebs; Clarke, Kay 4 assts) d BRISBANE BULLETS 96 (Buford 26, Kickert 21, Holt 17, Petrie 13; Buford 9 rebs; Trice 6 assts at The Sandpit, WIN Entertainment Centre.
CAIRNS TAIPANS 90 (McCarron 18, Carrera 15, Smith 14, Egwu 13, Gliddon 10; Smith, Weigh, Egwu 6 rebs; Egwu 5 assts) d PERTH WILDCATS 69 (Tokoto 17, Cotton 12; Martin 6 rebs; Knight, Kenny 3 assts) at The Orange Grove, Cairns Convention Centre.
WNBL RD.3
SYDNEY UNI FLAMES 66 (Ebzery 22, Taylor 19, Wilson 11; Taylor 10 rebs; Snell 6 assts) d TOWNSVILLE FIRE 63 (Batkovic 22, Murray 11, George 10; George 15 rebs; Wilson 4 assts) at The Fire Station, Townsville Stadium.
PERTH LYNX 106 (Kunek 23, Ciabattoni 21, Whitcomb 17, Standish 16, Williams 14; Williams, Burton 6 rebs; Whitcomb 9 assts) d BENDIGO SPIRIT 79 (Griffin 22, Payne, Laney 15, Banham 11; Griffin 10 rebs; Rolph, Laney 3 assts) at Bendat Stadium.
DANDENONG RANGERS 86 (Mijovic 28, St Blicavs 15, Sa Blicavs 12, Pedersen 10; Pedersen 13 rebs; Lavey 7 assts) d TOWNSVILLE FIRE 69 (Batkovic 21, Murray 13, Wilson 11; Batkovic 10 rebs; Batkovic 6 assts) at the Ranger Station, Dandenong Stadium.
MAC ADELAIDE LIGHTNING 79 (Planeta 21, Novosel 19, Bishop 16; Bishop 11 rebs; Seekamp, Novosel 6 assts) d BENDIGO SPIRIT 75 (Richards 22, Banham, Griffin 17; Griffin 16 rebs; Karaitiana 6 assts) in overtime at The Lighthouse, Titanium Security Arena.
MELBOURNE BOOMERS 79 (Cambage 23, Smart 16, Garrick 15; Cambage 22 rebs; Cole 8 assts) d PERTH LYNX 77 (Williams 20, Standish, Whitcomb 18; Whitcomb 9 rebs; Ciabattoni, Williams 3 assts) in overtime at the State Basketball Centre.
DANDENONG RANGERS 77 (Sa Blicavs 24, Pedersen 19, Roberts 10; Sa Blicavs 13 rebs; Sa Blicavs 5 assts) d CANBERRA CAPITALS 76 (Wehrung 19, Bass, Hurst 12; Scherf 7 rebs; Hurst 8 assts) at the Alphabet Soup, National Convention Centre.
MORTIFIED to say of the 13 NBL & WNBL games, only correctly tipped six winners in Round 3. Sigh.
Yeah, don't be alarmed (below). I did pick you guys.