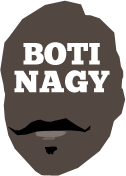 ---
Advertising opportunities available.
Please contact me.
---
Just Wrapping #5 (Inc PotW)
Tweet
DON'T believe the experts who tell you this is going to be - or already is - one of the most even NBL seasons in history. That assuredly is true for the WNBL. But the NBL? Hell no.
In the NBL, Season 2016-17 was a phenomenon, a 28-game regular season that came down to the very last round and its final games to not only finalise the Final Four but also its internal pecking order.
That won't be happening in 2017-18.
Don't get me wrong now. Any team, on any given night, can beat another - that is true. But it always has been. So it's hardly a revelation. (Unless you're a hopeful Sydney Kings fan.)
That means Brisbane will beat Melbourne on its night. And Cairns will beat Perth on its night. And hey, even the Sydney Kings will beat Illawarra (twice!!) on their nights.
But, much as expected, Perth Wildcats are up there as per usual, Trevor Gleeson suddenly drawing starter-quality time from Lucas Walker and Angus Brandt. (Let's not even talk about the quality of their imports or depth.) And Paulie Henare now has his NZ Breakers on a six-win streak.
United is going to be as good as advertised - for sure. Dean Vickerman already has shown why you can no longer say: "Melbourne has talent, but without an experienced coach expect it to fail."
That isn't going to happen.
When Adelaide has it all together, it is as awesome and fearsome as any team in the league. All it needs to make it back to the Final Four is for everyone to play with the same intensity as Mitch Creek.
So there, already, is most likely your top four - five rounds in.
Yes, no Rob Beveridge-coached team can ever be discounted so look out for the flying Hawks.
The draw hasn't done them any favours though and it is going to be a steep hill. If anyone can climb it, that would be Illawarra.
* * *
AM I discounting Cairns Taipans? Never. But I'm also not expecting them to see the post-season, either.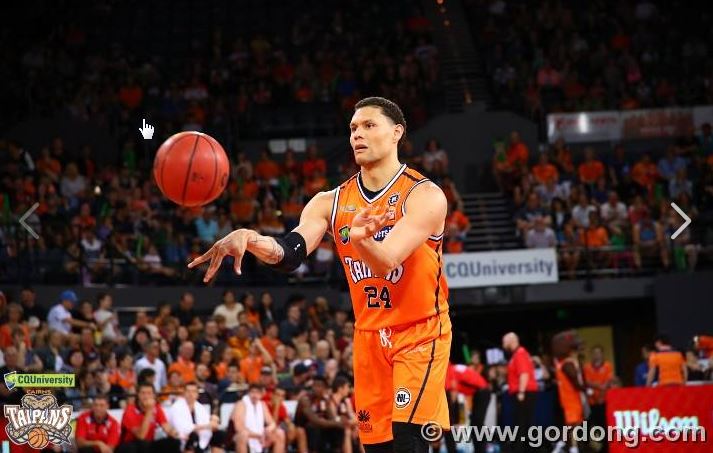 Michael Carrera (above) is a top import but truth is, the Taipans have been losing, and at home.
Yes, Nate Jawai will return, but how long will it again take him to find the form which electrified us all before he was hurt?
So while Cairns, Brisbane and Sydney will most definitely beat some teams "on their night", I don't see them as finals participants by any stretch.
And Illawarra will need a lot to go right.
Am I calling it too early? Probably. Let's revisit at Round 10 then. Deal?
* * *
IN complete contrast, WNBL teams are walking a weekly tightrope.
Results are all over the place and not because of injuries so much as the incredible tightness of the competition.
Admittedly, Townsville belting Adelaide 84-42 was a shock result - not the win, just the margin. Could the Fire truly be twice as good as Adelaide?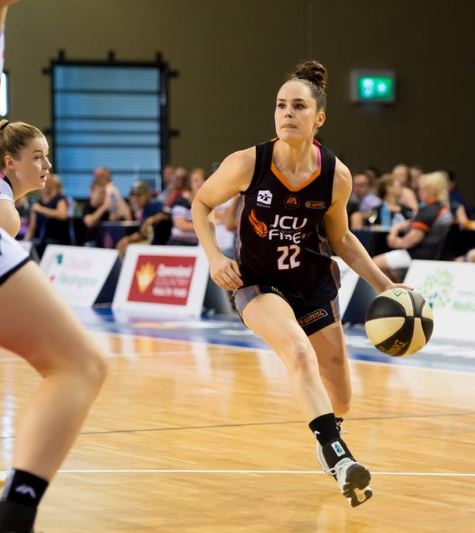 WILSOOOOOON: Kelly Wilson dished 10 assists against Lighting. Pic courtesy JCU Fire
Unlikely. But that's how the score reads. And Adelaide was top before that game.
Again though, some of that was courtesy of the mother of all crappy draws which already saw Lightning play Canberra and Bendigo twice in its first six games.
Definitely "legit" are Sydney Uni, Townsville Fire and Dandenong Rangers.
At full strength, add Melbourne Boomers.
Is that our Final Four?
Whoa. Far too early to tell. But Lightning and Lynx at their best have shown they might be in the mix. And Canberra and Bendigo already have claimed a fine scalp or two.
No. This one is a long way from settled.
* * *
TOMMY Garlepp, Cody Ellis and Nathan Sobey walk into a bar, just as the barman yells: "Time gentlemen, please."
* * *
WHAT the hell was going on with the FOX SPORTS director on the Cairns-New Zealand game?
How clueless can you be?
With heartbeats to go, Taipans import Scoochie Smith ties the game at 70-70 with a made free throw, misses the second and we cut away from the play as he runs down the offensive rebound??
WTF?
He's out of court though, I guess, so it's Breakers ball and time-out. We think.
So we've missed that.
Now NZ runs a perfectly executed play and Edgar "Keyser" Sosa sticks a corner 3-pointer for the win.
Cut to celebrations right as Cairns inbounds the ball and Cam Gliddon nails a monster 3-ball for the tie!
Except we didn't see it happen live - because Stephen Spielberg is cutting to celebration scenes!
WTF? Did he not learn the first time?
Clearly not.
Yes, we got to see it unfold again in the replay but one of the joys of watching games live is the fact you're WATCHING GAMES LIVE.
Can someone please send this idiot back to AFL or A-League or anywhere where there is time between goals?
* * *
SPEAKING of the Taipans-Breakers, really enjoyed some of the commentary banter between Brad Rosen and Cam Tragardh.
It's not the forced stilted faux-humility kind we get on too regular a basis either.
Now I don't know about you but I find most of the comments about the Fantasy League tedious and self-serving - plus any Fantasy League which doesn't include Gal Gadot just makes no sense to me.
No surprise Shawn Redhage is killing this thing because he is the NBL's recently retired player so he'd have a better handle on player strengths and values than most.
But the suggestion he is "over the cap" was hilarious, given you can't do that in the game anyway.
Nice stuff. Keep it up.
* * *
REGULAR readers already know how B.O.T.I. Player of the Week works.
You make a game-winning shot and you are virtually automatic. I mean, you won the game. What more is there to say?
But heck, if you also had 24 points, two rebounds, three assists, two steals and a block as your team beat Adelaide, then hit the winner against Cairns, then you have it wrapped.
That makes it No.2 for NZ Breakers import Edgar Sosa and the third in a row for Breakers players. Six straight wins will tend to do that...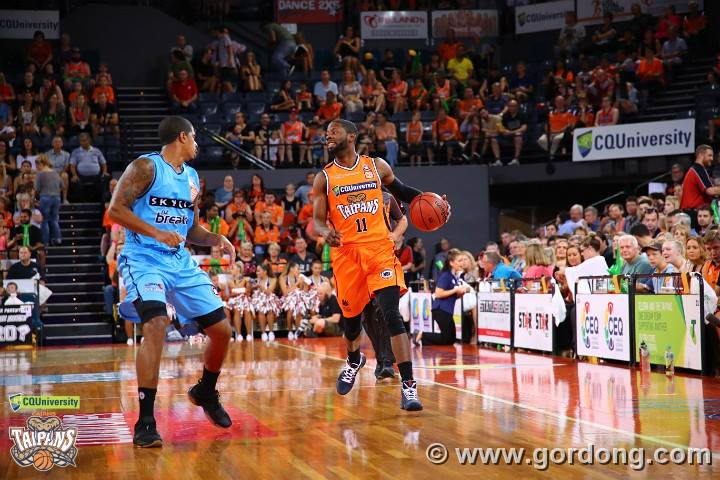 EDGAR IS THE MAN! Edgar Sosa and Scoochie Smith - big plays at the end of the game.
B.O.T.I. NBL Player of the Week
Rd1 Casper Ware
Rd2 Perry Ellis
Rd3 Edgar Sosa
Rd4 Shea Ili
Rd5 Edgar Sosa
(PS WNBL PotW tomorrow)
* * *
BIG WINNERS/LOSERS
THE Breakers easily were the NBL's biggest winners this round, controlling Adelaide in Auckland before breaking the Cairns drought with a thrilling last-shot escape and a six-game winning streak. (An argument can be made Melbourne beat the same two teams but they did have both at home.)
UNQUESTIONABLY the biggest losers were the 36ers, Adelaide's 4-point loss in Auckland rather flattering, and its 84-101 meltdown in Melbourne one for the ages, with coach Joey Wright asking to be tossed and getting his wish.
PERTH belting surging Townsville by 19 points was the WNBL round's most impressive "upset", although Dandenong recovering from a 17-point deficit to beat Adelaide, and Bendigo knocking off Melbourne also had good cases for consideration as the round's biggest winner.
AHEAD by 17 at home against the Rangers before faltering and falling in overtime, then crushed by 42 points in Townsville filled Lightning's sky full of dark clouds and made them the round's biggest losers.
* * *
NBL Rd5
NEW ZEALAND BREAKERS 92 (Sosa 24, Abercrombie 21, Ili 13, Newbill 11; Vukona 9 rebs; Ili, Newbill 5 assts) d ADELAIDE 36ERS 88 (Creek 24, Johnson 18, Moore 14, Sobey 11; Shorter 9 rebs; Shorter 4 assts) at The Slipstream, North Shore Events Centre.
MELBOURNE UNITED 87 (Ware 26, Goulding 20, Prather 16; Majok 9 rebs; Prather, Ware 3 assts) d CAIRNS TAIPANS 65 (Carrera 19, Heuir 10; Gliddon, Smith 5 rebs; Weeks 4 assts) at The UN, Hisense Arena.
ILLAWARRA HAWKS 112 (Kay 19, Forman, Conger 18, Ogilvy, Clarke 14, Coenraad 12; Ogilvy 9 rebs; Norton 7 assts) d BRISBANE BULLETS 81 (Buford 18, Kickert 15, Jervis 14, Holt 12, Trice 11; Trice 7 rebs; Trice 6 assts) at The Armoury, Brisbane Convention Centre.
PERTH WILDCATS 93 (Walker 17, Cotton 16, Tokoto 15, Cooke, Brandt 10; Brandt 10 rebs; Tokoto 5 assts) d SYDNEY KINGS 69 (Ellis 19, Humphries 13, Newley 11; Ellis 7 rebs; Leslie 4 assts) at The Jungle, Perth Arena.
MELBOURNE UNITED 101 (Prather 25, Ware 21, Andersen, Boone 13, Goulding 11; Andersen 7 rebs; Ware 7 assts) d ADELAIDE 36ERS 84 (Johnson 23, Creek 16, Shorter 13, Drmic 11; Johnson 8 rebs; Shorter 3 assts) at The UN, Hisense Arena.
NEW ZEALAND BREAKERS 73 (Penney 16, Abercrombie 12, Delany 11, Vukona, Newbill 10; Pledger 8 rebs; Sosa 5 assts) d CAIRNS TAIPANS 70 (Carrera 16, Loughton 13, Smith 12, Weeks 10; Smith, Carrera 6 rebs; Carrera 3 assts) at The Orange Grove, Cairns Convention Centre.
ILLAWARRA HAWKS 93 (Clarke 29, Kay 17, Norton, Conger 10; Conger 8 rebs; Clarke 5 assts) d SYDNEY KINGS 83 (Ellis 19, Newley 18, Blanchfield 14, Humphries 10; Ellis 10 rebs; Newley, cadee 6 assts) at The Kingdome, Qudos Bank Arena.
* * *
WNBL Rd5
SYDNEY UNI FLAMES 81 (Taylor 18, Snell 16, Hamson 13, Ebzery, Wilson 12; Hamson, Taylor, Snell 10 rebs; Snell 4 assts) d UNIVERSITY OF CANBERRA CAPITALS 62 (Bass 15, Hooper 14, Wehrung 12; Hooper 10 rebs; Gaze, Hurst 3 assts) at Study Hall, Brydens Stadium.
JAYCO DANDENONG RANGERS 83 (Roberts 16, Sa Blicavs 15, St Blicavs 14, Pedersen 12, Mijovic 11; Pedersen, Sa Blicavs 9 rebs; Sa Blicavs 8 assts) d MAC ADELAIDE LIGHTNING 81 (Seekamp 18, Bishop 17, Planeta 11, Nicholson, Clydesdale 10; Bishop 10 rebs; Novosel 5 assts) in overtime at The Lighthouse, Titanium Security Arena.
PERTH LYNX 87 (Kunek 25, Whitcomb 18, Williams 16, Standish 14; Williams 8 rebs; Williams 5 assts) d TOWNSVILLE FIRE 68 (Batkovic 24, George 11; George 10 rebs; Wilson 7 assts) at The Zoo, Bendat Stadium.
SYDNEY UNI FLAMES 81 (Taylor 29, Snell 14, Ebzery 11, Wilson 10; Hamson 14 rebs; Snell 8 assts) d UNIVERSITY of CANBERRA CAPITALS 72 (Hurst 13, Hooper 12, Jarry 11, Froling 10; Scherf 6 rebs; Hurst 8 assts) at The Alphabet Soup, National Convention Centre.
BENDIGO SPIRIT 71 (Banham 17, Richards, Griffin 13; Griffin 8 rebs; Laney, Banham 4 assts) d MELBOURNE BOOMERS 66 (Garrick 18, Cambage 14, Cole 10; Tomlinson 11 rebs; Smart 5 assts) at The Spirit Level, Bendigo Stadium.
TOWNSVILLE FIRE 84 (Batkovic 20, Garbin 14, Murray, Mincy 13, Wies 10; George 11 rebs; Wilson 10 assts) d MAC ADELAIDE LIGHTNING 42 (Bishop 11, Nicholson 9; Novosel 7 rebs; Bishop, Seekamp 3 assts) at The Fire Station, Townsville Stadium.
SNAGGED 5-of-7 in the NBL but it was a dismal 3-of-6 only in the WNBL. Tipping Dandenong tomorrow to win the Michele Timms Cup/Melbourne Cup Eve match so fingers crossed.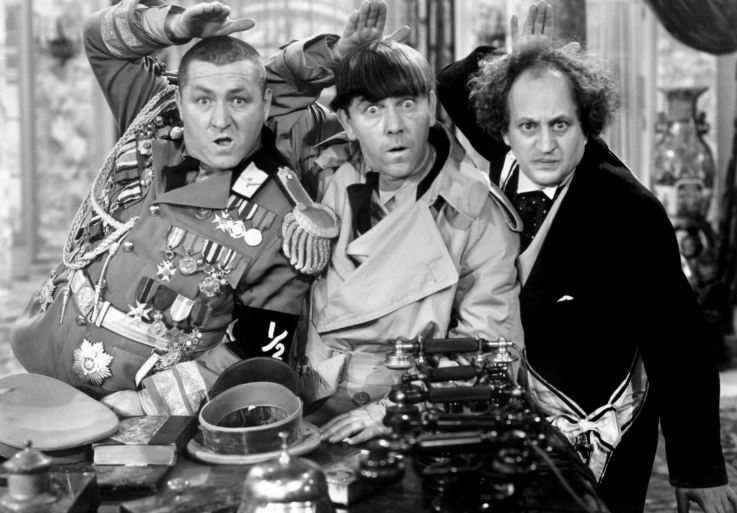 TOMORROW: WNBL Player of the Week