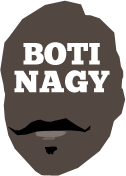 ---
Advertising opportunities available.
Please contact me.
---
King Andrew? No, Prince Harry
Tweet
IT should have been the biggest day in NBL history – the day our first No.1 draft choice and NBA championship winner Andrew Bogut declared his intent to play for the Sydney Kings.
Instead the buzz that began last night with a series of Bogey tweets - that's "Bogey" tweets, not bogus ones – was circumvented by the league, leaving Adelaide 36ers to take the diminishing spotlight by finally declaring Harry Froling as a Sixer for the next two years.
Harry, 20 and 208cm, is playing for Townsville Heat in the QBL and hails from the multi-talented Froling family which has produced potential balling champs at a rate of knots.
"I've played in the NBL already with the Crocs back when I was a development player, but to actually get a contract and start my professional career, I'm really excited," Harry (above) said today in a club release.
"I don't really think there's a better club to sign with than Adelaide and what they've got going on there."
While Froling's signing is big for the 2018 runners-up, Sydney securing Bogut's signature is massive. And unlike 2011 when the Kings tried to secure the 213cm big-man with the Mensa-level basketball IQ, this one is no publicity stunt.
(Bogut was "going to play" for the Kings in 2011 during the NBA lockout, but insurance to cover his $39m contract with Milwaukee Bucks was prohibitive. It generated some positive press though and was considered possible because San Antonio Spurs NBA champion Patty Mills donned the red-and-gold during the NBA lockout to play nine games for Melbourne Tigers, averaging 18.6 points, 2.3 rebounds and 5.0 assists per game.)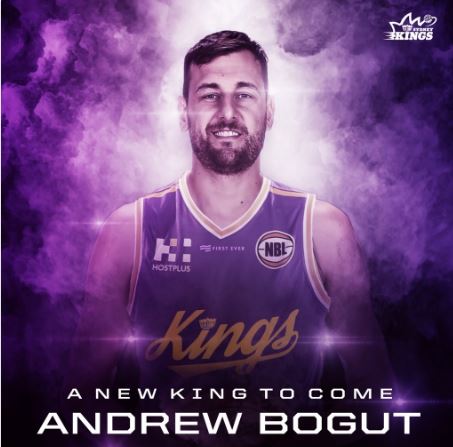 This time, Bogut, 33, is a sure thing. Just over two weeks ago he said returning to the NBA next season was his top priority but an 82-game regular season is the opposite of a 28-game regular season, but one which still would give him time to join an NBA contender post-NBL season.
And the rigours on his body would not be as demanding.
Bogut has never ruled out concluding his playing career in the NBL and his addition to the league would herald the arrival of its first NBA No.1 draft pick AND NBA champ (2015 with Golden State Warriors). And he's Australian!
Bogut tweeted out the following in reasonably quick succession last night after changing his Twitter avatar to his purple-and-gold pic (above) as a King.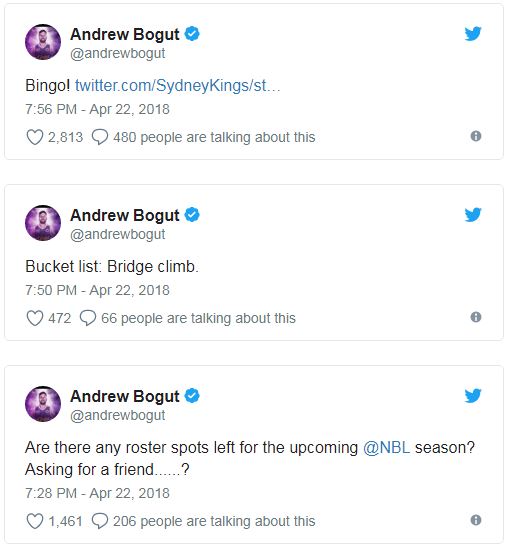 Sydney planned to release details at 10am today but that was aborted, clearly after some NBL pressure (below).

Whether the league wanted to break the story itself or to use the news to add clout to its TV deal remains conjecture.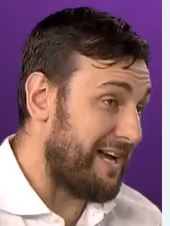 But the fact is Bogut, a 753-game NBA warrior drafted at No.1 by Milwaukee Bucks in 2005, should be filling venues around Australia – and in New Zealand as well – from 2018 to 2020.
His stated goal, to be part of Boomers campaigns at the 2019 FIBA World Cup and 2020 Tokyo Olympics, also stays on track with him remaining in Oz. The alternative was plying his trade in Europe or Asia.
In response to possibly harming his legacy by playing NBL, Bogut (left) in typically candid fashion last week on Fox Footy's "On the Mark" program said: "Legacy, shmegacy.
"I think to come back and maybe play a season or two would be the icing on the cake for my career."
Playing for the Kings would reunite him with Rio Olympics Boomers teammate Kevin Lisch and of course, Brad Newley, with whom he won a Gold Medal at the FIBA Under-19 World Championship in 2003.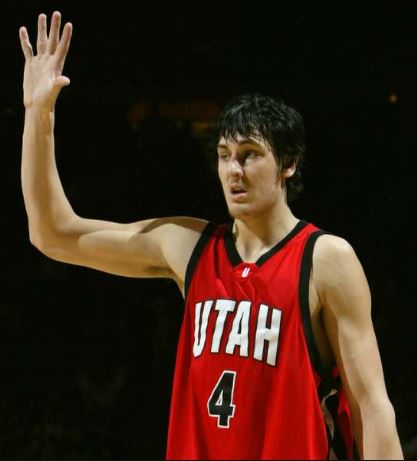 Bogut was MVP of the championship and despite just two years of college basketball at Utah, his No.4 uniform was retired by the university.
Named the 2004–05 national player of the year in the US by ESPN.com and Basketball Times, Bogut also earned Associated Press first-team All-American and leading votegetter honours, Naismith College Player of the Year honours and the John R. Wooden Award.
This is the king of recruiting coups. It also brings Bogut together with the original Australian basketball legend, Andrew Gaze, who will be in the third year of his Kings' coaching contract.
How smoothly would Brisbane Bullets free agent and Boomers Commonwealth Games Gold Medallist starter Daniel Kickert slide into the power forward spot in a starting quintet of Jerome Randle, Lisch, Todd Blanchfield, Bogut (below)?
That was the other hot story floating around the Kings today, according to sauces, Ketchup, Bechamel and White.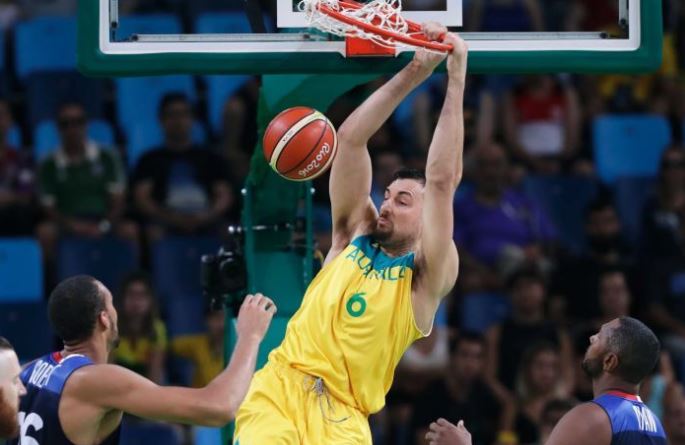 Meanwhile in Adelaide, bringing in Froling reunites him with 36ers coach Joey Wright and will help his preparations for the NBA draft in two years' time.
"Joey used to run the Queensland performance program back in the day when I was a junior," Froling said.
"I've known him since then and have always talked to him as a friend and mentor a little bit.
"I've had a really good relationship with Joey and that was definitely one of the biggest factors of going into it and opportunity as well.
"Joey seems to give all of those guys a good chance and a good opportunity and that was one of the other reasons, so I'm excited."

Froling (below) joins returnees Daniel Johnson, Mitch Creek, Nathan Sobey, Majok Deng and Adam Doyle - already committed to the 2018-19 NBL season - plus Jack McVeigh who will be announced shortly. Adelaide also is anxious to bring back imports Josh Childress and Ramone Moore.