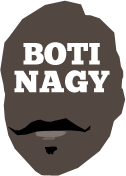 ---
Advertising opportunities available.
Please contact me.
---
LeBron brings it home to Ohio
Tweet
Le Bron – le magnifique. King James today cemented his legacy as one of the NBA's all-time greats as he lifted the Cleveland Cavaliers to their first championship.
Quite simply, he was incredible, from the moment his beloved Cavs slipped behind 3-1 in the Finals against defending champion Golden State, he was quite other-worldly.
Consecutive 41-point games to tie up the series were capped today as he became just the third player in league history to produce a Game 7 triple-double, finishing with 27 points, 11 rebounds and 11 assists in the decider at Oracle Arena.
His chase down block of an Andre Iguodala fast break where he pinned the ball against the backboard momentarily after flying like some avenging angel was breath-taking.
His free throw at the death put the contest out of Golden State's reach at 93-89 after Kyrie Irving had broken an 89-89 deadlock with a sizzling 3-point dagger.
The Cavaliers ran a play to get Irving off a screen and when reigning and two-time MVP Steph Curry switched onto him, all that needed to happen was what followed - an Irving swish.
James' outstanding performance to claim his third title while breaking Cleveland's 52-year drought of professional titles, was truly one for the ages.
But get this. The four-time league MVP led everyone in the Finals in points, rebounds, assists, blocks and steals.
That, just like the recovery from a 3-1 deficit in the Finals, has never been done before. In fact it's never happened before in any playoff series. That's something even Michael cannot boast.
James' performance in these Finals ranks amid the best of all time, the greatest player of the current era averaging 29.7 points, 11.3 rebounds, 8.9 assists, 2.3 blocks and 2.6 steals.
While the game was still there to be saved, Curry tried to shake Kevin Love with a dribble but the Cavs' most scorned big man played him brilliantly, forcing one of those long 3-pointers.
Not one of those Curry routinely made this season, but one which rimmed out as Golden State's back-to-back dream turned into a nightmarish finish.
Curry and fellow Splash Brother Klay Thompson were rarely on target all game as the Warriors ended their record-setting 73-9 regular season without the most coveted prize of all.
Unquestionably, the left-knee injury to Melbourne centre Andrew Bogut in Game 5, was a huge factor. Festus Ezeli played like a frightened rabbit, Anderson Varejao was too busy flopping and Mareese Speights probably should have been the backup big who played more.
Iguodala also clearly was a long way from 100 percent and it was Draymond Green who led the way, a perfect 5-of-5 from 3-point land in a 22-point first half and 32-point, 15-rebound, 9-assist effort.
Getting himself rubbed out of Game 5 though didn't do the Warriors' cause a lot of good either. Neither did Curry's unprecedented childish petulance in Game 6. When he threw that mouth guard, no doubt the Cavs all felt the momentum had well and truly swung in this series.
The Warriors did not score again after Thompson tied the game with a driving layup with 4:39 to play, missing their last nine shots, with some horrible decisions too.
Golden State's remarkable season, which started with 24 straight wins, now becomes a footnote and a reference point for teams which failed to fulfill their "destiny".
The odyssey is finally at an end for James, who bowed on the court after the siren, weeping his quest had been completed.
"I'm happy to be a part of history," he said.
"I'm home, I'm home. ... I'm at a loss for words. This is unbelievable."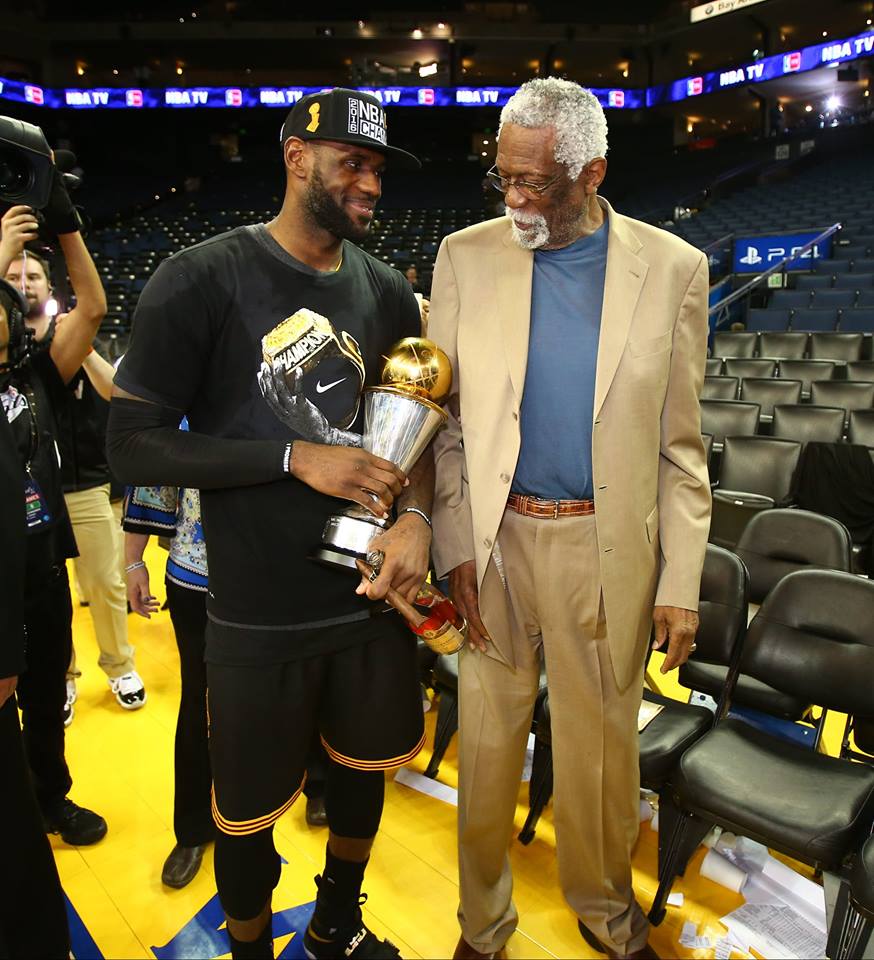 TIME TO SAVOUR: LeBron James with Celtics legend Bill Russell.
Overcome with emotion, the Bill Russell MVP trophy winner shouted: "CLEVELAND! This is for you."
Irving scored 26 points, including the match-winner, in an excellent Finals series.
Maryborough's finest talent Matthew Dellavedova scored his only DNP of the playoffs but became the sixth Australian to win an NBA championship ring, joining Luc Longley, Andrew Gaze, Patty Mills, Aron Baynes and Andrew Bogut.
It also is the third straight year Australia has provided at least one championship winner. Not bad going in a land ruled by the football codes.
NBA FINALS
G1: Golden State 104, Cleveland 89
G2: Golden State 110, Cleveland 77
G3: Golden State 90, Cleveland 120
G4: Golden State 108, Cleveland 97
G5: Golden State 97, Cleveland 112
G6: Golden State 101, Cleveland 115
G7: Golden State 89, Cleveland 93
Cleveland wins NBA Championship 4-3

WESTERN CONFERENCE
FINAL:
G1: Golden State 102, Oklahoma 108
G2: Golden State 118, Oklahoma 91
G3: Golden State 105, Oklahoma 133
G4: Golden State 94, Oklahoma 118
G5: Golden State 120, Oklahoma 111
G6: Golden State 108, Oklahoma 101
G7: Golden State 96, Oklahoma 88
Golden State wins 4-3
SEMI FINALS:
G1: San Antonio 124, Oklahoma 92
G2: San Antonio 97, Oklahoma 98
G3: San Antonio 100, Oklahoma 96
G4: San Antonio 97, Oklahoma 111
G5: San Antonio 91, Oklahoma 95
G6: San Antonio 99, Oklahoma 113
Oklahoma advances 4-2
G1: Golden State 118, Portland 106
G2: Golden State 110, Portland 99
G3: Golden State 108, Portland 120
G4: Golden State 132, Portland 125 in o/t
G5: Golden State 125, Portland 121
Golden State advances 4-1
FIRST ROUND:
G1: Golden State 104, Houston 78
G2: Golden State 115, Houston 106
G3: Golden State 96, Houston 97
G4: Golden State 121, Houston 94
G5: Golden State 114, Houston 81
Golden State advances 4-1
G1: Oklahoma 108, Dallas 70
G2: Oklahoma 84, Dallas 85
G3: Oklahoma 131, Dallas 102
G4: Oklahoma 119, Dallas 108
G5: Oklahoma 118, Dallas 104
Oklahoma advances 4-1
G1: San Antonio 106, Memphis 74
G2: San Antonio 94, Memphis 68
G3: San Antonio 96, Memphis 87
G4: San Antonio 116, Memphis 95
San Antonio advances 4-0
G1: Los Angeles 115, Portland 95
G2: Los Angeles 102, Portland 81
G3: Los Angeles 88, Portland 96
G4: Los Angeles 84, Portland 98
G5: Los Angeles 98, Portland 108
G6: Los Angeles 103, Portland 106
Portland advances 4-2
EASTERN CONFERENCE
FINAL:
G1: Cleveland 115, Toronto 84
G2: Cleveland 108, Toronto 89
G3: Cleveland 84, Toronto 99
G4: Cleveland 99, Toronto 105
G5: Cleveland 116, Toronto 78
G6: Cleveland 113, Toronto 87
Cleveland wins 4-2
SEMI FINAL:
G1: Cleveland 104, Atlanta 93
G2: Cleveland 123, Atlanta 98
G3: Cleveland 121, Atlanta 108
G4: Cleveland 100, Atlanta 99
Cleveland advances 4-0
G1: Miami 102, Toronto 96 in o/t
G2: Miami 92, Toronto 96 in o/t
G3: Miami 91, Toronto 95
G4: Miami 94, Toronto 87 in o/t
G5: Miami 91, Toronto 99
G6: Miami 103, Toronto 91
G7: Miami 89, Toronto 116
Toronto advances 4-3
FIRST ROUND:
G1: Indiana 100, Toronto 90
G2: Indiana 87, Toronto 98
G3: Indiana 85, Toronto 101
G4: Indiana 100, Toronto 83
G5: Indiana 99, Toronto 102
G6: Indiana 101, Toronto 83
G7: Indiana 84, Toronto 89
Toronto advances 4-3
G1: Atlanta 102, Boston 101
G2: Atlanta 89, Boston 72
G3: Atlanta 103, Boston 111
G4: Atlanta 95, Boston 104
G5: Atlanta 110, Boston 84
G6: Atlanta 104, Boston 92
Atlanta advances 4-2
G1: Cleveland 106, Detroit 101
G2: Cleveland 107, Detroit 90
G3: Cleveland 101, Detroit 91
G4: Cleveland 100, Detroit 98
Cleveland advances, 4-0
G1: Miami 123, Charlotte 91
G2: Miami 115, Charlotte 103
G3: Miami 80, Charlotte 96
G4: Miami 85, Charlotte 89
G5: Miami 88, Charlotte 90
G6: Miami 97, Charlotte 90
G7: Miami 106, Charlotte 73
Miami advances 4-3