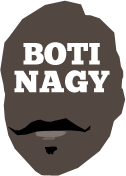 ---
Advertising opportunities available.
Please contact me.
---
Lightning lowers the Boom: WNBL Semis
Tweet
MAC Adelaide Lightning today again proved they currently are South Australia's most outstanding sporting team in a national competition, putting themselves within one win of a WNBL Grand Final berth following an emphatic 76-60 road rout of Melbourne Boomers.
Swept 3-0 during the regular season by the Boomers, Adelaide made a mockery of that stat after halftime in Game 1 of this best-of-three semi final series, co-captain Nicole Seekamp leading a defence-based game-plan which unravelled a star-stacked Melbourne team.
MVP candidate Nia Coffey stood tall but in truth, all of Chris Lucas' hardy crew rallied and fulfilled their roles, looking every centimetre the team Opals coach Sandy Brondello months back rated her "smokey" for the championship.
Seekamp led from the front with game highs in points (18), assists (6) and steals (4), Lauren Nicholson joining her with four steals.
Suffering a fractured nose last week in Perth, Nicholson understandably started without the confidence her league leadership in 3-point accuracy or defensive dominance this season warranted.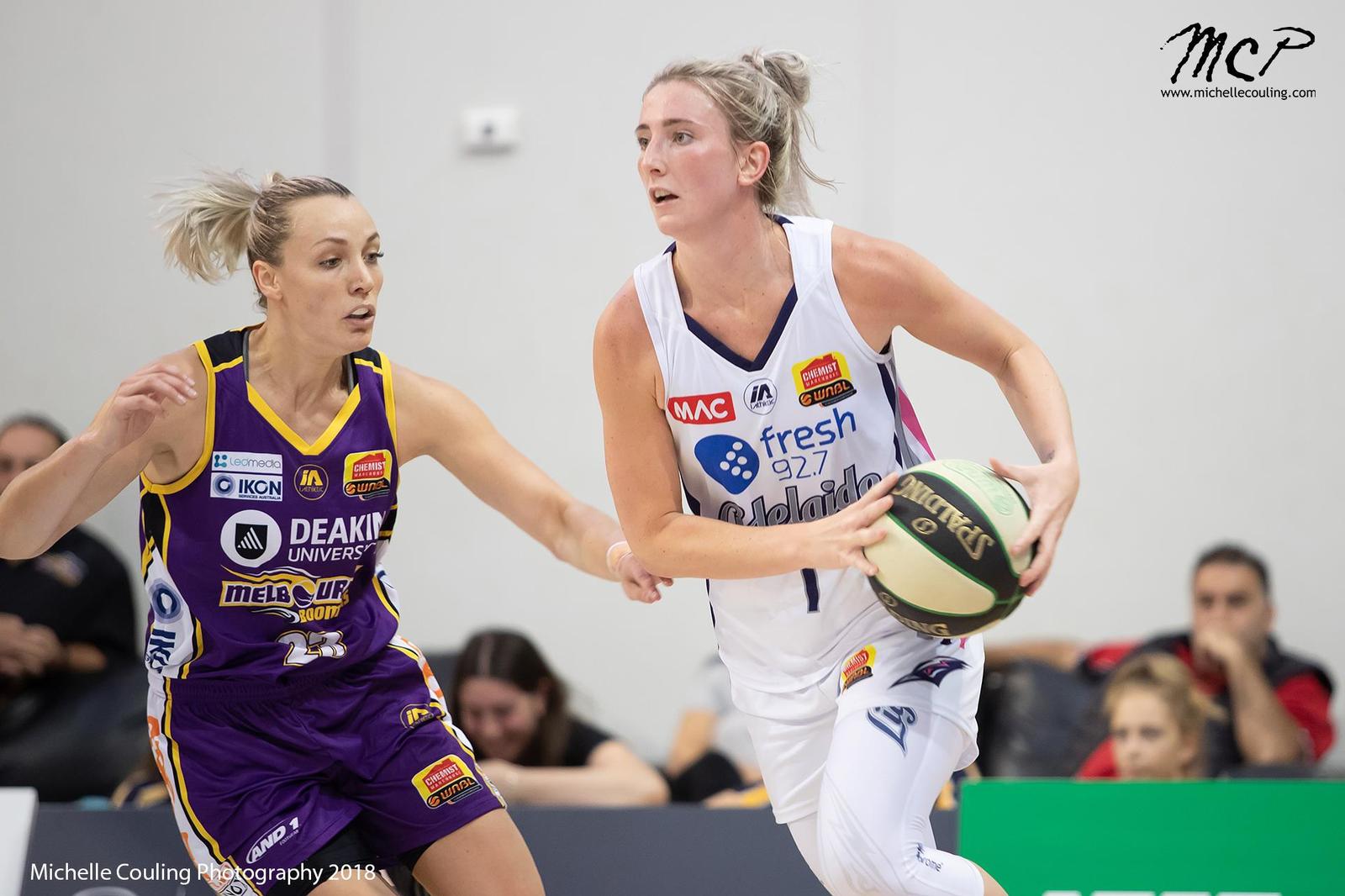 But she grew as the game did, scoring eight of her 10 points in a 20-12 final quarter barrage in which Lucas had the luxury of leaving Seekamp and Coffey – the rarely seen "Coffey break" - anchored to his bench and up his sleeve as the cards he didn't need to deal.
Missing offensively for weeks, co-captain Stephanie Blicavs stuck a timely 3-of-5 triples but it was at the defensive end she was invaluable.
Blicavs had a steal and a block while containing Boomers' playmaking WNBA star Lindsay Allen to 12 points on 5-of-17 shooting.
That was significant, as was Kayla Alexander's team-high 11 rebounds and keyway control in the last quarter.
Penina Davidson's 11 minutes off the bench were gold, with a rapid-fire eight points.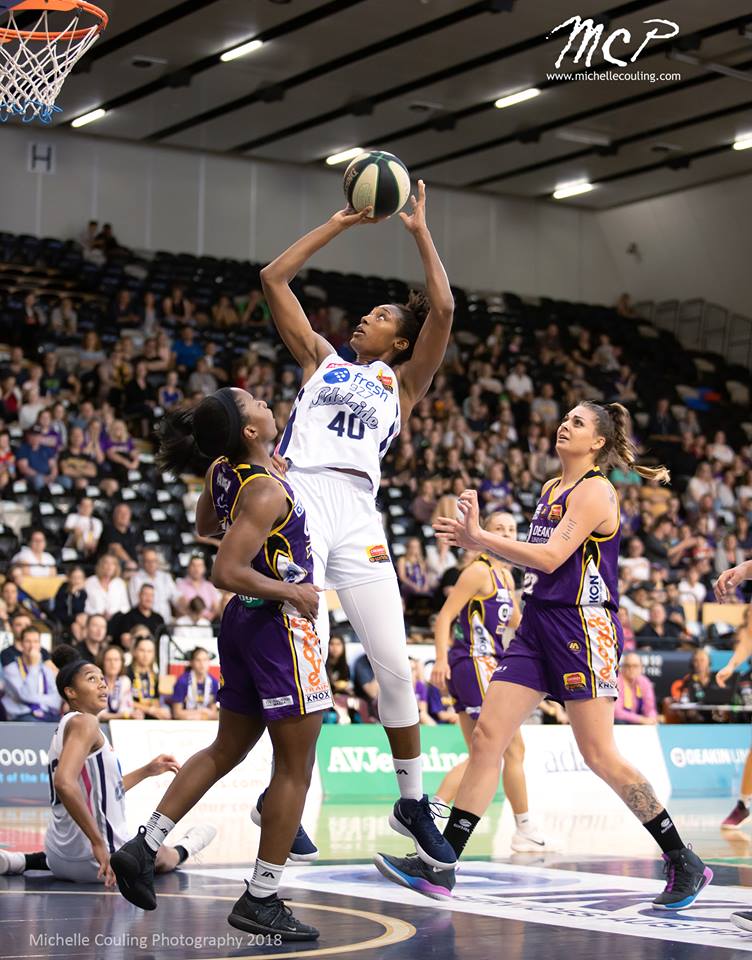 In contrast, Melbourne's starters looked flat and it was Ezi Magbegor off the bench who brought up 14 points on a perfect 6-of-6 shooting.
Jenna O'Hea and Cayla George started strongly and when Stephanie Talbot hit a 3-pointer, Melbourne was ahead 15-8 with 3:40 left in the first.
Coffey was carrying a spluttering Adelaide offence, which had the deficit back to 11-15 by the break. At 8:36 in the second, Seekamp - with the first of her steal-to-layups - had the scores locked away and free throws to Aimie Clydesdale gave Lightning the lead at 7:52.
With her first three, Blicavs bumped the lead to 22-19 and it stayed there when she whipped a super pass to Davidson for 24-21.
Revved by her own work in converting a tough offensive rebound, Coffey missed the bonus but Seekamp ran the ball down, reflecting Adelaide's relentless desire.
Kalani Purcell, considerably more active than her final numbers suggested, hit a rare triple and Melbourne had the lead back at 28-26.
Talbot pushed Melbourne's lead forward to four from the stripe and a Magbegor three-point play had Boomers rolling at 35-30.
Just ahead of halftime, Clydesdale shot a 3-point airball but Seekamp was there for the mid-air catch and putback, her bonus free throw sending the teams into the interval locked on 35-35.
A Seekamp three-point play and another Blicavs three pulled Adelaide out to 43-41, and even Alexander collecting her third foul at 6:10 in the third did nothing to sway momentum.
Boomers boss Guy Molloy called timeout at 43-47 down but Blicavs responded with a triple for 50-43.
Another Seekamp steal-to-layup had Adelaide leading 52-43 and Melbourne flailing.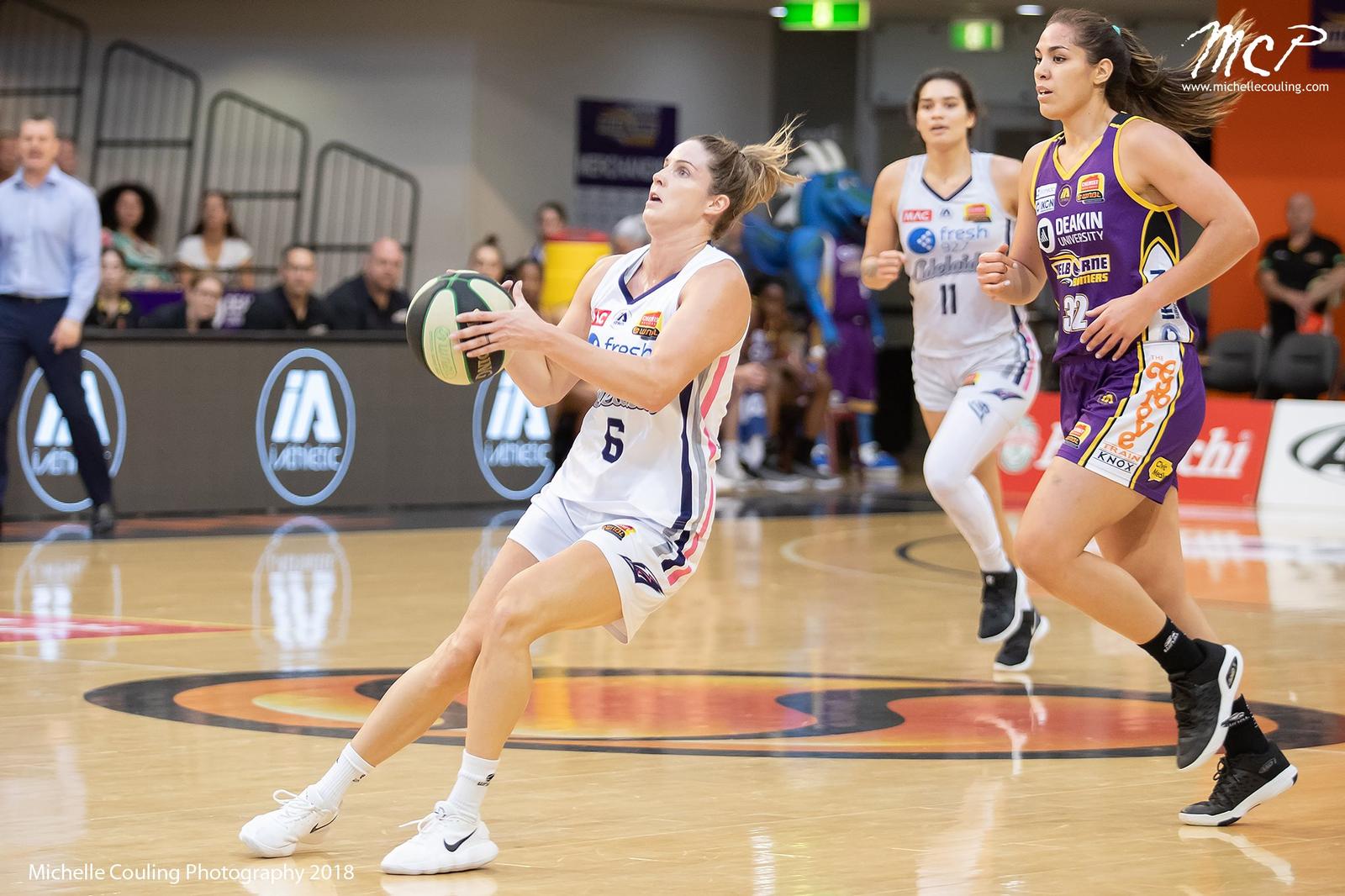 Ahead 56-48 to start the fourth period, Alexander's basket within 12 seconds gave Lightning their first double-digit lead.
An incredible and audacious long pass from Seekamp gave Nicholson a layup, and when Clydesdale penetrated the defence for a left-handed layup, it was Adelaide 62-48 and time-out Melbourne.
At 8:33 in the last, Seekamp to Alexander made it 64-48, a 10-0 run going back into the third when Adelaide led 54-48.
It finally was Jaz Shelley who drove and scored Melbourne's first basket of the last period and when Seekamp collected her fourth foul with 8:06, Allen trimmed it to 52-64 from the stripe.
But if Boomers had sufficient time and a sudden window, Adelaide swiftly slammed it shut, Colleen Planeta's J taking the lead back out to 16 at 68-52.
At 2:27 left, free throws by Alexander made it 74-54, Adelaide's lead out to 20 and both teams clearing their benches.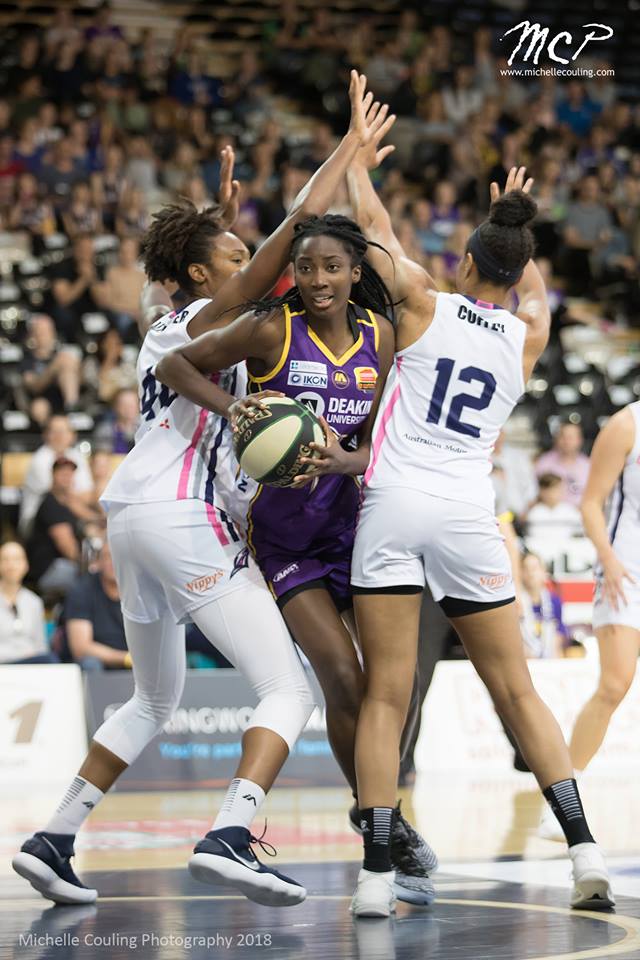 It was a decisive win by Lightning, compensating their 13 turnovers with 13 steals, Melbourne's 22 turnovers and 2-of-17 shooting from beyond the arc also big in the result.
Back in the playoffs after a six-year hiatus and Lucas rebuild over the past three, Adelaide hosts Game 2 on Thursday and is one win from its first Grand Final Series since its 2008 championship.
Although no-one in their right mind would count out a team as stacked as Melbourne just yet.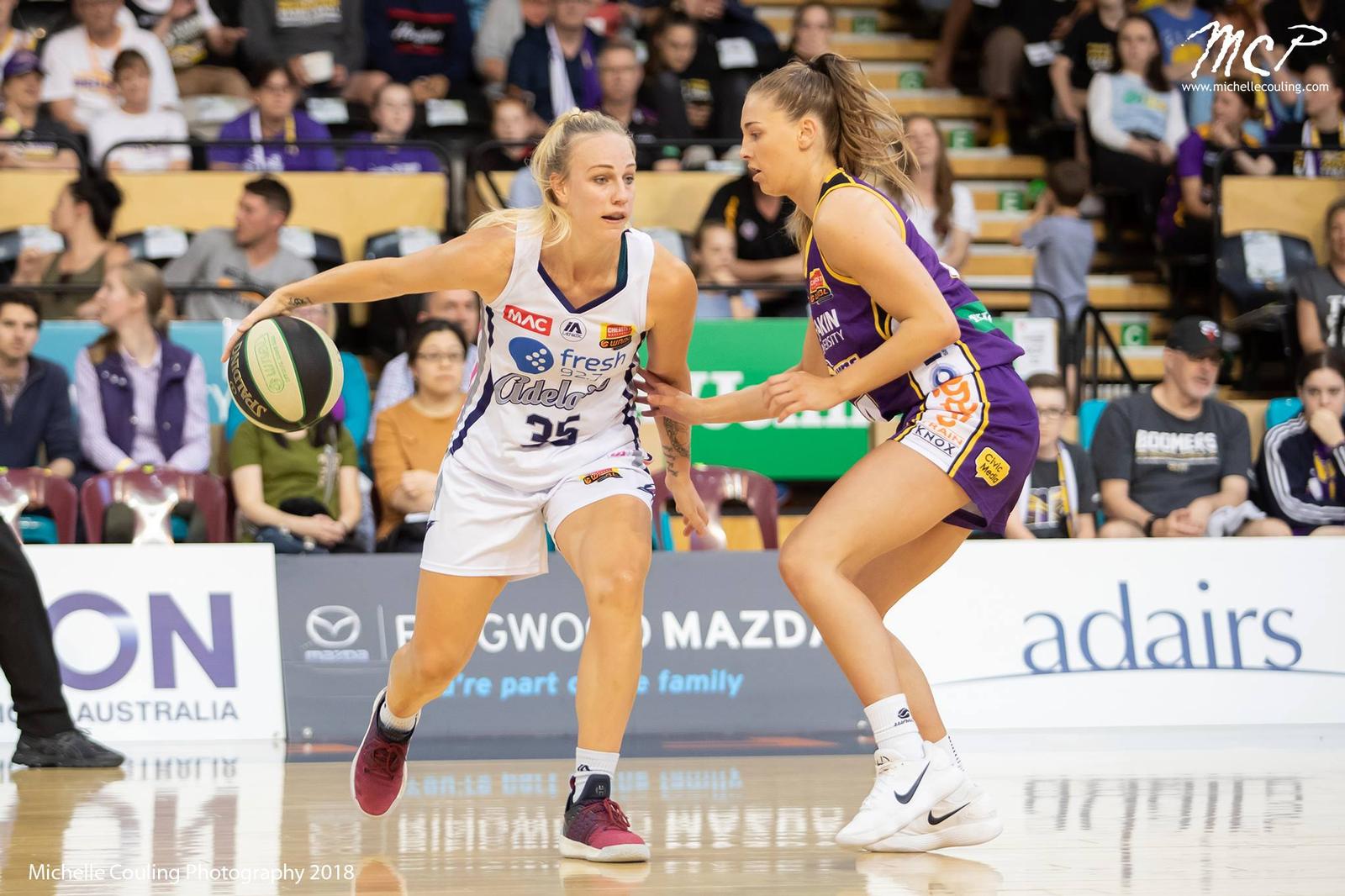 * * *
EARLIER in Canberra, Perth stunned the regular season champions with a sizzling 27-10 second period in Game 1 of their semi final series.
Leilani Mitchell (24 points, 6-of-9 threes) and Kia Nurse (31 points, 6-of-12 threes) then turned the match on its ear with a 34-13 third period and the Capitals were 10 minutes away from completing a convincing 95-76 win.
Kelsey Griffin, with 18 points, 12 rebounds and seven assists, threatened a triple-double, Perth carried offensively by Brittany McPhee's 25 points at 68 percent. McPhee also grabbed eight rebounds.
Asia Taylor was quiet for nine points on 3-of-12 shooting, Katie-Rae Ebzery also well below her best with four points on 2-of-8 shooting, and one assist.
The Lynx need to find something at home in Thursday's Game 2 as this one very much is shaping up as a Caps sweep.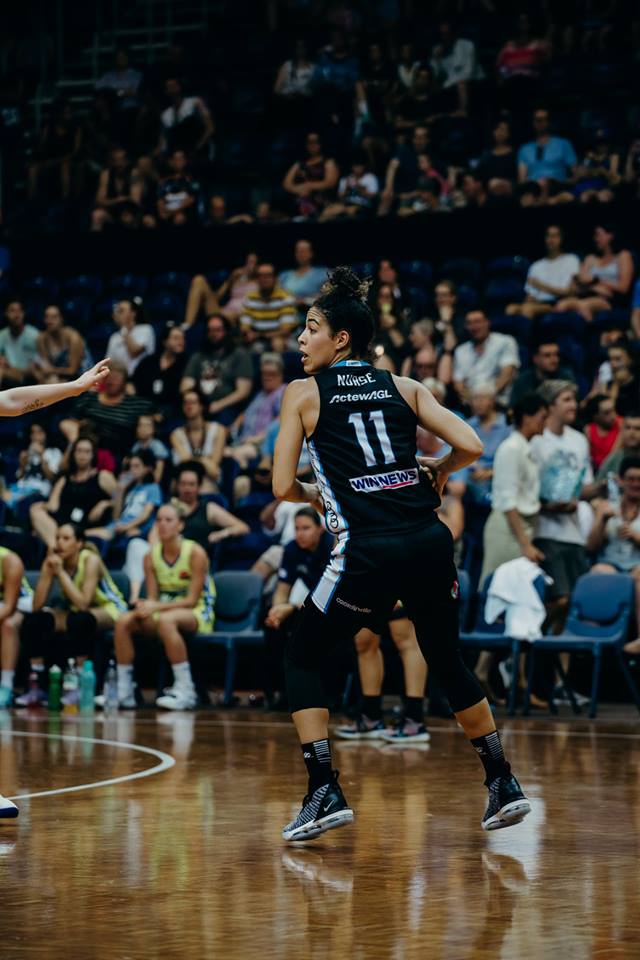 SEMI FINALS – GAME 1
UNIVERSITY of CANBERRA CAPITALS 95 (Nurse 31, Mitchell 24, Griffin 18; Griffin 12 rebs; Wilson, Griffin, Mitchell 7 assts) d PERTH LYNX 76 (McPhee 25, Schwagmeyer 13, Steindl 10; McPhee 8 rebs; Farnworth 4 assts) at The Soup Kitchen, AIS Arena.
Game 2 in Perth, Thursday
MAC ADELAIDE LIGHTNING 76 (Seekamp 18, Coffey 16, Nicholson 10; Alexander 11 rebs; Seekamp 6 assts) d DEAKIN MELBOURNE BOOMERS 60 (Magbegor 14, Allen 12; George 12 rebs; Allen 5 assts) at The Boomerang, State Basketball Centre.
Game 2 in Adelaide, Thursday