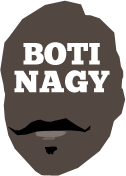 ---
Advertising opportunities available.
Please contact me.
---
Mercedes drives Flyers to 1-0 lead
Tweet
MERCEDES Russell tonight loaded the WNBL regular season champion Southside Flyers onto her shoulders and carried them to a 68-65 semi final Game 1 win over Adelaide, scoring 20 points and snaring 19 rebounds.
A game which Lightning controlled for the bulk of the first half turned on its ear when the Flyers produced a 22-7 third period, their zone turning Adelaide into a passive second-guessing unit unable to find any cohesion.
Their inside players lacked aggression and their outside shooters turned coy as Southside revelled in 16 offensive rebounds and 32 points inside the keyway.
Adelaide's MVP runner-up Brianna Turner had nine rebounds and blocked five shots but eight of her 11 points came in the last quarter when Lightning was already pushing a full bucket of horse manure up a very steep hill.
Trailing 34-39 at halftime, Russell opened the scoring by rebounding her own miss, her second basket making it 38-39 before Bec Cole gave the Flyers the lead.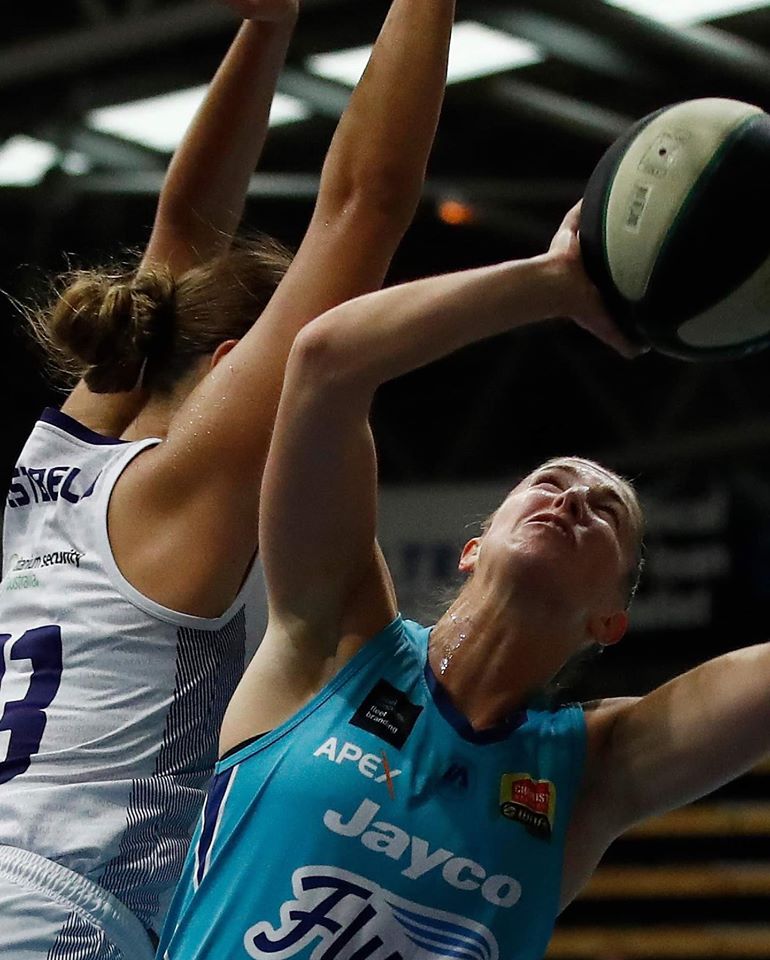 Lauren Nicholson scored her only basket of the second half on a tough fast break before Russell free throws again sent the lead back to the home team.
Chelsea Brook's three gave Adelaide a 44-42 edge but it was mighty uncomfortable for the visitors when Leilani Mitchell (15 points, 3-of-4 threes, four assists) followed a 3-pointer from Cole (13 points, six rebounds, four assists, four steals) with one of her own for a 48-44 lead.
Russell with a put-back - Adelaide will need to work on some boxing out before Game 2 on Saturday - made it 50-44 but not even an Adelaide timeout could stop the bleeding.
Its next possession was a 24-second shot-clock violation, Mitchell and Sara Blicavs then blowing the buffer to 54-44, a 12-0 run.
Anneli Maley had consecutive offensive rebounds to send Southside ahead 60-48 early in the last before Nat Hurst found a 3-pointer she liked and Turner scored for 53-60.
Talbot to Turner made it 55-60 but Mitchell snuffed out the fightback with a triple and from there, Brook scoring at the bell made the final scoreline more attractive than the game.
Two 3-pointers by Keira Rowe and Mitchell midway through the second quarter had rallied Southside back into the game from 21-34 down.
Blicavs had followed an Aimie Clydesdale basket with a sweet cut to bring the Flyers to 21-25 before Adelaide took timeout and regrouped.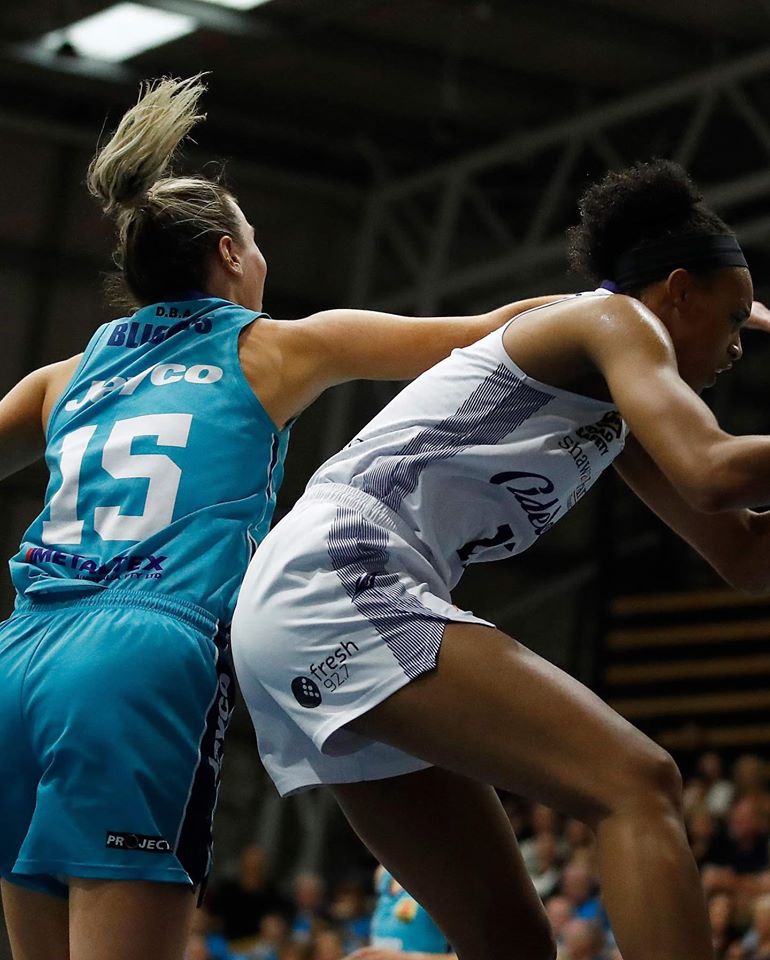 Nicole Seekamp drove to get them on the board in the second quarter, Kathryn Westbeld completing a three-point play off a Seekamp feed and Lightning were away again at 30-21.
Nicholson went coast-to-coast for a pull-up J, then worked hard for an inside basket for the lead to balloon again to 34-21 on a 9-0 run.
But Rowe and Mitchell staved off the danger and Clydesdale's layup cut it again to 29-34.
Talbot swished a 3-pointer for her 13th point of the half but Cole erased it at the other end, Mitchell's layup trimming Adelaide's lead back to 34-37 before a late Brook basket sent Adelaide into the half ahead 39-34.
It started brilliantly, Talbot absolutely dominating the first 3:45 of the game to force a Cheryl Chambers timeout at 6:15 with Adelaide ahead 12-6.
Talbot had 10 first-quarter points and Nicholson also was a force as Lightning leapt from 4-6 to 15-6. Talbot on the drive and Nicholson from deep made it 22-11 and a Nicholson steal and free throws blew the buffer to 24-11.
Russell again was instrumental in ensuring the Flyers were only down 17-25 at the first break and seemed to have Turner's measure in the battle of the two heavyweight WNBA bigs.
Seekamp, who was a surprise inclusiuon after badly spraining her ankle on January 30, looked good early but her court rust was evident in 2-of-13 shooting and four turnovers, the captain sure to provide more in Game 2.
WNBL SEMI FINALS
1 v 4
GAME 1: SOUTHSIDE FLYERS 68 (Russell 20, Mitchell 15, Cole 13; Russell 19 rebs; Mitchell, Cole 4 assts) d ADELAIDE LIGHTNING 65 (Nicholson 14, Talbot 13, Turner, Brook 11; Talbot, Turner 9 rebs; Talbot 6 assts) at The Hangar, Dandenong Stadium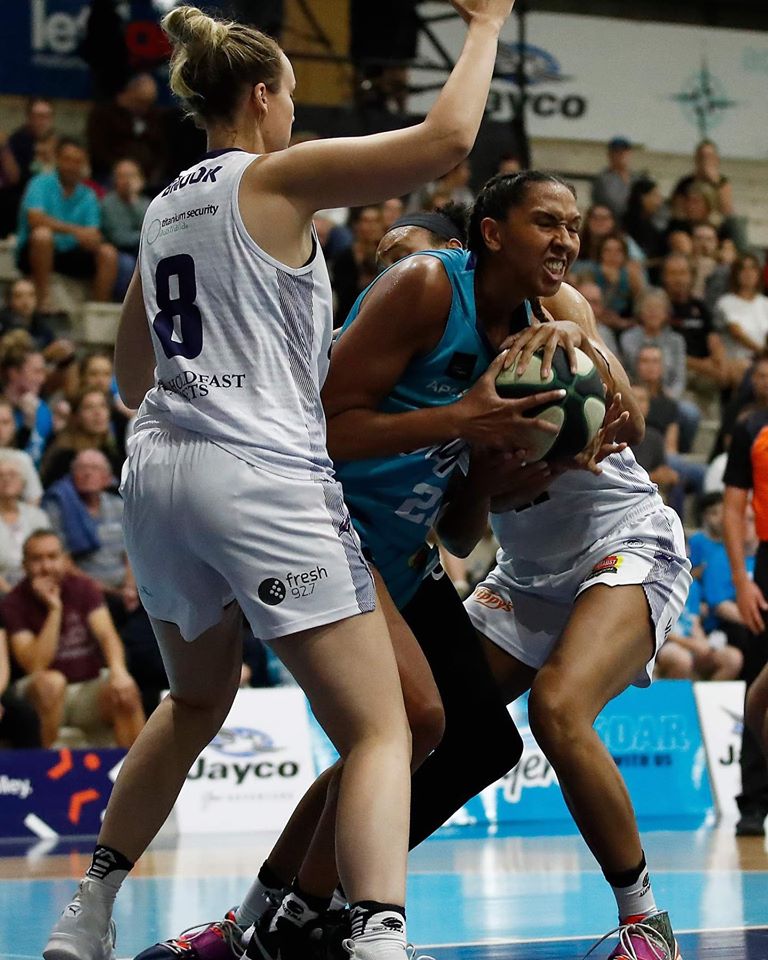 * * *
ALL-STAR WNBL FIRST AND SECOND TEAMS:
FIRST TEAM: Leilani Mitchell (Southside Flyers), Katie-Rae Ebzery (Perth Lynx), Kia Nurse (Canberra Capitals), Jenna O'Hea (Southside Flyers), Brianna Turner (Adelaide Lightning).
SECOND TEAM: Bec Cole (Southside Flyers), Steph Talbot (Adelaide Lightning) Alice Kunek (Sydney Uni Flames), Cayla George (Melbourne Boomers), Mercedes Russell (Southside Flyers)
Best Defensive Player: Mercedes Russell (Southside Flyers)
Youth Player of the Year: Ezi Magbegor (Melbourne Boomers)
Sixth Woman: Alison Schwagmeyer-Belger (Perth Lynx)
Coach of the Year: Paul Gorris (Canberra Capitals)