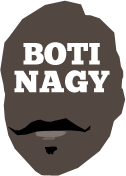 ---
Advertising opportunities available.
Please contact me.
---
Meddling negates medalling - Opals in Rio
Tweet

THE alarm bells were going off for almost a year but Basketball Australia – despite some shared private misgivings – chose to ignore them, giving Opals coach Brendan Joyce carte blanche with his Olympic team.
It's how it has been for some time now where the coach selects with impunity but rarely was it more dramatically brought home than in Rio that leaving out many of the nation's best players is a strategy fraught with peril.
There's only one place the buck stops on that one. (Though High Performance GM Jan Stirling also has to be culpable.)
In producing Australia's worst Olympic result since it failed to qualify for Barcelona in 1992, heads need to fall. It's that simple. Or we're not really fair dinkum when we talk about "maintaining a standard" or "creating a culture".
We don't care for excuses, er, "explanations" about officiating, or hollow face-saving platitudes about how well the team did to sweep its pool 5-0.
No team which has gone 5-0 in pool play has been eliminated at the next hurdle, until now. It's a historical fact we now own and have to acknowledge rather than sweep away.
This team didn't bomb in Rio. It bombed at the selection table where either stubbornness, arrogance or a denial of what was plain to see for so many, was dismissed as the ill-informed verdict of: "Some of those people making comments think they understand the game but they don't.''
Seems a few people did have a clue, after all.
Let's be blunt. No-one in Australian basketball who loves the game truly wanted to see the Opals (or the Boomers for that matter) fail in any way.
But they were dumped out of the tournament by a Serbian team at its first Olympics and which had only just qualified for the quarter-finals by eking past China and Senegal to snatch fourth spot in their pool.
My take on what happened starts ahead of the 2014 FIBA World Championship in Turkey.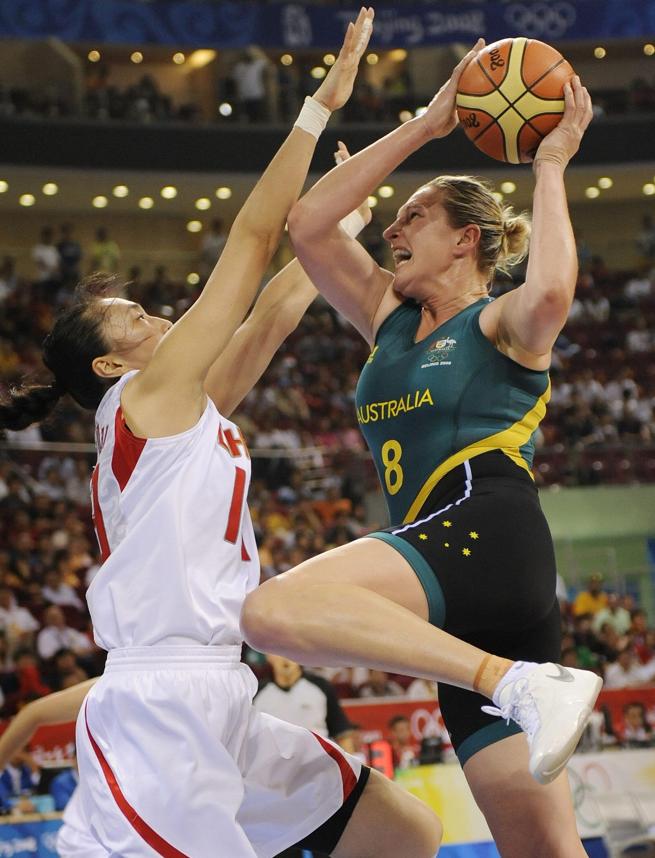 SUZY BATKOVIC: Was treated appallingly by the Opals hierarchy.
Suzy Batkovic, the best player in the WNBL by the length of the straight, made herself unavailable for that 2014 series, trying to keep her body right.
London Olympian Abby Bishop pulled the pin after BA botched what should have been a positive PR exercise of a single, young 20-something adopting her ill sister's daughter. Instead of it being a beautiful story, it became a fear-driven fiasco of "carers" and potential "separate rooms" and a lot of idiocy until Bishop could take no more and withdrew.
Another fellow London Olympian, Jenna O'Hea maybe had some poor advice but in making herself unavailable for the Worlds, seemed to taint herself with the powers that be.
There's three players with grunt who would have made one hell of a difference in Rio, despite final team selection apologists claiming Joyce had just the right team for his particular system.
No. Joyce didn't have the RIGHT team, he had the team he wanted. But I digress.
So 2014 Worlds roll around and Joyce's inaugural team for a major international tournament is full of fresh faces and several lynchpins, namely Penny Taylor, Erin Phillips, Laura Hodges, Rachel Jarry, Belinda Snell and Liz Cambage.
On the eve of the tournament, Cambage ruptured an Achilles playing a game against the USA.
So here's your scenario. Liz is out and, given the absence of so many London Olympians, there is NO pressure on Joyce's team, all expectations removed.
Remember too, Joyce still was in his "honeymoon period" with this side, that period in a coach's tenure when everyone is buying what the boss is selling.
The team buys in to the whole "no expectation on us, let's just leave it all out there and show the world" and incredibly, they play pure, fun, all-out aggressive basketball.
They grow in confidence and stature, making a mockery of any deficiencies to become the very essence of a TEAM. They were, in a word, magnificent.
Starting as the Opals' point guard, Phillips was unlucky to miss the Worlds' All Star Five, Jarry was a livewire at the two-spot, Taylor was in the All Star Five at small forward, Hodges' quickness utilised at the power forward and centre Marianna Tolo emerged as the biggest revelation of the WC.
To smash the host nation Turkey by 30 points for the bronze medal was an unexpected and masterful achievement. Joyce had fun and his team reflected it.
Now fast-forward to the Rio campaign and suddenly, after doing so well with what many regarded as an undermanned team, Joyce appears to have believed he was invincible. It had all come together so beautifully and so unexpectedly, surely the coach had all the answers.
I'm not suggesting for a second Joyce was vindictive in overlooking players who chose not to be with him in 2014, such as Batkovic, Bishop, O'Hea, but you could be forgiven for arriving at that conclusion.
When he omitted Batkovic, the backlash was appropriately massive but to then counter by saying leaving out Tess Madgen was his toughest decision, was just adding insult to injury. So that's the culture of the Opals now? To treat a triple-Olympian, four-time WNBL MVP and multiple championship winner so appallingly?
Then, when the Opals uncharacteristically lost warmup matches, all the hubris of bad officiating, we didn't have our full team, etcetera was dragged out. The truth instead was Joyce was playing the wrong people and putting his faith in a new, revamped group that didn't warrant such loyalty.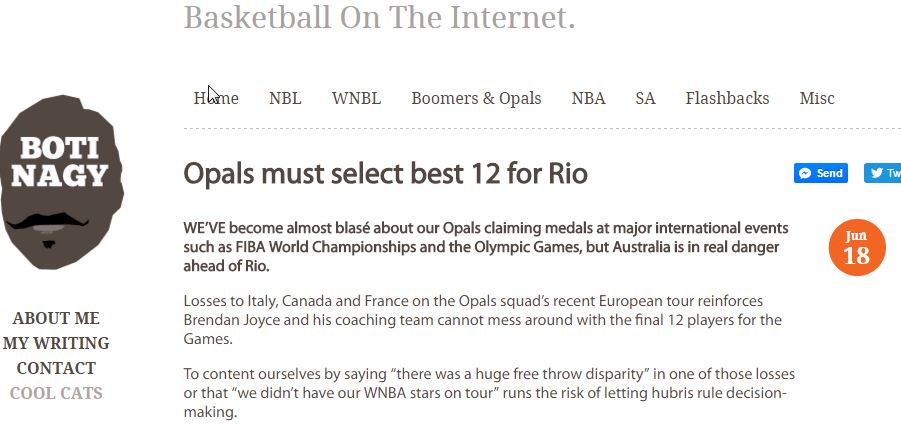 IT WAS CLEAR EARLY: The writing was on the wall long ago.
By Rio, it was obvious Joyce was feeling the pressure of sudden expectation. How else can anyone explain the constant sideline yelling and theatrics, none of which were evident two years earlier?
And now, Leilani Mitchell had become a starter – and she had a great tournament, no question. But it came at Phillips' expense, the star of the Turkey campaign too often relegated to standing in a corner waiting for a possible 3-point attempt now as the shooting guard.
Jarry? She was out of the main quintet.
Taylor started at the three-spot and had a good tournament, but not the great one Joyce needed, given his dwindling bench options.
Starting Natalie Burton at power forward was further Joyce folly, still force-feeding the world he knew better about the enthusiastic but over-matched Perth forward.
It's not Burton's fault she was thrown to the wolves but the fact is eight teams made it as far as the Opals to the quarter-finals. Of the first seven in all eight teams who played comparable minutes to Burton's 15.8, her numbers of 1.0ppg at 37.5%, 1.7 rebounds and 0.8 assists were by far the poorest.
And when games had to be won, she fell back deep in the rotation. Let's not go into the "international defender" nonsense either.
Cambage had a strong tournament but her presence vastly changed the dynamic from 2014 and too often she became the sole focus of a one-dimensional offence.
Tolo also enjoyed a good tournament, especially for someone who has missed so much basketball over the past 12 months.
But where the five Joyce started in Turkey complemented each other, this quintet rarely played as a team and relied on the individual brilliance of Mitchell, Cambage or Taylor far too often.
Phillips was completely wasted, as was Hodges who was back to a similar role as that in London, unsure where her time was coming and never finding her groove.
Four of the five players who had been so key in Turkey – Phillips, Jarry, Hodges and Tolo – had reduced roles and even a blind salesman could have seen Tolo was ripe to start at the four.
When Australia finally put a bit of distance between itself and Serbia in the pivotal game, ahead 48-39, Joyce incredibly threw Steph Talbot into the fray.
Talbot is a star of the future. The next FIBA Worlds and Tokyo will be her coming out parties. But she was no-where near as ready for Rio as someone such as a Tess Madgen.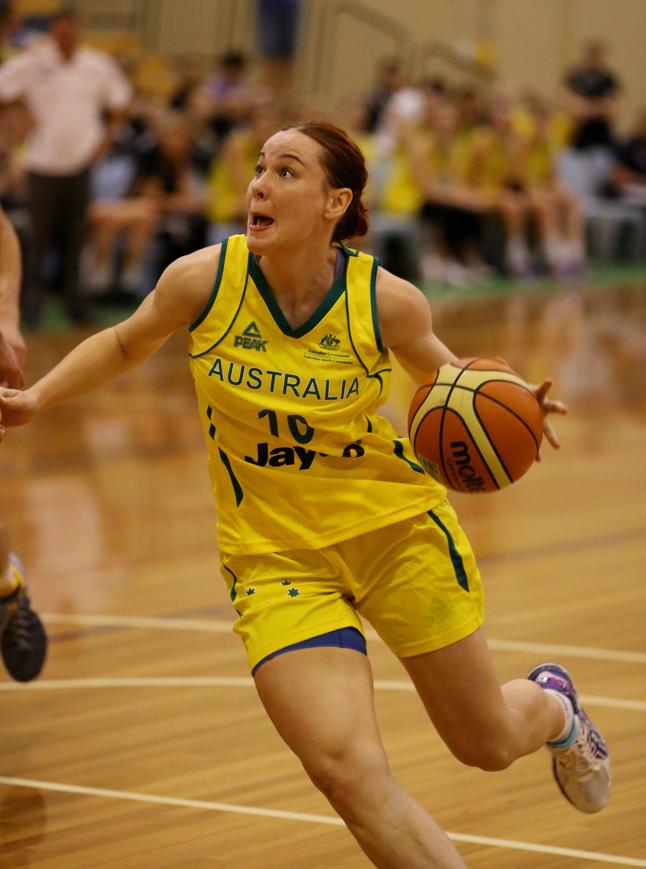 MADGEN: Was ready for Rio and has the requisite 'grunt'.
Struggling all tournament at the off-guard spot, Phillips hit 3-of-4 shots (three jumpers made, one 3-pointer missed) early against Serbia, only to be benched and forgotten until Talbot was overwhelmed.
Having gotten out of jail twice previously against Japan and Belarus, the third time against the jubilant Serbs was never happening for these Opals.
Katie-Rae Ebzery did well with her minutes as did Cayla George, who was under-utilised. Tessa Lavey gave what most expected.
Burton, Talbot and Hodges – given how poorly the four-time Olympian was used – easily could have been replaced by Batkovic, O'Hea, Madgen or Rebecca Allen, and Bishop.
When on the one hand the WNBA rightly is revered as the best league in the world but Aussie players in it such as Bishop, O'Hea and Allen cannot win an Opals singlet ahead of players that league hasn't even looked at, something is definitely wrong.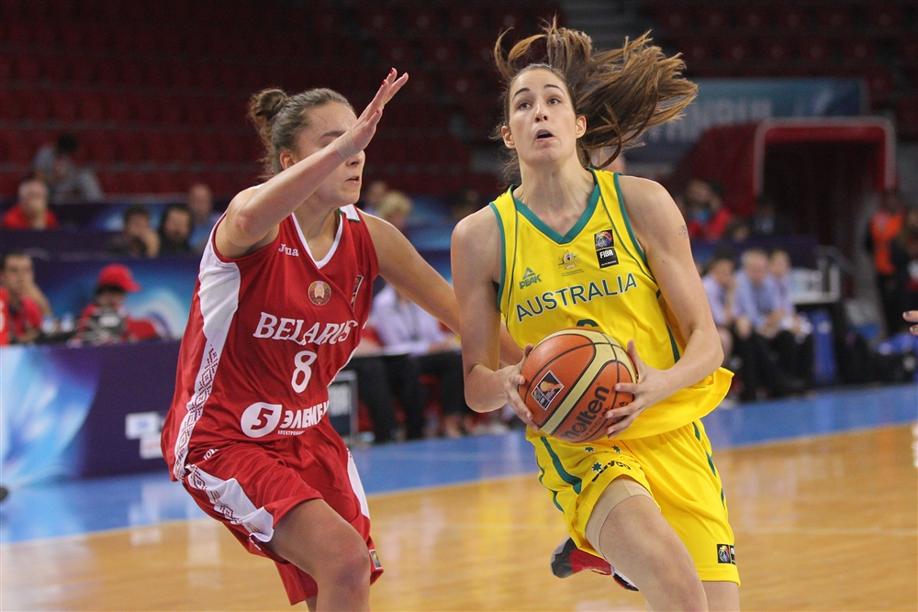 ALLEN: Good enough for WNBA but not for the Opals.
You can't say the warnings weren't being given, as early as June (below) but Joyce had a plan and he was sticking to it.

Most of us wish he had won a gold medal so this analysis wouldn't be necessary and we could all join in the celebrations.
But when most us could name an "Opals II" team which, coached by Tom Maher, Sandy Brondello or Chris Lucas could have done as well, or better, there's a problem.
How might Kelly Wilson, Tess Madgen, Jenna O'Hea, Abby Bishop, Suzy Batkovic, Natalie Hurst, Rebecca Allen, Kelsey Griffin, Louella Tomlinson, Elyse Penaluna, Bec Cole and Alice Kunek (with Belinda Snell and Sara Blicavs near misses) have done against Serbia?
Now merge the best of that group with the best of our Rio Opals and we have the team which most likely would have gotten off the plane home today with shiny medallions around their necks.
There has to be a price to pay and Joyce, along with assistants Damian Cotter, Lori Chizik and Scott Butler – none of whom currently coach in the WNBL – have to pay it.
When we bombed in Barcelona, Maher was the man BA turned to and he is where our culture of success began. He also is well-respected by today's players.
After an unprecedented six Olympics though, he may not want it anymore. I hope that isn't the case.
Brondello has Phoenix Mercury in the WNBA, then she heads back to Russia in the off-season. Again, that's a call BA should make.
Then there's Lucas, who has won the past two WNBL championships and played a role in seven of the past eight grand finals.
Michele Timms should be on the staff somewhere too. The time for yelling and screaming is over.