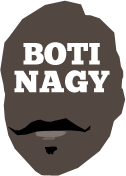 ---
Advertising opportunities available.
Please contact me.
---
Melee in Manila: Goulding speaks, BA latest
Tweet
BASKETBALL Australia and Philippines Basketball this evening released a joint statement regarding Monday night's wild scenes in Manila which now are under FIBA investigation, Aussie guard Chris Goulding today breaking his silence on morning TV.
Goulding, who was most at risk when beset upon by a pack of Filipino players, officials and even a member of the coaching staff, appeared on Sunrise lauding his teammates for the way they conducted themselves when the violence broke out after he was decked by Philippines guard Roger Pogoy who then was smashed by Daniel Kickert.
The chaos which erupted ultimately saw nine Philippines players ejected and four Aussies – with Nathan Sobey and Thon Maker additionally disqualified with Goulding and Kickert.
A joint statement tonight was issued on behalf of Alfredo S. Panlilio, President of Samahang Basketball ng Pilipinas (SBP) and Ned Coten, President of Basketball Australia (BA).
It reads: "Following the incident that occurred during the FIBA Basketball World Cup 2019 Asian Qualifiers game between our senior men's national teams on Monday, July 2, we wish to issue the following statement.
"We deeply regret the events that took place during the game. The actions displayed have no place on any basketball court.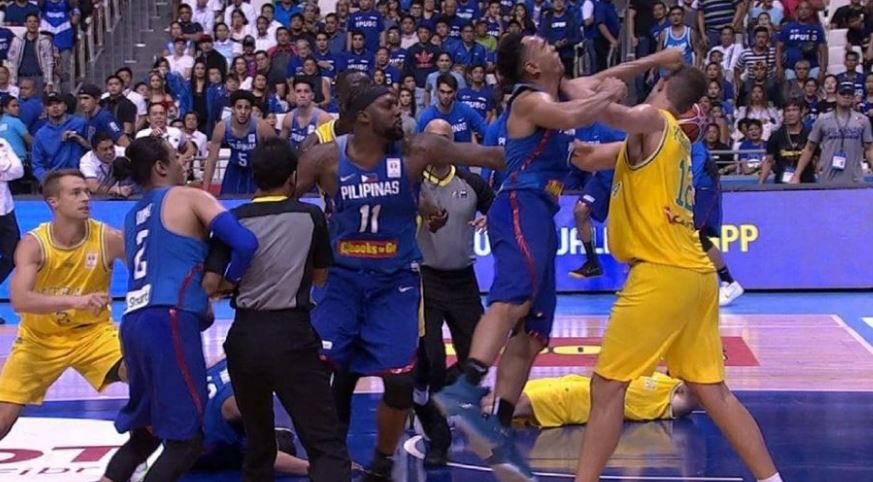 "We wish to apologise to the entire basketball community worldwide - and in particular to our fantastic fans in the Philippines and Australia - for the behaviour displayed by both teams and for bringing the game of basketball into disrepute.
"We fully accept our responsibility and are collaborating in the ongoing proceedings to investigate the incidents.
"We will do everything in our power to prevent this from happening again. Basketball has a unique power to unite and we look forward to continuing bringing people together in the true spirit of friendship and sportsmanship in future games."
While the Australian camp has shown only remorse for the Boomers' role in the insane scenes from Manila, the joint statement is the first public show of even a degree of contrition from the Philippines.
The country has mostly been in denial about its role in the most hideous scenes on a basketball court this century, Philippines players even posing for selfies in its aftermath!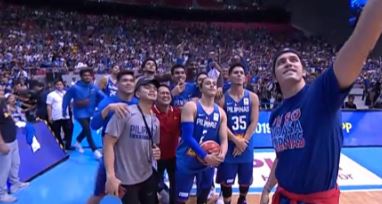 "It was a bit of a long process leading up to the vision that everyone's seeing," Goulding said on Sunrise.
"I think Luc Longley spoke on it yesterday that we were playing some really good basketball, we got up big and I think the over-riding thing is they weren't happy with that, they were a little embarrassed.
"They sent a player out to try and get under our skin, hit some elbows, just to really try and get us a bit riled up and it all boiled over with a push, and then Daniel Kickert's 'forearm push'.
"So, we're not proud of that part of the kerfuffle (if you want to say) but what ensued next I think everyone's seen as pretty damming."
Describing Kickert's action as 'forearm push' may have been understating what was a pretty solid whack to Pogoy but in reality, the "Melee in Manila" was brewing even during a tense warmup when Philippines players consistently encroached on Australia's half of the court.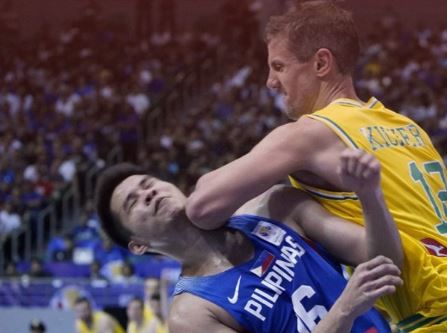 When Kickert was tripped, he retaliated with a push which later prompted Philippines coach Chot Reyes to claim the Boomers power forward had been intimidating four of his players.
Later there were additional attempts at justifying horrendous scenes which have no place in sport - or anywhere else for that matter – with claims Australian team staff removing slippery decals from the court surface also played its role in firing up the home team.
The Boomers could have handled how they went about that with greater political correctness but what is intriguing is that when Australia hosted Japan at Titanium Security Arena in Adelaide in a World Cup qualifier last year, ALL floor markings had to be removed at FIBA's insistence.
Centre-court at the Arena is named after Adelaide 36ers icon Brett Maher and his enlarged signature, depicting where he fired the match-winning 3-pointer over New Zealand Breakers in his final home game before retirement, holds pride of place on the surface.
Even that had to be removed for the FIBA qualifier.
"That's correct," said Arena chief executive Guy Hedderwick, a seasoned manager of major venues. "The FIBA requirement was to remove any and all of our markers – we needed to have a completely clean floor.
"I've been involved in a FIFA Under-20 World Cup and a Rugby World Cup and we had to provide a 'clean venue'. It's quite common and normal."
Why that ruling wasn't enforced by FIBA in Manila should have been of minor concern, but now cannot be overlooked when it is being used as a reason tensions between the teams were high.
No-one suffered more than Goulding, who had been shooting out the lights and taking the brunt of considerable illegal attention. But the sight of him under a horde of men assaulting him was shocking beyond words.
"I think it all probably hit me really the next day when I'd spoken to my family, I'd spoken to my friends and you look back at the vision," Goulding said.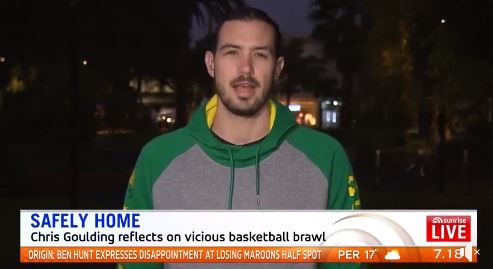 "To be honest, at the time, I don't want to say I went into survival mode but I was on the ground, there was a lot of people on top of me punching and kicking, so I just really tried to tuck my head, protect my head and sort of wait it out.
"At the time, it might sound weird, but I didn't feel like my life was in danger or anything too crazy was going on.
"I was kinda waiting to get out of there.
"It was once I looked back and it hit me that you see people coming from off the bench. One of those guys that hit me with the chair was the assistant coach of the Philippines team so, not a position I ever thought I'd find myself in playing basketball or representing my country."
No-one should be in that position in any scenario.
"There hasn't been a lot of sleep since the incident," Goulding said.
"Physically, I'm surprisingly really good. A small black eye and a couple of bumps and bruises but that's about it."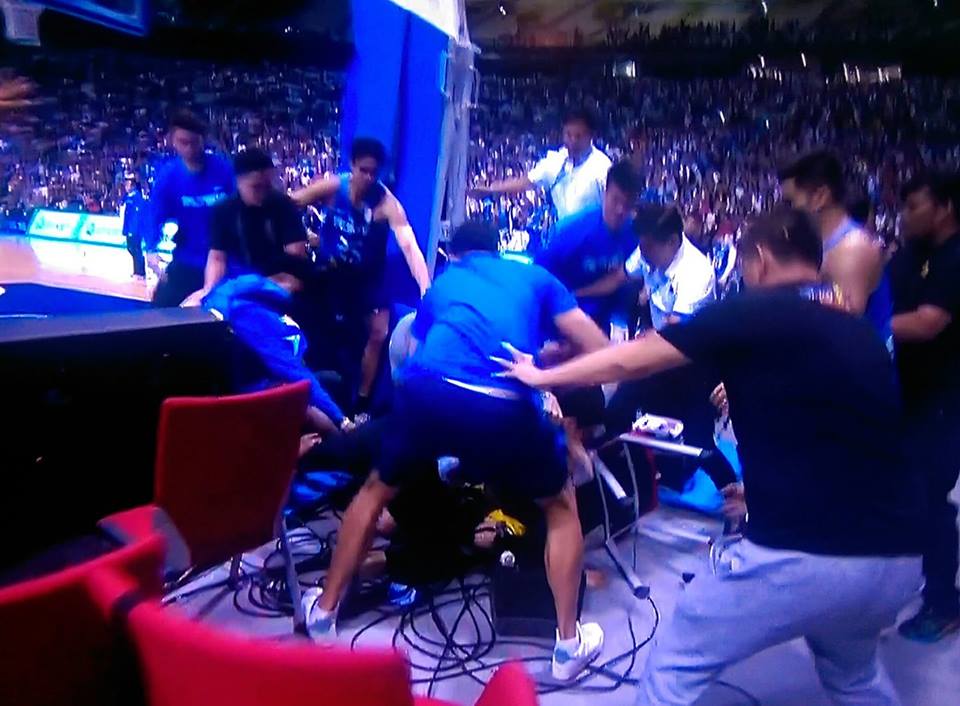 For Goulding's benefit – and possibly a few of his teammates – Basketball Australia should arrange counselling for him in dealing with what he was forced to endure.
As he said, "physically" he is surprisingly good. But there must be emotional scars being in such a vulnerable, defenceless position. Our national federation owes it to Goulding to help him through what will be a difficult time ahead for him.
"Obviously, there's a FIBA process going forward but I think my main reason for speaking to you guys (on Sunrise) is for, we've got a million players of basketball throughout this country from every background, ethnicity that you could imagine," Goulding said.
"We're a really inclusive sport and for the kids that saw that, I just want to say that's not the way to go about basketball.
"We've got a beautiful game and if you actually see some alternative angles of how my teammates on the bench handled themselves - they wanted to get out there, they wanted to help – they were really disciplined in how they didn't come on court and in the end, that's why we won the game.
"You know if we'd come on the court and a real all-in brawl with two sides ensued, they would have disqualified us and there would have been some serious ramifications going forward.
"For the kids watching that, that wasn't the way to go about it.
"If you want to see how a team was to handle themselves, have a look at how the Aussie bench handled themselves – a lot of discipline and in the end, that's how we won the game."