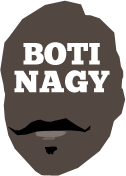 ---
Advertising opportunities available.
Please contact me.
---
Melee in Manila: The backlash
Tweet
THE backlash to FIBA's appalling sanctions from July 2's "Melee in Manila" has been swift, predictable and totally understandable with so many Philippines players and officials figuratively slapped on the wrist despite their involvement in the heinous and malicious brawl.
Let's not beat around the bush. We're so bloody used to political correctness in this country, Basketball Australia initially was prepared to wear fines and sanctions, and even the ridiculous one-match ban on Boomers guard Chris Goulding.
It's not overstating it Goulding was lucky to get out of that venue alive. Assaulted by a pack of Filipino thugs off the figurative leash and following the instructions of their coach Vincent "Chot" Reyes, a defenceless Goulding did little more than cover up and wait for the worst of the thuggery to be over.
If Boomers assistant coach Luc Longley and manager Junior Albert (below) don't get to him when they did, it's terrifying to think what the final outcome of that attack may have been.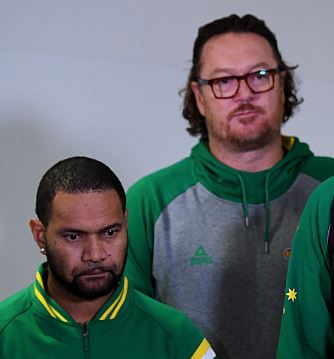 His penalty, the three-match ban on Thon Maker and the soft response by FIBA to the pack-mentality madness that beset the Philippines team and its officials roundly and rightly was criticised today by the sporting community.
Goulding's on-court verbal responses to nonstop physical intimidation is, apparently, why the FIBA investigative panel – possibly chaired by Inspector Clouseau and utilising Det. Frank Drebin and Johnny English – believed he should cop a ban.
Ejecting him from the game itself was not penalty enough, apparently.
And on the flipside of that coin, Goulding's agent Daniel Moldovan today suggested legal action may be imminent, while posting a damning and horrific reverse video view of the attack on his client by Philippines assistant coach Jong Uichico.
After this disgraceful event and total loss of control by so many wearing the Philippines colours, Uichico tweeted: "Tonight, my emotions got the better of me like a father who cares about his sons. That does not excuse my actions and I apologize to everyone as in hindsight I should have not gotten involved. This is a painful but maybe necessary lesson for me."
A father who cares about his sons? I think I just threw up in my mouth a little bit.
This crazed official ran at Goulding, picked up a chair and slammed it on him legs first, as if trying to puncture the prostrate player's body. Then he weighed in for a few punches.
This "painful but necessary lesson" cost him three games. Three effing games! It should have cost him a life ban. Or three months - in jail.
"Coach Uichico should never be allowed to coach a FIBA sanctioned game ever again," Moldovan stated this morning.
"In my opinion he is guilty of attempting to cause grievous bodily harm that could have easily resulted in the death of Chris has been given a farcical three game suspension.
"What message is FIBA sending to the children all over the world when a violent act such as this is given nothing more than a slap on the wrist?
"I am extremely disappointed in the ruling handed down by FIBA.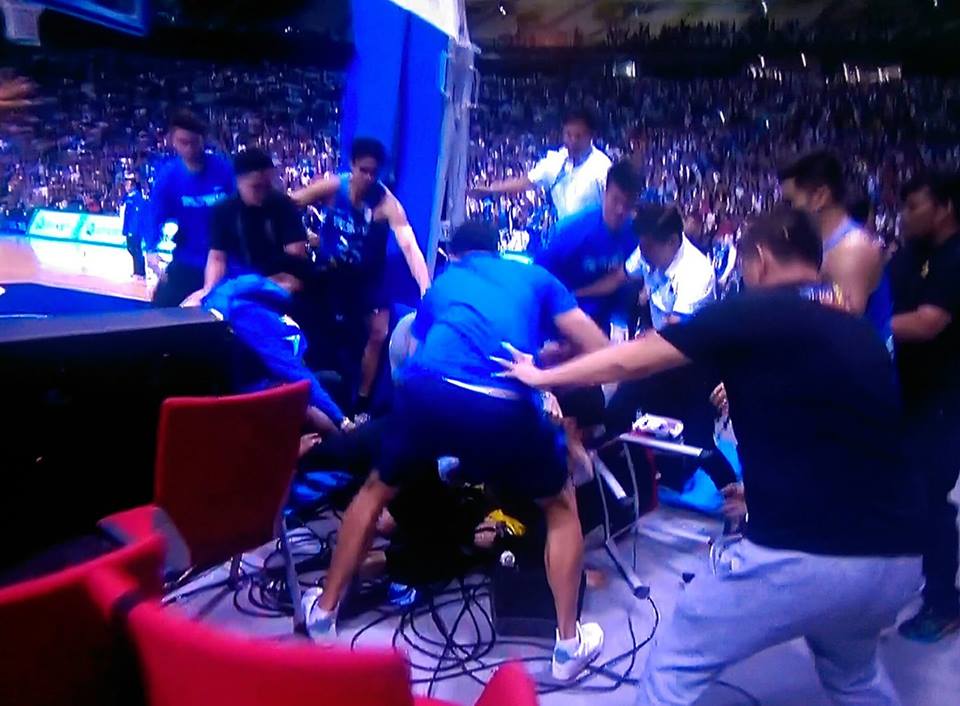 "Chris neither provoked retaliated to a vicious mob assault and has been suspended by FIBA.
"This is quite simply a disgrace.
"We will be seeking our own legal counsel immediately to discuss our next steps."
Maybe Moldovan's straight-shooting and the customary accurate, blunt and pointed Twitter responses from Andrew Bogut (below) sparked some measure of fire into the BA Board.



Yesterday, BA Chief Executive Officer Anthony Moore indicated an appeal to FIBA was unlikely but such tacit acceptance of what clearly is atrociously wrong hardly was music to the ears of an enraged sporting public. Today, after its scheduled BA Board meeting, there were fewer violins and a little more brass in the air.
"The Board of Basketball Australia met today to consider the sanctions imposed by the FIBA Disciplinary Panel against the Australian Boomers and the national federation," BA said in a statement.

"Following the meeting, Chief Executive Anthony Moore said: "Given the seriousness of this matter, Basketball Australia is giving careful consideration about the appeal process for these sanctions. While we indicated yesterday that it was unlikely that we would appeal, the Basketball Australia Board discussion today considered a range of options on this matter.
"We will receive further advice before making a determination on whether to proceed."

BA has 14 days to appeal and is looking at Goulding's absurd penalty and also challenging its 100,000 Swiss franc ($134,000) fine considering how restrained the Boomers bench remained despite watching their teammates being pack-dog assailed.
(Had anyone realised how feeble FIBA's penalties against the Filipinos would be, that position may have been reconsidered by a few of the Aussie players. Though, in all honesty, they did magnificently because joining the fray only would have escalated it further and likely also would have drawn fans from the stands.)
BA will consult Goulding and the Australian Basketballers' Association before deciding whether to proceed.
Aussie guard Nathan Sobey suffered cheap shot hits in the initial breakout of violence, then when he sought to go to Goulding's aid, was struck by a chair to the back of the head.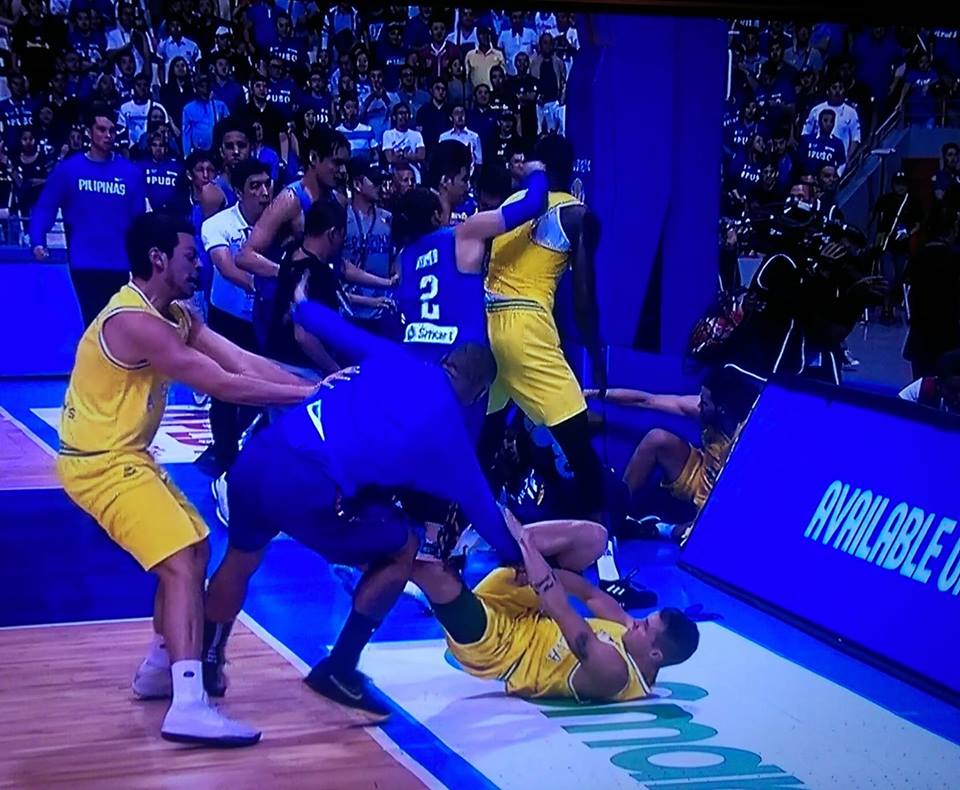 Non-playing Philippines squad member Jio Jalalon then hit Sobey in the jaw with a coward punch while security was restraining the Boomer.
For Jalalon, who only was suited for two of the six FIBA World Cup qualifiers, a five-game ban is laughable.
He should have been banned for a year if not arrested on assault charges. Again, the way he coward struck a bewildered Sobey had the potential to be so much worse.
His suspension is a sick joke.
It appears the BA board has its nose out of joint over a quarter of its fine relating to team personnel tearing up a floor advertising decal the day before the game.
BA officially apologised to Philippines Basketball and agreed to pay damages even before the game was played.
Here's the next question. Why is it when the Boomers played Japan in Adelaide, EVERY on-court advertising decal had to be removed, down even to the signature of Brett Maher on the playing surface, at FIBA's insistence?
Dual-Olympian, dual-NBL MVP and three-time NBL champion and former NBA "big" Chris Anstey (pictured) told SEN Mornings radio that FIBA had blown its chance to make a bold and strong anti-violence statement.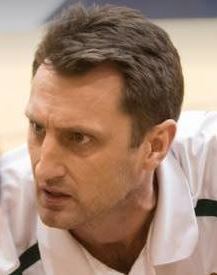 "I think FIBA had a chance to draw a line in the sand and say this is really unacceptable, and they didn't do it," Anstey said.
"The king hit on Nathan Sobey when his arms were pinned by a security guard is assault.
"You do that anywhere that's not on a sporting field and you're likely in prison.
"We have seen a lot of really good work done in the community around getting rid of the one-punch or the coward punch. That's exactly what that was.
"The message we send young basketball players from that is horrendous. I expected at least a year, possibly life.
"It's incomprehensible to me that it equals a five-week ban because everything you're telling these international players is there's no problem, clear the bench if there is a bit a scuffle, throw punches because it's not going to work out that badly for you."
Boomers "big" Daniel Kickert accepted his five-game ban and Maker today also took to Twitter with a reasoned and heartfelt response to his three-match international ban, below.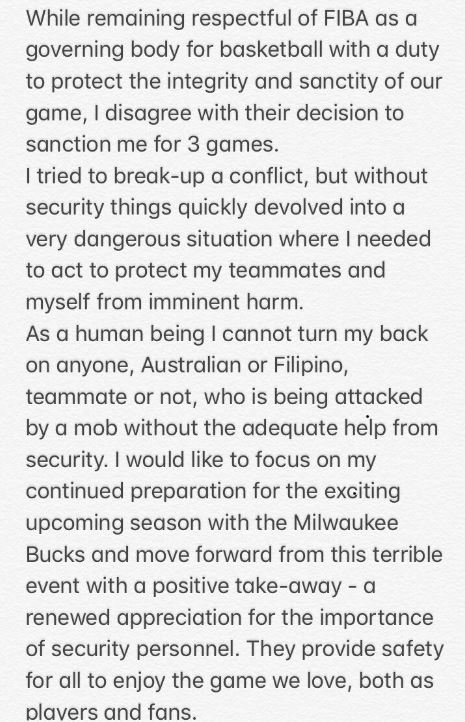 It should be said again, Kickert, largely blamed as the instigator of the melee for his hit on notorious Filipino thug Roger Pogoy, only struck him AFTER Pogoy decked Goulding.
Those claiming "none of this would have happened" if Kickert didn't retaliate are either naïve, trying to share blame or simply did not see how this explosion-waiting-to-happen unfolded.
Outrage across Australia and social media today was no surprise and even those fabricating "racist" tweets by Goulding, or those claiming some element of racism was involved, were exposed as bare-faced liars or narrative-twisters.
FIBA was pathetic this week, its quantitative "39-match ban" for 12 Filipino players and officials manifestly insufficient and insulting.
The guy caught clearly from several angles throwing the chair which struck Sobey in the back of the head? Zero penalty. Move along. Nothing to see here, apparently.
Just beyond the pale.
Yes, it surely is a mere coincidence the president of Gilas Pilipinas is on the FIBA Central Board and that the 2023 FIBA World Cup will be shared by the Philippines, Japan and Indonesia.
But there's nothing surer than FIBA was pathetic with the soft sanctions it handed the major culprits of this entire disgrace, Gilas Pilipinas.