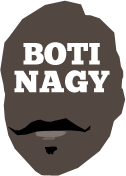 ---
Advertising opportunities available.
Please contact me.
---
NBL: And yes, that's a wrap!
Tweet
FOURTH spot on the NBL table remains very much a lottery as Melbourne today smacked another playoff hopeful, manhandling Adelaide 109-90 after Brisbane fell to Sydney, and New Zealand lost to both Victorian clubs.
In fact, newcomer South East Melbourne again has emerged as the wildcard in the pack chasing fourth spot behind Sydney, Perth and Melbourne.
Round 6 opened with Melbourne weathering the onslaught of a Glen Rice-driven Breakers team and Sydney showing up Brisbane's deficiencies, both matches covered here.

In Melbourne, New Zealand's chances of upsetting the Phoenix flopped early when Next Star guard and major contributor RJ Hampton was tossed out in the first quarter.
South East Melbourne guard Ben Madgen flew backwards to the floor as he set a mild screen on Hampton, the 18-year-old rookie copping a foul and clearly unimpressed with The Madge's dramatic performance.
It did not matter as the referees bought it and when Hampton briefly stood over the fallen veteran, Phoenix import John Roberson brushed him aside, players joining the fray.
Hampton grabbed at him, briefly applying a headlock as the refs jumped into the developing situation, possibly to admire the results of their brilliantly intuitive handiwork.
That meant a tech foul and an unsportsmanlike for Hampton which equals instant ejection.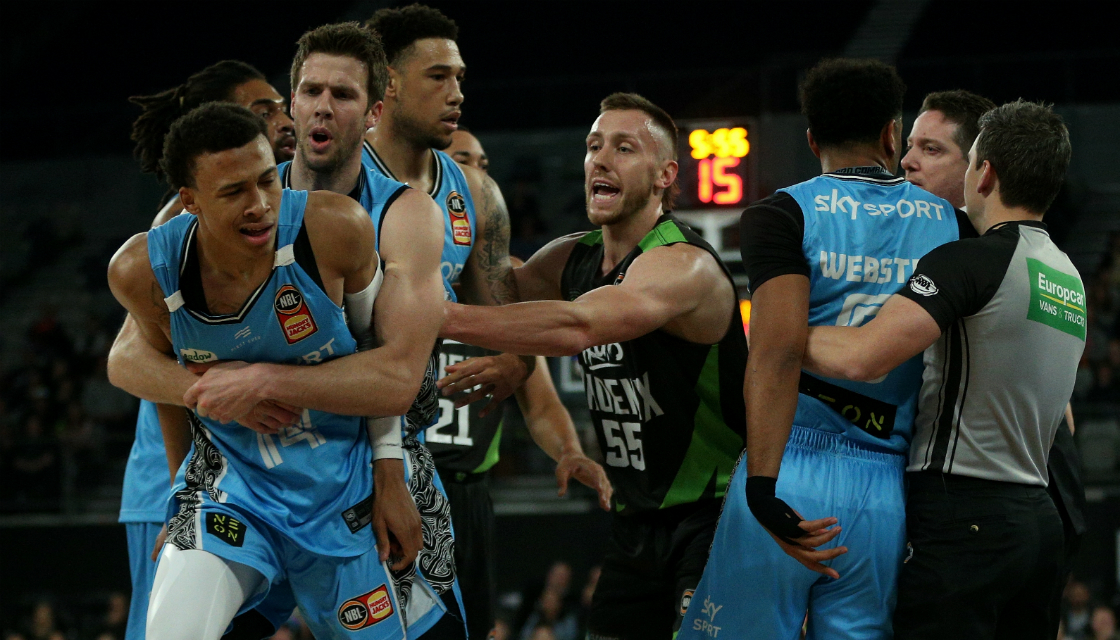 It was a pivotal moment, the Breakers keeping their composure but with Jarrad Weeks, Scott Hopson, Rob Loe and Finn Delany all out - albeit Hopson replaced by Glen Rice Jr - it was going to catch up at some stage.
Rice had 15 of NZ's first 29 points, Corey Webster continued his consistency and it took Kyle Adnam, in his 100th NBL game, to keep the Phoenix focused, down just 42-48 at halftime.
But it was another "championship quarter" in the third as Mitch Creek, idle for much of the first half with three early fouls, instrumental as SEM outscored the visitors 29-14.
Creek finished with 21 points at 67 percent, 11 rebounds and four assists as South East went 32-16 in the last quarter, raising concerns about the Breakers' heart and commitment, which looked well short of their talent and potential.
The 25-point rout also saw Dane Pineau with 18 points at 80 percent and Jaye Crockett with 14 at 50.
* * *
HAMPTON grabbed the headlines for all the wrong reasons but fellow Next Star LaMelo Ball then did it for all the right ones, leading Illawarra to a magnificent 101-91 road win over the Taipans in Cairns.
With the ball on a string, Ball led the Hawks with 24 points, including 5-of-11 from 3-point range, his most noticeable flaw very much being addressed.
He also dished eight assists and grabbed six boards in a terrific all-around performance, Illawarra's 37-point second quarter the most by any team in a single period this season.
Strangely listless, Cairns was led by Mirko Djeric (below) who scored a season-high 19 points but it could not find the spark to fire up and reverse its 88-89 road loss in Wollongong.
Veteran Hawks bigs Dave Andersen (17 points at 72 percent, eight rebounds) and Josh Boone (15 points at 63 percent, nine rebounds) owned the boards, smashing the Taipans 51-31.
Joining in for a memorable personal night was Sunday Dech, sticking 4-of-5 triples in a career-best 21 points at 70 percent.
"The offensive boards (for Illawarra), 16 in the first half and 27 overall – it definitely shows a desire to get to the ball, and theirs was better than ours," a disconsolate Cairns coach Mike Kelly said.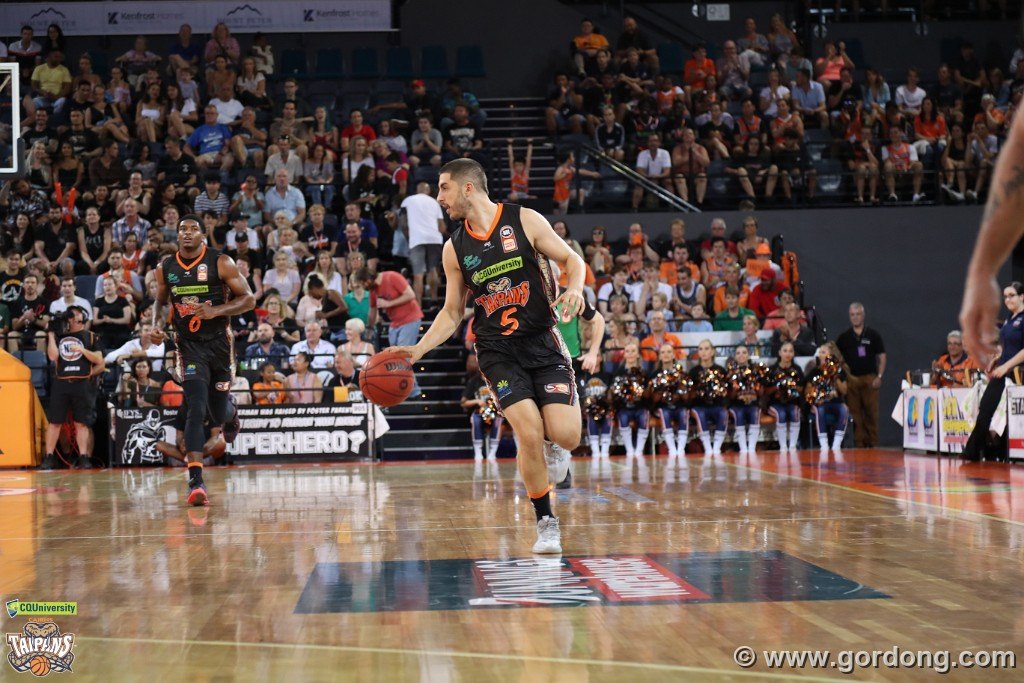 * * *
UNITED hosted Adelaide in Melbourne today, and after an inexplicable first quarter, settled the issue with its own 37-point period. You can catch up on that one here.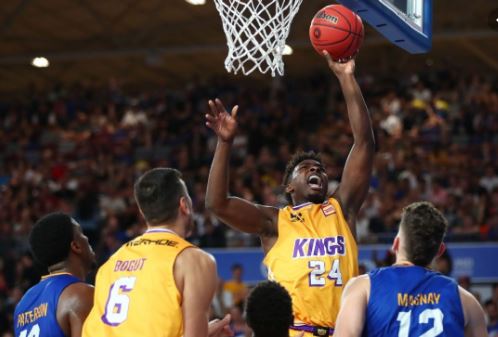 MEANWHILE the Kings in Sydney turned their top-of-the-table clash with defending champion Perth into one-way traffic after a torrid first half, with another of the Next Stars - Didi Louzada - setting the Kingdome ablaze.
Scores were level after one and it was Louzada's step back 3-pointer which closed the first half and gave the Kings a 49-46 buffer.
Then it was "championship quarter" time as Sydney unleashed a 30-18 rampage to leave the Wildcats pushing uphill against a supremely confident opponent.
Bryce Cotton went off for the league's season-high of 36 points but if Perth sensed any sniff of a comeback, it came with 4:33 left. Sydney was ahead 93-73 when Louzada left the game with severe cramp, having scored 28 points at 67 percent.
But even a quickfire five points by the Wildcats made no impact as Craig Moller went the length of the floor to lay it in and Perth was cooked.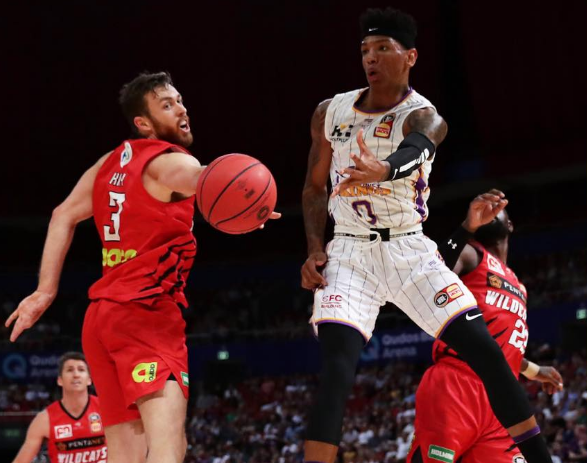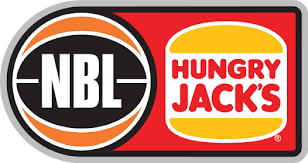 NBL ROUND 6 RESULTS
MELBOURNE UNITED 104 (Goulding 24, Long 22, Trimble 16, Ili 13, Barlow 12; Long 8 rebs; Trimble 5 assts) d NEW ZEALAND BREAKERS 101 (Rice 26, Webster 20, Hampton, Abercrombie 16, Ashley 10; Ashley, Webster 8 rebs; Webster 4 assts) at The Breakwater, Spark Arena. Crowd: 8,371
SYDNEY KINGS 95 (Newley 20, Tate 18, Ware 17, Moller 13, Louzada 11; Bogut 8 rebs; Bruce 7 assts) d BRISBANE BULLETS 85 (Patterson 22, Hodgson 13, Sobey 12, Cadee 11; Patterson 11 rebs; Patterson 7 assts) at The Armoury, Nissan Stadium. Crowd: 3,757
SOUTH EAST MELBOURNE PHOENIX 103 (Creek 21, Pineau 18, Roberson 17, Crockett 14; Creek 11 rebs; Roberson 9 assts) d NEW ZEALAND BREAKERS 78 (Webster 22, Rice 19, Ashley 17, Henry 11; Ashley 12 rebs; Henry 8 assts) at The Fire Pit, Melbourne Arena. Crowd: 3,772
ILLAWARRA HAWKS 101 (Ball 24, Dech 21, Andersen 17, Boone 15, Blanchfield 12; Boone 9 rebs; Ball 8 assts) d CAIRNS TAIPANS 91 (Djeric 19, Oliver 16, Newbill 12, Deng 10; Oliver 7 rebs; Deng, Newbill 4 assts) at The Orange Grove, Cairns Convention Centre. Crowd: 5,092
MELBOURNE UNITED 109 (Trimble 32, Goulding 20, Long 16, Barlow 12; Barlow 7 rebs; McCarron 5 assts) d ADELAIDE 36ERS 90 (Randle 17, Drmic 16, Johnson 13, Griffin 11; Johnson 4 rebs; White, Moore, Randle 3 assts) at The UN, Melbourne Arena. Crowd: 7,254
SYDNEY KINGS 104 (Louzada 28, Ware 23, Newley 13, Tate 12, Moller 10; Bogut, Tate 8 rebs; Bruce 7 assts) d PERTH WILDCATS 85 (Cotton 36, Kay 18; Hunt 9 rebs; Cotton 4 assts) at The Kingdome, Qudos Bank Arena. Crowd: 9,665