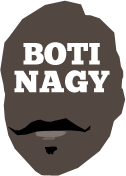 ---
Advertising opportunities available.
Please contact me.
---
NBL Cup 2: Bye bye Taipans, 36ers
Tweet
IT'S a sad day for Taipans fans but the reality is that once again, the boys in orange could not back up a good NBL season and, while we're at it, how awful is Adelaide's worst basketball?
An 8-31 first quarter start against the top team United was only eclipsed for ineptitude with a 6-32 first period against (then) last-placed New Zealand.
Yeah. The 36ers can stink against teams at both ends of the NBL ladder. Brandon Paul cannot hit the court soon enough for this Sixers crew which never ceases to surprise with its new depths of futility.
After their grand final appearance in 2011, Cairns did not return to the playoffs the following season and after again taking the epic 2015 grand final to the wire, the Taipans were finals spectators the subsequent year.
Last season, Mike Kelly's Snakes took eventual champion Perth the distance in a thrilling three-game semi final series and hopes were high predicting what they could achieve in 2021.
Instead they once more are playing Snakes and Ladders, this time slithering down to the lowest rung. No, there will be no playoffs this season for Cairns, the absence of injured Majok Deng a further blow to the year's greatest under-achievers.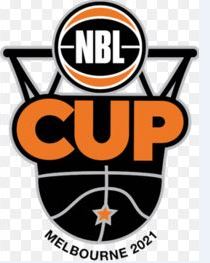 ROUND 2 - GAME BY GAME
NEW Zealand opened with a flurry against Sydney, a 10-0 run taking it to 12-2 and it was looking the best version of itself, ahead 30-20 after one.
But all good things must come to an end and the Breakers' arrived with their six-point second period as Jordan Hunter announced his arrival, producing a career-high 18-point first half, doubling his previous NBL career-best of nine before halftime!
By the interval, Sydney was ahead 46-36 and the Breakers broken. Consecutive 3-pointers by Dejan Vasiljevic swept the Kings from 32-34 down to 38-34 up in what was a 22-4 outburst that sealed this.
From the first quarter break, Sydney erased the deficit with a 10-0 start and New Zealand was back to its most ugly, Corey and Tai Webster taking 44 shot attempts between them, the rest of the team accounting for 29 shots.
If that doesn't explain part of the problem to Breakers' director of basketball Dan Shamir, nothing can.
The Kings, meanwhile continued on their merry old way.
SYDNEY KINGS 96 (Hunter 24, Vasiljevic 20, Ware 19, Moller 11; Vasiljevic 10 rebs; Ware 6 assts) d NEW ZEALAND BREAKERS 78 (C.Webster 24, T.Webster 18, Abercrombie 9; Iverson, Delany 6 rebs; T.Webster 5 assts) at John Cain Arena. Cup Points: Sydney 6, New Zealand 1.
* * *
TALK about teams who can't pinpoint their identity and here come the Adelaide 36ers.
After starting 8-0, Melbourne built that lead to 14-2, then 16-3 before Daniel Johnson connected on a threeball for the Sixers.
But not much changed as Tony Crocker resembled an NBL1 import and Adelaide's offence reeked worse than the prawn heads I foolishly left in the bin ahead of the last heat wave.
Melbourne led 31-8 at the first break and for all intents and purposes, this was over.
Credit Adelaide for the fact it actually drew within four and won all three quarters after that first 10-minute brain fade. But that was such a mighty big hole they dug for themselves that ultimately, Mitch McCarron, Jock Landale, Jack White, Jo Lual-Acuil and Yudai Baba didn't have too much difficulty kicking dirt on the Sixers' coffin.
Credit too to Scotty Hopson. Brought of the bench, he engaged himself in the contest with slick assists and rebounds before his scoring returned. It was a treat to see.
Tony Crocker's crude foul on Jack White which has the injured United big-man out for 4-6 weeks was not a treat to see.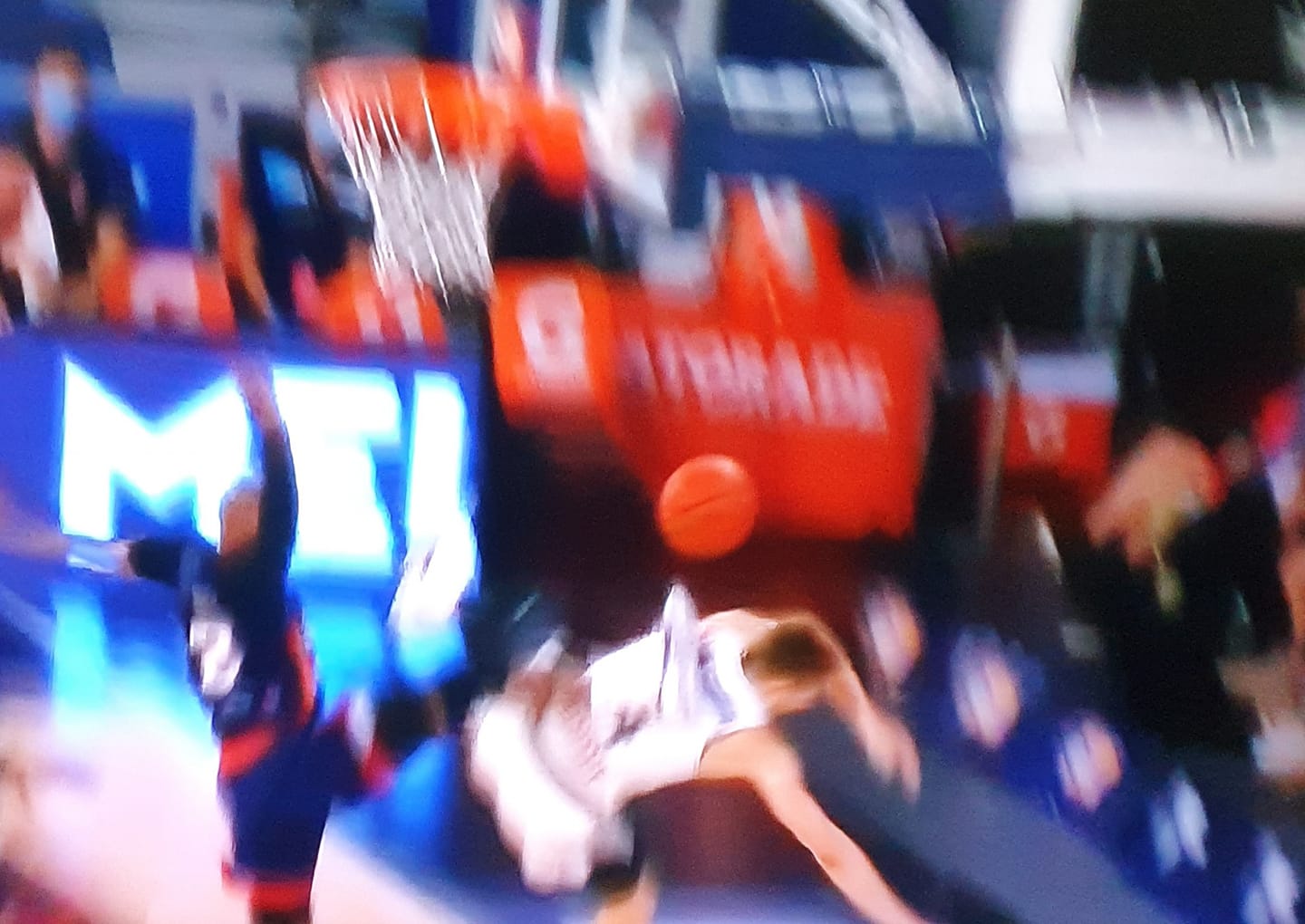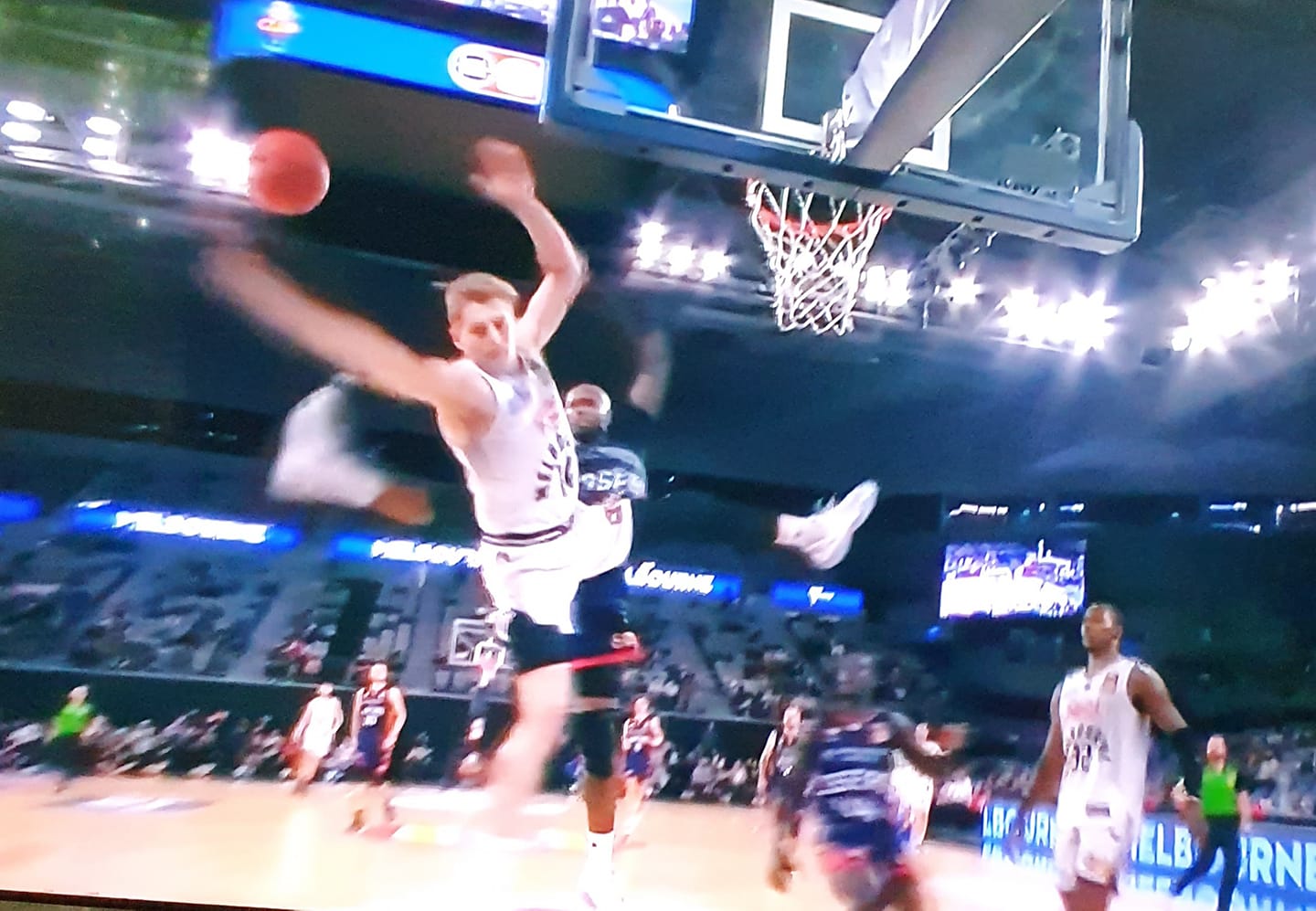 MELBOURNE UNITED 82 (McCarron 18, Hopson 14, Landale 12, Lual-Acuil 11; Lual-Acuil, McCarron 10 rebs; Hopson 4 assts) d ADELAIDE 36ERS 73 (Johnson 14, Crocker, Giddey 13, Kendle 12; Humphries, Giddey, Johnson 8 rebs; Dech 3 assts) at John Cain Arena. Cup Points: Melbourne 4, Adelaide 3. Crowd: 1,991
* * *
IT would not be unkind to say Illawarra blew its match against Brisbane, but even if in today's modern PC world it IS deemed unkind, that doesn't make it any less true.
What had been a topsy-turvy contest which saw the Hawks fly out to a 21-11 lead with Justinian Jessup featuring heavily, was turned on its head when Vic Law went bunta in a 14-0 stretch that swept the Bullets from 49-51 to 63-51.
Then it was time for some curious officiating, with four offensive fouls called in rapid succession, players essentially penalised for being on the court.
With 1:48 left, it was 89-89, Jessup with his NBL career-high 26 points pushing Illawarra head 91-89. The Bullets tied it back up, Cam Bairstow shot an airball but after a good defensive stand, Justin Simon was out on a fast break, doing a Charlie Brown of Peanuts fame thinking, I can steal home.
Instead he missed the shot and with 9.6 seconds to go, Deng Adel fouled. Yeah. Who knows why? He has been more like a soccer player most of this season. (And sorry but Deng in the Boomers' Olympic squad and Nathan Sobey not? That's just utter rubbish.)
Law converted both freebies for 93-91, Jessup went the length of the floor but missed a layup to tie it, then Justin Simon gives up an unsportsmanlike foul! If the Hawks miss the finals, they'll sure regret this one.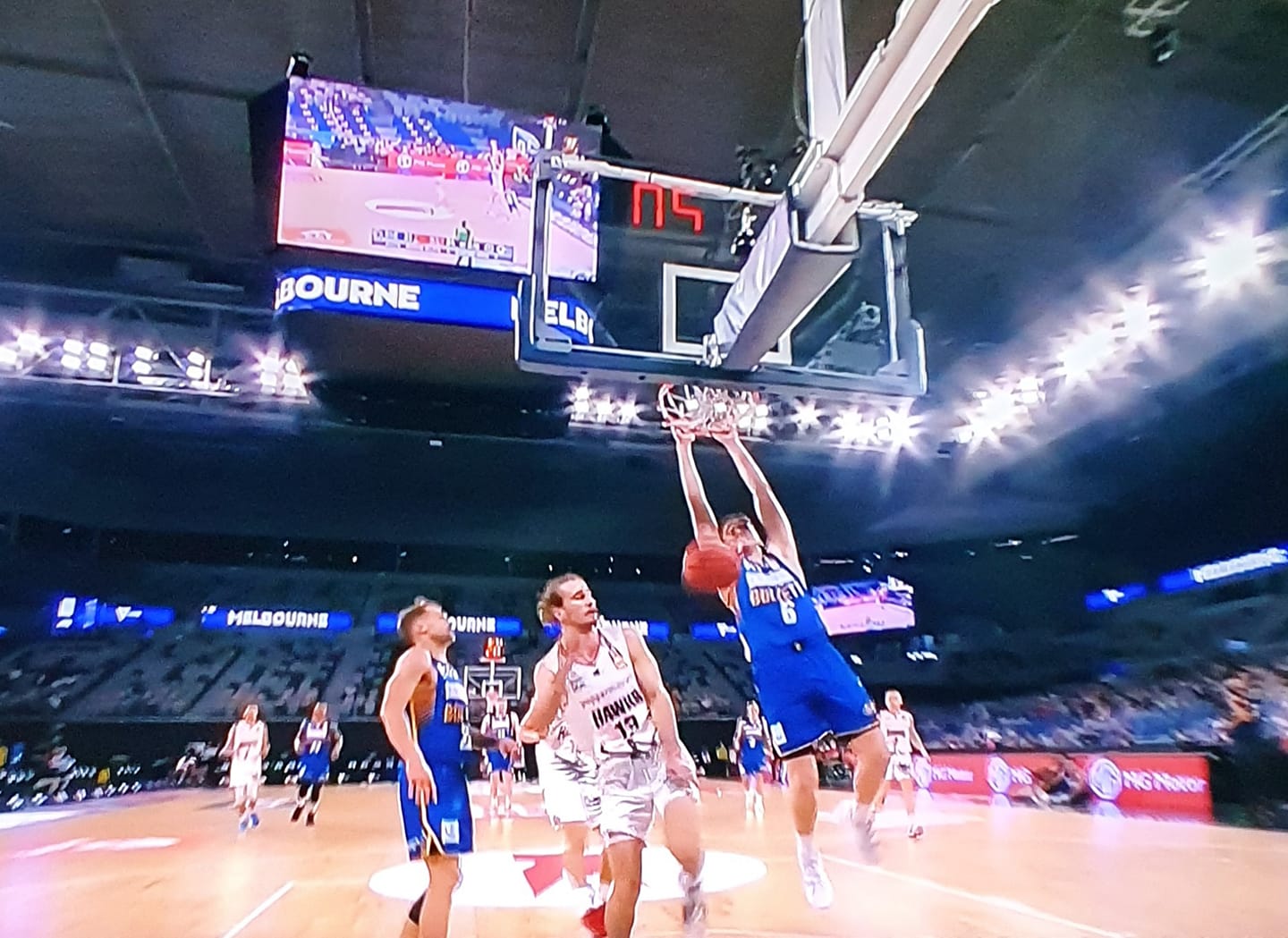 BRISBANE BULLETS 97 (Law 29, Sobey 18, Hodgson 12, Drmic 11, Cadee 10; Law 9 rebs; Sobey 7 assts) d ILLAWARRA HAWKS 91 (Jessup 26, Harvey 15, Froling, Simon 13; Bairstow 8 rebs; Simon, Adel 3 assts) at John Cain Arena. Cup Points: Brisbane 5.5, Illawarra 1.5.
* * *
IT'S kind of a shame that WWE wrestler Shawn Michaels owns the rights to the nickname the "Heartbreak Kid" because Bryce Cotton sure deserves it.
The NBL's HBK may have gone a less-than-stellar 5-of-17 from the floor in the rout of Cairns, but whenever it mattered, he was there.
Missing two shots late in the first quarter, he was fouled on a 3-point attempt.
Cotton swished all three to take the scoreline to 22-16, Wildcats coach Trevor Gleeson sitting him down for the Taipans' last play. That resulted in a free throw make for 17-22, Gleeson subbing HBK back in for the last 8.9 seconds of the period.
And yes, of course, he swished a three (below) to beat the buzzer because that's who he is - Bryce Cotton, heartbreaker. It's times like those you have to think Gleeson is a guru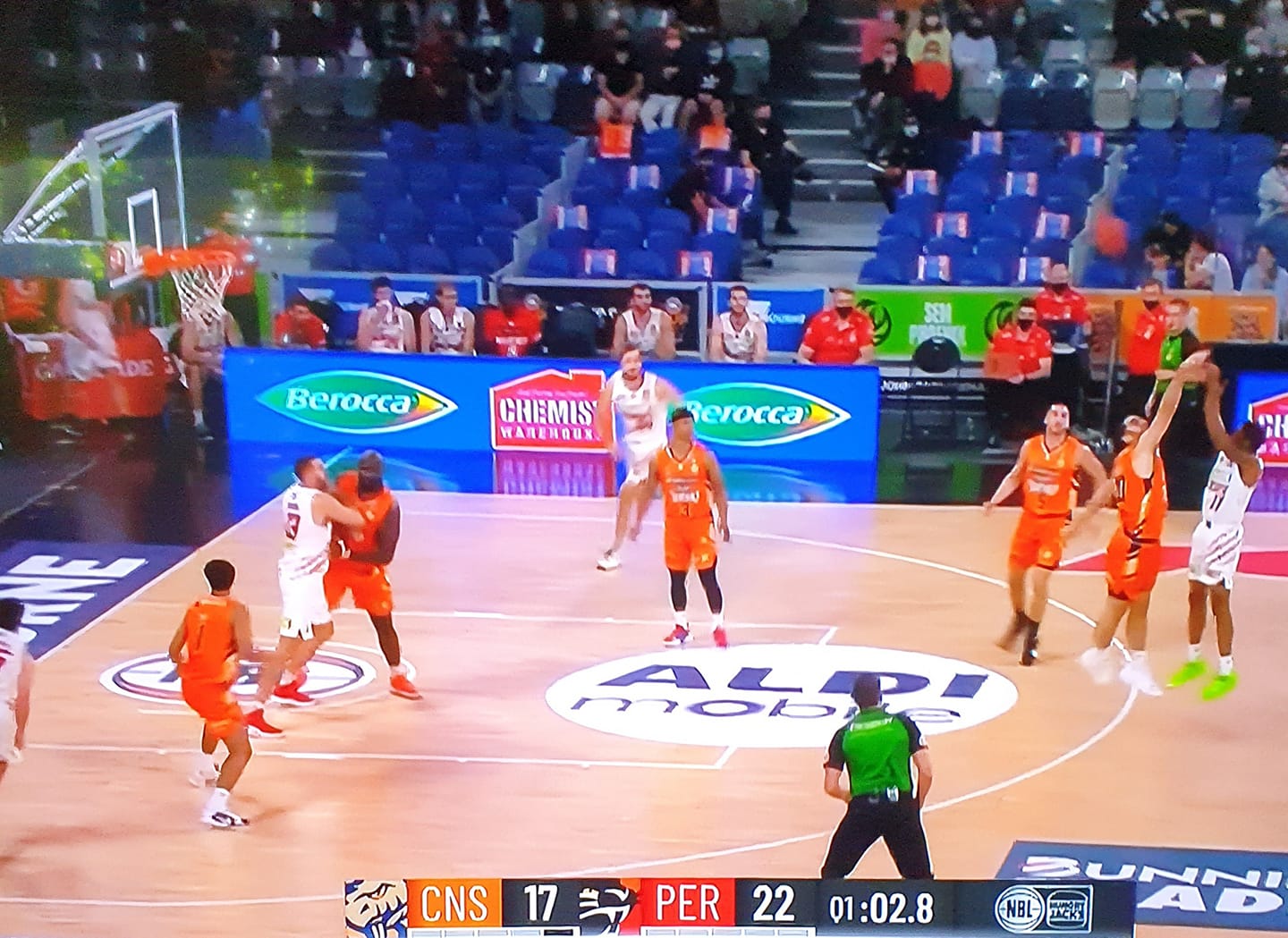 The Taipans fought back before Todd Blanchfield put Perth ahead for keeps with a layup off a well-executed inbounds play for 47-46.
And yes, HBK drove and shot one in high off the window to close the third with the Wildcats out 61-50 and never going to get caught.
Aaron Fearne may be the only person who thought Cairns' nine-point third quarter was OK.
PERTH WILDCATS 89 (Cotton 23, Mooney 17, Blanchfield 15; Mooney 12 rebs; Cotton 8 assts) d CAIRNS TAIPANS 69 (Oliver 19, Krslovic 10, Djeric, Noi, Machado 8; Oliver 14 rebs; Machado 7 assts) at John Cain Arena. Cup Points: Perth 6, Cairns 1. Crowd: 809
* * *
ARGUABLY the most embarrassing performance in the Adelaide 36ers' long and storied history, it started shockingly enough with New Zealand's Webster brothers on target and Isaac Humphries injuring a foot inside the first five minutes.
Tony Crocker was diabolical and for some reason - maybe it was a contract stipulation - but Keanu Pinder was first man in off the Sixers bench.
Pinder was solid for five turnovers and no points. Again, apologies to all concerned but this kid has no game. Zero.
How he gets minutes while Jack McVeigh sits is a mystery to rival why a word like abbreviation is so long.
McVeigh showed all the spirit and fight of Sixers of old with a 16-point second quarter but Adelaide had no offence, road cones more active defensively and the group playing with the cohesion of a group meeting of Paris Hilton's former boyfriends.
It's pointless bagging the Sixers, who lived up to their name with six points and six turnovers in the first quarter. It's just easier to let the stats do the talking.
Biggest quarter-time lead in a 40-minutes game - 26 by the Breakers in this one (so automatically also New Zealand's new club record.)
Teams that have scored single figure first quarters in consecutive games in NBL history? Adelaide - eight points against Melbourne, six against NZ.
Biggest lead at halftime in NBL history - Breakers by 30, 60-30 over 36ers.
Biggest ever win in the NBL by NZ Breakers - 44 versus Adelaide.
First team in NBL Cup to be swept for all available seven points? Adelaide.
NEW ZEALAND BREAKERS 106 (T.Webster, C.Webster 29, Delany 9; Iverson 8 rebs; T.Webster 12 assts) d ADELAIDE 36ERS 62 (McVeigh 20, Johnson 17, 3 with 6; Johnson 8 rebs; Johnson 4 assts) at John Cain Arena. Cup Points: New Zealand 7, Adelaide 0.
* * *
DON'T sleep on Sydney. The Kings pack a punch. Yes, Melbourne was down injured Jack White, and coach Dean Vickerman recast his cast but Sydney started on fire, racing out 10-0, Casper Ware and Dejan Vasiljevic prominent.
No sooner had United hit the scoreboard than Vasiljevic made it 13-3 over David Sets-The-Barlow, before his basket for 19-8 forced a Melbourne timeout.
Vasiljevic's three made it 22-10, the Rookie of the Year candidate with 12 first-period points as the Kings kept the initiative.
Trailing 40-52 in the third, Melbourne unleashed a 10-0 run and threes by Jock Landale and Yudai Baba gave United its first lead with 1:48 left in the quarter, up 56-54.
Baba was big in the last, his three making it 68-65 before he drew a charge, and Mitch McCarron had another fine day, his triple making it 71-67.
At 2:33 left, Sydney's Didi Louzada tied it at 73-73 but McCarron converted a three-point play before Shea Ili, in a highly successful return, stroked a triple for 79-73.
Ware dragged the Kings back to within a point but missed a winner when trailing 80-81. Dan Kickert then had a brain fart and gave up a USF which Landale turned into the 83-80 final score.
MELBOURNE UNITED 83 (Landale 20, Hopson 14, McCarron 13, Ili 12, Baba 11; Lual-Acuil 10 rebs; McCarron 6 assts) d SYDNEY KINGS 80 (Vasiljevic 22, Ware 21, Bruce 17, Newley 10; Newley 7 rebs; Ware 5 assts) at John Cain Arena. Cup Points: Melbourne 6, Sydney 1. Crowd: 4,206
* * *
MITCH Creek led from the front and Kyle Adnam stepped up in the absence of Keifer Sykes (ankle) as South East Melbourne kept Illawarra in the doldrums with a well-constructed victory.
Adnam produced a career-high 13 assists as the Phoenix attacked the rim, rewarded with 30 free throws to seven.
That was one glaring disparity, as was the Phoenix's willingness to share the ball, 26 assists to 16 reinforcing the Hawks' reliance on individuals to get the job done.
Deng Adel continued his struggles, Justinian Jessup and Tyler Harvey were well-contained while in contrast, Ben Moore stepped up for SEM with 22 points at 63 per cent.
Cam Gliddon (19 points, 4-of-7 threes) was aggressive offensively and seems to have found form since SEM announced it signed Ryan Broekhoff. Looks as if Cam is content to let Reuben Te Rangi head from the starters to the bench.
Illawarra had reason to feel hard-done-by with the officiating but its losing woes largely were of its own making as the Phoenix executed a game-plan and dictated how this would resolve.
SOUTH EAST MELBOURNE PHOENIX 93 (Creek 25, Moore 22, Gliddon 19; Creek 6 rebs; Adnam 13 assts) d ILLAWARRA HAWKS 76 (Harvey 14, Simon 13, Deng, Bairstow 10; Adel 8 rebs; Jessup 5 assts) at John Cain Arena. Cup Points: SEM 5, Illawarra 2.
* * *
BRISBANE continued on its forward march by relegating Cairns to irrelevancy, Nathan Sobey unstoppable.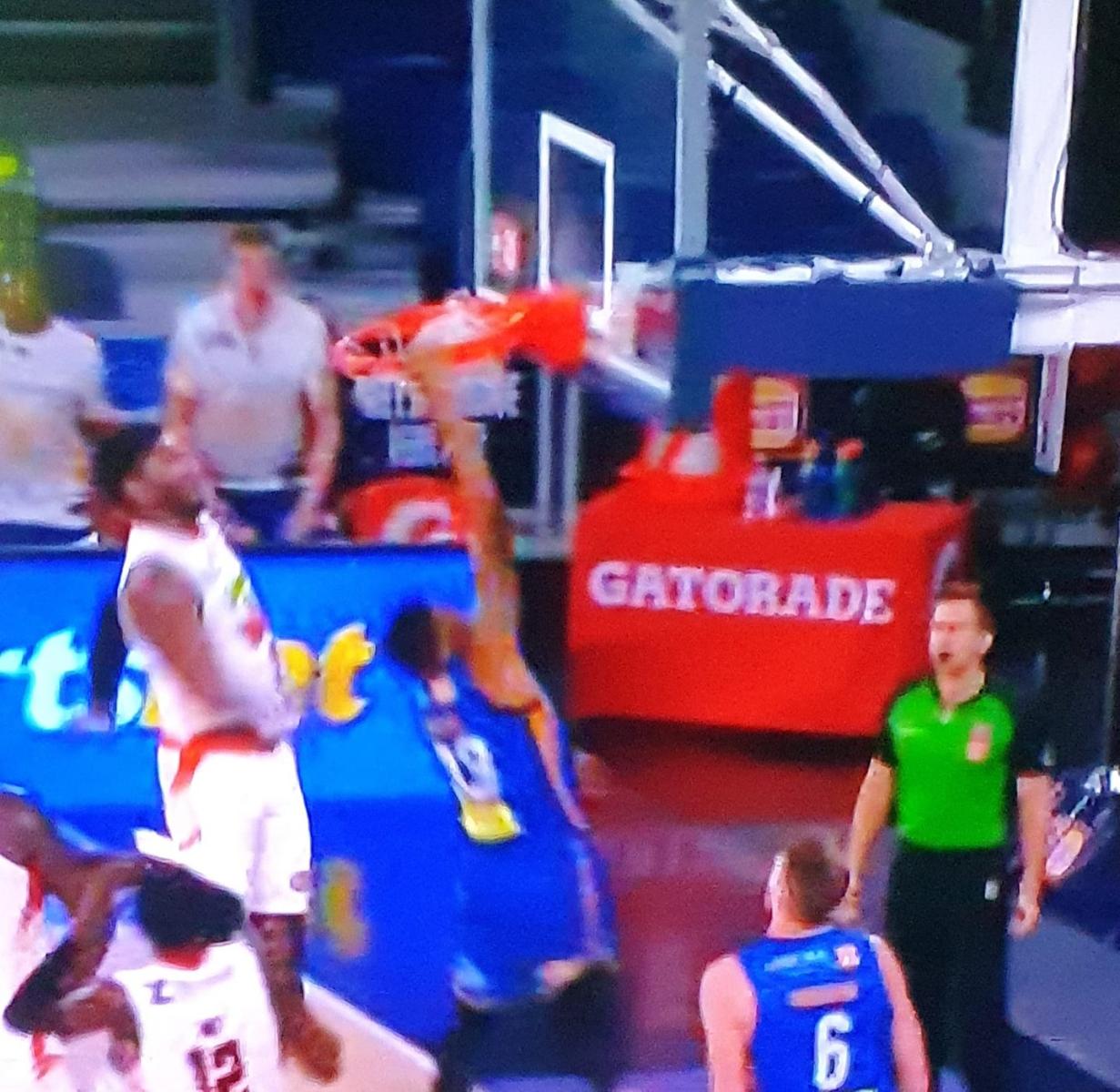 Even Orlando Johnson showed some Orlando magic with a withering dunk few outside Brisbane knew he possessed.
Anthony Drmic knocked down shots and was a perfect 5-of-5 from beyond the arc.
Meanwhile inside the paint, Matt Hodgson ruled the roost, the big fella's influence off the bench telling in every game the Bullets have won of late.
Scott Machado paired seven assists with 26 points and Cam Oliver came good for 21 points, including 3-of-3 threes for the Taipans.
Mike Kelly gambled on giving Nate Jawai more minutes and he thrived on the extra activity, nine points, five boards, a steal and a block a nice return in under 14 minutes.
But as the Taipans faded out of this one, Brisbane revelled in the work of a variety of contributors, Jason Cadee and Harry Froling among them. But Sobey was the killer here.
BRISBANE BULLETS 115 (Sobey 30, Drmic 20, Froling 15, Law 14, Cadee 11; Froling 11 rebs; Johnson, Cadee 5 assts) d CAIRNS TAIPANS 95 (Machado 26, Oliver 21, Noi 11; Oliver 6 rebs; Machado 7 assts) at John Cain Arena. Cup Points: Brisbane 6, Cairns 1. Crowd: 3,195
* * *
ROUND 2 Cup Lessons (What We Learnt)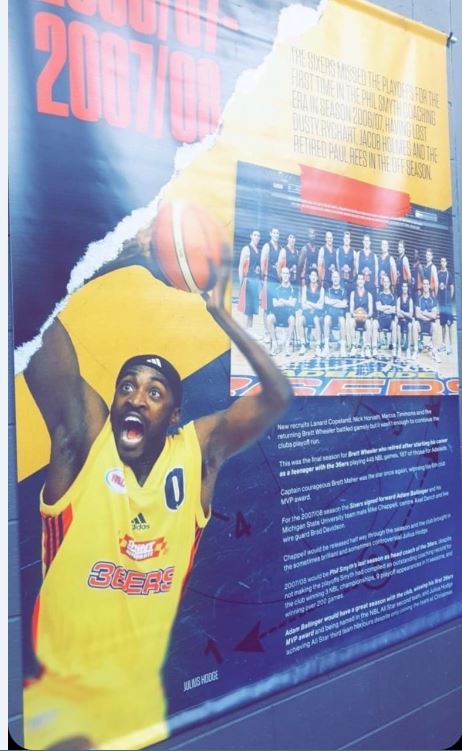 *That "Gaze-to-Copeland" works just as well in TV commentary as it did on court at Melbourne Tigers, their calling chemistry, friendship and banter smooth, fun and natural, unlike many of the colour-calling combinations;
*That there's one TV caller named Russell who really does know how to commentate. Welcome back Matt;
*Tai Webster may have trouble measuring the 19-feet from the free throw line to the hoop, but he's OK on the offensive rebound from three feet;
*That Adelaide 36ers' current management has NO clue about its own history, this poster of the club's most reviled import Julius "Dr No J" Hodge up for all to see at Adelaide Entertainment Centre. Yes, the guy who returned as a Melbourne Tiger and stomped all over Brett Maher's on-court signature triggering a riot at Titanium Security Arena, barely escaping unscathed, and for whose behaviour both then coach Al Westover and star forward Mark Worthington formally apologised, has this poster (right) at AEC. You'd think maybe someone at the 36ers might have a clue;
*United's Japanese star Yudai Baba revealed on social media that his team does not come out of any huddle on a "One, Two, Three" but on "Ichi, Ni, San," or "1, 2, 3" in Japanese. That's how much his teammates think of him. Any wonder he is loving life in the NBL;
*Brisbane's sudden recovery of form apparently has everything to do with a player pact, everyone growing a moustache in a show of solidarity. Victor Kiam of Remington shavers is sending the club a formal protest;
*Connor Henry and his assistants are still trying to retrieve the black box from the 36ers' crash-and-burn against New Zealand;
*Relief all around at the Kings as Craig Moller is a week closer to recognising why opponents leave him open outside the 3-point line.
QUOTE of the WEEK
"He would rather pass a kidney stone than pass that ball and I mean that."
- Andrew Gaze revisiting an earlier "on-the-money" observation about Jo Lual-Acuil and his penchant for shooting the ball on virtually every offensive possession.