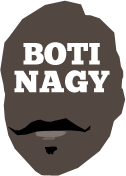 ---
Advertising opportunities available.
Please contact me.
---
NBL Cup Rd.4: Wildcats no wild card
Tweet
IT looks like the NBL Cup will close on something resembling a league-wide rivalry round, with Perth Wildcats now in the boxseat to add the $150,000 first prize to the club's long list of plunder and booty.
If the NBL was a TV show, Perth would be The Vikings, the Wildcats four championship points clear of Brisbane and set to close the Cup with wins over New Zealand and Adelaide.
Both clubs would love to upset the Wildcats, each having history with Perth - Adelaide over a long period, the Breakers this century.
New Zealand tips off against Cairns, with which it has shared two great Grand Final Series, before another Victorian derby Throwdown special between the Phoenix and United.
South East Melbourne was the only club last round to go through it without a win, dropping by a point to Perth and six to Sydney. But with players waiting in the wings to join or rejoin Simon Mitchell's line-up, this round could yield the three wins that would turn around their regular season.
Brisbane has a score to settle with Adelaide, and the Sydney-Illawarra fixture is another in a long line of rivalries sure to add further spice to already compelling contests.
Of the NBL's nine clubs, eight won at least one game and lost at least one in the penultimate Cup round, setting this last one up for a classic finish.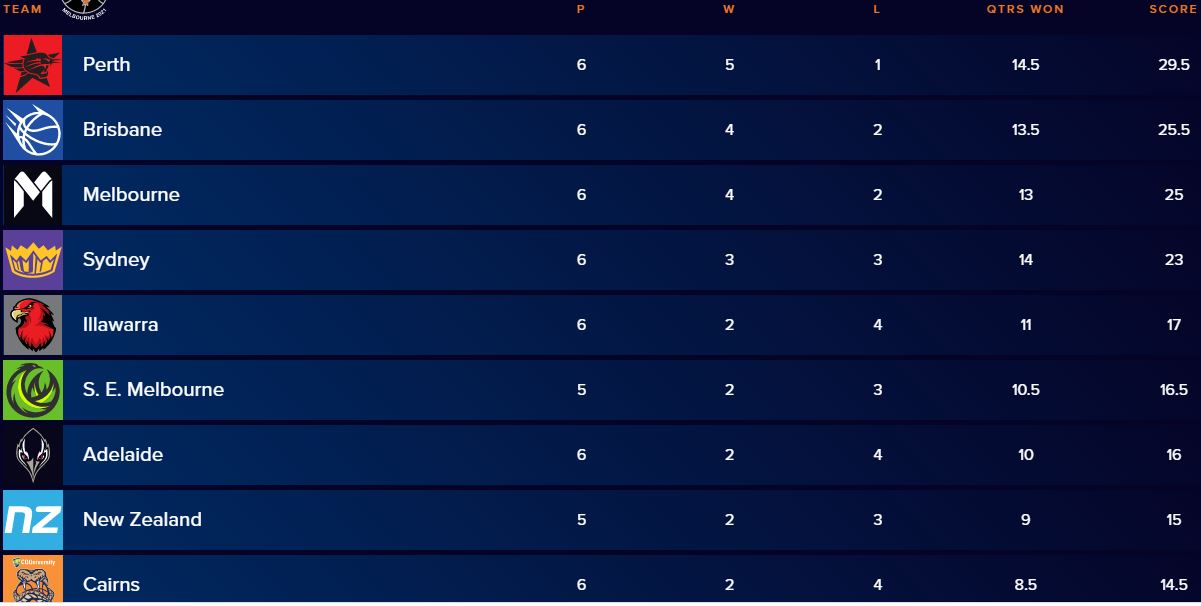 .
Yes, this one is virtually a formality for Perth now but, you know, expect the unexpected?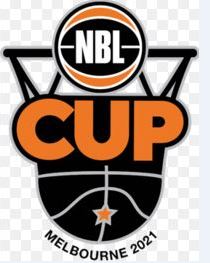 ROUND 4
THIS is one of the NBL's quieter rivalries with New Zealand holding the edge and likely to continue to do so in this Cup fixture against Cairns. The toll on living away from home all season has been evident on the Breakers but lately, they appear to have found a formula, director of basketball Dan Shamir on the sideline coaching his payots off. The Taipans are simply too unpredictable over 40 minutes to warrant any confidence.
Have found their stride and should build on last round's successes.
THROWDOWN VI highlights the round, with speculation rampant Ryan Broekhoff will make his NBL debut with South East Melbourne, possibly also with Keifer Sykes and/or Dane Pineau and/or Adam Gibson also all back in harness. Jack White and Scotty Hopson are huge "outs" for Melbourne, especially with Chris Goulding only just back and Shea Ili still a couple of percentage points shy of being 100 per cent. Maybe leaning just a tad to Phoenix, although United's back-up brigade has been superb this season.

Picking SEM, but not with any huge degree of confidence.
BRISBANE-Adelaide also was once a great rivalry, the 36ers taking the points in their first clash. Adelaide looked good beating Cairns too but not nearly as good as Brisbane when it dispatched Perth and Melbourne. When the Bullets have Nate Sobey, Jason Cadee, Anthony Drmic, Harry Froling and Matt Hodgson on at the same time, as they often do, it is particularly traumatic for Sixers' fans. Vic Law on song and Isaac Humphries out makes a big difference too. Brandon Paul anyone?

Both teams have found something but of late Brisbane is more consistent.
IN truth, the oldest NBL rivalry is the NSW derby between Illawarra and Sydney. The Kings have been doing amazing things with an understrength outfit, Dejan Vasiljevic a revelation. The Hawks' early vim and verve have been replaced by stretches of limp and no nerve. Master coach Brian Goorjian really has a challenge ahead to set his team back on the right path forward while counterpart Adam Forde is handling the Kings well and with low outside expectations. This should be a cracker.

Only selected on the basis they have their full group. Not much, really.
IT'S almost unnatural to pick against Perth, but especially here in this long-standing rivalry with New Zealand. Perth is a perennial and only those too locked into their own narratives - mainly pundits in the eastern states - are too lost to acknowledge it. The Breakers have been on the improve but the problem for them is so have the Wildcats. And their best is better.

With one hand on the Cup - and $150G - don't expect Perth to falter.
SADLY and despite the Taipans splitting their games last round, it is hard to show any faith in last year's most exciting team. It is THIS year and now South East Melbourne are the one to watch as the best bet to upset the Melbourne-Perth applecart. With or without any of the Phoenix's four missing studs - and most expect a number to be "in" for this - SEM has the game and the focus to be successful. Cairns can be relied upon for some highlight-reel dunks, great Machado moves, and some wicked threes. South East can be relied upon for the W.

Should be getting toward their best, which would be too much for Cairns.
SYDNEY cannot start favourite to beat Brisbane because the Bullets seem to have pulled their act together. "Seemed to" are the operative words there though because they also have a tendency to disappoint just when you are ripe to believe they are on the right track. E.g. New Zealand last round. Naturally on form, Brisbane is the best bet. But I do like an upset every now and again and this might be it.

Or not...
GOING down fighting when they met in Wollongong, Illawarra showed some spunk and belief against Melbourne, qualities which haven't been as apparent of late. This is the "line in the sand" game for the Hawks, a chance to show their bona fides against a genuine contender, albeit one which is vulnerable due to injury. It's now-or-never for Illawarra because United's bench has been and continues to step up. In fact, it is easier to have more confidence in that crew just now.

This could go either way but consistency rests with United.
THIS last round of the Cup is where South East Melbourne can complete a hat-trick to starkly contrast last round when the Phoenix were the only team to get through without a win. New Zealand is plum for the plucking as both clubs will be lining up for the third time this round and South East will simply have more weapons in its arsenal.

They went 0-2 last round. This round we're tipping 3-0.
PERTH should wrap up the inaugural NBL Cup by beating longtime "Doomsday Double" partner and rival Adelaide. The trip west and south for rival clubs once was the most feared in the league and it is no secret the Wildcats fashioned their rebuild in 1987 on Adelaide of 1986. Since then, Perth has by far outdone Adelaide with 10 championships to four. With that Cup winner's cheque waiting to be collected, this would be a monumental upset if the 36ers could pull it off.

But come on, there's no question which team starts odds on.
Safest bet of the round: You'll reach for the TV remote during the ad breaks to avoid seeing those same commercials over and over and over and over and over and over ad naeseum.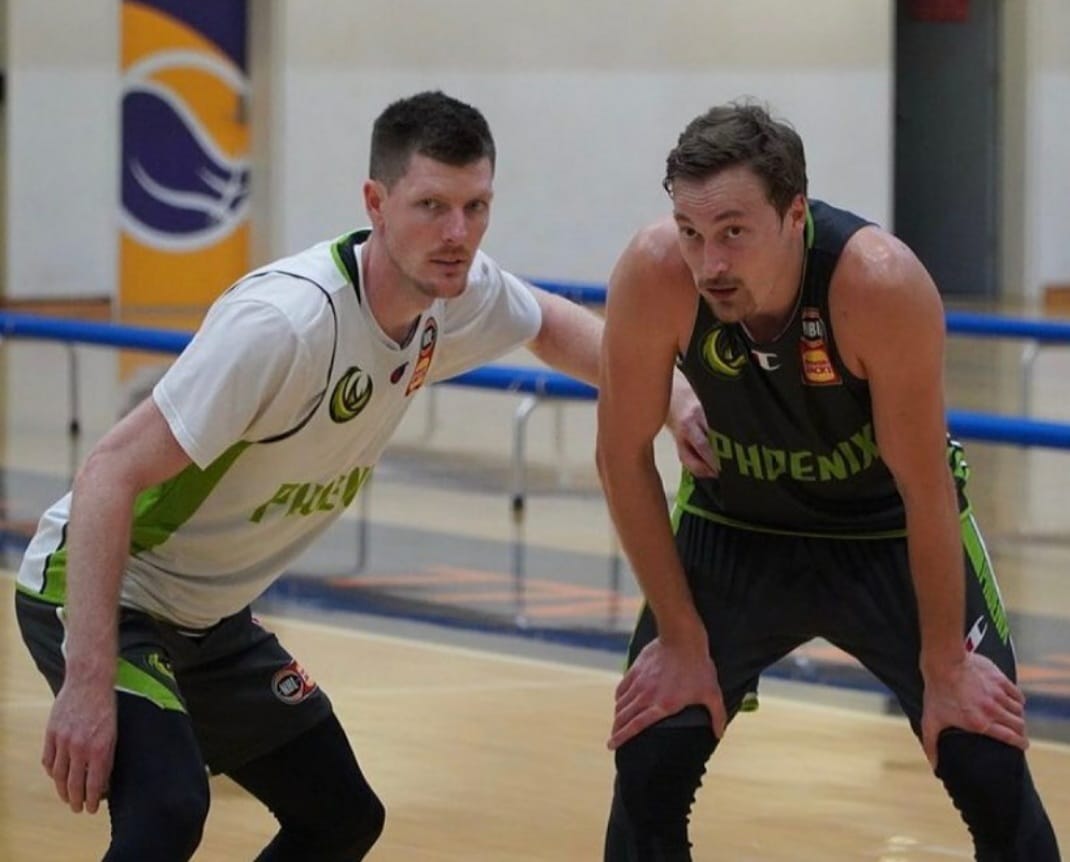 BREAKING IN? Ryan Broekhoff, right, with Cam Gliddon at Phoenix training.