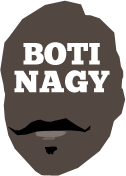 ---
Advertising opportunities available.
Please contact me.
---
NBL Nibbles: Round 13, so far
Tweet
THE NBL's extensive Looney Tunes-themed Christmas-New Year's round always was going to be a big one, and even ahead of its halfway point, results have been red-hot.
Outside the top four, Cairns and New Zealand have added to their cases for playoff consideration.
Inside the four, Melbourne's designs on a top-two finish may be premature, while Perth has moved closer to its customary spot at the summit by again rocking Sydney's world.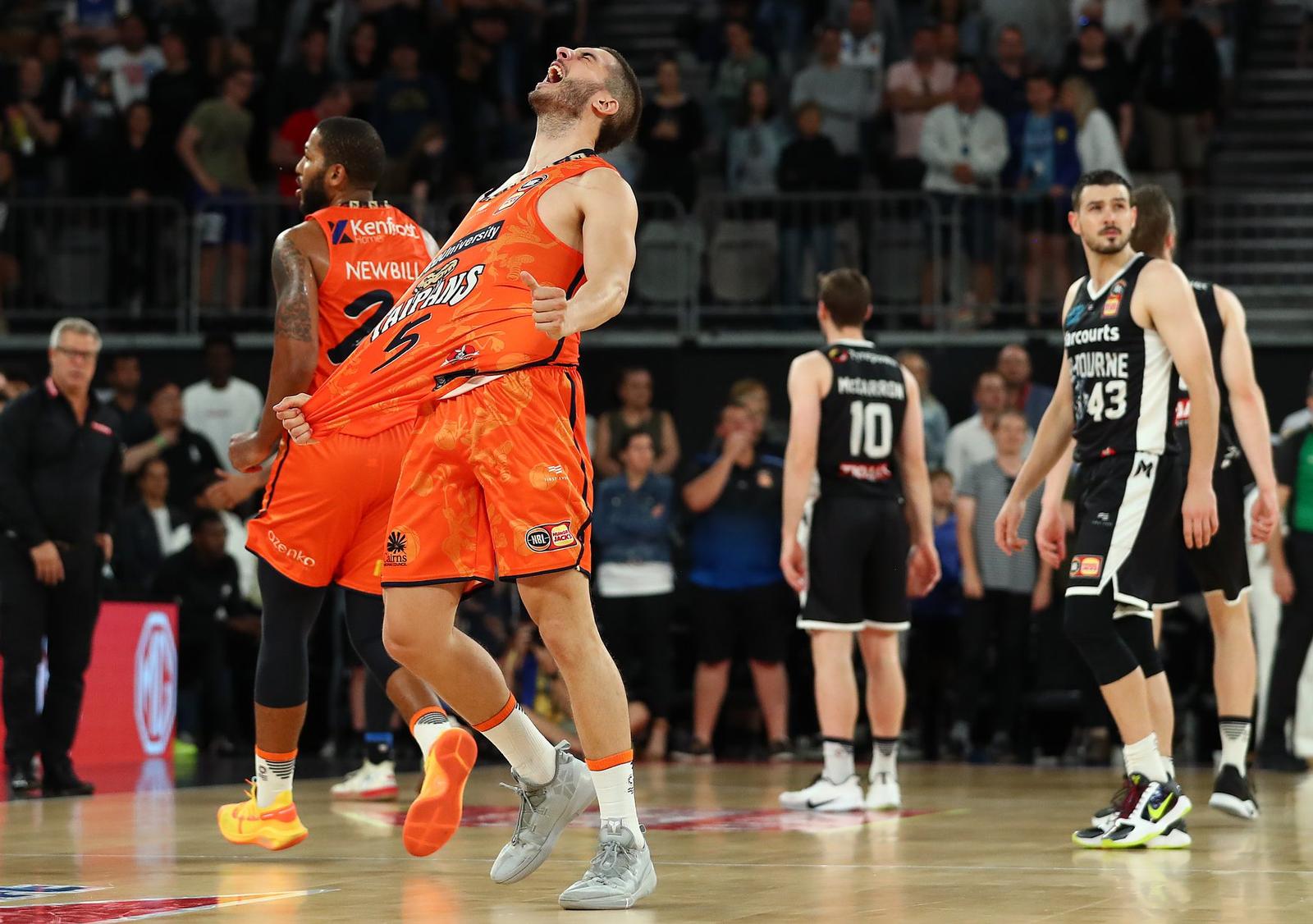 THE roof was open in Melbourne and 10,000-plus fans filed in for the Boxing Day bonanza, only to be left stunned yet again as Cairns made it 3-0 against United this season.
A gruesome 20-9 start meant the Taipans had the lead from the get-go and blew that buffer out to as many as 18 points (51-33), after being ahead 46-30 at halftime.
United rallied in the third quarter behind the hot hand of Chris Goulding (5-of-7 threes). Trailing 40-54, he struck the first of three consecutive 3-pointers to bring Melbourne within touch at 49-56.
But when United should have been giving him the ball on every possession, it failed to do so, DJ Newbill (20 points) and Scott Machado (20 points) again leading the Orange back to a double-figure lead.
This is a growing problem whenever United falters - the fact Melo Trimble and Shawn Long monopolise the ball, often settling for pick'n'rolls when a "hot" Goulding should be involved in every possession. Trimble having zero assists says plenty, Shea Ili effective off the bench again for Melbourne.
Trimble and Long are burgeoning young talents, no argument. But when Melbourne was winning a championship, it had Casper Ware and Josh Boone (pretty reasonable) - not to mention Casey Prather. But Goulding was The Man. When he's not, this team is poorer for it.
Cairns was on the wrong end of a number of calls, referees continually treating Nate Jawai like the travelling salesman found in the barn with the farmer's daughter, Taipans coach Mike Kelly eventually wearing a technical.
Mirko Djeric continued to make big shots and down the stretch when Melbourne tied it 75-75, it was Newbill's turn to deliver the coup de grace.
The most watchable team in the NBL at present? Cairns, by the length of the straight.
CAIRNS TAIPANS 77 (Newbill, Machado 20, Djeric 14; Jawai 9 rebs; Machado 5 assts) d MELBOURNE UNITED 75 (Trimble 16, Goulding 15, Long 14, Ili 11; Long 12 rebs; Ili, Goulding, McCarron 2 assts) at The UN, Melbourne Arena. Crowd: 10,300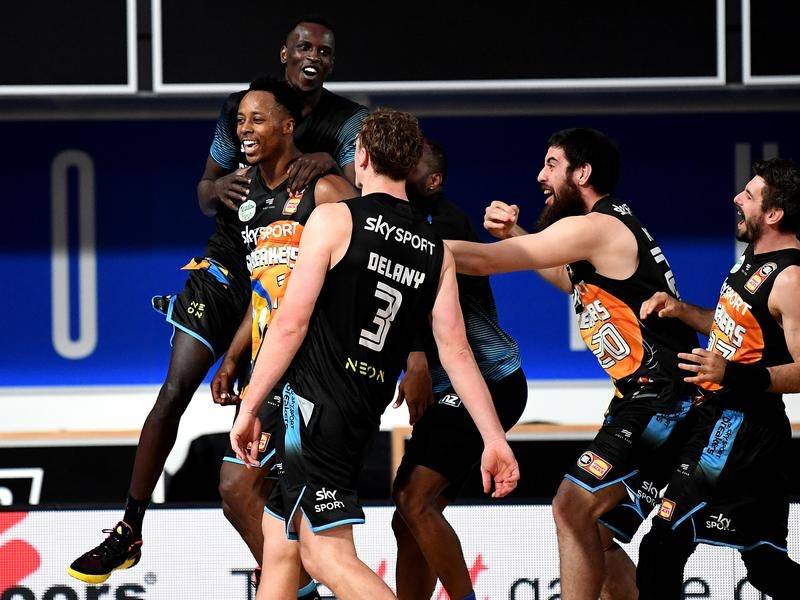 NATHAN Sobey was finally having a decent NBL game, Lamar Patterson on triple-double watch, the Bullets on the verge of eliminating New Zealand from the playoff race in Brisbane.
A big crowd was revelling in the 29-17 first period and Brisbane pulling as many as 16 points clear.
But these are the "new" Breakers. They were 4-10 when the club made a somewhat shock announcement it was retaining its "Director of Basketball" Dan Shamir for two years post 2019-20 while also releasing Corey Webster to play in China.
Scotty Hopson's return from injury was equally significant, and now Rob Loe and Finn Delany also have settled back in from prolonged periods in civilian clothes, the rotation has vastly improved.
Plus, they believe now. Persist, persist, persist, and good things can happen.
The Breakers just continued to hang in, despite losing a "shoot-out" third quarter 30-31, and then steadily started to eat into the Bullets' lead and psyche.
Trailing 71-82 with a period to play, New Zealand was still 73-84 in arrears on a pair of Jason Cadee free throws, before Hopson scored twice for 77-84.
No problem. Patterson (21 points, 9 rebounds, 8 assists) iced a 3-pointer and the margin was back to 10 with just a blink over six minutes left.
Tom Abercrombie quickly erased Patterson's triple with one of his own and tensions were rising.
Sek Henry drew it to 83-88 with a three-point play but the Bullets found the responses to maintain the buffer. Ahead 94-87 on a Sobey drive, the clock was ticking toward two minutes and the Breakers weren't looking likely.
Persist and good things can happen.
Hopson and Henry forced Bullets fouls, icing their free throws for 91-94. Talking "ice", Delany stuck a monster corner 3-pointer and it was tied 94-94 into the last minute.
Out of a Bullets timeout, Patterson hit a jumper for 96-94, then grappled on the floor to secure a defensive rebound, the ball knocked out of court.
Brisbane took timeout again, advancing the ball and this one was over.
Or not.
An inbounds turnover was followed by Patterson instinctively reaching out to grab an arm. Oops. Automatic unsportsmanlike foul.
Abercrombie continued the "ice" theme, ice water in his veins as he swished both free throws to tie it at 96-96. Then NZ's ultimate "Iceman" of this era, Hopson, nailed a huge 3-pointer at the siren to clinch an ecstatic 99-96 victory.
The players embracing owner Matt Walsh across the court said plenty, as does their threatening 7-10 record. Outscoring Brisbane 28-14 in the last, NZ only led once - at the siren.
NEW ZEALAND BREAKERS 99 (Hopson 27, Delany 18, Loe 14, Henry 13; Ashley, Delany 7 rebs; Hopson, Henry 4 assts) d BRISBANE BULLETS 96 (Sobey 29, Patterson 21; Patterson 9 rebs; Patterson 8 assts) at The Armoury, Nissan Arena. Crowd: 4,069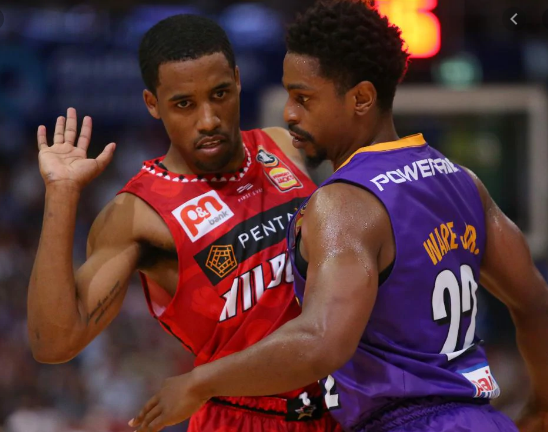 BILLED as THE match of this exhaustive round - first versus second - the Kings again could not find the answers when Perth threw them under the microscope in Sydney in front of 11,000-plus fans.
Casper Ware was looking to make a statement, Brad Newley playing his 200th NBL game and Andrew Bogut in a more aggressive frame of mind (15-point, 12-rebound double) meant this one was played at a tremendous level from the tip.
By halftime, Sydney manufactured a 50-44 lead but the Wildcats hit back in the third, Bryce Cotton, Terrico White and Nick Kay leading the charge and on to a 70-65 edge.
Ware was en route to his season-high of 33 points, scoring consecutive 3-pointers to give Sydney a 71-70 lead. His third triple for the quarter restored the Kings' lead at 74-72.
A Cotton floater tied it up again before Newley put the jets on for the lead, Kay tying it again 76-76.
Ware for his fourth 3-pointer of the period - you would have thought this was the Casper Ware Show - made it 79-76 before Daniel Kickert's free throws gave Sydney a five-point buffer.
Six minutes left, it was Cotton Time. The mercurial superstar, firming daily in any conversation about the greatest Wildcats of all time, cut loose with four 3-pointers.
Jesse Wagstaff tossed in a long bomb for good measure in an initial 9-0 run which pushed Perth 85-81 clear. Inside the last two minutes, Bogut dragged Sydney back to 85-88 ... and that was the end of the road.
Cotton fed Kay for a three and 91-85. Then he stuck a jumpshot, followed by two free throws, the icing on top a step-back three to close the 10-0 run.
He had 18 in the final quarter for a season-high 39 points. The guy is an NBL God.
PERTH WILDCATS 98 (Cotton 39, White 24, Kay 10; Kay 10 rebs; Hunt 4 assts) d SYDNEY KINGS 85 (Ware 33, Bogut 15; Bogut 12 rebs; Bruce 4 assts) at The Kingdome, Qudos Bank Arena. Crowd: 11,569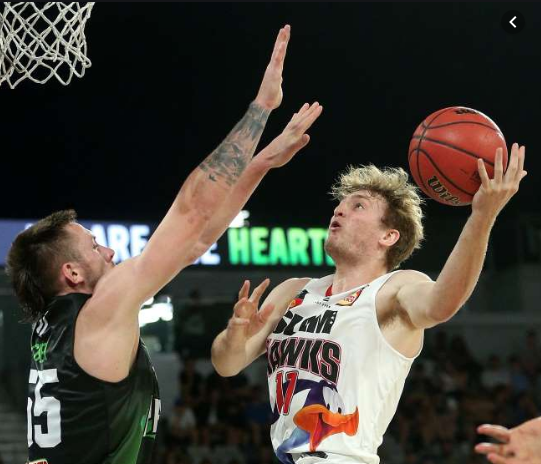 IF South East Melbourne is to carve out a piece of NBL history and make it into the playoffs in its inaugural season, beating last-placed Illawarra at the Fire Pit in Melbourne simply was a "must".
Trouble is, a series of surprise circumstances has allowed the Hawks coaching staff to stumble across a truth most everyone else already knew - they have a whole bucketload of good kids wanting to be great.
They also sacked an immature import and in that process, showed their other newcomer, Darington Hobson, he needed to extract the digit.
So what the Phoenix found was they were NOT playing against a last-placed bunch of losers but a team starting to understand and embrace its identity - the identity of ALL past Hawks teams of a blue-collar work ethic and determination to beat the odds.
Todd Blanchfield also having found his shot, an amazing first half saw the clubs locked 58-58 at the interval, after the highest aggregate scoring half of the season.
Clearly, the first team to fully focus on defence was going to get the payoff.
That turned out to be the Phoenix. Led by inspirational captain Mitch Creek who went on a personal 8-0 tear to start the third period, South East Melbourne seized control of the momentum.
Creek book-ended a pair of 3-pointers around a trademark drive to the hoop, before John Roberson spliced a triple for 69-58 and timeout Illawarra, the uninterrupted run now at 11.
Blanchfield got the Hawks rolling again but Creek enjoyed an 18-point quarter and changed its direction.
No white flag was flying from Illawarra and when Angus Glover opened the last with a triple, the Hawks were 84-91 and very much back in it. Sunday Dech further cut it to 86-91.
Tai Wesley, in his best game since returning from injury, then stepped up and Kyle Adnam continued to shine, steadily steering the Phoenix to safety.
But no-one is going to find the Hawks easy pickings from here, Hobson having his best game, AJ Ogilvy offering more substance and six players in double figures and a seventh on nine.
SOUTH EAST MELBOURNE PHOENIX 112 (Roberson 28, Wesley, Creek 25, Adnam 15, Madgen 10; Wesley 7 rebs; Roberson, Wesley 5 assts) d ILLAWARRA HAWKS 102 (Blanchfield 22, Dech 20, Hobson 13, Naar 11, Coenraad, Grida 10; Dech, Ogilvy 6 rebs; Hobson 6 assts) at The Fire Pit, Melbourne Arena. Crowd: 6,754