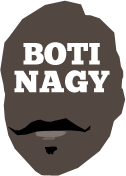 ---
Advertising opportunities available.
Please contact me.
---
NBL Rd.10 Wrap: 36ers from 8 to 2
Tweet
ARE you old enough to recall the Chicago hit song "25 or 6 to 4"? Doesn't matter if you're not because this round in the NBL it is "36 from 8 to 2".
That's what the Adelaide 36ers have done this round, completed a journey where three rounds back they were in eighth place and now they rest in second.
Their five-win streak matches the best streak of the season, and that's by the first-placed team, Sydney.
Round 10 tipped off in Auckland where Mika Vukona singlehandedly showed his Breakers teammates the way out of a four-loss slump, with eight of their first 10 points against a startled Brisbane.
Then Kirk Penney and the gang joined in and the Bullets, despite some solid Cam Bairstow play, could not find the answers. Five Breakers scored in double figures and Alex Pledger, sent to the bench for Rob Loe, had eight and led the rebounding.
IN Perth, despite losing David Andersen to a knee injury inside the first 150 seconds, Melbourne went down scrapping, with Casper Ware and Todd Blanchfield both missing last-gasp threes to force a tie.
It was fun to watch as Jaron Johnson blocked Tai Wesley's shot at one end of the floor, took the ball coast-to-coast, only to have his own shot blocked by Wesley. Hey, turnabout is fair play, right?
Casey Prather finished with 39 points and Ware 38, the first time two players have scored 38 or more in the same game since Shane Heal had 44 for the Kings and Randy Rutherford 38 for the Bullets in 2002. Bear in mind though, the latter game was a 48-minute contest, not 40.
EIGHT weeks on the sidelines rehabing a foot fracture and Mitch Creek was back to inject spark to his 36ers as they hosted New Zealand, running away in the last quarter.
Jerome Randle finished with 37 points on 15-of-19 shooting for the Sixers, which is ridiculously good. Creek, Nathan Sobey and Daniel Johnson also all played well, Anthony Drmic's defence on Kirk Penney a further key component.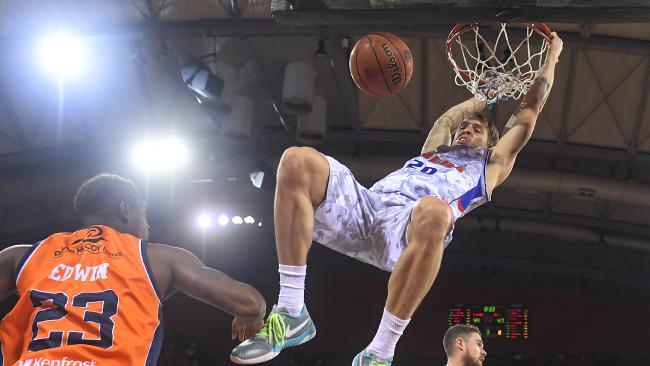 WELCOME BACK: Nathan Sobey reminds the Taipans of what could have been.
THEY turned a couple of Rotnei Clarke "threes" back into "twos" but it made no difference as the Hawks import continued to thrive off Illawarra's bench, steering it to a 10-point road win over Brisbane.
Knowing fatigue would hit the Bullets after playing in Auckland, the Hawks maintained the pressure at both ends and got to the line 32 times to 12, a difference of 20, which also is how many turnovers Brisbane conceded.
Adam Gibson's 3-pointer brought Brisbane back to 78-79 but Clarke, Nick Kay and AJ Ogilvy pulled Illawarra away again and the Bullets were spent.
MARK Worthington was a monster with 11 first-quarter points as Cairns looked headed for a crucial home win over the first-placed Kings.
But the Taipans could not protect or enhance a 15-point lead and when the Sydney run came, as it inevitably had to, Cairns lost its intensity and focus.
Greg Whittington's fast break dunk from a steal left Cairns psychologically shattered, Sydney clinching its second season-series.
WHETHER you love or hate the Chris Goulding swagger, it was back as he swished 28 points to sink Sydney in Sydney.
Apart from some huge threes (6-of-10 to be precise), he made a couple of big plays to arrest a solid late Sydney comeback, Casper Ware also effective with 23 points.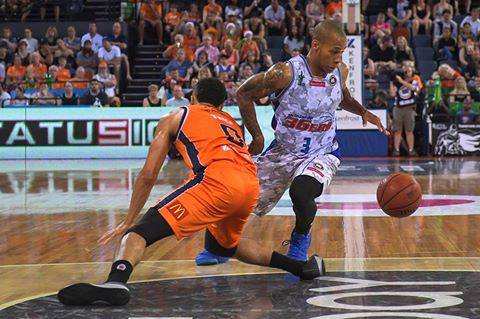 ANKLES BRACED: Travis Trice has his ankle flexibility thoroughly tested by Jerome Randle.
ADELAIDE concluded the round in Cairns where a frustrated Taipans coach Aaron Fearne midway through the third, subbed five in for five out, such was his degree of dissatisfaction.
Daniel Johnson stood tall, every one of his 212cm at both ends of the floor, Jerome Randle's wizardry helping create opportunities as the 36ers ended a 36-game sequence for the Taipans in Cairns. That's how long it has been between consecutive home losses. And 36 games before? Yes, it was the 36ers who did it then, too.
YEAH, NO KIDDING
CREDIT where credit is due. Seven games of NBL basketball on Fox Sports in Round 10 and the coverage, for the most part, was thoroughly entertaining.
Having great games helps, no question.
Other than Andrew Mulligan's confusion with how vowels should sound, still have no complaints about the coverage of Breakers' games and the work of Casey Frank.
Apparently Frank is an acquired taste, according to some who don't like his comments such as: "No cookies for you".
Personally, I liked it – hands in the cookie jar – but truth is, no commentator can please all of the people all of the time.
Adam Papalia in Perth is an asset but having Shane Heal join him and Brad Robbins smacked somewhat of overkill. Was Perth-Melbourne that big a game Shano had to be flown over?
Tommy Greer's work on the 36ers-Breakers match was exemplary with a notable absence of "big time" usages and considerable background and insightful information.
Brad Rosen also was on the money in Brisbane, again with more background info and explanations.
Matt Russell rapidly is growing as my favourite main caller. He's done his research (or he knows his stuff) and his observations aren't half bad for someone for whom basketball is not his main gig.
So Matt and Cam Tragardh are starting to grow as a combo and even when Trigger mixes metaphors, he's entertaining.
"I see your chess move and I'll raise you," was basketball, chess and poker all in one mouthful!
Jumping from Cairns-Sydney to Cairns-Adelaide coverage and Russell was quick to pick himself up when he called Anthony Drmic as "Frank Drmic".
But I like that, to be honest, because it shows Matt Russell knows who Frank Drmic is in the first place!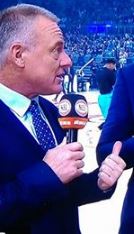 Dwayne "Hitchhikers Guide to the NBL Galaxy" Russell wouldn't know his Frank Drmic from his Frank Zappa.
(By the way, if 4000-plus at Titanium Security Arena was a "sell-out" for Dwayne a couple of weeks ago, Saturday's 5419 must surely have equalled fans being turned away at the door!)
Cam Tragardh's explanation of what realistic expectations of Terrance Ferguson should be, was commentary at its best as far as I'm concerned.
Not a bucketload of NBA waffle but a realistic appraisal of where the 18-year-old sits in the grander scheme of things.
Matt Russell's follow up: "If he can't even get a drink for three years in the (United) States, no wonder he came to Australia," absolutely was my favourite line of Round 10.
BEEF of the WEEK
"WE'VE got ourselves a ballgame!"
What the hell does that regular declaration from commentators on NBL games even mean?
Does it mean we've been watching shite upto that point and now the trailing team has made a few buckets "we've got ourselves a ballgame?"
So what were we watching upto that point?
Guys shooting pool?
A darts game?
A game of quoits?
It is about as redundant as that other regular caller fallback position of "loses the handle".
He's either mishandled the ball or lost control of it.
Either that or, possibly: "We've got a ballgame on our hands." Who knows?

Rd.10 Results
NEW ZEALAND BREAKERS 82 (Penney 16, Abercrombie 15, Loe 14, Vukona 12, Webster 10; Pledger 10 rebs; Stockton 6 assts) d BRISBANE BULLETS 75 (Bairstow 20, Kickert 17; Craig 9 rebs; Gibson 6 assts) at Vector Arena.
PERTH WILDCATS 92 (Prather 39, Johnson 11; Prather 11 rebs; Prather 5 assts) d MELBOURNE UNITED 89 (Ware 38, Moore 20, Goulding 13; Blanchfield, Majok 7 rebs; Ware 5 assts) at The Jungle, Perth Arena
ADELAIDE 36ERS 102 (Randle 37, Johnson 15, Creek 14, Sobey 12; Jacobsen 7 rebs; Sobey 6 assts) d NEW ZEALAND BREAKERS 92 (Penney 25, Vukona 16, Mitchell 13, Abercrombie 12; Mitchell 9 rebs; Mitchell, Webster 3 assts) at The Fortress, Titanium Security Arena.
ILLAWARRA HAWKS 98 (Clarke 24, Norton 14, Kay 13, White 11; Ogilvy 7 rebs; Ogilvy 4 assts) d BRISBANE BULLETS 88 (Jervis 18, Beal, Craig 16, Kickert 13; Kickert 8 rebs; Gibson 5 assts) at The Armoury, Brisbane Convention Centre.
SYDNEY KINGS 86 (Newley 20, Lisch 18, Powell 17, Whittington 14, Maric 10; Maric, Lisch 7 rebs; Lisch 5 assts) d CAIRNS TAIPANS 78 (Worthington 22, Jawai 13, Gliddon, Trice 12; Edwin, Worthington 6 rebs; Worthington, Trice 4 assts) at The Orange Grove, Cairns Convention Centre.
MELBOURNE UNITED 88 (Goulding 28, Ware 23, Barlow 10; Majok 11 rebs; Ware 8 assts) d SYDNEY KINGS 81 (Lisch 24, Newley 22, Garlepp, Cadee 10; Powell 9 rebs; Cadee 4 assts) at The Kingdome, Qudos Bank Arena.
ADELAIDE 36ERS 96 (Johnson 27, Sobey 19, Randle 18; Johnson 9 rebs; Randle 7 assts) d CAIRNS TAIPANS 83 (Jawai 17, Weeks 13, Edwin 12; Jawai 7 rebs; Worthington, Loughton 4 assts) at The Orange Grove, Cairns Convention Centre.