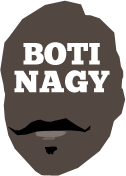 ---
Advertising opportunities available.
Please contact me.
---
NBL Rd.11 Wrap: Bairstow injury serious
Tweet
NBL fans and Bullets supporters in particular will be hoping Cameron Bairstow's knee injury is not as bad as it looked, because it looked pretty bad.
Leading the fast break with 68 seconds left in an overtime thriller against Illawarra, Bairstow's knee buckled under him and he went down pretty heavily.
He was assisted into the back corridors as Brisbane's four turnovers in overtime undid the heroics of a terrific fightback.
Illawarra still had it won, ahead 77-73 with 58 seconds left in regulation before Anthony Petrie fed Torrey Craig for 75-77.
The Hawks again blew their offence, this time Cody Ellis turning it over. Then for some inexplicable reason, AJ Ogilvy fouled Jermaine Beal in the backcourt with 11 seconds left.
Beal knocked both free throws down and we were headed into the extension, Ogilvy fouling out on the play to boot!
Finding some poise, Illawarra went ahead on Tim Coenraad's reverse after Bairstow gave Brisbane a 79-77 lead which Mitch Norton erased.
Beal's turnover opened the door, then a Daniel Kickert turnover saw Ellis take it to 83-79 and Brisbane was back chasing again, the Bairstow tumble adding to the Bullets' pain.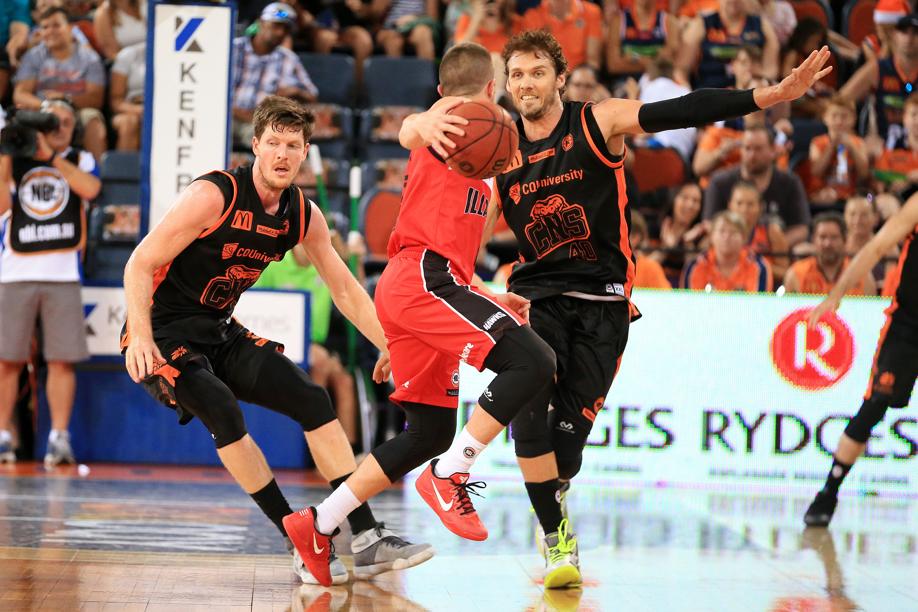 TAIPAN TRAP: Cam Gliddon and Alex Loughton prepare to pounce on Hawk, Rotnei Clarke.
Illawarra completed the 1-1 round split after dropping its opener in Cairns by 17 points, the Taipans' biggest win of the season.
Cairns boss Aaron Fearne took Cam Gliddon from his starting group, inserting Mitch McCarron, and drew career-highs from both in the process. Gliddon had a career-best nine assists with 18 points and McCarron hauled in a career-high eight rebounds.
The Taipans' 99 points was their best tally this season, 31 assists the most under Fearne's guidance, with five in double figures and Mark Worthington's 17 points on 100 per cent shooting.
Cairns was in black-out mode, which, apparently, isn't off limits up there, as we may have suspected.
The round opened in Auckland where Perth and its arch rival of this era produced a game for the ages - the Dark Ages.
Perth's 23-point half was the lowest in its history and its 57-point tally its all-time second lowest and worst since 1982.
Sending Corey Webster off to rebuild himself, paid off with the Breakers lifting and leading and in control throughout.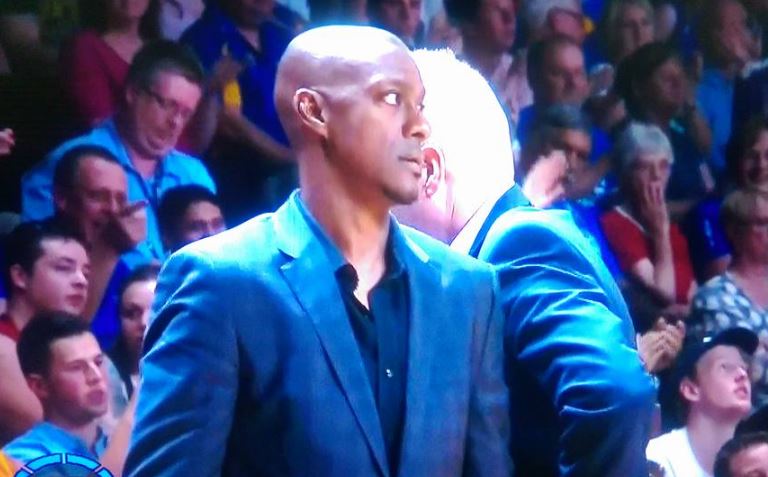 THE EYES HAVE IT: The face of Kings assistant Lanard Copeland says it all.
THE battle for first became a contrast of sorts, Adelaide's 31-point first period seriously sensational, its 10-point second its worst of 2016-17.
Sydney just hung around, then seized control which the 36ers wrested back. The Kings then led 80-79 inside the last nine seconds when Josh Powell had the first of two brain fades. Grabbing a defensive rebound, he only had to hold onto it and weather being fouled or hand it to Kevin Lisch.
He chose Option 3, to throw it the length of the court and out over the Kings baseline! The look on Lanard Copeland's face, above, says it all.
The Kings still had fouls to give before Adelaide got to bonus but Powell - again - instead fouled Daniel Johnson in his shooting action. Um. Yeah.
DJ made both for an 81-80 lead. Sydney took timeout and advanced the ball but the 36ers denied Lisch and when Mitch Creek made good position and the defending MVP stumbled into him, it was over. Almost.
Nathan Sobey made one free throw, Brad Newley caught the inbounds pass and hurled a prayer which caught the front of the ring!
Adelaide made it a 2-0 weekend sweep in Sydney when it again ran the Kings ragged, Jerome Randle with a career-high 10 assists and Sobey again effective getting to the hoop.
CASPER Ware threw one of the passes of the season to a breaking Todd Blanchfield as Melbourne took it up to Brisbane in Brisbane.
United had a 7-0 jumpstart before the Bullets blazed back, Anthony Petrie thriving in his 250th NBL outing and Melbourne heading back into the league dungeon.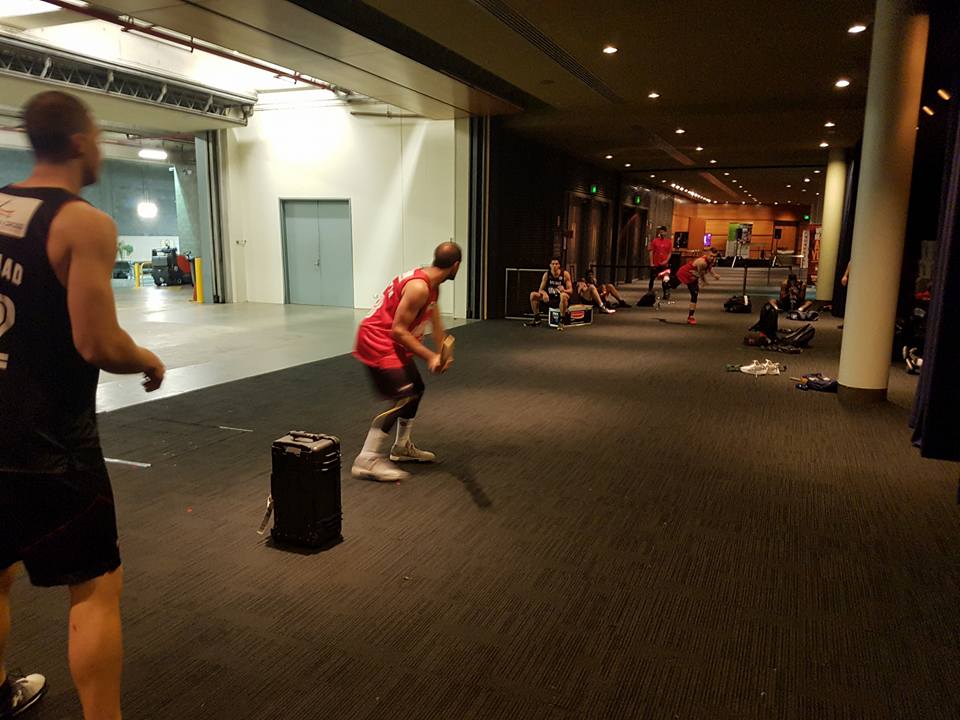 INDOOR CRICKET: The Hawks limber up before facing Brisbane in Brisbane.
HAWKS assistant Matt Flinn on social media revealed the secret to Illawarra's success in Brisbane.
The above pic was snapped at lunch while Illawarra was waiting for the Bullets to depart shootaround. Rhys Martin at bat, facing a surprisingly accurate Rotnei Clarke off-spinner.
Timmy Coenraad keeping, Matt Flinn at first slip, Mitch Norton at gully, Rob Beveridge at point using an unusual fielding technique, Nick Kay at cover, (who probably saved one of the best clean hits Flinny says he's ever seen) and Kevin White at mid-off and mid-on was busy and vocal.
Also at mid off was Michael Holyfield and Marvelle Harris, playing in what would be their first ever game of cricket, assumed a similar fielding posture as Bevo. Fielding at mid-on was Cody Ellis and AJ Ogilvy. Oscar Forman at short mid on, again busy in the field, made some good saves at mid wicket in a sweeping role. Eric Cooks was at third man resting after a great early spell of bowling.
Who says it's ALL BUSINESS. The secret of success has a lot to do with enjoying the journey.
YEAH, NO KIDDING
ROUND 11 started well in Auckland, even if the game was, as Casey Frank put it at halftime when confronted with Perth's 24.2 per cent shooting and 23-point total: "That was a half only a mother could love."
Maybe Perth just got confused reading the TV graphic (below) and wondering if it was Perth United or the Melbourne Wildcats.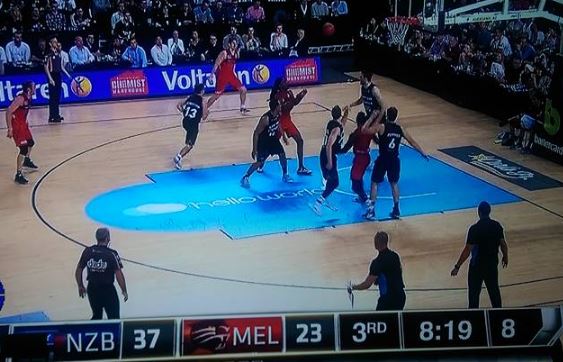 Tommy Greer was onto the "grown man move" calling Adelaide-Sydney, which, while I prefer it to "big time move", remains kinda redundant given everyone in the NBL is a grown man.
It led to my groan man move.
On to Cairns where the viewers were treated to the referees' comments to the captains pre-game, another interesting insight, and the work of Cam Tragardh.
Steve Carfino continued his meaningless "Yeah, no kidding" - if the amount of times he says it ever becomes a drinking game, they better start on shandies (do we still have shandies?) - but generally was his better self.
The Shane Heal-James Harvey love-fest continued unabated - "I agree with Shane", "I agree with Harvs" - and I agree the mute button is invaluable.
Enjoying the work of Matt Russell and Brenton Speed but the herd thins from there pretty quickly in terms of anchormen.
All-in-all, an engaging round and quality coverage. Or maybe I'm just in a Christmassy mood.
BEEF of the WEEK
OK, this is a personal bug-bear, born from the fact my colleagues often try to diss basketball by calling it so "American".
I do think we should take the best we can from the US - their "games behind" championship ladder, for example - but there also is a lot of shite we take just for the sake of it.
Originality is such a great quality, so when Tommy Greer or Brad Rosen - guys whose commentary and attention to detail steadily is putting them into the elite category - resort to "stops on a dime", I guess I'm overly sensitive.
Can't a quick player who pulls up dramatically be, stopping on "a 10-cent piece"? A pin-head?
A blade of grass? A toe?
I dunno but you get my drift. We don't actually have "dimes". So "he read that like a dime-store novel" also is redundant because we don't have those either.
We do have the $1 shop.
No-one ever got burnt for trying to be original. Just listen to Cam Tragardh!
Rant over, sons-of-bitches.
Rd.11 Results
NEW ZEALAND BREAKERS 69 (Penney, Pledger 16, Abercrombie 15; Abercrombie 11 rebs; Vuklona 5 assts) d PERTH WILDCATS 57 (Prather 23, Johnson 16; Knight 6 rebs; Kenny 4 assts) at The Beach House, Vector Arena.
ADELAIDE 36ERS 82 (Randle 24, Sobey 15, Johnson 10; Sobey 9 rebs; Randle 5 assts) d SYDNEY KINGS 80 (Lisch 19, Whittington 13, Newley 12, Cadee 11; Powell, Newley 8 rebs; Newley, Lisch 5 assts) at The Fortress, Titanium Security Arena.
CAIRNS TAIPANS 99 (Trice 22, Gliddon 18, Worthington 17, Jawai 15, Loughton 10; McCarron 8 rebs; Gliddon 9 assts) d ILLAWARRA HAWKS 82 (Clarke 21, Ogilvy 15, Harris 11, Norton 10; Kay, Oglivy 6 rebs; Norton, Ogilvy 4 assts) at The Orange Grove, Cairns Convention Centre.
BRISBANE BULLETS 100 (Beal 20, Bairstow 16, Petrie 15, Jervis 10; Bairstow 8 rebs; Beal 7 assts) d MELBOURNE UNITED 90 (Goulding 24, Blanchfield 20, Ware 12, Wesley 10; Majok 5 rebs; Ware 7 assts) at The Armoury, Brisbane Convention Centre.
ADELAIDE 36ERS 103 (Randle 19, Creek 18, Sobey, Johnson 17, Jacobsen 10; Johnson 9 rebs; Randle 10 assts) d SYDNEY KINGS 96 (Cadee 29, Whittington 19, Lisch 15, Maric 11, Powell 10; Newley 8 rebs; Newley 7 assts) at The Kingdome, Qudos Bank Arena.
ILLAWARRA HAWKS 91 (Kay 14, Norton 13, Coenraad, Clarke 12, Ellis, Harris, Ogilvy 10; Ogilvy 9 rebs; Norton 5 assts) d BRISBANE BULLETS 85 (Craig 21, Bairstow 16, Gibson 13, Beal 12; 3 with 7 rebs; Gibson 4 assts) in overtime at The Armoury, Brisbane Convention.