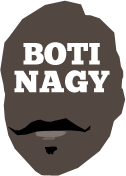 ---
Advertising opportunities available.
Please contact me.
---
NBL Rd.13 Wrap: Ghostly Casper ghastly
Tweet
CASPER proved anything but a "friendly ghost" as Melbourne tore Adelaide a new one 104-73 in their NBL top-of-the-table clash at The Cage yesterday.
Could there have been a more perfect way for United to start 2017 than by ending the 36ers' eight-game winning streak in such emphatic fashion?
It's doubtful, but while not an excuse, a bout of gastro did go through the 36ers, most notably crunching Nathan Sobey and Brendan Teys. It does explain why the Sixers played like .... manure.
The Casper Ware-Jerome Randle showdown was captivating early, with both players showing their bona fides. But realistically, the duel became largely irrelevant as Chris Goulding, Todd Blanchfield and Tai Wesley piled on the points and the Sixers left their eight-win streak behind in 2016.
That's where the round finished though, having started in Cairns where the Taipans could feel hard done by with some of the officiating in an engrossing one-point loss to United.
Here's a move Nate Jawai was making on Majok Majok early, pictured below.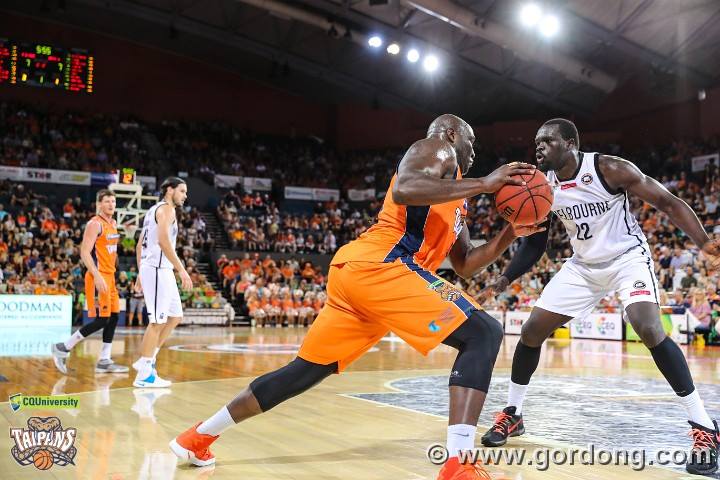 But as Big Nate tried to get past his United defender, this is what he encountered, left.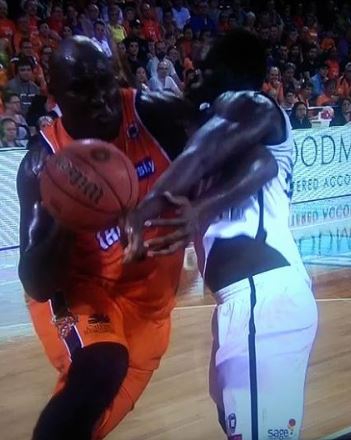 Don't know about you but even in such a dark pic, you'd swear there was contact.
Apparently, there wasn't. So when Nate had the temerity to question why this was deemed a no-call, the referee hit him with a technical foul!
Please note NBL - this is why everyone and their neighbour is bitching about the 2016-17 umpiring standard.
The ref doesn't make the call, then compounds it by teching a justifiably unimpressed victim. That was at 5:49 in the first period. Reckon it may have impacted on the result much?
Just a note for the young ref responsible. People pay to see Jawai, not you Sunshine.
Casper Ware again was triumphant in this rivetting match. His floater with 66 seconds to tick gave Melbourne the lead 77-76.
When Travis Trice stole the ball on United's next forward foray, he was heading for a lay-up.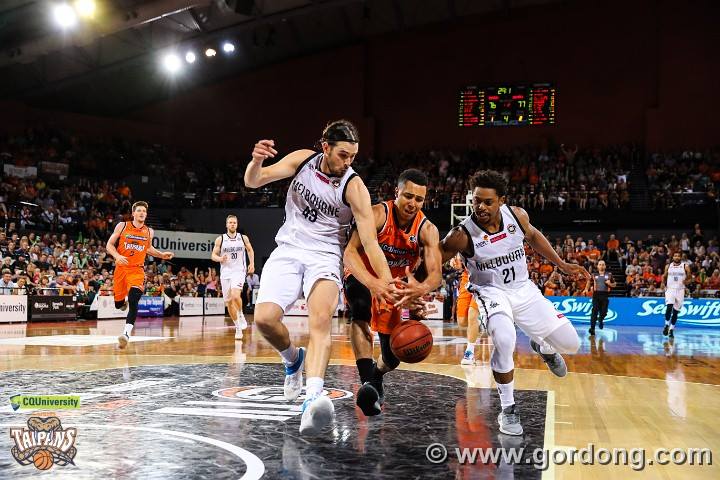 Instead, this (above) happened, Chris Goulding reaching over and across his shoulder and Casper Ware under Trice's arm.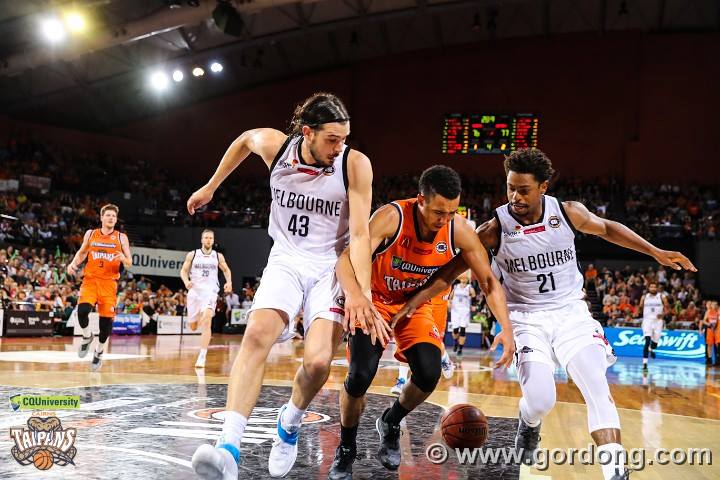 No contact?
Apparently NOT!
And you wonder why Taipans fans were grinding their teeth? That non-call was a travesty but luckily didn't end in a Travis T.
Shortly after, Melbourne coach Dean Demopoulos even had the audacity to challenge referee Toni Caldwell on the five-second inbounds violation call she made against United's David Barlow.
"I counted out loud," she tried to explain to Mr Can't Get Enough Calls, and if you watch it, she clearly did, calmly indicating each of the five seconds as they lapsed.
With 10 seconds left in the contest, Trice sliced to the hoop to give Cairns a 78-77 lead but with 3.8 heartbeats left, it was that man Casper again, sticking what would prove the match-winning jumpshot over a sprawling Cam Gliddon.
With fouls to give, United twice ruined Cairns' attacking chances.
Jawai to Mitch McCarron in the corner for the potential winner was where it ended, the rookie's shot doing everything except stay down.
IN Sydney, New Zealand rolled in without Tom Abercrombie, then lost point guard David Stockton to an injury inside the first two minutes.
It threw a lot of onus onto Shea Ili, the Breakers doing well to turn back a 10-point deficit and lead 73-66 with seven minutes to go.
Baskets by Jason Cadee and Brad Newley, the latter a 3-pointer, sent this game to the wire before, with 56 seconds remaining, Breakers warrior Mika Vukona was called for a soft foul on Kevin Lisch.
Bear in mind, Lisch was heading for the first single-digit return of his NBL career and would finish shooting 1-of-14. But it was "winning time" so Lisch slotted both free throws like the consummate pro he is.
With Sydney ahead 79-78, Kirk Penney rushed a 3-point attempt, then fouled out at the sideline fouling Newley while an agitated Breakers coach Paul Henare appeared to be imploring him not to!
Newley made one free throw (80-78) before New Zealand again surrendered possession when Vaughan Mayberry assessed a five-second inbounds violation against Akil Mitchell.
Like Caldwell before him in Cairns, Mayberry's count was fairly clear, though maybe not as obvious.
Mitchell fouled Lisch who again slotted both freebies for 82-78 with 25 seconds to play out.
When it comes to late-game brain fades, Sydney's Josh Powell brings NBA quality, his foul on Rob Loe's 3-point attempt with 15 seconds left the kind of play to make coach Andrew Gaze grey.
Loe hit the front and back ends for 80-82, Cadee fouled and making one, 12 seconds left, Sydney up 83-80.
And then it happened. The call of the night. New Breakers import Paul Carter catches the ball on the wing and Mayberry calls a travel.
Say WHAT?
Carter must have moved a pinky toe. But given what the refs let go these days, it was a dreadful game-deciding decision - an absolute shocker from one of our two top NBL refs.
Discretionary call if ever there was one, Lisch fouled, his free throws completing the final scoreline. Lisch went 6-of-6 from the stripe in the last 56 seconds. And if New Zealand went home muttering about how the game was decided, it had every right.
FAST forward to New Year's Eve where Perth showed its unparallelled ability to shine in a crisis.
Down an import and Damian Martin, it was Jesse Wagstaff's turn to step up and he did, nine of his 20 points in the final quarter including a cluster of key free throws down the stretch.
With 1:31 to the siren, Rotnei Clarke's three free throws made it 86-86.
Perth brings it forward and Jameel McKay leads out and catches the ball - not far from the spot where Paul Carter caught it the night before in Sydney.
McKay changes pivot feet twice but this night? No. This night it's NOT a travel.
Instead he passes it off, cuts to the hoop and throws down a dunk! McKay, who travels more than Gulliver at the best of times, apparently had a license to walk around with the ball which Paul Carter forgot to have stamped.
Mitch Norton slotted one free throw to bring it back to 87-88 for the Hawks before Wagstaff hit the biggest shot of the night, a baseline fadeaway J.
Illawarra ran a play to get Oscar Forman (6-of-9 threes) open but he was still under enormous pressure as he shot for the tie, and missed.
Jarrod Kenny was forced to take a shot on Perth's next possession, missed and the ball went out of court. Illawarra ball.
Um. No. A referee has found a foul on Norton jostling with Wagstaff on the rebound, the play unaffected and the type they will turn a blind eye on more often than not.
Tonight though, that old discretionary policy is in full force so its foul Norton, two shots Perth and - oh look - an additional technical foul on AJ Ogilvy for having something uncomfortable to say. So, down 87-90 and with what should have been possession, instead the ballgame is decided.
Wagstraff nailed the two free throws for the "foul", the additional free throw for the tech and on the following possession was fouled, converting the two extra shots. 95-87.
No qualms about the Wildcats' heart and how hard they worked to keep their playoff hopes alive. But the refs were booed into the changerooms with good reason.
BRISBANE was going to give its next opponent hell after going under by 38 the previous round to Melbourne. The Taipans had to know what was coming, the Bullets double-teaming and aggressive, new starter Mitch Young throwing down two dunks in the early going.
With Anthony Petrie joining Cam Bairstow on the "out for the season" team, Brisbane needed players to lift and Young, Daniel Kickert and Adam Gibson were three who did.
The Bullets' 29-15 final quarter rally ended it as a contest but the Taipans definitely lost focus as the officiating deteriorated with typically erratic inconsistency.
Shame really.
One positive about the officiating though. Their effort so far in 2017 has been quite good. (Melbourne's 31-point blow-out over Adelaide helped that, of course).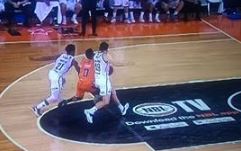 YEAH, NO KIDDING
NOT sure how great a start we were off to in the TV stakes this round in Cairns, with Cam Tragardh giving tips "for the young players out there" on how to disguise an unsportsmanlike foul.
Really Cam? How about tips on how to shoot a jumper, use a screen, play help defence, or more along those lines than what effectively amounts to "how to cheat"?
There it is again, that no-call with Travis Trice the meat in a Casper Ware-Chris Goulding sandwich (pictured). Not sure Cam was on the money though that when the ball was loose, Ware collected it with his backfoot out of court.
Otherwise, the call was fine, as it always is with Matt Russell in the main chair.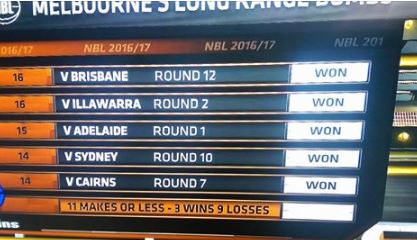 Not sure about this graphic though which shows United wins if it makes more than 11 threes.
Those 15 against Adelaide in Round 1? If I'm not mistaken, the 36ers beat Melbourne in Round 1 after taking a smack from Illawarra.
THE banter in Sydney with Brad Rosen and James Harvey was entertaining and added to the call. Many of the insights provided were pretty good too.
IT was frightening when I first tuned in to the Hawks-Wildcats game live to hear "an unlikely conveyance," realising at once, John Casey was back in the chair.
Immediately had to wind back to the start to ensure I hadn't missed anything.
I hadn't. There it was in the opener, Casey throws to Steve Carfino whose first words are: "Yeah, no kidding." How much we wish he was.
But The Carf always can be relied upon for a quick spot of meaningless drivel.
As for Carfino's astute pre-game comment: "Perth are going to struggle to score with them on the scoreboard," we can only humbly offer thanks for such coherent and precise analysis.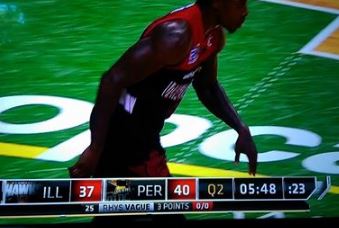 SOMEWHAT VAGUE: Maybe that was Casey Prather hitting the three?
Carf also had a "yeah, no kidding" in the closer. Sigh. No further correspondence needs to be entered into.
SHANE Heal was at his best in Brisbane and I'm beginning to become a fan of his calling. Maybe it's just the fact he isn't afraid to say what needs saying.
Even his observation Cairns was getting caught up in the officiating was pertinent.
And so to the end of a terrific round and it's time for Tommy Greer to carry Dwayne "All Thumbs" Russell through the Melbourne-Adelaide clash at The Cage.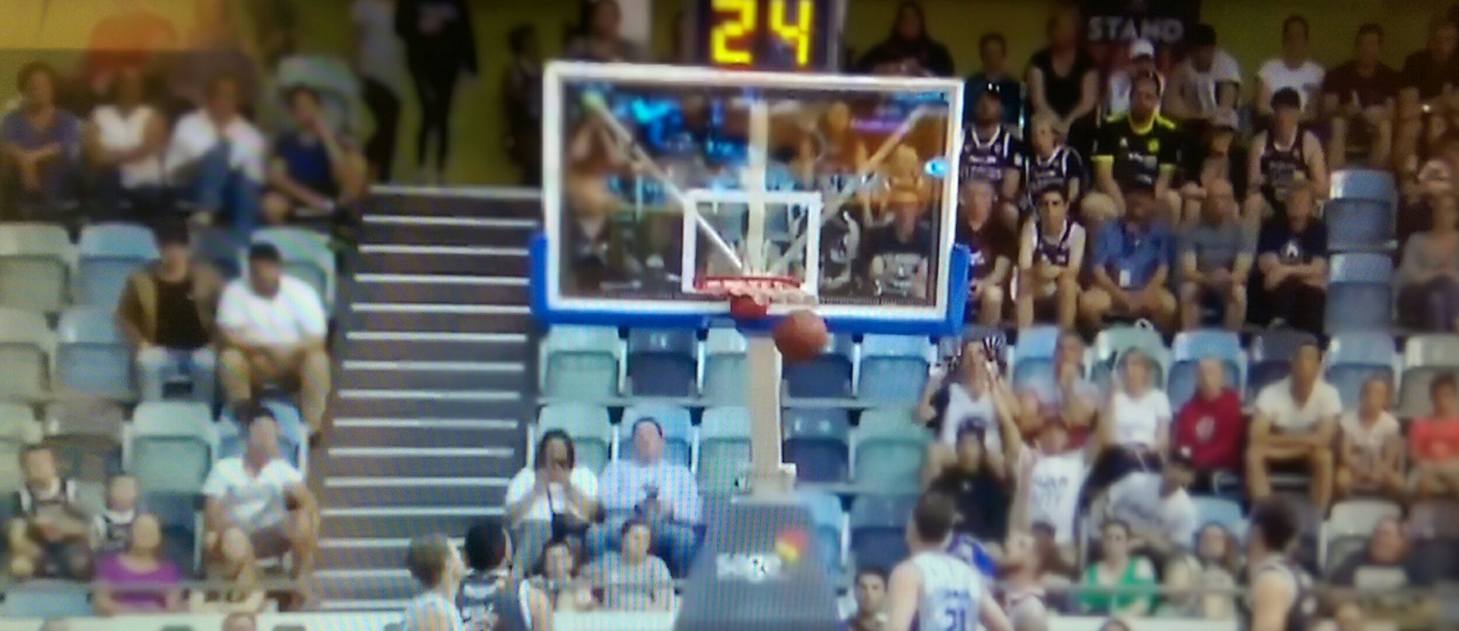 Of course, according to Dway-No, it's a sell-out. (As the above picture clearly reinforces, unless there was a mad rush on the loo, which is possible if fans had hung around the gastro guys of the 36ers. Possible. But not likely.)
All Thumbs also had Titanium Security Arena as sold out on Thursday for the 36ers-Hawks game. That prompted a response from Adelaide to confirm that is NOT the case. It's close but there are seats. Sigh.
"Joey Wright barking out instructions," was another Russell gem, the cameras showing the 36ers coach calmly addressing his assistants and some benchmen.
Maybe someone should explain to Russell that this is TV, not radio and we can SEE what's going on.
Other than Russell's perpetual over-excitement at any 3-point basket or dunk, the only other jarring element of the telecast was how both he and Tommy fell in love with the term "masterclass".
We heard you. It's a point guard masterclass. It's a Melbourne United masterclass. Yes. Today, anything that happens more than once and is impressive becomes a masterclass.
Got it. Filed. Please stop now.
FINALLY, loving Tommy Greer's work on NBL-TV's "In Their Own Words" series.
Laid back and effective, informative, insightful, entertaining - everything Dwayne Russell isn't.
BEEF of the WEEK
THIS week it's not the preponderance of "discretionary calling" by our officials - though Round 13 saw a freakin' epidemic.
Or even the blaring loud music that even came across on TV as overbearing in several venues.
It's not the Brisbane Bullets MC with his sad "Let's go Brisbane, let's go" chant attempts.
But it's back to TV production by the NBL.
When - if ever - will the directors learn NOT to cut from live action to close-ups, crowd shots or replays?
It's basketball. Something may be happening on the inbounds pass. How long does it take to learn something this obvious?
Rd.13 Results
MELBOURNE UNITED 79 (Ware 24, Goulding 16, Wesley 12; Majok 7 rebs; 3 with 3 assts) d CAIRNS TAIPANS 78 (Trice 15, Jawai 12, Weeks, Gliddon 10; Egwu 7 rebs; Worthington 6 assts) at The Orange Grove, Cairns Convention
SYDNEY KINGS 85 (Cadee 22, Whittington 17, Newley 16, Powel 110; Powell 6 rebs; Newley 6 assts) d NEW ZEALAND BREAKERS 80 (Penney 20, Carter 14, Delany, Pledger 11; Mitchell, Delany 7 rebs; Ili 4 assts) at The Kingdome, Qudos Bank Arena.
PERTH WILDCATS 95 (Wagstaff 20, Prather 19, McKay 16, Kernich-Drew 13; Brandt, McKay 6 rebs; Kenny 6 assts) d ILLAWARRA HAWKS 87 (Forman 20, Clarke 17; Ogilvy 5 rebs; Ogilvy 7 assts) at The Sandpit, WIN Entertainment
BRISBANE BULLETS 93 (Kickert 19, Gibson 15, Young, Beal 14; Craig 10 rebs; Bruce 4 assts) d CAIRNS TAIPANS 76 (Trice 20, Jawai 11, Worthington, Gliddon 10; Gliddon, Jawai 4 rebs; Gliddon 3 assts) at The Armoury, Brisbane Convention Centre.
MELBOURNE UNITED 104 (Ware 30, Goulding 20, Blanchfield 14, Wesley 11; Boone 9 rebs; Ware 7 assts) d ADELAIDE 36ERS 73 (Randle 21, Johnson 14; Johnson 11 rebs; Randle 7 assts) at The Cage, State Netball and Hockey Centre.
TOMORROW: B.O.T.I. Players of the Week