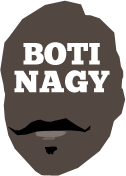 ---
Advertising opportunities available.
Please contact me.
---
NBL Rd14: The wedge narrows again
Tweet

THE Hawks appear to be back in business with the "Fight for the Finals" now definitely down to five teams - Melbourne United, Perth Wildcats, South East Melbourne Phoenix, Illawarra Hawks and Sydney Kings - with perhaps only the defending champs truly looking secure in the playoffs top four.
If fans hadn't done it already, Adelaide, Brisbane, Cairns and New Zealand can be dismissed as making any sort of "late charge" or whatever, the quartet reduced - at best - to the occasional spoiler role.
Tasmania JackJumpers continue to exceed all (mainland) expectations and if they maintain their level of commitment and desire without hitting that "first year blues" wall, coach Scott Roth should be a lock to win Coach of the Year honours.
Seriously now, who had Tassie for anything much other than last or second-last in preseason predictions?
Still not completely sold on Perth as a championship contender. Hosting a bucketload of home games to finish the regular season at The Jungle, rest assured the Wildcats will be active in the post-season.
Having Bryce Cotton, Vic Law and Todd Blanchfield all firing, they had too much weaponry for Adelaide but can they win title #11 with Michael Frazier as their third import?
He laid an egg across all the scoring columns in 13 minutes against the largely defenceless 36ers, amassing a grand total of three rebounds, an assist and a steal. He also had three turnovers and a foul. On any night Cotton, Law or Blanchfield do not shine, the Wildcats are beatable because Frazier adds nothing. Zero. Zip. Nada.
Perth has a big call to make and it's a call previous WA-based management would already have pulled the trigger on, long ago. Here's what happened in Round 14: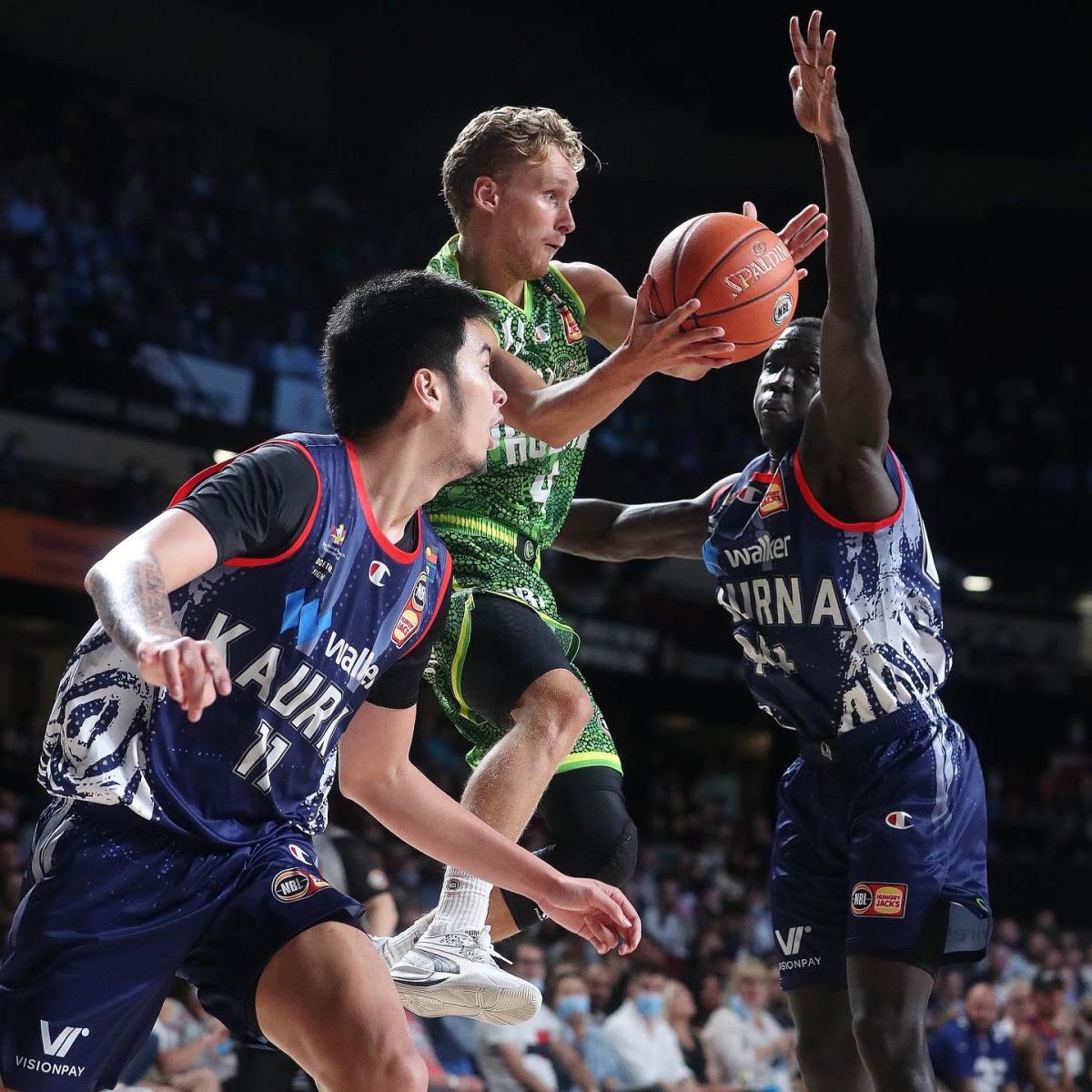 IT started as a one-on-one game between former 36ers teammates Daniel Johnson and Mitch Creek in Adelaide, the pair trading threes and dunks and great plays before the latter again had the last laugh, leading South East Melbourne to an important road win.
The Sixers were minus coach CJ Bruton (COVID) and lost reliable Cam Bairstow to illness inside eight minutes, opening the door for the Phoenix to rise.
They did just that, Creek with 29 points at 67 per cent, seven boards, five assists and two steals leading the onslaught, with DJ wracking up 31 points at 76 per cent, eight rebounds and four assists, but with five turnovers.
NBL fans in Launceston were treated (treated? Exposed maybe) to one of the worst games of the year before local heroes Tasmania held out adopted second sons New Zealand 66-62.
Here's some fun figures to make you cringe. The JackJumpers shot at 35 per cent and connected on 3-of-27 threes. The Breakers shot at 31 per cent and were 5-of-33 from long distance.
Peyton Siva was 0-of-13 and 0-of-9 from deep - 0-of-8 before he tried for a late three for the tie - that cut a sweet swathe through the air. Ugh. Launceston basketball fans - it's not always like this.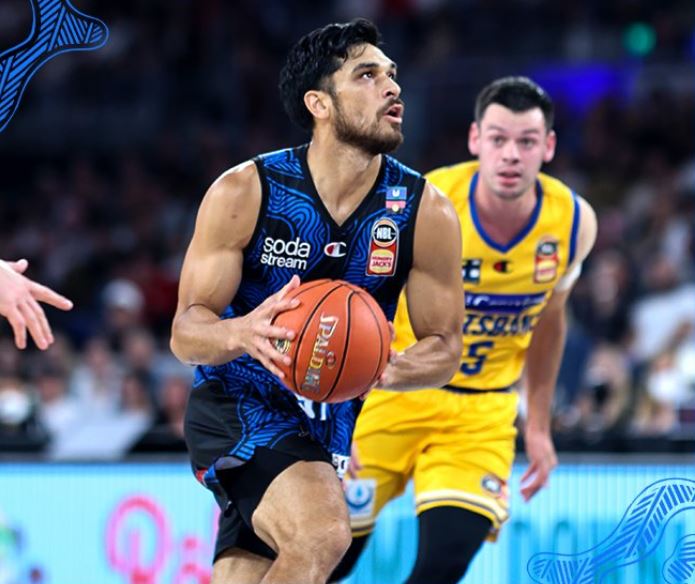 WHEN six United players score in double figures against Brisbane in Melbourne and none of them is named Chris Coulding, you'd have to think this was a "business-as-usual" cruise for the home team.
Well you'd be right. You can take this Bullets turkey out of the oven because it is well and truly cooked. It's even moved out of the Fraud Squad because teams in there at least let you wonder if they're for real maybe. These guys are definitely not.
Jo Lual-Acuil accumulated another comfortable 20-point, eight-boards game, while never getting his hands dirty with any of those "assists" thingys. And Shea Ili continued to press his claims as not only the NBL's Best Defensive Player but also its Best Sixth Man.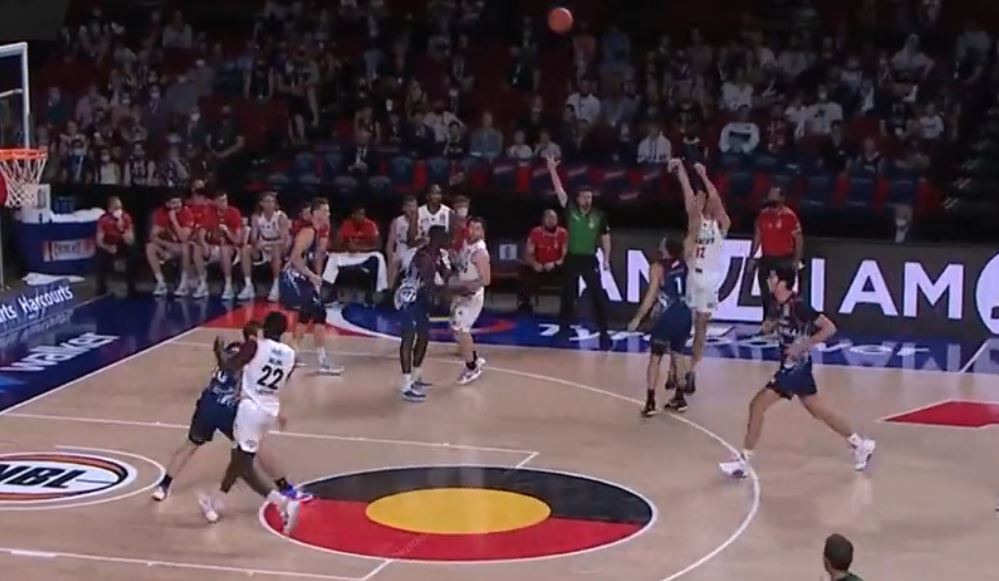 BRYCE Cotton buried the game's opening 3-pointer, Vic Law completed a 3-point play, then Todd Blanchfield swished a three and Perth was 9-0 in Adelaide and never going to be caught by this 36ers mish-mash.
A white-hot Blanchfield scored 17 points for the first period, 4-of-4 threes, 2-of-2 from the floor, then missed a free throw of all things!
Then it was Cotton's turn to burn before Law held the floor in the third.
Some nice moves by Tad Dufelmeier and a couple of Dusty Hannahs touches, aided by a whopping 22 offensive rebounds meant Adelaide had 85 shot attempts.
They connected on 26 (30 per cent if you're playing along at home), with 7-of-37 threes (18 per cent). Smart? Not really.
Yet they dragged what had been a 20-point deficit back to seven before folding along the dotted lines in a quagmire of bad decisions and ill-conceived plays.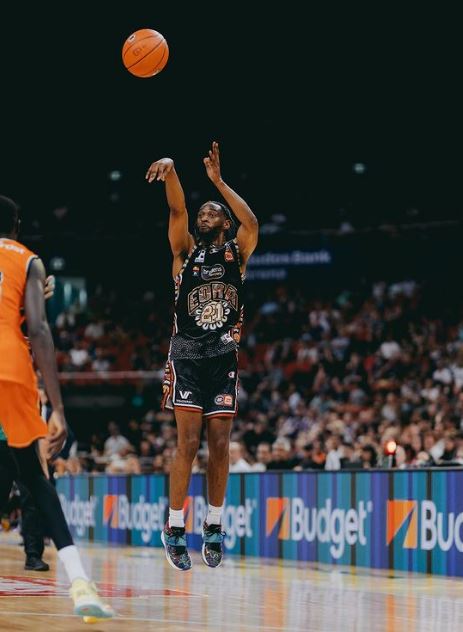 JUST a wee bit scary how much better Cairns looked for stretches against the Kings in Sydney, without injured livewire energiser bunny import Tahjere McCall.
A whole lot more control, Stephen Zimmerman with a 16-point, 13-rebound double, plus five assists and Scott Machado able to call the shots.
Not that it made much difference you understand. Xavier Cooks was ruthless for 23 points at 57 per cent, 12 rebounds, four assists and three blocks, plus Jaylen Adams' 21 points included 5-of-7 threes.
The Taipans pegged it back into single digits several times but Sydney always had the answer, whether it was a sneaky Jarell Martin or an energetic Ian Clark completing plays.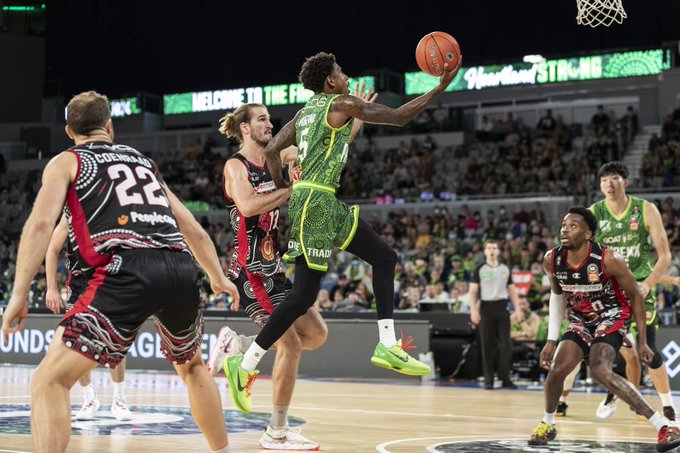 AHEAD by 10 at home in Melbourne midway through the third quarter, South East Melbourne unravelled as Antonius Cleveland kick-started Illawarra into a 25-6 run that underpinned a huge road win over a rival final contender.
Cleveland's hustle and energy, not to mention 16 points, put the Hawks into full flight where Xavier Rathan-Mayes then flourished. And that was particularly impressive considering Tyler Harvey was 0-of-8 for the game and made one free throw with 41 seconds left.
A late three by Ryan Broekhoff (2-of-12 from range) brought South East back to 74-79 with heartbeats left but, for a pleasant change, Illawarra minimised its late-game-bad decision-making to hold on for an important road scalp.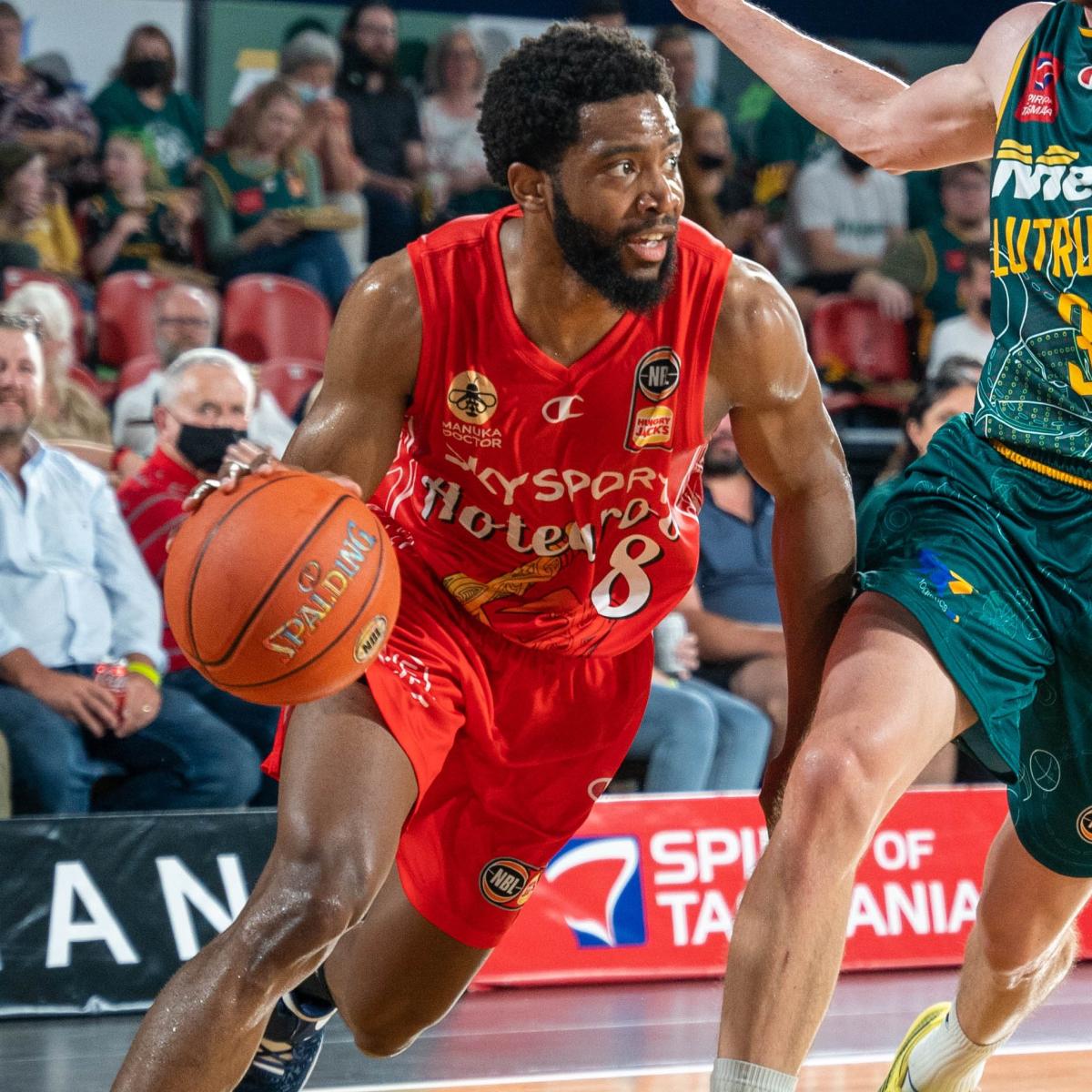 NEW Zealand hosting Brisbane in Hobart really only amounted to a case of: Does anybody even care?
The Bullets took a 39-31 lead into halftime, then Jason Cadee singlehandedly ended this game as a contest. Cadee opened the third quarter with a 3-pointer, stole the ball, swished another 3-pointer, came up again with a steal and drove to the hoop to be fouled as he made the basket.
Converting the three-point play, he had rattled off a 9-0 run of his own and ahead 48-31, Brisbane was not going to be caught. Cadee finished with 22 points at 72 per cent, drilling 5-of-6 triples.
He additionally enjoyed nine assists, though not as much as his teammates did, Robert Franks also stepping up with a 23-point (at 70 per cent), 10-rebound double-double.
Key players missing, the sound of the siren provided great relief for the Breakers.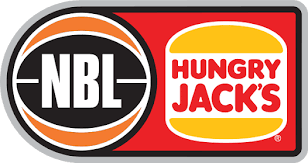 ROUND 14 - THAT'S THAT
SOUTH EAST MELBOURNE PHOENIX 83 (Creek 29, Broekhoff 12, Le-Afa 11; Qi, Creek 7 rebs; Creek 5 assts) d ADELAIDE 36ERS 76 (Johnson 31, Hannahs, McCarron 9; Sotto, Johnson 8 rebs; McCarron 9 assts) at Adelaide Entertainment Centre. Crowd: 4,775
TASMANIA JACKJUMPERS 66 (McIntosh 21, Weeks, Steindl 9; Kenyon, McDaniel 7 rebs; Magette 7 assts) d NEW ZEALAND BREAKERS 62 (Randle 18, Dieng 17, Loe 12; Dieng 9 rebs; Siva 9 assts) at Launceston Silverdome. Crowd: 3,532
MELBOURNE UNITED 95 (Lual-Acuil 20, Agada 15, Hukporti 14, Ili, White 13, Dellavedova 12; White, Lual-Acuil 8 rebs; Ili 6 assts) d BRISBANE BULLETS 83 (Franks 20, Cadee 17, Digbeu 11, Patterson 10; Cadee, Salt 5 rebs; Cadee, Patterson 5 assts) at the UN, John Cain Arena. Crowd: 6,086
PERTH WILDCATS 92 (Cotton 27, Blanchfield, Law 22; Law 11 rebs; Cotton 7 assts) d ADELAIDE 36ERS 73 (Johnson 19, Dufelmeier 12, Hannahs, Dech 10; Johnson 12 rebs; McCarron 6 assts) at Adelaide Entertainment Centre. Crowd: 4,157
SYDNEY KINGS 98 (Cooks 23, Adams 21, Martin 18, Clark 15, Vasiljevic 11; Cooks 12 rebs; Cooks, Adams 4 assts) d CAIRNS TAIPANS 88 (Machado 26, Zimmerman 16, Deng 14, Kuol 10; Zimmerman 13 rebs; Machado 7 assts) at The Kingdome, Qudos Bank Arena. Crowd: 9,112
ILLAWARRA HAWKS 83 (Rathan-Mayes 19, Cleveland 16, Jessup 15, Reath 12; Jessup, Cleveland 7 rebs; 4 with 3 assts) d SOUTH EAST MELBOURNE PHOENIX 77 (Creek 18, Broekhoff 15, Le'Afa 14, Munford 13; Qi, Munford, Broekhoff 7 rebs; Munford 6 assts) at the House of the Rising Sun, John Cain Arena. Crowd: 2,989
BRISBANE BULLETS 92 (Franks 23, Cadee 22, Moss 10; Franks 10 rebs; Cadee 9 assts) d NEW ZEALAND BREAKERS 74 (Randle 20, Dieng 17, Delany, Siva 12; Delany 6 rebs; Siva 6 assts) at the Breakwater, Mystate Bank Arena. Crowd: 10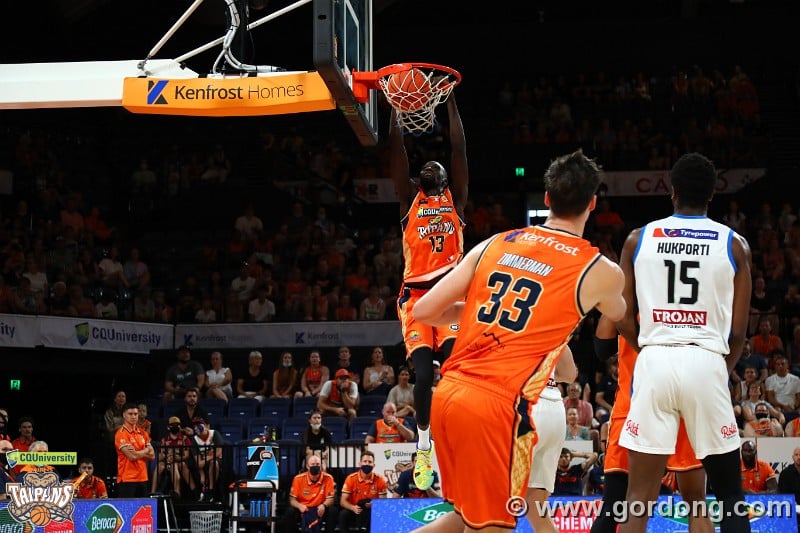 WHAT WE LEARNT
*THAT with a 5-11 win-loss record, the 36ers negotiating to secure Casper Ware - a guard for a team which already has Mitch McCarron, Sunday Dech, Dusty Hannahs, Tad Dufelmeier - is like throwing away good money after bad.