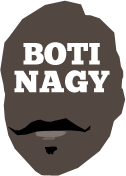 ---
Advertising opportunities available.
Please contact me.
---
NBL Rd.15 Wrap: Taipans try to blow it
Tweet
CAIRNS Taipans did everything in their power tonight to blow a big lead and lose against Perth to close NBL Round 15, but fortunately for fans of the Orange, they managed to fail.
While Cairns desperately tried to maintain the Queensland tradition begun and perfected by Brisbane this week - have a big lead, blow the game - the refs managed to bail it out to preserve an 80-78 win, keeping its Final Four hopes on life support.
Stevie Weigh had a good deigh with his 19 points off the bench including 4-of-6 triples, Cairns down power forward and likely club MVP Mark Worthington through injury.
Perth also suffered a setback when Casey Prather warmed up but withdrew before tip-off, Greg Hire stepping into the starting quintet and a monster on the offensive glass with six caroms there.
There wasn't a lot in it until Cairns muscled to an 80-68 lead inside the last three minutes and looked "home".
Instead, a series of ridiculous decisions by an assortment of Taipans players and some stellar defensive work from Wildcats captain Damian Martin orchestrated a 10-0 Perth fightback.
Bryce Cotton, then Jesse Wagstaff from range had it back to 73-80, forcing a Cairns timeout. When Cairns couldn't get the ball inbounded after five seconds, it was Jameel McKay cutting it to 75-80.
Perth coach Trevor Gleeson earnt a technical foul but Cam Gliddon missed the free throw, then it was a Taipans offensive foul before Dexter Kernich-Drew's three trimmed it to 78-80.
It was such a mess and the three officials had little idea of what was going on, getting calls wrong, swept up in the emotion of it all, Cairns somehow holding on.
THE round started with Adelaide hosting a depleted Melbourne, taking until midway through the third quarter to break open the contest.
Nathan Sobey equalled his career high with 32 points and his eight assists were a new career-best, Jerome Randle also with eight assists.
The 7,106 fans at Titanium Security Arena had to wait until 2:50 to go in the third for Randle to hit his first shot, then it was on.
He finished with 19 to take the honours over Casper Ware.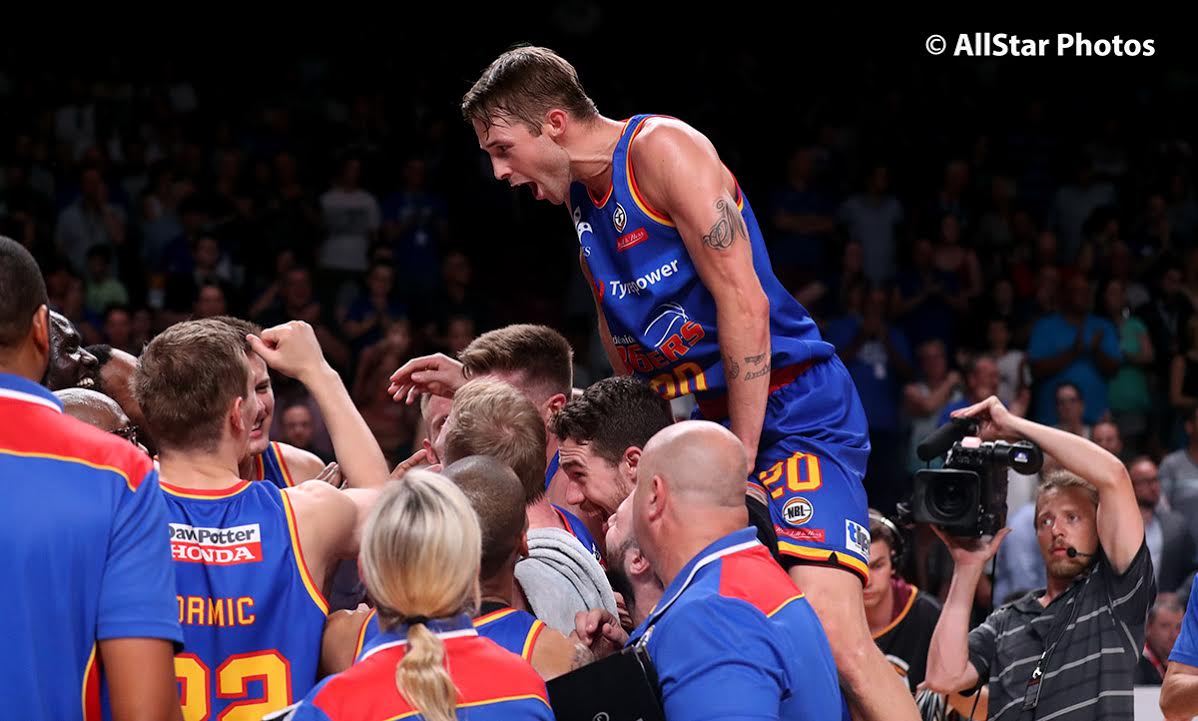 WIN NO.14: Nathan Sobey jumps on jubilant teammates after the 36ers beat Melbourne.
NICK Kay stepped up to be the hero in Wollongong as the Hawks fought back to beat Brisbane for the third time this season, Adam Gibson suffering a calf tear to further add to the Bullets' woes.
Brisbane led by 11 in the first quarter, 14 in the second and still led 63-50 late in the third period.
With AJ Ogilvy fouling out on a foul and a tech foul, Kay led the recovery and was the man who tied it at 66-66, a 16-3 Hawks bombardment.
Cody Ellis blocked a shot by Daniel Kickert as Illawarra swung the momentum, Kay's drive giving it the lead 70-68.
Kickert was huge for the Bullets and put them ahead again 78-76 with 2:02 to go, Kay tying it up again.
With 1:28 left, Kickert put Brisbane up 80-78 when Gibson went down, clutching his calf and calling for assistance. At 1:05, Rotnei Clarke's 3-pointer gave Illawarra the lead.
Mitch Norton played terrific defence to draw a charge from of an out-of-control Jermaine Beal with 13 seconds left and at 12 seconds to go, Kay sank two free throws.
Beal then hurled up a wild 3-point attempt which never looked like dropping and the Hawks were across the line.
"The way Nick has been playing, it epitomises our club," Hawks coach Rob Beveridge said. "The heart of this guy and how hard he plays no matter what. He doesn't get caught up with referees. He just plays his guts out and he's been great for us all season."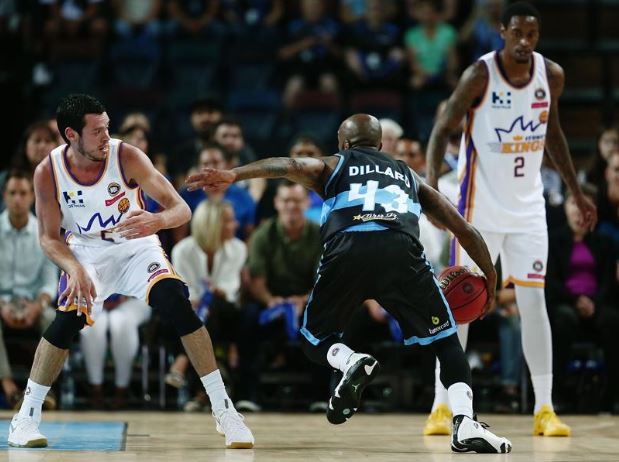 BREAKER BREAKER, WORD IS THEY'RE BACK: Kevin Dillard challenges Jason Cadee
ANYONE counting out New Zealand needs to think again, the Breakers breaking Sydney's hearts by 18 points.
The Kings were looking solid until NZ broke away from 38-36 to 43-36 at halftime, then opened the third with Paul Carter bumping the lead to 45-36.
Sydney rallied, Jason Cadee's three tying it 54-54 with 2:46 left in the third. Josh Powell pushed the Kings in front 56-54. Kevin Lisch had Sydney further ahead at 61-56.
Powell missed a couple of free throws in the last quarter, then gave up an unsportsmanlike foul in midcourt which Kevin Dillard converted to go from 64-63 to 66-63. He then hit an elbow jumper for 68-63 and New Zealand was rolling outside Sydney's grasp.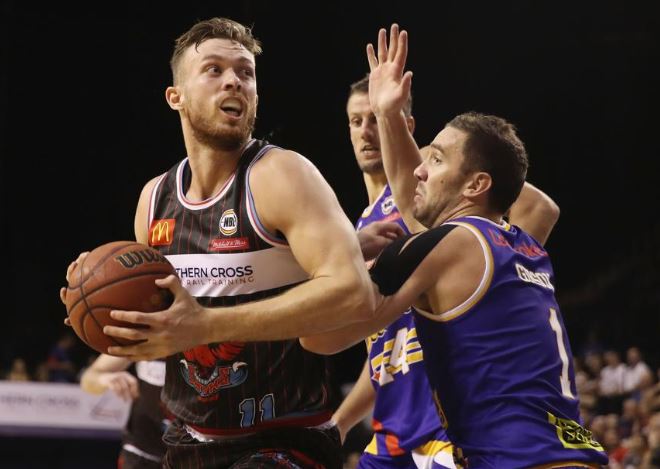 KAY'S DAY: Nick Kay epitomises what Illawarra stands for.
MELBOURNE looked to have Cairns' measure when Chris Goulding's 3-pointer gave it a 57-42 lead but he went down awkwardly and United fans held their breath as he was assisted from the court.
The Taipans immediately rolled out eight unanswered points to get to 50-57 and were even closer at 55-59, then 71-74 in the last on a Stevie Weigh 3-pointer.
But back into the fray, Goulding hit consecutive threes and the Taipans' hopes effectively were dashed.
IN PERTH, where the 36ers had lost nine straight times, history looked likely to repeat as Bryce Cotton helped steer the Wildcats 35-19 clear in the second period.
Daniel Johnson was carrying the 36ers, captain Mitch Creek also active and growing as the game wore on, Adelaide turning the tables when Nathan Sobey and Jerome Randle kicked in offensively.
Level at 66-66 with a quarter to go, Perth tasted its last lead on a Casey Prather dunk and bonus free throw for 69-68. Randle then struck a 3-pointer, Brendan Teys made it 73-69 and Adelaide would not be caught, hustling Perth into error and relishing open court bliss as a record 13,611 members of the Red Army fell silent.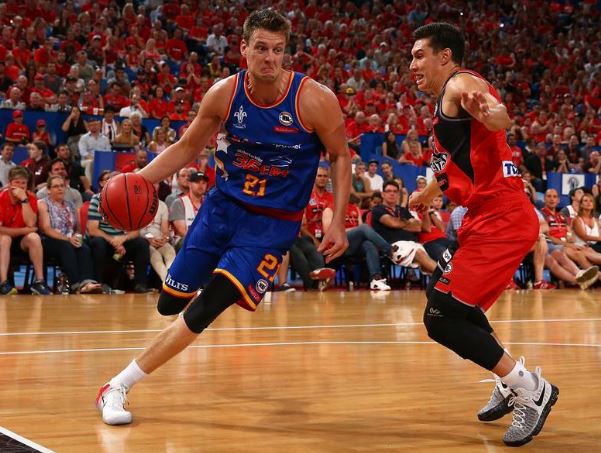 DJ MADE SWEET MUSIC: Daniel Johnson carried Adelaiode until his teammates pitched in.
THE Breakers overhauled an eight-point deficit in the last quarter in Brisbane as the Bullets again found a way to lose.
New NZ import Kevin Dillard hit the game-winning jumphot on the buzzer, the only time the Breakers led for the entire match.
Jermaine Beal again was awful in the clutch, passing a ball to Mitch Young forcing a dreadful 3-point attempt to beat the shot-clock. As he then rushed to make a play on Brisbane's last offence, scores level and haste not required, Beal had the ball stolen off him by Dillard who recognised the state of the clock, watched the final seconds tick away, then picked his moment for the final dagger.
Bullets fans were fired up by a pre-game heritage round presentation to club greats Leroy Loggins, Cal Bruton, Sam Mackinnon and coach Brian Kerle.
But the loss, coupled with the calf injury to Gibson in Wollongong, suggests any road to the playoffs now will be particularly arduous.
"Games like that, it just shows you that you can win tough games on the road and that's big and hopefully this is something we can build on," Dillard said. "We showed a lot of fight and a lot of resilience but we fought to the last minute, the last second."
YEAH, NO KIDDING
IT was a wonky week for NBL-TV and its presentation on Fox Sports, starting with sideline reporter Neroli Meadows in Adelaide at halftime throwing a half-baked question at a clearly frustrated 36ers coach Joey Wright.
"Our starpower is thinking about themselves and worrying about scoring their points and not thinking about the overall picture," he informed her.
She came back with: "That's a big call to make. Is that the message at halftime?"
Really Neroli? That's a big call? You're surprised because you got, ulp, honesty??
"Definitely the message," Joey confirmed.
To which Neroli said? "To play as a team?"
Holy moley. Is this for real?
"Play as a team," Joey repeated.
Not enough for our sideline reporter? Try this next one.
"And what about the fouls and the little mistakes at the moment? How do you feel about that?"
Seriously? Was someone pumping these questions into her earpiece? Those dreaded "little mistakes" will get ya every time, right?
"Fouls have got something to do with somebody else that I don't control so I don't have anything to do with that," Joey replied. "Guys need to do a better job of moving the ball and executing."
At this point, our Lois Lane of the hardwood actually pats Joey on the tummy and says: "All right Joey Wright. Thanks for your honesty. Get in there and tell them the message!"
I'm surprised he didn't thank her for the endorsement. Out of her depth much?
Her halftime interview with 36ers legend Brett Maher was a saving grace, but mainly because Maher's smooth professionalism and ease in front of the camera served to remind all how dopey NBL-TV production has been in not utilising his talents.
Shane Heal delighted in informing viewers Adelaide couldn't win the NBL this season, then proceeded to contradict himself by saying how they had been beating everyone, then settled on he couldn't see the 36ers winning a three or five-game series.
A five-game series would mean the Grand Final wouldn't it? That would be pretty close to winning it then, to potentially be in the last two teams standing.
Well done Anthony Hudson near the close of the coverage with his: "The 36ers are the team to beat in the NBL in 2017."
LET'S fly across the Tasman where Casey Frank, who was a Yank (haven't used that term in yonks – almost as long as "yonks") and therefore has every right to say "stops on a dime", instead shows some originality.
"He can stop on the head of a needle," Frank said.
Bravo.
Tuning in to Brisbane at Illawarra and we've got "unlikely conveyance", "continuation waved away" and shots trying desperately all night to "tumble".
You didn't need to see the opener to know who's calling this one.
Kudos to Brad Rosen on his call, especially when the Bullets came out of a timeout huddle down 80-83 with 12 seconds left and Jermaine Beal throws up an off balance 3-point prayer which never even looks like dropping.
"I don't think that would've been the play that they would've drawn," he deadpanned.
IN MELBOURNE, Adam Ballinger made his commentary debut and showed he may be able to add to the call as his confidence grows.
Showing some flashback footage of the Magic, Ballinger's banter with Tommy Greer gave us one of the weekend's highlights.
"I don't think I've ever seen any film (before) of Brian Goorjian with hair," Ballinger remarked. "I just assumed he was born bald."
Greer: "He probably was born bald."
Gold.
ADAM Papalia is a pro in Perth but I swear sometimes it sounds as if Brad Robbins is talking because he thinks he has to.
Robbins is a classic example of the saying "silence is golden" because when you say the 36ers are struggling offensively with Randle and/or Sobey off, but Mitch Creek and Daniel Johnson are killing it in front of your eyes, you show your focus is only on the team in red.
And Neroli Meadows is back! Yay. And catching up with none other than Joey Wright at halftime.
"You spoke about the team game on Thursday night, once again in the quarter-time and timeouts here. Do you want that to be the focus, playing as a team?"
Oh. My. Goodness.
Neroli, just take a look at how Abby Gelmi does it.
AT BRISBANE, it was a comfort to have James Harvey running interference with Brenton Speed and Cam Tragardh.
Fast forward to tonight in Cairns and with no Harvs, Tragardh has got the full "yeah-no" going, you know, like AFL footballers when they're asked a question and always start with "Yeah, no"?
He had three "yeah-no" moments in the opener and several throughout the game.
I always wonder if it's actually "yeah" but also "no", why they just don't start with "maybe". Or "perhaps".
Or, in an NBL basketball call, please do the RIGHT thing and complete that phrase, as in "Yeah, no kidding."

BEEF of the WEEK
MIGHT it be time to update the Home Page at the NBL website?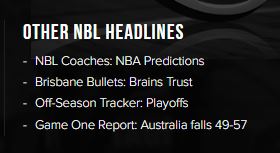 It's just a thought.
Might help it look as if the marquee page of www.nbl.com.au hasn't been forgotten.
It's not as if we aren't fairly deep into the NBA season now. (Coaches Predictions?)
And while that NBL AllStars series with China was positively rivetting, it was three games, wasn't it?
Maybe time to let the Game One report fade into long-distance memory.
Or just update the page?
I'm heading to www.nba.com now to see what their predictions for the NBL season were. I'm guessing that will be on the Home Page for sure...
NBL Rd.15 Results
ADELAIDE 36ERS 100 (Sobey 32, Randle 19, Drmic, Creek, Johnson 11; Hodgson 13 rebs; Randle, Sobey 8 assts) d MELBOURNE UNITED 73 (Barlow, Adnam 14, Wesley 13, Ware 12; Boone 12 rebs; Tomlinson, Adnam 3 assts) at the Fortress, Titanium Security Arena.
NEW ZEALAND BREAKERS 92 (Carter 23, Dillard 19, Penney 15, Mitchell 12; Mitchell, Pledger 7 rebs; Dillard 6 assts) d SYDNEY KINGS 74 (Cadee 18, Powell 13, Whittington 12; Powell 8 rebs; Lisch 7 assts) at The Surf's Up, Vector Arena.
ILLAWARRA HAWKS 85 (Clarke 20, Kay 16, Ogilvy 11; Kay, Ogilvy 6 rebs; Coenraad 6 assts) d BRISBANE BULLETS 80 (Kickert 20, Gibson 17, Beal 10; Jervis 9 rebs; Gibson 5 assts) at The Sandpit, WIN Entertainment Centre.
MELBOURNE UNITED 92 (Ware 31, Goulding 27; Barlow 8 rebs; 3 with 2 assts) d CAIRNS TAIPANS 85 (Worthington 15, Trice 14, Weigh 13; Jawai 6 rebs; Trice 6 assts) at The Cage, State Netball and Hockey Centre.
ADELAIDE 36ERS 95 (Johnson, Sobey 19, Randle 17, Creek 16, Jacobsen 11; Creek 12 rebs; Sobey 5 assts) d PERTH WILDCATS 84 (Cotton 23, Prather 20, McKay, Wagstaff 10; McKay 7 rebs; Cotton 5 assts) at The Jungle, Perth Arena.
NEW ZEALAND BREAKERS 84 (Dillard 28, Penney 19, Pledger 10; Mitchell 8 rebs; Dillard, Mitchell 5 assts) d BRISBANE BULLETS 82 (Kickert 24, Craig 19, Jervis 10; Craig 8 rebs; Tueta, Beal, Bruce 5 assts) at The Armoury, Brisbane Convention Centre.
CAIRNS TAIPANS 80 (Weigh 19, Weeks 16; Egwu 6 rebs; Trice 5 assts) d PERTH WILDCATS 78 (Cotton 20, Wagstaff 15, Brandt 12, Knight 11; McKay, Hire 7 rebs; Hire 4 assts) at The Orange Grove, Cairns Convention Centre.