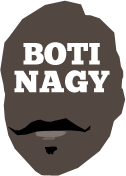 ---
Advertising opportunities available.
Please contact me.
---
NBL Rd.16 Wrap: No, everyone is alive
Tweet
JUST when you thought Jeremy Kendle or Kevin Dillard or Lasan Kromah was the last new NBL face for this season, Tony Mitchell lands in Perth for Cairns.
Hopefully, he will help keep the Taipans' Final Four drive alive in this extraordinary season of such spectacular action and unpredictable results.
This was again such a brilliant round of high-calibre action which, despite its wild vagaries, left everyone with hope, even Bullets' fans.
Sure, they were savaged in Adelaide where the 36ers produced a clinic of humid weather basketball to run Brisbane ragged from the tip-off.
Jerome Randle and Nathan Sobey led the way but six Sixers scoring in double figures has to give opponents pause now it has become clear every 36er understands his role and Adelaide no longer is dependent on one player.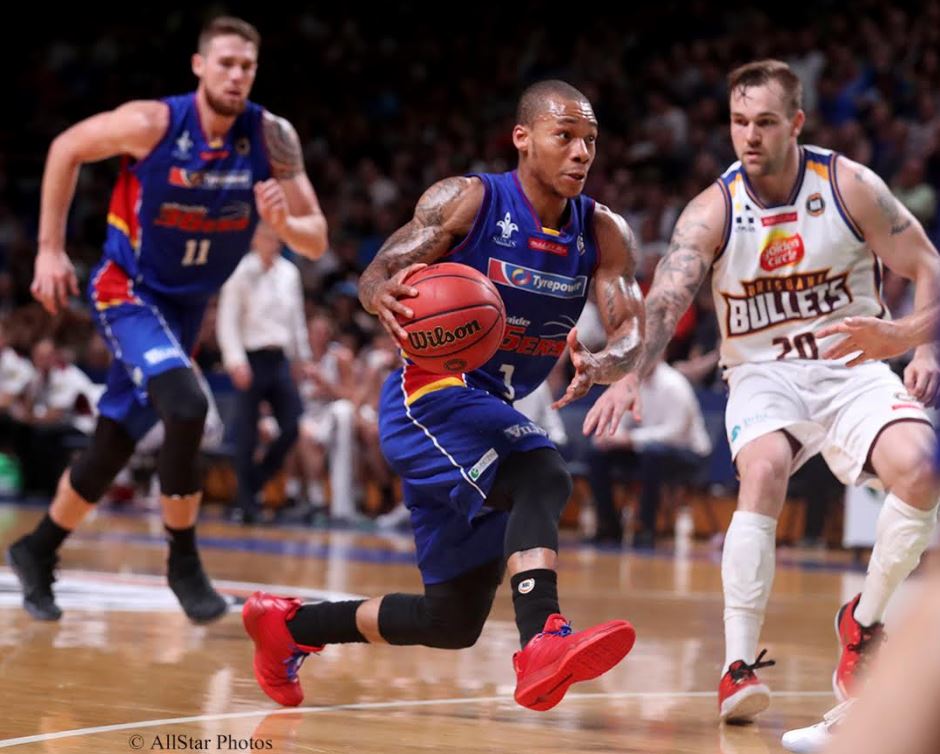 DRIVING FORWARD: Jerome Randle takes it at new Bullet, Jeremy Kendle.
THE Bullets ran out of patience with under-performing import Jermaine Beal who has been a shadow of his former Perth persona, leaving grounds for speculation Damian Martin helped make him look good for a number of years in the west.
Last round certainly showed Beal couldn't be relied upon for good decision-making at crunch time and after being essentially a passenger in Adelaide, the Bullets dropped him off at the bus depot.
Addition by subtraction, you have to love that as Brisbane returned to its own "spiritual home" at Boondall to shock Melbourne United by 17 points.
That's with no Cam Bairstow, no Anthony Petrie, no Adam Gibson and no Jermaine Beal, although they'd already experienced no Jermaine Beal in Adelaide and had endured enough of that.
Daniel Kickert opened the game with his patented baby hook from below the block, which is practically unstoppable and already Brisbane had a more focused look about it.
With 42 seconds left in the third, Kickert grabbed an O board for a three-point play which buffered the lead from 58-52 to 61-52 before rookie Matt Kenyon was called for a foul on a Casper Ware 3-point attempt which looked a complete furphy.
Ware trimmed it back to 55-61 but Brisbane wasn't fazed, with Shaun Bruce closing the quarter with a bucket for 63-55.
The Bullets just wanted this badly and got it, and while they have the number 14 in the L column, the 10 in the W column means they still are on life support for a post-season appearance.
NEW import Kevin Dillard and one-and-done Hawk, Kirk Penney, steered New Zealand to victory in Wollongong to maintain the Breakers' drive up the ladder.
Illawarra was 13 ahead but a 25-12 second quarter comeback by the Breakers threw this back open, Penney aggressive offensively and Dillard just aggressive.
Ultimately the Hawks's offence faltered when it needed to flourish and the Breakers took full advantage, Illawarra now starting to falter generally.
CAIRNS had reason to feel hard-done-by in Perth – as usual – but coach Aaron Fearne pointed the finger firmly at his team's 22 turnovers as the reason it again was beaten in overtime at The Jungle.
With 1:17 left, Jarrad Weeks drove, was fouled but got no love and suddenly Matty Knight was flying out over the baseline as if shot in the back by a cannon.
Apparently, Nnanna Egwu had given him a nudge on the rebound, and knowing Knighty can be fragile – remember Jerome Randle once sent him flying back into the previous day on a "charge" earlier this season – he was immediately given the benefit of the doubt.
Still, Mark Worthington was on hand to ice two huge free throws for a 71-68 lead before Bryce Cotton cut the deficit to 70-71.
Damian Martin thought he'd caused a deflection but there still was time for Cam Gliddon to miss and Casey Prather to miss, Mitch McCarron fouled on the rebound with 2.2 seconds left.
He missed his first free throw, then tried to miss his second but failed, Perth taking timeout down 70-72.
On the controversial inbounds play, Cotton flung himself to the floor hurling up a 3-point prayer as a stunned Gliddon was assessed with a foul which a side camera angle showed was wrong. Sure, the ref who called it had an angle which looked like a foul and only a split-second to make his assessment.
But if the trailing ref didn't see it as a foul, it was a bad call.
Cotton made two to tie, missed his third but got the rebound off a rebound spillage and shot it in.
You like drama? This sure was fun to watch cause there was plenty of that.
That basket was too late, of course, but in the extension, Perth again prevailed.

BEEP! BEEP! Adelaide's Terrance Ferguson puts his foot on the pedal against Torrey Craig.
SYDNEY started strongly against the 36ers, Greg Whittington, Kevin Lisch, Tom Garlepp and Jason Cadee all swishing 3-pointers, Garlepp with an additional three-point play in a 15-4 opening that had fans stunned.
Bear in mind 15,532 fans crowded into Titanium Security Arena over two nights 48 hours apart, and none of the 8000-plus at the Kings game expected quite this start.
Neither did the 36ers but with Anthony Drmic and Eric Jacobsen adding scoring punch off the bench, by quarter-time it was back to a manageable long range missile, Drmic sticking his third of the night when play resumed in the second period.
By halftime, the Sixers were rolling away, ahead 45-37 when Kings coach Andrew Gaze called a timeout, 1.2 seconds before the interval after Jerome Randle free throws.
In what was the most deflating moment of the game, the Kings returned with Josh Powell as their baseline inbounder, and in formation for the play of the day.
The play began, players began moving from their designated spots, Powell inbounded, 36ers centre Matt Hodgson deflected the pass and, um, yeah, well … that was that.
Fired up regardless, the Kings came out as they started the match, racing 48-47 ahead and increasing their nine-point second quarter output in three minutes.
But as Randle took control, en route to a 19-point, 11-assist double, Sydney finally wilted as Adelaide added spectacle to the last game of its 4-0 sweep of the Kings.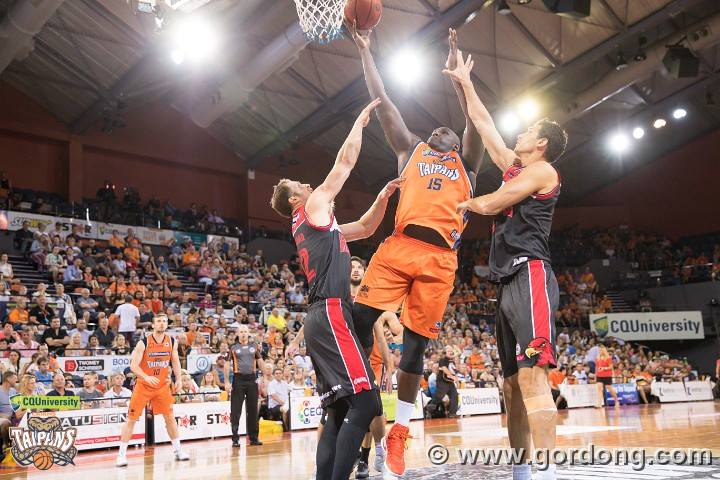 JAWAI SKIES: Nate Jawai heads up and through the Hawks defence. Courtesy Gordon Greaves
CAIRNS holding out Illawarra for the third time in three meetings wasn't a huge surprise, the Hawks definitely experiencing their second mini-slump of the season – but better now than in the playoffs.
(Of course, if the slump continues, there may not be any playoffs in their future!)
The Taipans took control early and then had to weather a Hawks fightback, but did just that, slashing their turnovers from 22 in Perth to eight here a major contributing factor.
Nate Jawai, Travis Trice and Cam Gliddon led from the front, Tony Mitchell hampered by immediate foul trouble in a typical "welcome to the NBL" greeting from our erstwhile officials.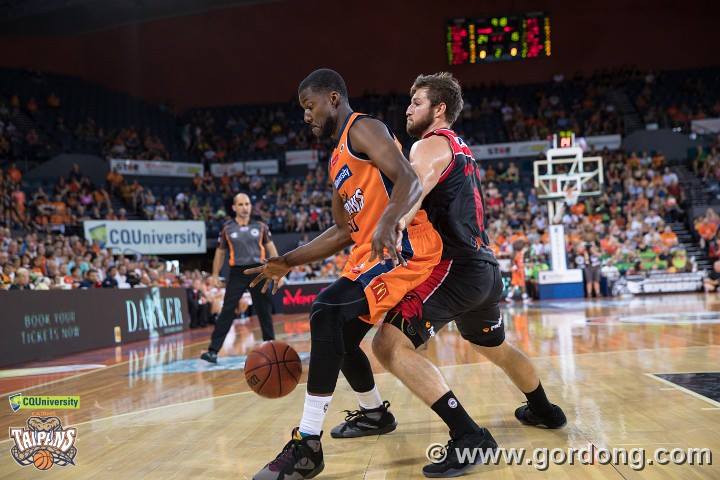 WELCOME: Tony Mitchell, captured on film in a rare moment where he wasn't being given a foul.
NEW Zealand is emerging as the late "sleeper" in the title race and put away defending champion and arch rival Perth to prove it.
Between them they have fought out the NBL's past seven championship series so there's not a lot of love lost here and even less as Kevin Dillard, Kirk Penney and Paul Carter orchestrated a double-digit lead which the Wildcats countered by forcing 11 last quarter turnovers.
Bryce Cotton cut loose for 18 of his 26 points in the period, Perth scratching to within two before the Breakers won the game and also clinched the season-series.
YEAH, NO KIDDING
THIS most definitely was one of TV's better rounds, even if you-know-who just could not complete it without invoking the title of the weekly reviews. Sigh.
OK. It started well with Dwayne Russell taking his foot off OTTO, the Over-The-Top-O-meter, with a much tighter and fun call with Tommy Greer of the 36ers-Bullets avalanche in Adelaide.
Yes, Dwayno still had to repeatedly tell us we could "draw a line through Brisbane" – four times apparently wasn't enough – but generally there was more attention to detail.
And Greer truly has grown into his role now, probably aided by his terrific "In Their Own Words" series which rapidly is becoming "must see TV" at the league website.
My goodness. I really did get out of the right side of the bed today!
Anyway, very much enjoyed Greer's observation when Jermaine Beal was subbed out with 5:00 to go: "I would not be surprised if that's the last we see of him tonight."
Try, last we see of him … ever. But hey, who knew? Somewhat prophetic nonetheless.
John Casey, Steve Carfino and James Harvey in Wollongong was a good working combination, though I'm still baffled what Harvey's: "A tale of two tales" remark meant.
In Perth, it was Wildcats' import Bryce Cotton who provided the best line of the night in his interview: "It's déjà vu all over again."
Matt Russell probably is my favourite main caller at present. He was joined by Shane Heal and James Harvey for Melbourne's tilt at Brisbane.
Harvs should probably do all the halftime interviews of games he's calling because he has that aspect down.
"Harvs' Halves" – make it a segment!
His interview with Daniel Kickert was quality and insightful.
Heal had someone pulling up "on a dime" which has to be especially difficult, given that stopping on a flat coin might lead to a slip, skid and a fall.
Dwayne returned with The Carf to Adelaide's Sydney showdown and again, I had no complaints, for a change.
Even enjoyed Carfino's actual real insights into HOW the crowd helps the 36ers, rather than the stock-standard "Adelaide has the most knowledgeable crowd blah blah" BS.
Carfino explained that because it IS knowledgeable, it keeps the officials on their toes by recognising missed calls and reacting noisily, as opposed to just bleating for the sake of it, as some crowds do.
Sadly, Stevo couldn't resist another "Yeah, no kidding" during the halftime recon with Dwayne, which was a shame.
Josh Jenkins also continued to find some confidence in his interview stints.
Matt Russell coined a new phrase for the Cairns-Illawarra battle, lamenting Townsville's departure meaning the loss of the annual "Reptile Rumbles" but suggesting Taipans-Hawks now presents the "Regional Ruckus".
Original. New. Fresh. I love that sort of stuff. Plus bringing Mark Worthington on at the finish and Wortho corralling his sons Taz and Axel into the picture (snapped below) also added to this game's overall presentation and feel-good nature.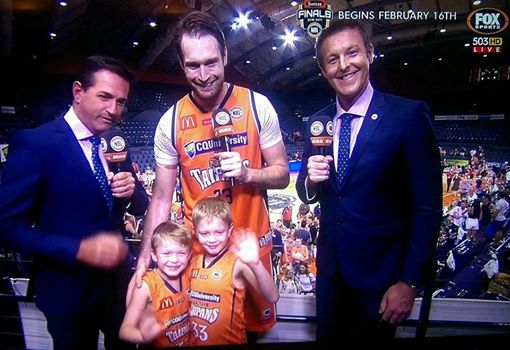 BEEF of the WEEK
NO, I'm not going to carry on about how bad our officiating is, even though when a ball clearly goes out over the baseline off Kevin Dillard's leg and the referee calls Breakers ball, you understand why Illawarra players are agitated.
And I'm not even going to mention the absurdity in calling Nathan Jawai for three seconds in Perth during Cairns' first attack when similar infractions by several players went penalty-free the rest of the way.
This week's Beef is one which crops up around this time of the season EVERY year.
As much as I hate AFL continually stealing our sport's terminology – footy has never needed terms such as turnover, assist or my Leigh Matthews all-time favourite "halfcourt defence" – I hate basketball taking football's terminology even more.
The team which cannot be caught at the top of the ladder at the end of the home/away season is NOT and NEVER HAS BEEN the "minor premier" or winner of the "minor premiership".
Go ahead. Tell me the last time you called Perth Wildcats the "premiers" for example.
You don't. You call them the champs.
We play for championships, NOT premierships.
I guess the NBL employs footy heads instead of NBA nerds because any basketball true believer KNOWS in our sport, we play for the championship.
Are the Cleveland Cavaliers the NBA premiers? No, I think not.
So equally, when you cannot be toppled from the summit of the home/away series, you are NOT minor premiers but REGULAR SEASON CHAMPIONS.
Sigh. I know. Many will just shrug and say "big deal". But how does basketball maintain its individuality if it just blithely follows football?
Our sport already is notable because it has "Best-of" finals. It separates us from having that "one day in September" (or October) because we play a series.
Cannot wait for this year's best-of-five Swisse Grand Final series.
And it won't be to ascertain who the NBL premier is for 2016-17, will it?
So congratulations to the Adelaide 36ers for winning their first regular season championship since 2000.
Premier job.
Rd.16 Results
ADELAIDE 36ERS 101 (Randle 22, Creek 15, Ferguson, Sobey, Johnson 13, Deng 10; Johnson 9 rebs; Sobey 7 assts) d BRISBANE BULLETS 68 (Kickert 20, Craig 10; Young 9 rebs; 3 with 3 assts) at The Fortress, Titanium Security Arena.
NEW ZEALAND BREAKERS 95 (Dillard 26, Penney 23, Pledger 12, Loe 11; Mitchell 12 rebs; Dillard 7 assts) d ILLAWARRA HAWKS 86 (Ogilvy 16, Clarke 14, Kay, Coenraad 11; Coenraad 8 rebs; White 6 assts) at The Sandpit, WIN Entertainment Centre.
PERTH WILDCATS 84 (Cotton 27, Brandt 17, Prather 16; Brandt 11 rebs; Martin, Cotton 5 assts) d CAIRNS TAIPANS 78 (Jawai, McCarron 13, Trice, Gliddon 10; McCarron 11 rebs; Gliddon 3 assts) in overtime at The Jungle, Perth Arena.
BRISBANE BULLETS 88 (Craig, Kickert 24, Kendle 12, Bruce, Jervis 11; Kickert 8 rebs; 3 with 4 assts) d MELBOURNE UNITED 71 (Ware 27, Goulding 18; Boone, Blanchfield 7 rebs; Goulding, Ware 4 assts) at The Armoury, Brisbane Entertainment Centre.
ADELAIDE 36ERS 87 (Randle 19, Creek 17, Sobey 13, Jacobsen 12, Drmic, Johnson 11; Creek 7 rebs; Randle 11 assts) d SYDNEY KINGS 73 (Garlepp 15, Lisch 13, Whittington 12; Maric 8 rebs; Cadee 4 assts) at The Fortress, Titanium Security Arena.
CAIRNS TAIPANS 85 (Gliddon 18, Trice 16, Jawai 14; Weigh 7 rebs; Worthington 5 assts) d ILLAWARRA HAWKS 79 (Kay 20, Ogilvy 14, Martin, Clarke 10; Ogilvy 10 rebs; Martin 5 assts) at The Orange Grove, Cairns Convention Centre.
NEW ZEALAND BREAKERS 86 (Penney 25, Dillard 20, Carter 15; Mitchell 9 rebs; Dillard 4 assts) d PERTH WILDCATS 82 (Cotton 26, Brandt 14, Prather 13; Knight 5 rebs; 3 with 2 assts) at Surfside, Vector Arena.
TOMORROW: PLAYERS of the WEEK