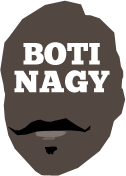 ---
Advertising opportunities available.
Please contact me.
---
NBL Rd.2 Wrap: No-one's undefeated
Tweet
NATHAN Jawai made his Cairns comeback and just two weeks into the season and every team has sustained a loss. What? You didn't believe this was going to be an even season?
It's the first time too in recent memory where we've had overtime games in each of the first two rounds, and Perth-New Zealand almost made it three!
Almost.
A week is a long time I guess because this time LAST week, a lot of us were thinking how impressive the Hawks had been.
Two losses later and Illawarra is very much back in the pack, beaten at the Sandpit in Kevin Lisch's "homecoming" and on the road to Melbourne where United looked a different team to last week's so-called "Work-In-Progress".
Give me a break. There's too much talent on that team to be a "work". Not completely in sync yet? Fair enough. But a "work"?
Come off it. Adelaide 36ers are a "work in progress". Melbourne had its lead on the Sixers out to 24 at Titanium Security Arena and it was still 22 during the last quarter when Nathan Sobey, Jerome Randle and Eric Jacobsen sparked an incredible comeback.
At 87-92 the 36ers were well-and-truly back in it but everything had to go right, and it didn't. United bumping the lead back to an 11-point win better reflected the difference in the teams on the night.
Adelaide lost captain Mitch Creek for six-to-eight weeks with a foot fracture in that one but again, Randle, Sobey and Jacobsen - with more help this time from Daniel Johnson - turned back a 10-point three-quarter-time deficit in Brisbane and made Joey Wright's "homecoming" memorable for all the wrong reasons for the Bullets.
It was even an 11-point deficit during the last before Randle (a league-high 34 points, topping his league-high of 30 last week in the win over United) sped and led Adelaide back, tying the match 83-83.
In overtime, the momentum stayed with the 36ers, despite a superb solo performance from Torrey Craig.
Back in Melbourne, Todd Blanchfield turned in a 3-point shooting clinic, sticking 8-of-9 to match Chris Goulding's record for the most threes ever by a United player.
He found his stroke in the Adelaide win where his 5-of-10 triples may not have been as imposing. But they were just as devastating.
"It's pretty disappointing they were able to do that," Hawks coach Rob Beveridge said of Melbourne's 16-of-23 triples at a withering 69 per cent.
"That was the difference, purely. They shoot 70 per cent, we shoot 24 - there's the game right there."
Melbourne coach Dean Demopoulos, this week being fitted for a necktie instead of a necktie party, stuck with conservatism.
"We weren't quite as bad as people thought the first couple of games and we're not quite as good as some people may think now," he said.
"We're not drowning anymore. We're sea level."
I think that's what he meant. Then again, he may have meant they're still only at a "C level".
KEVIN Lisch, now in his Sydney singlet, didn't take the constant jeers and derision of the crowd in Wollongong to heart.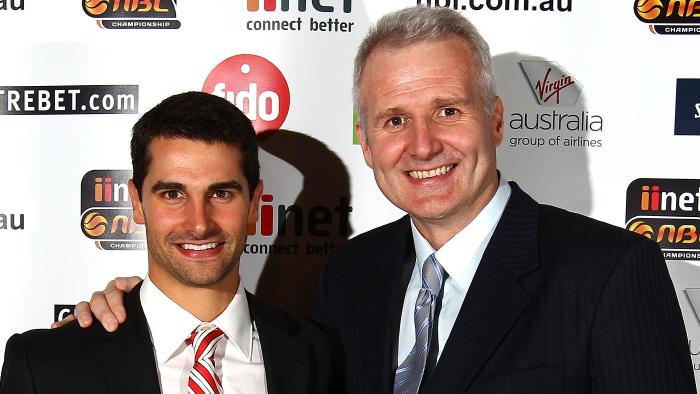 "It's a great atmosphere to play in and if I was a fan, I'd boo myself," he quipped.
Lisch had his first win as a King and rookie coach Andrew Gaze (that's them, pictured) his first success as an NBL coach.
Two nights later and Gaze was fearing for the safety of his Rio Olympian and naturalised superstar when he crashed to the floor in the third quarter after appearing to catch his head on the hip of Cairns forward Mark Worthington as Lisch drove.
Lisch went down and stayed down and Wortho stayed with him, concerned for his wellbeing and calling for medical staff.
When he finally was assisted from the court bleeding from his ear, it was easy to fear the worst. Lisch already had hit the floor hard bouncing off a Jawai screen which looked to jar his bones and whiplash his head.
So going down a second time was heart-in-mouth stuff.
"It was scary," Gaze said. "Regardless of whose team it is, you don't want to see a guy get hit like that. My heart skipped a beat when I saw him on the floor."
Four stitches for an ear-cut later and Lisch was back to see Jason Cadee rattle off 17 final quarter points to turn it into back-to-back wins.
NEW Zealand's 23-8 third period in Perth wiped away an 11-point interval deficit but it was still up for grabs after Casey Prather put on a 29-point show, the Wildcats up 75-73 but defending the last play for dear life after Jarrod Kenny clunked a chance to seal it from the free throw line.
"Prather had a hell of a game and was a big part of what we planned for," Breakers coach Paul Henare said. "Obviously 29 points is a lot more than what we would have liked but the difference in that first half was Wagstaff was able to get loose and kept the scoreboard ticking over as well."
Gotta watch that big Jesse.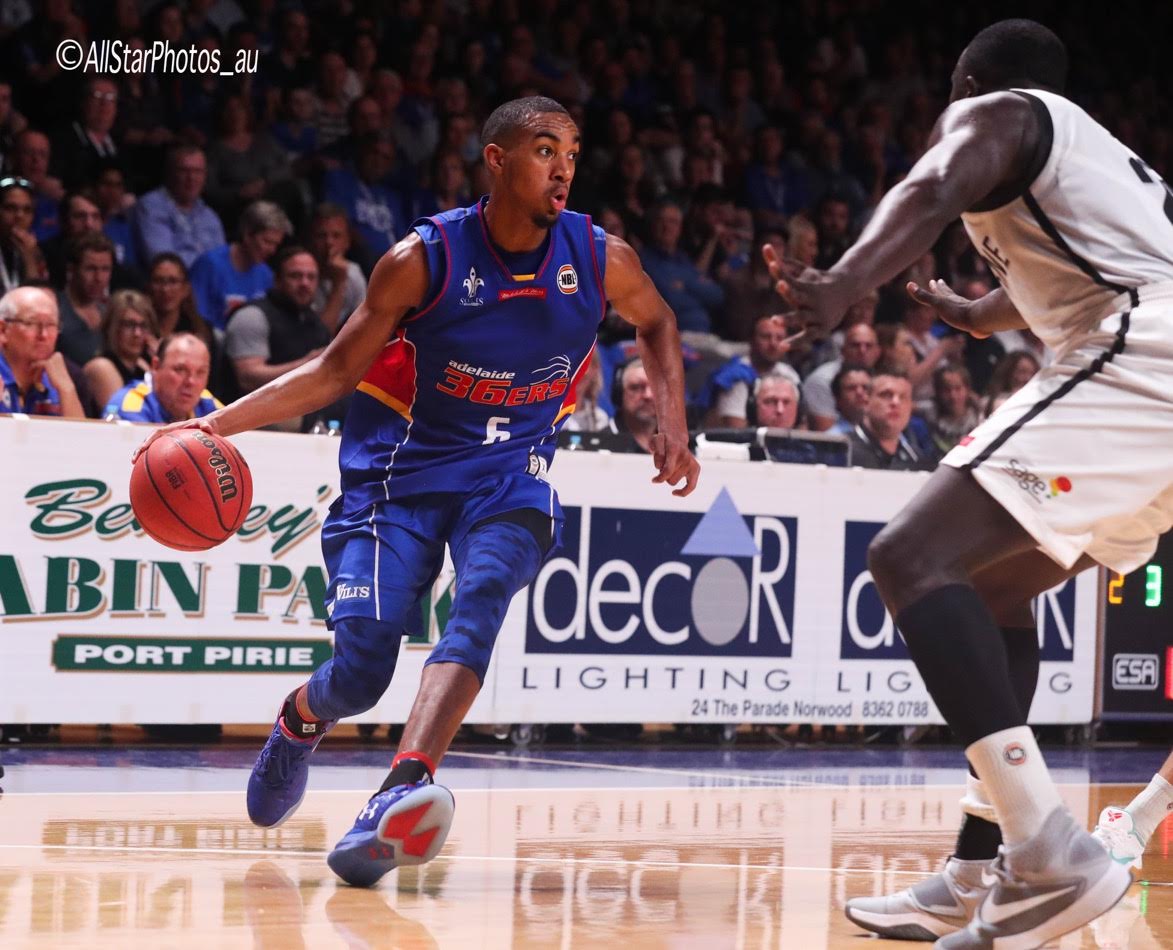 ON THE RISE: Terrance Ferguson about to make a move against United.
IT was truly a terrific round of ups and downs and much to enjoy. But one passage in the Sydney-Cairns game stood out for me, when at one end Aleks Maric blocked Wortho's shot and on the very next play, Taipans import Nnanna Egwu rejected Greg Whittington.
Just super stuff, end to end.
By the way, I'm thinking someone in Cairns for the first home game should grab the theme from the 60s Batman TV series and turn it into "Nnanna nnanna nnanna nnanna nnanna nnanna na, EG-WU!"
(Go on admit it. If you know the theme, you sang it in your head.)
YEAH, NO KIDDING
DERIVED a lot of pleasure out of this week's FOX TV coverage so I'm low on complaints, high on praise.
Firstly, loved Brad Rosen's deadpan reply to Warren Smith when his co-caller at the Hawks-Kings game in Wollongong wondered aloud how long Hawks fans intended to boo and berate "not quite prodigal son" Kevin Lisch?
"I'd say about 40 minutes," Rosen replied.
Nice one.
Anthony Hudson introducing the match between Adelaide and Melbourne in Adelaide opens with: "Boys, I can't wait for this one."
To which Steve Carfino replied: "Oh man. So are we."
OK. I know it wasn't intended to make me laugh, but it did anyway.
And toupees doffed to Tommy Greer, who had the old one-eyed "we should be ..." going too often last week in his United call. This weekend he called two Melbourne matches and rarely, at least I didn't notice, showed any bias at all.
In fact he was informed, incisive and fun to boot. Thoroughly enjoyed his work.
By the way, for Tommy and The Carf, when Majok Majok's early "dunk" against Adelaide bounced back out, it had less to do with the net and more to do with Majok grabbing the ring after the slam, helping the ball pop back out.
STILL a few teething issues with the graphics out west, it would seem.
Not sure those Breakers players (allegedly pictured) really are Kirk Penney, Corey Webster and Thomas Abercrombie.
They look more like a few guys closer to home in Adelaide.
Nice work too by Warren Smith and Shane Heal on the Sydney-Cairns call, though right from the outset, neither appeared especially game to name the Taipans' import Fuquan Edwin.
All night, even when naming the Taipans starters, they referred to him as "Edwin".
Come on fellas. Don't be shy now.
Just go ask Aaron Fearne or Gordie McLeod pre-game how to pronounce "Fuquan" to avoid any awkwardness.
Off to Brisbane where, again, Steve Carfino - has Derek Rucker got a sore throat or something? - was doing colour and, as I've said many times before, this is what he can do relatively well.
Just not sure why there was a halftime need for generic stuff about how Terrance Ferguson is here to get to the NBA etcetera. If you're going to do that, why not show a few clips of him?
Congratulations too for Steve. He didn't say "no kidding" for the first time until the second quarter.
BEEF OF THE WEEK
YES, it's back but it will only be here when something does bother me and, damn it if I'm not mellowing.
The 36ers' first home game had some terrific new innovations and a different feel to the past.
Passing along feedback I received so here's the first one - not a lot of people are loving having the lights off over the crowd every week, especially if it's a near sellout as it was on Friday.
The music volume needed adjusting - down. Most didn't find it excessive but everyone who spoke to me about it - without fail - said it was a few decibels too loud. When you can't hear the person next to you...
(And we DO want to hear the sounds of the game.)
Also had a share of complaints from fans who want to know how many points-and-fouls the five players from each team on the court have.
The old scorecube from 1992 til last year ALWAYS gave that information and while I know last season 36ers management tried to put all stats up on the screens at either end, there was too much detail - rebounds, assists etcetera - when all most fans quickly want updated is who's scoring and who's in foul trouble.
That shouldn't be too hard, surely, and after 24 years of it, fans expect it. Even players look up when they get a foul and it would be for an update as much as to watch a replay.
Last one. Kareoke Cam was a hit but maybe if the screen showed the lyrics of the song being sung - follow the bouncing ball? - the club could get the venue singing along and make it more fun.
RD.2 RESULTS
Kings 88 (Cadee, Lisch 20, Newley 16, Powell 14, Whittington 10; Whittington 11 rebs; Cadee 5 assts) d Hawks 84 (Harris 23, Clarke 17, Ogilvy 13; Ogilvy 8 rebs; Harris 4 assts) at The Sandpit, WIN Entertainment Centre.
United 98 (Wesley 18, Blanchfield 17, Moore 14, Goulding 13, Andersen 12; Majok 10 rebs; Jackson 7 assts) d 36ers 87 (Randle 20, Sobey 15, Ferguson, Johnson 13, Jacobsen 10; Jacobsen 10 rebs; Sobey 3 assts) at The Fortress, Titanium Security Arena.
Wildcats 75 (Prather 29, Wagstaff 16, Kenny 9; McKay 9 rebs; Prather 4 assts) d Breakers 73 (Abercrombie 12, Penney 11, Webster 9; Pledger 10 rebs; Woodside 6 assts) at The Jungle, Perth Arena.
Kings 92 (Cadee 23, Whittington 21, Newley 13, Lish 10; Whittington 9 rebs; Cadee 7 assts) d Taipans 78 (Gliddon 13, Egwu 12, McCarron, Trice 10; 5 with 4 rebvs; Trice 5 assts) at The Kingdome, Qudos Bank Arena.
United 95 (Blanchfield 27, Goulding 16, Jackson 14, Wesley 10; Majok 11 rebs; Goulding 7 assts) d Hawks 83 (Harris 20, Holyfield 15, Clarke, Ogilvy 10; Holyfield 12 rebs; Martin 3 assts) at Hisense Arena.
36ers 96 (Randle 34, Sobey 21, Johnson 13; Jacobsen 8 rebs; Sobey 6 assts) d Bullets 93 (Craig 22, Beal 21, Bairstow 15, Jervis 12, Young 10; Jervis 13 rebs; 3 with 4 assts) in overtime at The Armoury, Brisbane Convention Centre.