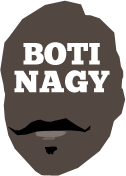 ---
Advertising opportunities available.
Please contact me.
---
NBL Rd21: It's history! JJs in - Wildcats out!
Tweet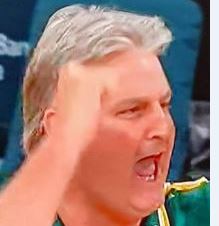 THE roars of delight could probably be heard all over Tasmania tonight as South East Melbourne beat Perth 102-100 in overtime to knock the Wildcats out of the playoffs for the first time since 1986, with the JackJumpers leafrogging them into fourth place and the NBL semi finals.
The "unthinkable" became the inevitable as Perth's 35 consecutive seasons in the post-season came to an abrupt halt after a Kyle Adnam fourth-quarter barrage turned the match on its ear.
The Wildcats had the ascendancy for the bulk of the game but only ever by a handful of points, never able to put the Phoenix away, Xavier Munford playing one of his best games of the season.
In the end, Bryce Cotton did all he could and Michael Frazier also stepped up. But Wildcats stalwarts were unable to finish plays while Mitch Creek's final bucket buried three-and-a-half decades of Wildcat magic.
Tasmania crushed Melbourne to finish on a stunning 17-11 win-loss ratio. They then had to sit through the high drama of South East's win in Perth, relegating the Wildcats to a 16-12 season and spectator status for the duration of the post-season.
Melbourne claimed the regular season championship and it will be interesting to see how they shape up in the best-of-three semi finals against the JackJumpers as more than a few fans felt their effort in Hobart may not have been "full on".
Too bad. It's done. As are the Wildcats.
Illawarra hung on to stave off a depleted Sydney in Sydney to claim second spot and home-court advantage over the Kings in their semi final series.
"Chris Reid is killing us," was an amazingly candid statement from Xavier Cooks in a halftime interview, pointing the finger most definitely at the veteran referee before Sydney fought back in the second half.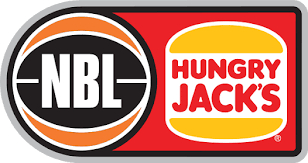 ROUND 21 - A ROUND TO REMEMBER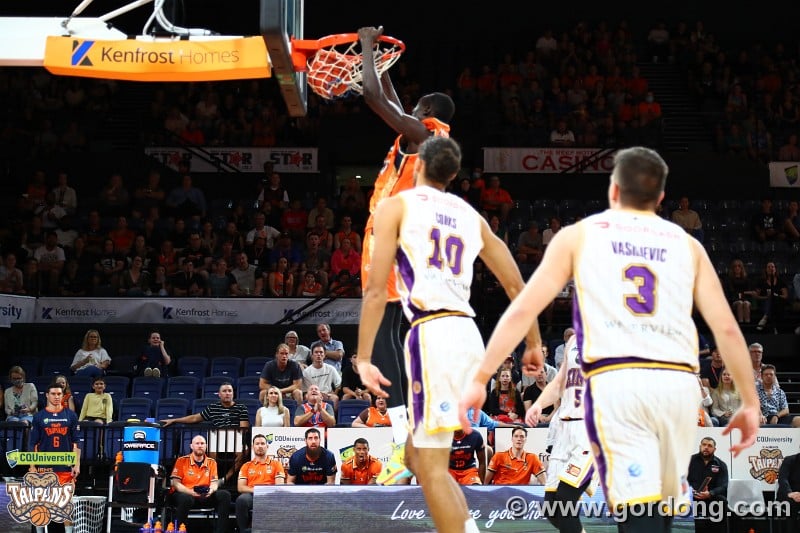 DOWN Jaylen Adams and Jarell Martin in Cairns, Sydney showed the vast difference in depth and quality between second and second-to-last with a comfortable 10-point win. Xavier Cooks enjoyed an 18-point, 12-rebound double but it was his five blocks that really stood out. A 19-6 third quarter by the Kings put this to bed, Ian Clark with 21 points as Sydney became the first team to win 10 consecutive road games in the same season since the Canberra Cannons in 1985.
SYDNEY KINGS 87 (Clark 21, Cooks 18, Vasiljevic 15, Makur Maker 10; Cooks 12 rebs; Bruce 4 assts) d CAIRNS TAIPANS 77 (McCall 22, Kuol 16, Deng 13, Pinder 12; Pinder 14 rebs; McCall 4 assts) at the Orange Grove, Cairns Convention Centre. Crowd: 3,150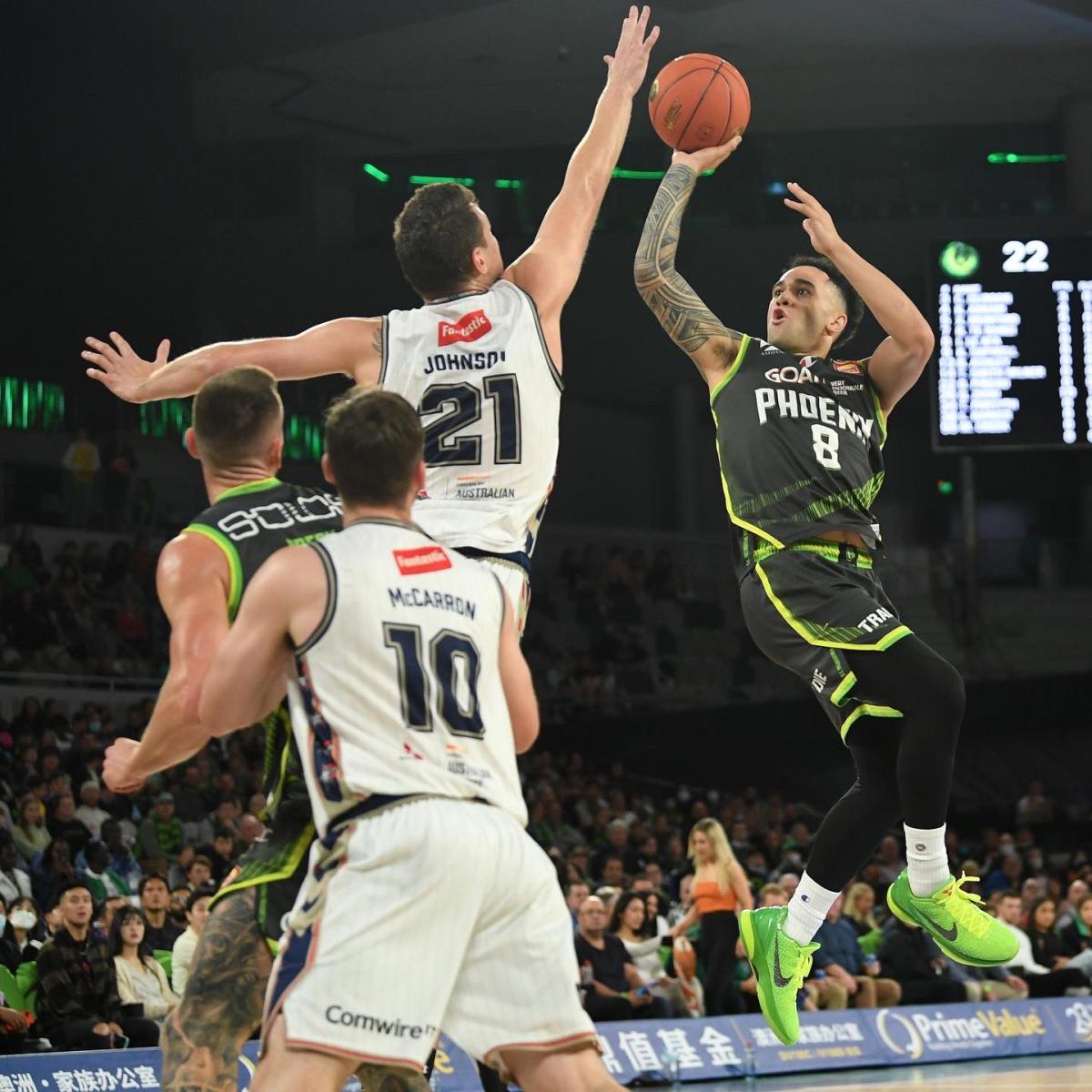 HOW did Adelaide, still feeling good about itself after beating Perth and Sydney on the road last round, bungle a 17-point lead to lose this in Melbourne? Easy. It stopped playing defence and stopped running team offence. Meanwhile, Cam Gliddon had one of THOSE nights for South East Melbourne - you know, where he is deadly and national team material, as opposed to the other four games out of five when he runs up and down the floor doing nothing. Glids hit six threes yet still found himself consistently open, some of the 36ers' late-game D barely acceptable in social grade. FOOTNOTE for Simon Mitchell: DJ didn't shove Reuben Te Rangi, as several replays proved.
SOUTH EAST MELBOURNE PHOENIX 94 (Gliddon 24, Ashley, Munford 14, Qi 12, Creek 11; Ashley 11 rebs; Munford 7 assts) d ADELAIDE 36ERS 91 (Dech 20, Hannahs, Johnson 18, Sotto 16; Johnson 6 rebs; Dufelmeier, Dech 6 assts) at House of the Rising Sun, John Cain Arena. Crowd: 4,673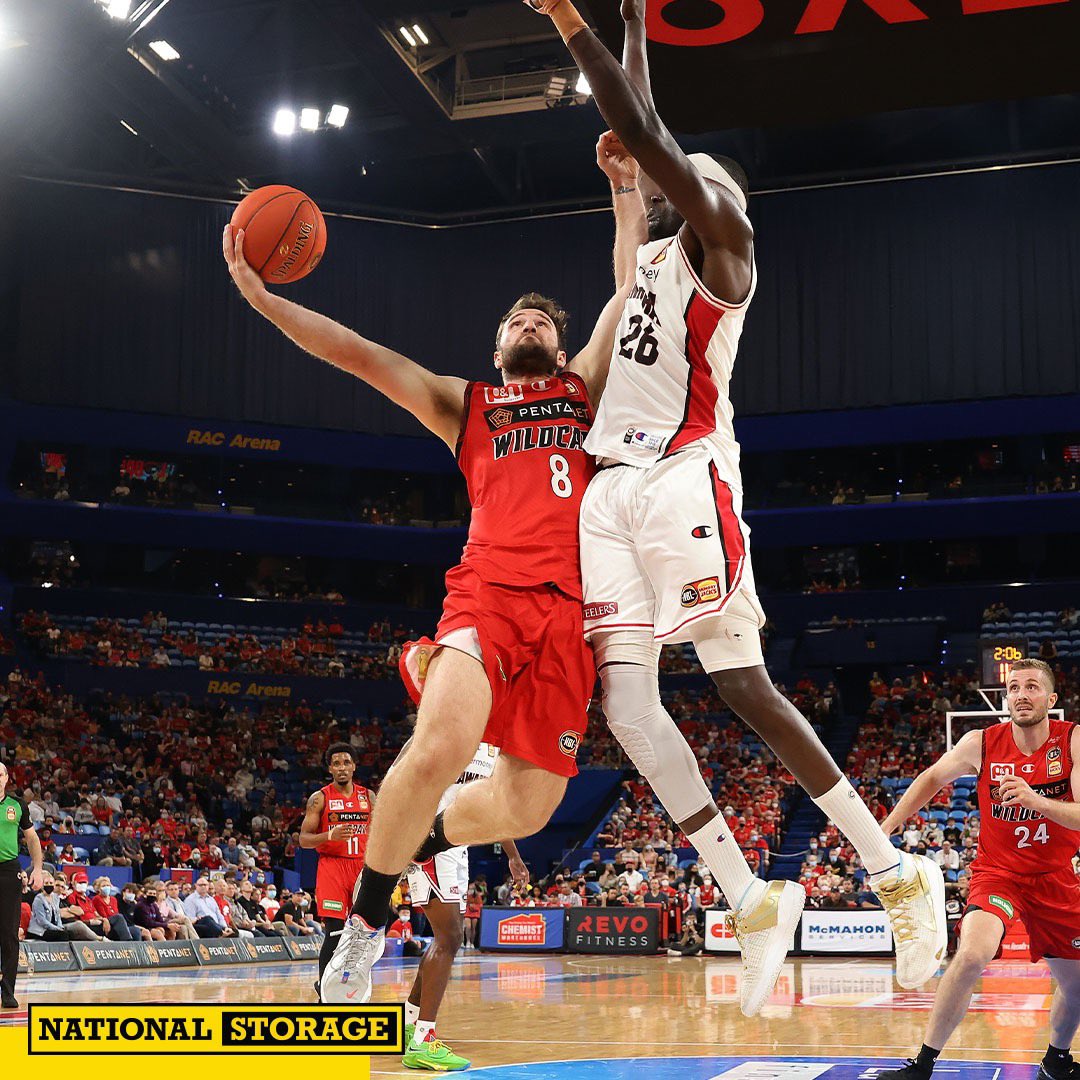 BRIAN Goorjian's 800th game as an NBL head coach turned into Illawarra's first win of the season over the Wildcats and also a rare win in Perth where the home team had its back to the wall. The Hawks led from go-to-whoa, Perth made a run at it with Bryce Cotton scoring 25 points and Majok Majok with a 16-point, 10-rebound double. But with Todd Blanchfield MIA, Matt Hodgson worth two points, Jesse Wagstaff 3-of-11, Perth never was going to get over the hump.
ILLAWARRA HAWKS 82 (Harvey 22, Reath 19, Rathan-Mayes 12, Cleveland 10; Cleveland, S.Froling 11 rebs; Rathan-Mayes 4 assts) d PERTH WILDCATS 77 (Cotton 25, Majok 16, Frazier 11; Majok 10 rebs; Norton 8 assts) at The Jungle, RAC Arena. Crowd: 10,251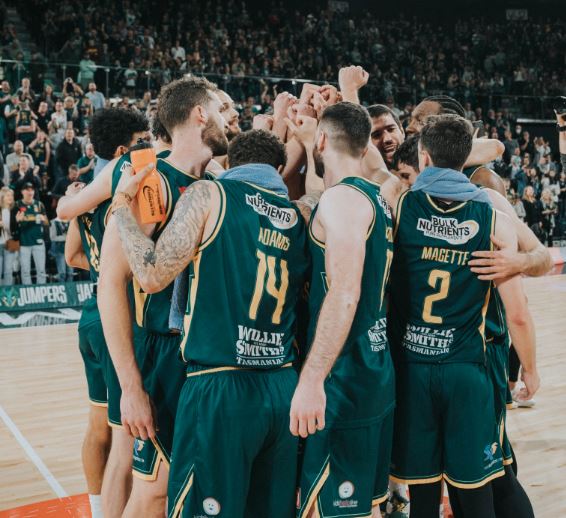 WITH a 50-24 second half after a stunning 29-9 third quarter avalanche by Tasmania against Melbourne in Hobart, the JackJumpers did everything they could to give themselves a shot at snatching fourth spot in the playoffs. Sam McDaniel diving on a loose ball, managing to throw it over his head but exactly as he wanted and into Clint Steindl's hands for a dunk was the JackJumpers summed up in one play. Josh Adams was magnificent as Scott Roth's team stampeded United in front of a sold-out, roaring home crowd. Big-time basketball is very much back on the island, regardless of whether Tassie did enough to go into the post-season. (Which, they did!)
TASMANIA JACKJUMPERS 83 (McIntosh 20, Adams 19, Magette 14, McDaniel 11; McVeigh 10 rebs; Magette 6 assts) d MELBOURNE UNITED 61 (Agada 22, Lual-Acuil 12, Ili 9; Agada, Lual-Acuil 8 rebs; Goulding 3 assts) at The Anthill, MyState Arena. Crowd: 4,865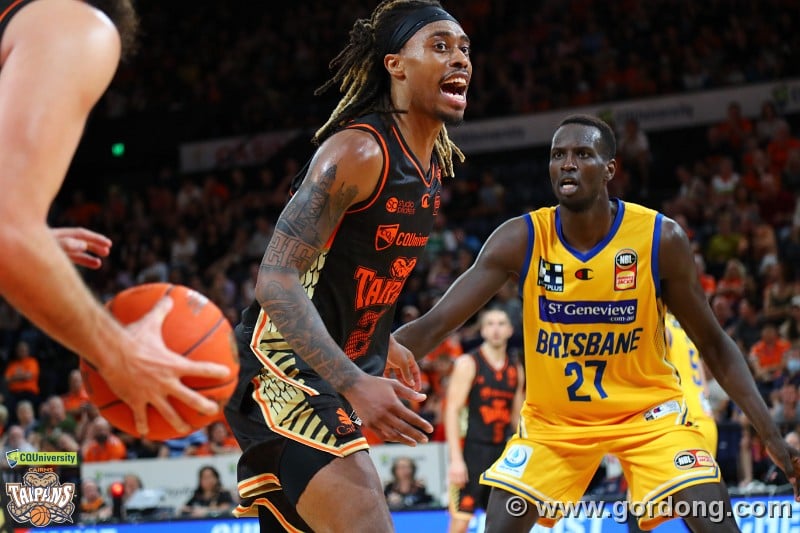 RECORDS tumbled in Cairns where the Taipans gave the Orange Army plenty to celebrate as they completed a season sweep of disappointing derby rival Brisbane with a 112-98 rout. Tahjere McCall sizzled for a league season-high 42 points at 65 per cent, plus 10 assists, four boards, four steals and a block. It was the first 40-plus points and 10 assists game by anyone in the NBL's 40-minute era. Majok Deng delivered a career-best 30 points at 57 per cent, with 6-of-11 threes as Cairns chalked up the season's highest score. Not to be completely outdone, the Bullets' 37-point final period was the season's single-quarter best, Robert Franks closing it with a 30-point, 15-rebound double.
CAIRNS TAIPANS 112 (McCall 42, Deng 30, Pinder 17; Pinder 7 rebs; McCall 10 assts) d BRISBANE BULLETS 98 (Franks 30, Krebs 20, Samuel 14, Deng, Drmic 12; Franks 15 rebs; Drmic, Cadee 7 assts) at the Orange Grove, Cairns Convention Centre. Crowd: 3,552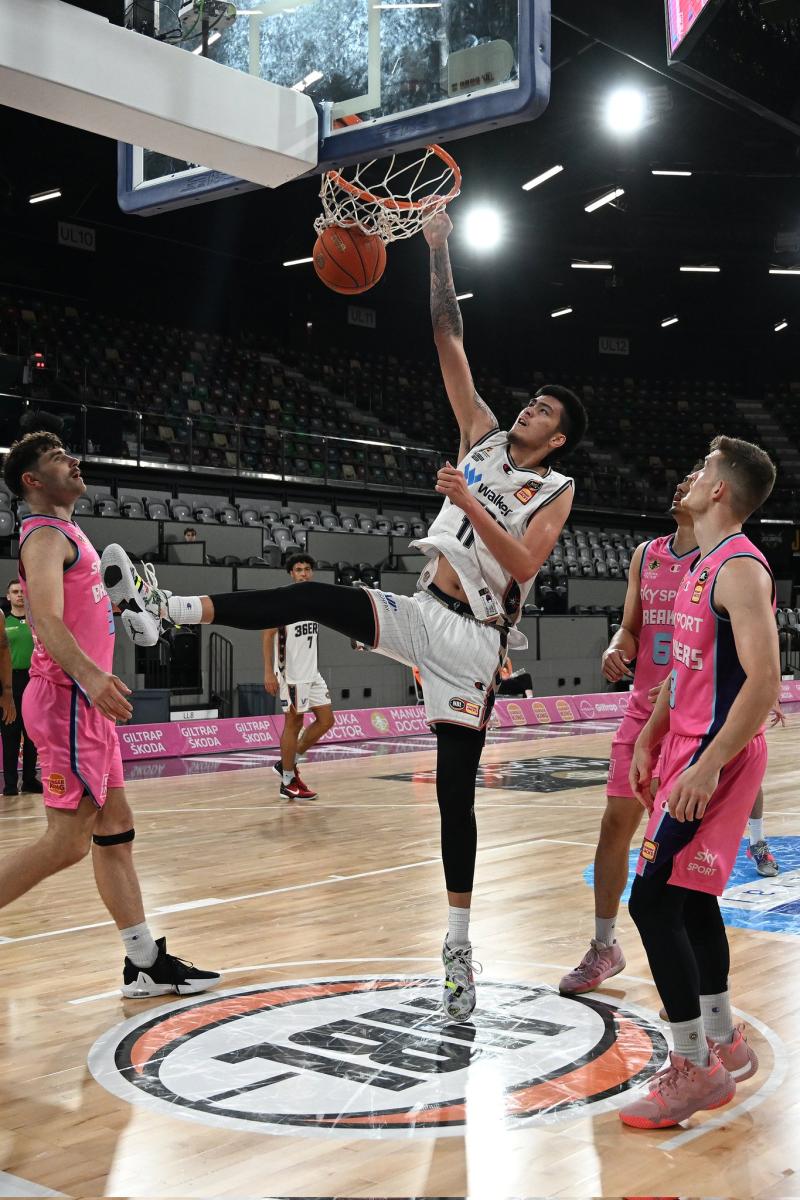 NEW Zealand did its best for a half in Hobart against Adelaide, but with nothing to play for and the lure of finally returning home burning brightly, this always was going to end in an Adelaide avalanche. The 36ers led by as many as 33 and had Sunday Dech leading all scorers with 19, and also adding team highs in rebounds (7), assists (4) and steals (4). For the Breakers, long since broken, the siren was a welcome relief, the airport and home finally beckoning.
ADELAIDE 36ERS 90 (Dech 19, King 15, Withers 14, Hannahs 13, Sotto 12; Withers, Sotto, Dech 7 rebs; Harris, Dufelmeier, Dech 4 assts) d NEW ZEALAND BREAKERS 63 (Bach, Randle 14, Delany, Loe 9; Loe 10 rebs; Siva 7 assts) at The Prison, MyState Bak Arena. Crowd: Not allowed, because you know, basketball isn't very popular in Tasmania!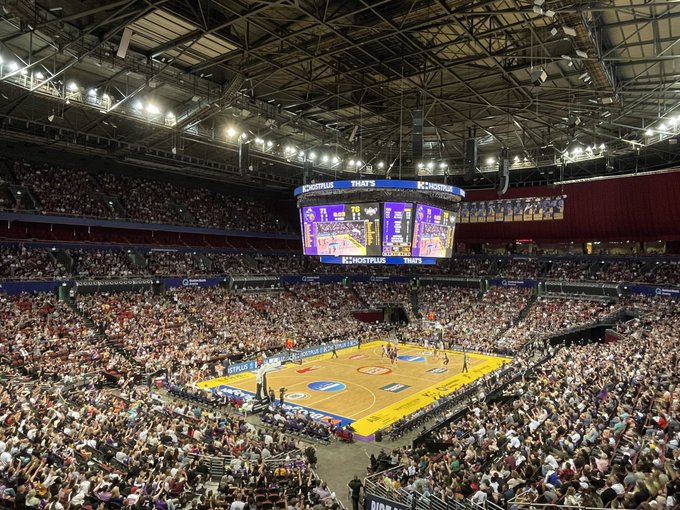 IT had all the hallmarks of a final-come-early in Sydney as Illawarra seized the intiative with a 32-18 first quarter. A 22-11 start to the third quarter by the Kings forced a Hawks time-out, Illawarra's 56-43 halftime lead shrunk to 67-65. It was a thriller to the finish, a season-best Kings crowd of 12,632 riveted as Xavier Cooks took free throws with 35.7 seconds left and Sydney trailing 83-85. He made one, as did Tyler Harvey with 3.3 left, Illawarra up 86-84 and Sydney taking time-out. The ball advanced, they ran a perfect play and Ian Clark stroked a 3-point swish for the Win! ... Except he stepped out of court as he took the shot. Justinian Jessup converted one FT for 87-84, Dejan Vasiljevic's heave for the tie not missing by much.
ILLAWARRA HAWKS 87 (Jessup 24, Cleveland 18, Harvey 15, Reath 12; Reath, Cleveland 6 rebs; Rathan-Mayes 3 assts) d SYDNEY KINGS 84 (Cooks 20, Martin 13, Swaka Lo Buluk, Vasiljevic 11, Clark 10; Cooks 14 rebs; Clark 6 assts) at The Kingdome, Qudos Bank Arena. Crowd: 12,632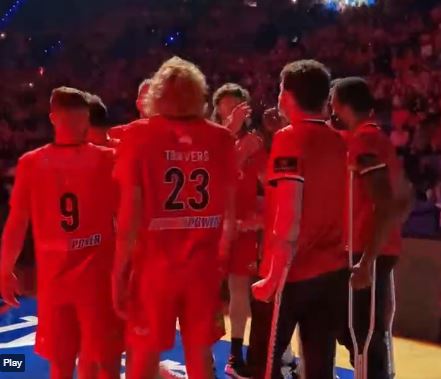 LACKING the requisite urgency at key moments, the Wildcats were staggered as South East Melbourne stole another game from them in Perth and in the process, consigned them to playoff spectator status for the first time this century - and a long time before. Michael Frazier got the Wildcats rolling and Bryce Cotton (28 points, 8 assists) showed up. But the Phoenix had a great effort from Xavier Munford and key cameos from Brandon Ashley, Zhou Qi, Mitch Creek and Kyle Adnam to make this final match of the regular season an epic felt right across the nation - and Bass Strait.
SOUTH EAST MELBOURNE PHOENIX 102 (Munford 24, Ashley 17, Creek 15, Adnam 14, Qi 11, Le'afa 10; Pineau 8 rebs; Munford 9 assts) d PERTH WILDCATS 100 (Cotton 28, Frazier 22, Hodgson 12, Norton 11, Blanchfield 10; Hodgson 10 rebs; Cotton 8 assts) in overtime {90-90} at The Jungle, RAC Arena. Crowd: 10,271