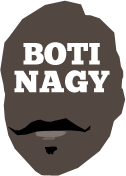 ---
Advertising opportunities available.
Please contact me.
---
NBL Rd.3 Wrap: Two for T
Tweet
THE aftermath of the NBL's third round was a two-match suspension for 36ers import Terrance Ferguson and a $500 fine for United's Tai Wesley from a similar incident.
Wesley chipped a tooth of Perth's American centre Jameel McKay when he swung his elbow into his face in the last quarter on Sunday.
Assessed by the omnipotent "Game Review Panel" - a group so talented it can make determinations off videotape without ever troubling any of the players involved with so much as a phone call - Wesley copped a one-match ban.
But by taking an "early plea", that was reduced to a $500 fine.
Ferguson threw an elbow at Worthington when they jostled under the basket after a made free throw in the first quarter.
He was found guilty of striking and suspended for two matches.
The 36ers can take an "early plea" in which case the penalty is assessed down to a one-match ban.
Appealing the decision could backfire into a worse case scenario, a la the AFL Tribunal, from where a lot of this stuff has been copied.
(And hasn't the AFL's Match Review Committee and its Tribunal been lauded worldwide for their consistency and success?)
Here's the thing. I'm not condoning what either Wesley or Ferguson did. Not even for a millisecond. But I am confused.
How can no evidence be taken or tendered? How can Sean Gottliebsen, Guy Neville, Andy Crook and Graeme Allen, sharing a big bowl of buttered popcorn, sit in front of a big screen TV and determine exactly what occurred?
How can people staring at a box know if Player A, for example, threw a racial epithet at Player B? Or vice versa? (Don't jump to any erroneous conclusions here - I am not saying or even suggesting - that happened in either of these cases.)
What I am saying is how can four people at the mercy of camera angles reach conclusions without consultation?
There's something called "natural justice" and if you cannot even plead your case, then what we have is just amateur hour revisited.
APPARENTLY this set of tribunal guidelines has been in place since the start of the 2015-16 season.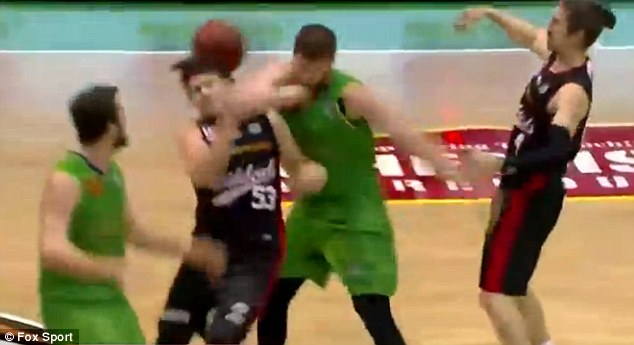 Josh Childress' elbow to Jesse Wagstaff in 2014-15 must have shaken someone up, other than just Jesse. (For the record, that was a one-game suspension and a $7500 fine.)
Last season though we did see Brian Conklin smash Damian Martin's face, broken jaw, hours in the dental chair and? No suspension.
He did get a game a short while later when he dropped Mitch Creek at Titanium Security Arena.
Let's never forget Gary Ervin's "nutcracker" special for Chris Goulding too, which only cost GE one game.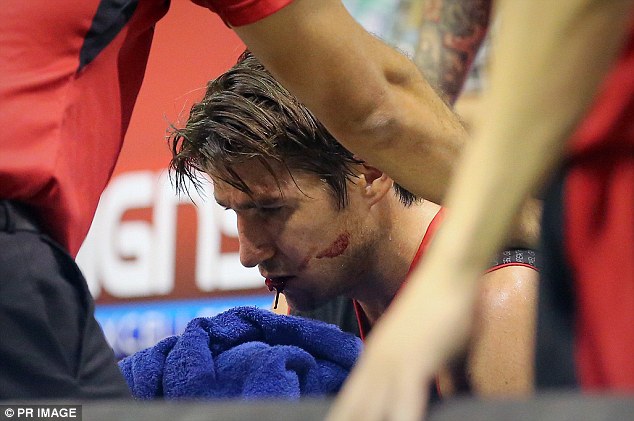 If you'd care to find those incidents on YouTube and compare them with Round 3's events, you will only be able to conclude that we still are a very long way from any consistency or sanity in how our tribunals work and the results at which they arrive.
DAMO (pictured) in a scene we never want to see revisited.
Sadly, the luckless Wildcats captain took a head blow again on Sunday against United, resulting in a fracture to the left of his jaw.
He is having a plate inserted tonight and most likely will be out two weeks. Our thoughts and best wishes for a pain free recovery are with him.
THE Kings are legit, of that there can be no doubt.
And now Sydney will be adding NBA veteran Steve Blake. Is it just me or does he remind you of English comedian Lee Mack too?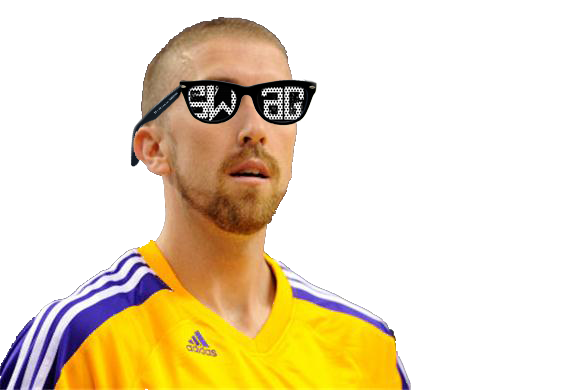 The Kings looked sharp dispensing with New Zealand across the ditch, then made a mockery of the NSW rivalry by plucking the Hawks, who were backing up after losing for the 25th straight time in Perth.
The Wildcats hit Hisense and escaped Melbourne's clutches, United down Chris Goulding who hurt his ankle in the home win over Brisbane.
As for Goulding "breaking Torrey Craig's ankles" as many have proclaimed, look again. Craig merely slipped, as many players did on the Hisense surface during that match.
I've seen Goulding "break ankles" in the past but this was just a straight crossover, Craig sliding out of the way and Chris with the chance to take his time and ice a 3-pointer. Which he did.
Brisbane bounced back at home against New Zealand where Andrej Lemanis' "insider trading" proved a huge asset.
Not even a bomb threat at Titanium (in)Security Arena could stop the rampaging 36ers, who sent Cairns packing with a convincing home win.
YEAH, NO KIDDING
IT'S just unbelievable how many times Brad Rosen can say unbelievable.
Introducing the Kings' starters for the match with Illawarra last night on Fox, Brad described the backcourt partnership of Jason Cadee and Kevin Lisch as "unbelievable". Brad Newley was an "unbelievable" pickup and Greg Whittington...he is "unbelievable".
Poor old Aleks Maric missed out on an "unbelievable" adjective. Apparently Maric is completely believable.
On to the Hawks and Marvelle Harris? You guessed it.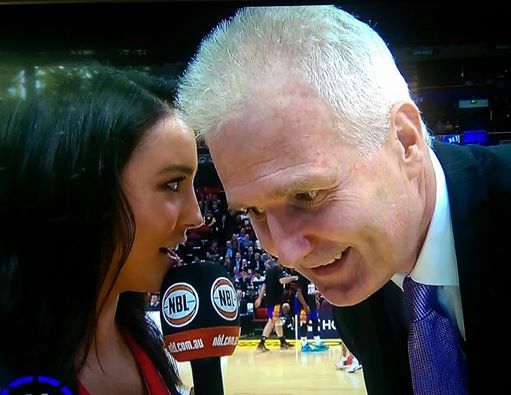 He's unbelievable.
Didn't take long in the call before Lisch again was unbelievable, then Brad discovered there is another adjective he can relentlessly abuse ... "amazing".
It's amazing how often that one then started to crop up. To be honest, it was unbelievable.
Christmas is just around the corner, friends and family of the Bradmeister. Seriously. A thesauraus - it's the ideal gift.
GREAT debut by Abby Gelmi on the Fox sidelines though I am guessing the hearing of Kings coach Andrew Gaze isn't as bad as it appeared in this screenshot.
Pretty sure Drewey wouldn't be leaning in quite so close to hear Shane Heal or Adam Papalia or anyone else in Abby's height range.
STILL loving the work of Sky's Casey Frank (and congrats on the new family addition) on Breakers' home games.
Any caller who can smoothly ease "discombobulated" into a description has my undying admiration.
NOTE to Anthony Hudson on the Brisbane-NZ call when Breakers star Kirk Penney missed a long bomb.
"Penney ... been quiet for the last few minutes," Hudson observed.
Pity he hadn't also observed Penney had just subbed back in for Tom Abercrombie.
Pretty hard to be impactful from the bench there Huddo.
NOT sure callers should just fall back on that tired refrain and plea "Let them play" any time they disagree with an officiating assessment.
On a soft call such as Michael Holyfield's first foul last night? Maybe there, OK.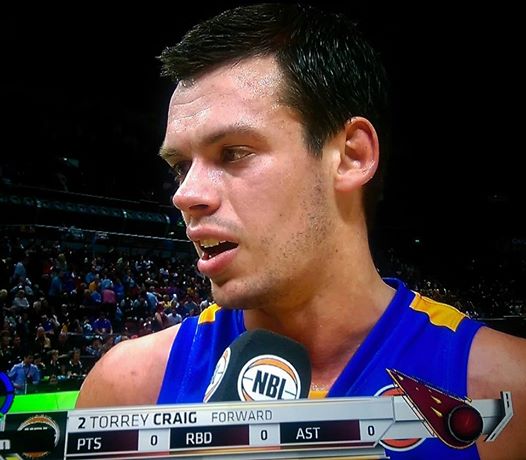 But when Tim Coenraad grabs Tom Garlepp's arm on a rebound, then has his momentum also add an inadvertent smack to Garlepp's face - at least we think it was inadvertent (we don't profess to have the insightfulness of the Game Review Panel) - and Garlepp hits the floor, something IS happening.
Garlepp ensuring he didn't get stepped on by Coenraad and making the Hawks forward fall over in the process, also can't be ignored. Other players nearby didn't ignore any of it so yes, I have to agree with the officials. We did need the double foul call, which probably over-rules the "let them play" mantra.
MAYBE it's just me, but I'm sensing Fox still is having issues with a few of its graphics. Or maybe Jason Cadee and Torrey Craig just look incredibly alike.
AS much as many of us basketball junkies would love to have Shane Heal's NBA numbers - any NBA numbers - Dwayne Russell introducing his co-caller as an "NBA and NBL star" is beyond ridiculous and does nothing for his credibility.
Dwayne is a solid play-by-play man who clearly loves his basketball but a 51-game NBA career at two clubs for averages of 1.9ppg at 27 per cent, 0.8apg, 0.4rpg, 0.08spg and 0.06bpg surely doesn't qualify as an "NBA star".
NBL star? Even "international" star? Yep, you can make the case.
But by this measure from which someone can call Shane an NBA star, then the Adelaide Crows' Ricky Henderson surely must be an AFL megastar and legend.
BEEF OF THE WEEK
JUST a quick one and that's the issue right there - quickness.
To the folks putting up the scores on the Fox graphics (and NBL-TV therefore), is it that freaking difficult to add two points to the scoreboard after a score?
Or three?
Or one?
There have been instances where the play has gone three-and-four sequences up-and-back before a score has been adjusted.
That's peace-poor in my book.
RD.3 RESULTS
Kings 92 (Whittington 22, Powell 17, Cadee 15, Lisch 14, Newley 13; Whittington 7 rebs; Newley 6 assts) d Breakers 77 (Abercrombie 17, Webster 14, Mitchell 13, Woodside, Pledger 10; Penney 9 rebs; Woodside 6 assts) at North Shore Events Centre.
United 78 (Andersen, Moore 15, Jackson 14, Goulding 13; Majok 6 rebs; Moore, Jackson 2 assts) d Bullets 70 (Kickert 23, Bairstow 15; Craig 12 rebs; Kickert 4 assts) at Hisense Arena.
36ers 83 (Randle 23, Sobey 15, Johnson 13; Johnson 10 rebs; Randle 8 assts) d Taipans 67 (Gliddon 14, Loughton, Worthington 11, Trice 11; Loughton 7 rebs; Weeks 4 assts) at The Fortress, Titanium Security Arena.
Wildcats 80 (Prather 24, McKay 14, Knight 12; Knight, McKay 8 rebs; Martin 8 assts) d Hawks 73 (White 16, Ogilvy 15, Clarke 13; Ogilvy 12 rebs; Clarke 4 assts) at The Jungle, Perth Arena.
Bullets 88 (Craig 17, Bairstow 14, Kickert 13, Petrie 11, Gibson 10; Craig, Bairstow 6 rebs; Gibson 4 assts) d Breakers 82 (Mitchell 20, Penney, Woodside 14, Abercrombie 12; Pledger 7 rebs; Webster 4 assts) at The Armoury, Brisbane Convention Centre.
Wildcats 72 (Prather 16, Knight 14; Martin 13 rebs; Martin 5 assts) d United 69 (Majok 12, Wesley 10; Wesley 6 rebs; Jackson 7 assts) at Hisense Arena.
Kings 90 (Newley 20, Lisch 19, Cadee 14; Lisch 8 rebs; Cadee 6 assts) d Hawks 73 (Ogilvy 20, Clarke 12; Kay, Ogilvy 5; Martin, Coenraad 3 assst) at The Kingdome, Qudos Bank Arena.