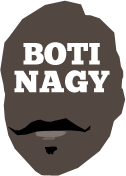 ---
Advertising opportunities available.
Please contact me.
---
NBL Rd.4 Wrap: Holyfield KO?
Tweet
MICHAEL Holyfield may be the next NBL import needing to breathe deeply as clubs become more ruthless in the face of further NBA arrivals.
The hot goss last round in the wake of another Melbourne loss, this time in Cairns, was Devin Williams was under the gun.
Strenuously denied by United GM Vince Crivelli, it didn't take long for the focus to shift to Illawarra's backup big Holyfield when the Hawks stumbled against Cairns.
It appears whoever the Taipans knock off suddenly feels vulnerable but it's no huge surprise with Sydney adding NBA veteran Steve Blake to its team last week.
A crowd of 6,519 at Qudos Bank Arena welcomed him against the Bullets, Blake rushed into the starting quintet after captain Kevin Lisch pulled out pre-game with a leg injury.
Admitting to pre-game jitters, Blake shook off a slow start, finishing with 12 points on 4-of-11 shooting, with four assists and four rebounds.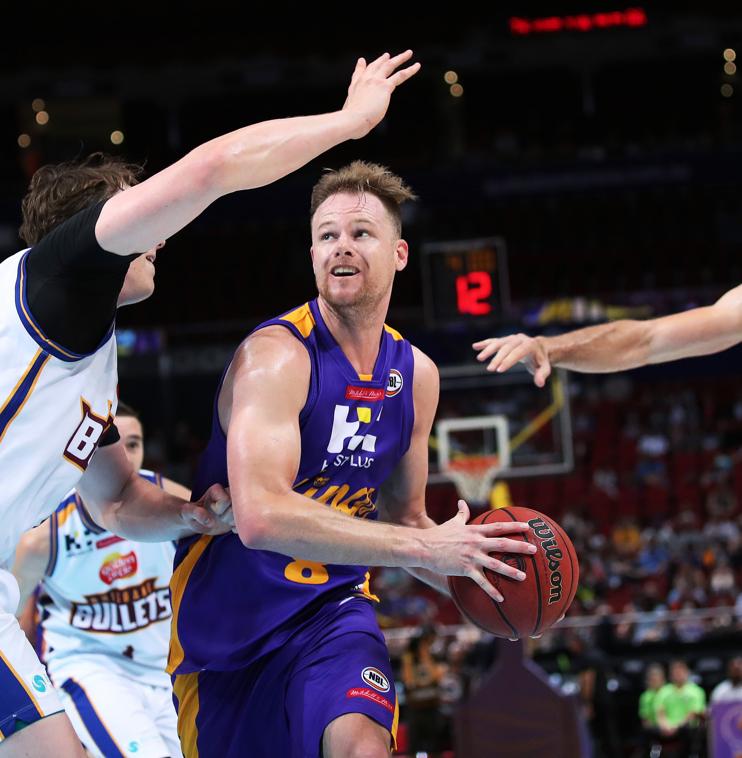 He played 36 minutes, his massive 3-pointer in the fourth quarter and a defensive stop on the next play big moments.
"New place, new opponents, guys I've never played against before, playing with new guys, and sometimes you can over-think things," he admitted.
"Eventually it just started to just be a reaction and that's how we need to play and for myself, to get comfortable out there, I think it'll just get better and better as we go."
In fact though it was last round's B.O.T.I. Player of the Week, Brad Newley (pictured above by Getty Images) who stole the show again with 29 points - 17 in the first half - and a monster triple late which put the game beyond's Brisbane's grasp.
"I think he got a little something in him when he takes on an Andrej Lemanis (Boomers coach) team, missing out on Rio. Newls was superb," Kings coach Andrew Gaze said.
The first round's Player of the Week, Torrey Craig again, was terrific with a 22-point, 14-rebound double but the Bullets now have lost three of their past four.
In Cairns, Travis Trice was magnificent with a career-best 28 points as Melbourne coach Dean Demopoulos opened the door for the Taipans with some hard-to-follow combinations and rotations. A 30-16 second quarter was huge for the home team, en route to its 16th straight year of winning its home opener, United's 2014-15 MVP Mark Worthington carving up his former club with 14 points, 10 rebounds and five assists.
Illawarra celebrated the career of Larry Davidson, who played 317 NBL games over 12 seasons, his nine years as a Hawk taking him to 235 matches and third all-time for the club.
The Hawks also celebrated a welcome return to form with Marvelle Harris electric in taking down the depleted Wildcats, who even reinstated Jaron Johnson.
JJ struggled mightily, giving up a USF on Kevin White, catching the ball out of court at one end, fouling out defending Harris at the other.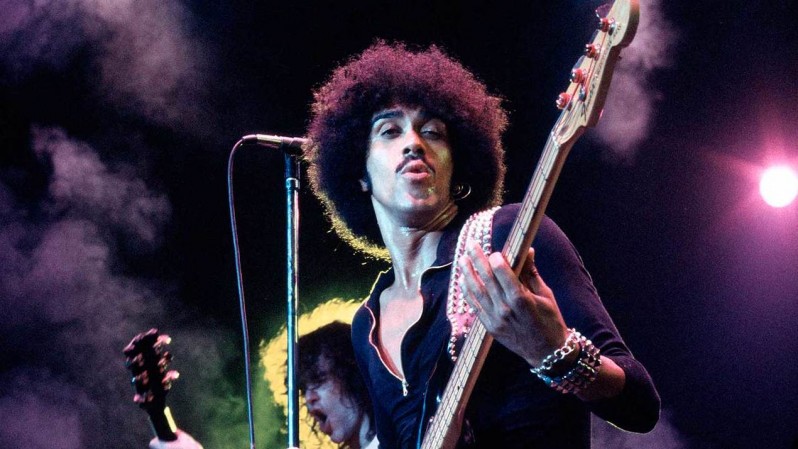 Dexter Kernich-Drew had a career-game for Perth (Does he look like Thin Lizzy's Phil Lynott as Damo contends? You be the judge) and Perth coach Trevor Gleeson drew up one of the best-executed plays of the year.
With the game-clock showing 25 seconds, Corbin Wroe lobbed an inbounds pass for Casey Prather to dunk for 76-81 and no time off the clock. Actually, there was, Wroe lobbing it up at 25.3 and the play concluding at 24.5. Talk about seconds being important. Try milliseconds!
Perth then forced a 5-second inbounds violation but couldn't convert it into anything meaningful.
Sure was exciting to watch though, unlike New Zealand's precision dismantling of a young and depleted 36ers team, Kirk Penney the chief destroyer.
That's before Cairns lobbed in Wollongong and put the microscope over Holyfield.
YEAH, NO KIDDING
NOT sure Steve Carfino even knows why our weekly TV review here is called "Yeah, No Kidding" because just seconds into Fox's coverage of the Hawks-Wildcats game, he was at it in earnest.
Adam Papalia, a quality caller whose work goes under the radar, had opened with: "Guys, we've got a really intriguing contest on our hands," directed at fellow callers Carfino and James Harvey.
"Yeah, no kidding," came the regular Carfino endorsement, or whatever it actually is.
Papalia again, commenting on Illawarra being at the bottom of the NBL table despite its firepower, was greeted with?
"No kidding."
Perth rookie Dexter Kernich-Drew copped a "Yeah, no kidding" too during the call but I can't tell you why anymore. I was (dry) reaching for the mute button.
COME on now Andrew.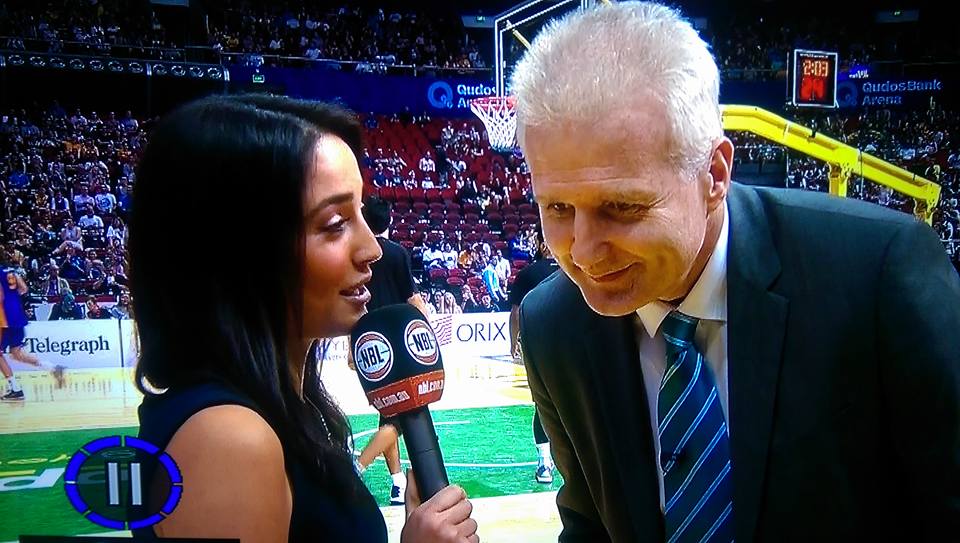 It's becoming a bit much.
For the second week in a row, Drewey's hearing was compromised when noticeably attractive - and very professional - sideline reporter Abby Gelmi asked him a few pre-game questions.
Obviously it is much noisier at Qudos Bank Arena down Andrew Gaze's end of the court because his Brisbane Bullets counterpart, Andrej Lemanis was hearing Abby far more distinctly.
Got to say, loving Brenton Speed's work on the Kings games as well.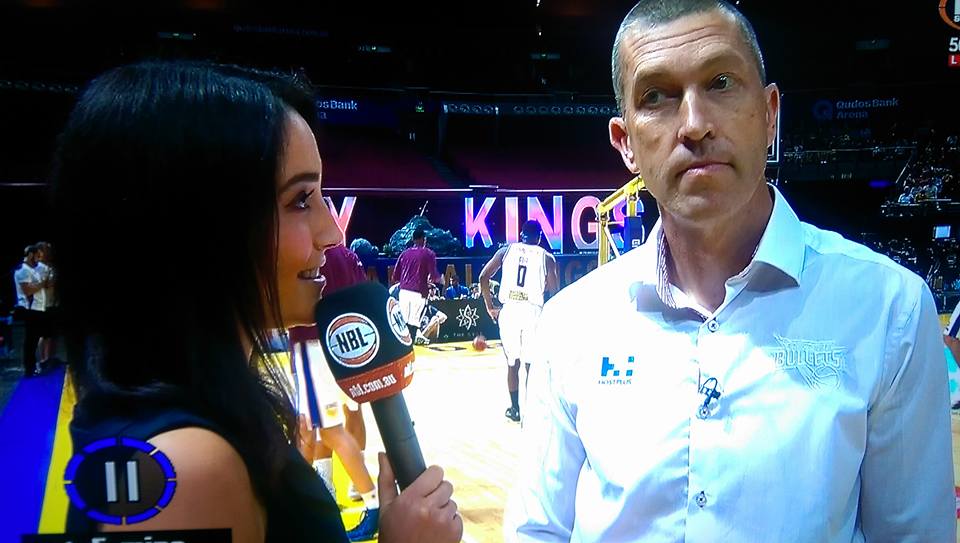 CAM Tragardh made a promising colour man debut during the Cairns-Melbourne match but I must admit I am looking forward to him further relaxing down the track and hearing some of his trademark humour come to the fore.
Speaking of which, again I have to admit I enjoy Casey Frank's call of Breakers games from Auckland.
When nervous 36ers benchman Sam Johns unfortunately shot an airball on a mid-range jumper, Frank observed: "Someone close the door! I think we've got a breeze in here!"
And on a big swat by Matt Hodgson: "Get that SHOT out of here!" (Yes, we all know he got the vowel wrong but this time it wasn't a Kiwi twang thang, but a nod to the younger viewers.)
BEEF OF THE WEEK
AT 9 o'clock tonight, the NBL website STILL had not updated its weekly match scores, with Friday's Illawarra-Perth match showing 25-26 as the final score.
Really? That's the best the website can do after three days? Still show what either was the progress score from early in the second period or a Final score no-one would have guessed and which by now should have grown in its infamy as the lowest scoring NBL match of all time. If you control the info, maybe have it right?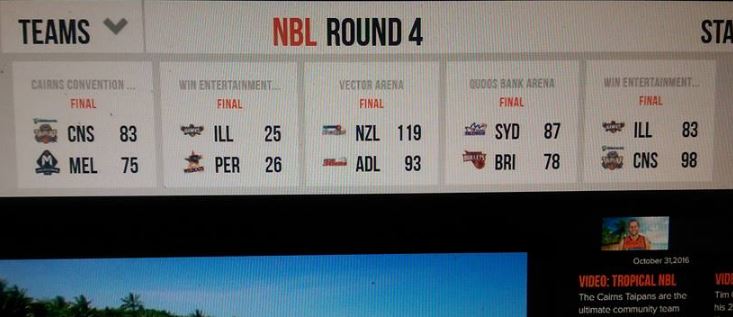 Had the pleasure of watching Perth Lynx's WNBL live stream on Sunday. The presentation was excellent, even if the match left a lot to be desired. But that wasn't the Lynx's fault.
By incorporating the stadium scoreboard into the visual, it meant at all times the score was accurate and uptodate. Again this round in the NBL's Fox Sports cover, adding two points regularly took an interminably long time after a basket was made.
Is it really that hard to keep the on-screen scoreboard updated?
RD.4 RESULTS
Taipans 83 (Trice 28, Worthington 14, Edwin 12; Worthington 10 rebs; Worthington 5 assts) d United 76 (Moore 15, Andersen 13, Majok 11; Majok 6 rebs; Jackson 5 assts) at Cairns Convention Centre.
Hawks 81 (Harris 23, Clarke 10; Ogilvy 9 rebs; Kay 3 assts) d Wildcats 76 (Prather 20, Kernich-Drew 14, Knight, Wagstaff 10; Knight 7 rebs; Prather 3 assts) at The Sandpit, WIN Entertainment Centre.
Breakers 119 (Penney 27, Webster 22, Mitchell 17, Abercrombie 15, Loe 14; Mitchell 11 rebs; Woodside 8 assts) d 36ers 93 (Sobey 32, Randle 20, Johnson 15, Jacobsen 11; Sobey 8 rebs; Sobey, Randle 5 assts) at Vector Arena.
Kings 87 (Newley 29, Powell 16, Blake 12; Whittington 9 rebs; Cadee 8 assts) d Bullets 78 (Craig 22, Bairstow 13, Jervis 11; Craig 14 rebs; Gibson 7 assts) at The Kingdome, Qudos Bank Arena.
Taipans 98 (Edwin, Worthington 15, Jawai 14, Heuir, Trice 12, McCarron 11; Jawai 6 rebs; Gliddon 8 assts) d Hawks 83 (Harris 19, Ogilvy 13, Norton 10; Ogilvy 9 rebs; Ogilvy 5 assts) at The Sandpit, WIN Entertainment Centre.