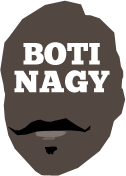 ---
Advertising opportunities available.
Please contact me.
---
NBL Rd.6 Wrap: It's all fine
Tweet
THOSE magical, mystical beings of the NBL's Game Review Panel moved super quickly once again to dismiss any serious wrongdoing by Josh Powell for his "sweet chin music" to Brisbane's Mitch Young to open Round 6.
Even though the charge against Ka-Powell was for striking Young with 2:00 remaining in the third quarter, and was classified as intentional – and he'd already been issued a GRP caution after a Round 2 incident against Cairns - Sydney's NBA forward was fined $375.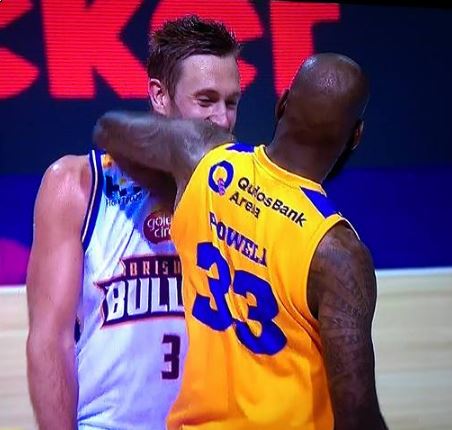 Apparently it was "low impact" and "contact to the body" which carries a base penalty of $500, reduced to $375 for an early guilty plea.
Again, the GRP's blatant inconsistency is naked for all to see. Since when is the chin classified as the "body" and not part of the "head"?
To classify it as contact to the head though compromises the GRP over the absurd two-game penalty it originally gave Adelaide's Terrance Ferguson for taking a swing at Mark Worthington.
Can't have that, hey?
There's the moment which captures it. He's striking the body or the chin? You be the judge. After all, that pic gives you as much to go on as the gods of the GRP need to form their well-rounded opinions/decisions.
No-one would have asked Young if the blow connected and whether his post-swipe grin was just his way of further annoying Powell. So Just Joshin' maybe gets a fine for what, intent?
It's such a stupid system.
Do I agree with the fine? Probably.
But after the way the GRP ruled on Ferguson for less of an incident and similar "contact", its subsequent decision-making is farcical.
If you draw a line in the sand with a penalty - as they did for one moment of foolishness by an 18-year-old - you surely then cannot misrepresent other subsequent charges or issue penalties which are not commensurate or consistent with the line you drew.
GRP = Got Real Problems.
THE NBL decision to invoke a FIBA ruling on an unfinished match - a ruling Cairns disputes even is applicable and has never been signed off on by the eight NBL clubs - again is disappointing but not surprising.
It's never surprising.
The game-clock was showing 1:34 when Cairns was about to inbound the ball. The pass went to Nathan Jawai and the lights went out.
The league has ruled the score at that time is the final score "as per FIBA", a rule Taipans GM Mark Beecroft disputes as "tournament-specific" where it obviously makes sense.
But in a competition such as ours, where points differential helps determine final ladder standings, that 8-point loss could prove huge. Jawai scores and it's a six-point game. Of course he could miss and Daniel Kickert hits a three!
Either way, it is important because if Cairns and Brisbane split their season series 2-2, the points differential in the four games is the determining factor.
Cairns' recommendation that the next time Brisbane hits the Orange Grove, the two teams play out the last 1:34 from the sideball inbounds makes sense.
Before the NBL invokes a convenient FIBA rule which we don't use, that's the sort of issue which should get serious consideration.
A Cairns-wide power outage which forced the abandonment of the first match in NBL history, shouldn't have the potentially to doubly punish the Taipans, surely?
BRISBANE enjoyed a prosperous weekend, first turning back Sydney after seizing control in the second quarter behind a Jermaine Beal-orchestrated offensive assault.
Not even Brad Newley's 16-point third period could turn this around for the Kings as Brisbane took a 2-1 season-series lead, Torrey Craig and Daniel Kickert effective and Mitch Young good value too.
Greg Whittington boasted an awesome dunk as Sydney again struggled with its new identity.
Across the ditch, Cairns finished over the top of New Zealand, with Cam Gliddon enjoying his best offensive game of the season and Mark Worthington continuing to perform unlike a man in his "retirement" year.
Gliddon's 25 points included 5-of-6 threes.
Despite Matt Hodgson having his best all-round NBL game for the 36ers and an extraordinary rebounding dominance, Illawarra again found a way to take control, turning back a 16-point mid-second quarter deficit to leave Adelaide chasing its fumes at Titanium Security Arena.
Adelaide had no answer for the Hawks' zone, with 11 meagre last quarter points and 2-of-27 shooting from 3-point land while Illawarra had no shortage of willing assassins.
Kevin Lisch and Jason Cadee partied hard on Melbourne's misfortunes, setting up a comfortable win at Hisense Arena with their outside shooting.
Cadee had 20 first-half points and five threes in his 26-point game while Lisch was at his MVP best with 30 points on 12-of-14 shooting, with 5-of-7 triples.
Melbourne regained an understandably rusty David Barlow from injury but between the injury absences of Chris Goulding and Todd Blanchfield, sacking of MVP point guard Cedric Jackson and Dean Demopoulos' guesswork substitutions, it had no real chance.
Alex Loughton gave Shaun Bruce a "welcome home" to Cairns but it was Brisbane with the last laugh, leading by eight when the lights went out.
Adam Gibson was enjoying a good night for the Bullets for whom, as it turned out, the lead was sufficient to be gifted the blackout win.
Whatever possessed Jaron Johnson to throw the ball away with Perth leading by a point in the final seconds of overtime and the Breakers needing to foul to stop the clock?
He had Kirk Penney rushing at him and only needed to turn and take the contact to be shooting two free throws.
But instead JJ threw the ball long to Jesse Wagstaff and it sailed out of court. That's all Corey Webster needed, driving to the hoop for the winning basket.
YEAH, NO KIDDING
LET'S start straight up with the Brisbane-Sydney game and THIS is the Steve Carfino I want to hear – yeah, no kidding.
The incident with Josh Powell and Daniel Kickert has just occurred and we've seen the aftermath, now the replays.
Powell and Kickert jostling, Powell aggressively separating himself from the Bullets' big, Kickert heading for the floor, grabbing at Powell's foot as the Kings NBA forward goes to run off, players milling.
"If I got thrown to the ground too, I'd be grabbing for his leg too," colour man Shane Heal declares.
"Yeah … you've got a problem though," Carfino responds.
"Yeah, that's true," Heal concedes.
That may have been the best commentary exchange of the weekend's round.
EARLIER, as the game started, Matt Russell introduced us to a whole new concept while reminding us that these two clubs on October 17 in 2007 produced a high-scoring 127-117 result.
Of course that result, "was in a 42-minute game."
SERIOUSLY considering changing the name of this weekly review of the TV coverage from "Yeah, No Kidding" to "Big Time," given Tommy Greer's penchant for running the term into the ground, big time.
In the Adelaide-Illawarra game, Tommy had a "big time shot", a "big time play", a "big time follow", a "big time" keeping the Hawks in touch, and even a "big time" knock down.
There were probably a few more but by then, I had big time muted the remote.
I suppose Tommy could have picked up a worse habit from the habitually "big time" Homicide last season. But I'm sure even Brad Rosen would have found Tommy's array of "big time" descriptions to be unbelievable.
WHEN Michael Holyfield dropped like a sack of potatoes thrown off the back of a truck as Anthony Drmic grazed his screen – replays had the Titanium Security Arena fans in full unimpressed "boo" mode – Tommy came to his defence, saying a play like that "can really wind you".
(No, he didn't say "it can wind you, big time", remarkably.)
Yes, you can be winded when a player hits your screen but this was a pure case of over-acting. Even Marvelle Harris would have been embarrassed.
CROWS footballer Josh Jenkins had his novice turn on the sidelines for Fox and while he's no Renae Ingles, the former Crocs DP should improve when he gets over the nerves.
He was better in-game interviewing AFL teammate Eddie Betts, and his exchange with 36ers captain Mitch Creek was on its way to fairly good.
Fingers crossed for him.
ALWAYS enjoy Casey Frank's work on Breakers' home games, particularly when he believed Cairns was in bonus and chastised his former team late in the game for fouling a 96 per cent free throw shooter.
When the Taipans took side-ball, Casey candidly admitted: "Good job by me not knowing what's going on."
It was an LOL moment in my lounge-room. Prefer that self-deprecating humour to the other colour men who want to relive their great moments "in this building" etcetera.
CUT to Cam Tragardh, finding his feet on the calls of Cairns home games.
Not sure his opening remarks about "deodorant" truly hit its mark, but was good to see/hear him letting his personality shine.
Nice work too by Perth's Adam Papalia at the end of overtime and the Wildcats beaten by a point by NZ Breakers when he observed: "Remarkable scenes here," as the cameras located the solitary Breakers fan in uniform jumping for joy amid a sea of bemused RedArmy faithful.
Good direction in the van too when Jaron Johnson threw the ball out of court, giving the Breakers that last possession. That camera pan of the aghast RedArmy crowd members was gold.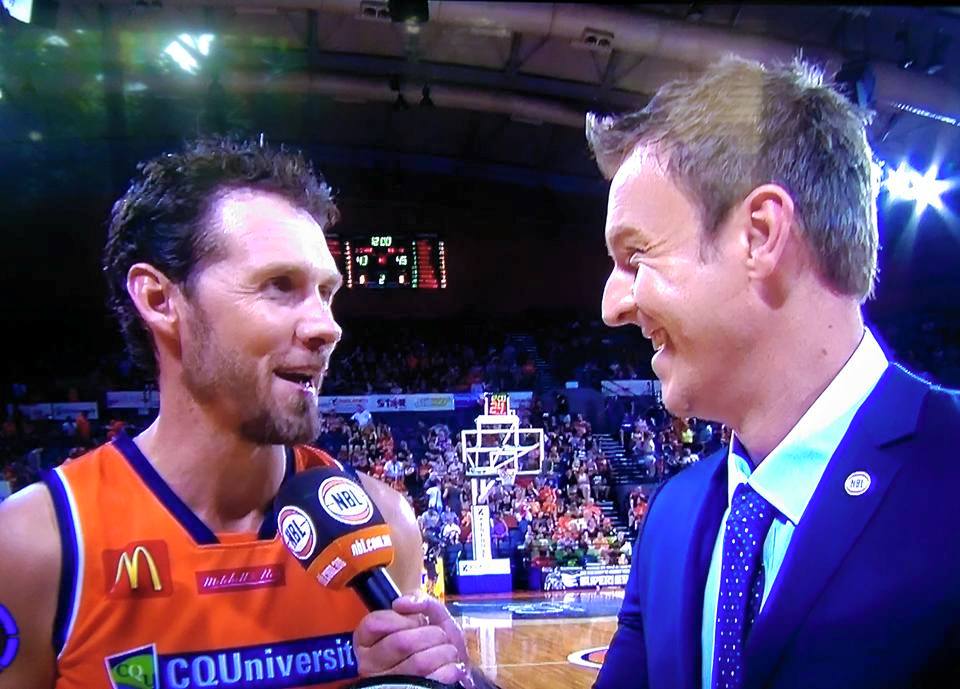 HANDY CAM: Will you marry me? Yes, yes, I will. You've made me the happiest man in the world.
BEEF OF THE WEEK
ATTENTION TV commentators. Can we please, please stop crapping on about the following:
1) The so-called "Euro-step", any and every time someone lays it up past a defender with any sort of change-of-pace;
2) References to "two-time NBA champion" Josh Powell. We get it already;
3) And yes, we all now know Kyle Adnam plays for Kilsyth Cobras;
4) Harping about what a player earnt in the NBA or Europe…it is not ultimately how we measure a person's worth, is it?
And finally, revisiting a "beef" many of us share, judging by the torrent of positive and supportive social media and email reaction to my often-stated position of NEVER calling Nathan Jawai "Outback Shaq".
Quite apart from the fact he hates it, it is completely irrelevant and inappropriate to lug him with that misnomer IN AUSTRALIA!!
We're all an "Outback Jack" (or Jacqueline) in some foreign country, right?
If Americans want to identify Big Nate with that nickname then it makes sense – to them – at least. And we can all understand it.
But IN AUSTRALIA? It is ridiculous.
If callers are so limited in their thinking they MUST resort to that, then surely we also should be calling David Andersen "Down Under Dave" for the purposes of proper identification?
Shouldn't Brad Newley be "Skippy" Newley?
Kirk Penney "Kiwi Kirk"?
Right. It would be absurd, even if they heard some of that overseas.
Some years ago, Chinese women's superstar Zheng Haixia was nicknamed "Baby Huey" during an Australian tour. It stuck.
But now do we honestly believe anyone IN CHINA ever called her Baby Huey on a national telecast? Or ever, for that matter?
Of course not.
"Outback" as an adjective in Australia – for whatever reason - tends to have some sort of negative connotation. Don't ask me why. It just seems to.
So now we're not only resorting to an inappropriate nickname for a man in his own country, but tagging him with a recognised negative.
There's only one Nathan Jawai.
He is a unique talent and a unique human being. Instead of indirectly mocking him, we should be celebrating the joy of having him back in action in the NBL.
Is that so damn difficult?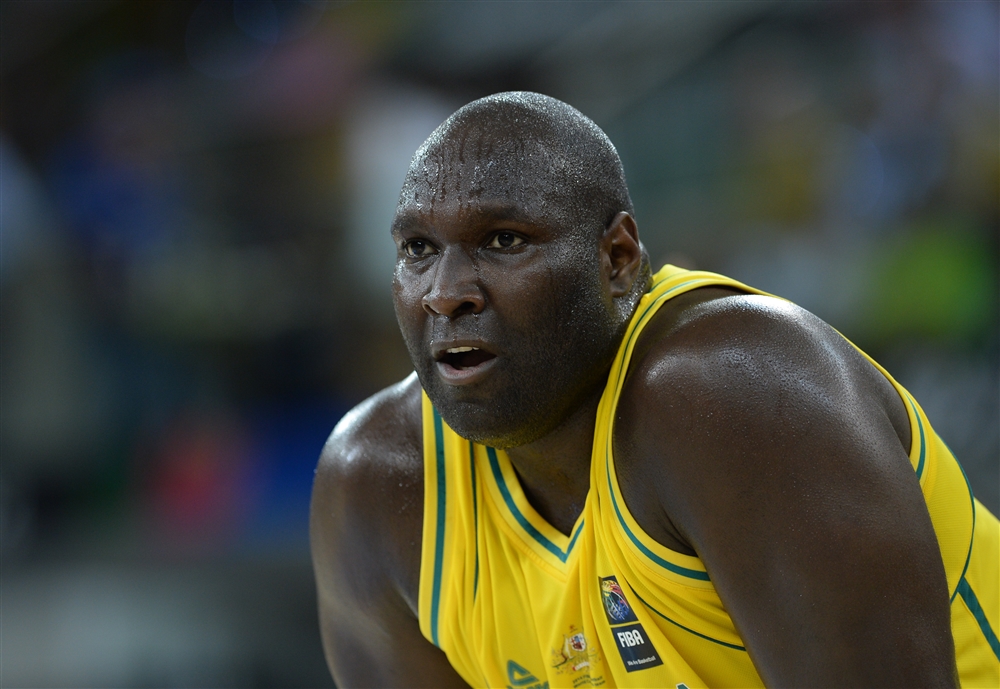 RD.7 RESULTS
BRISBANE BULLETS 86 (Craig 18, Beal 16, Kickert 15, Bairstow 11; Bairstow 9 rebs; Gibson 4 assts) d SYDNEY KINGS 73 (Newley 27, Lisch 17, Whittington 13; Maric 9 rebs; Lisch, Maric 2 assts) at The Armoury, Brisbane Convention Centre.
CAIRNS TAIPANS 86 (Gliddon 25, Worthington 17, Edwin 14; Jawai 5 rebs; Worthington 7 assts) d NEW ZEALAND BREAKERS 79 (Abercrombie 18, Webster 17, Penney 16; Vukona 10 rebs; Vukona, Penney 4 assts) at Vector Arena.
ILLAWARRA HAWKS 85 (Clarke, Norton 13, Ellis, Coenraad, Harris 11; Kay 12 rebs; 3 with 3 assts) d ADELAIDE 36ERS 74 (Hodgson 18, Sobey 16, Randle 11, Teys 10; Jacobsen 15 rebs; Sobey 3 assts) at The Fortress, Titanium Security Arena.
SYDNEY KINGS 87 (Lisch 30, Cadee 26, Newley 12; Whittington 7 rebs; Newley 5 assts) d MELBOURNE UNITED 71 (Wesley 12, Andersen 12, Adnam 11, Tomlinson, Moore 10; Williams 5 rebs; Adnam 5 assts) at Hisense Arena.
BRISBANE BULLETS 84 (Kickert, Jervis 12, Petrie, Craig, Gibson 11; Bairstow 10 rebs; Gibson 4 assts) d CAIRNS TAIPANS 76 (Heuir 15, Worthington 14, Edwin 13, McCarron 12; 3 with 4 rebs; Worthington 5 assts) at the Orange Grove, Cairns Convention Centre.
NEW ZEALAND BREAKERS 87 (Webster 20, Abercrombie 17, Mitchell 16, Penney 15; Mitchell 10 rebs; Webster 7 assts) d PERTH WILDCATS 86 (Knight 24, Prather 22, Johnson 12; Knight 13 rebs; Prather, Hire 3 assts) in overtime at The Jungle, Perth Arena.