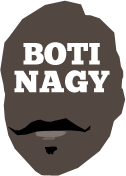 ---
Advertising opportunities available.
Please contact me.
---
NBL Rd.8 Wrap: Can a favourite win?
Tweet
THAT was the NBL round to end all NBL rounds. Rest assured, coaches and star players aren't looking for sympathy or making excuses when they say this is the most even season on record, even if Sydney just lost Steve Blake.
Every "underdog" won in Round 8, three of the five on the road, including Illawarra finally breaking the 25-game losing streak curse in Perth which predates the Ice Age. OK. Maybe just the movie.
The 36ers started and finished the round with road wins in Brisbane and Sydney. The Kings now have six losses in first place, the same as Adelaide in seventh place.
NBA veteran Blake is returning indefinitely to the US according to a Sydney Kings press release posted after the loss to Adelaide.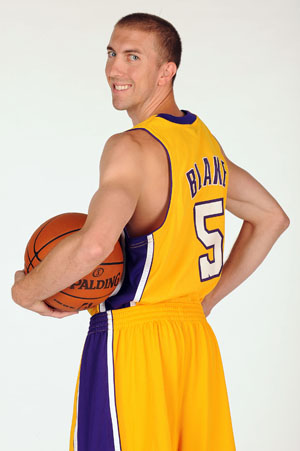 Kings managing director, Jeff Van Groningen, coach, Andrew Gaze and Blake met with the playing group after the game to advise of his departure tomorrow to be with his family.
"Steve has fitted into the Kings family with ease and has become a popular figure with his teammates. But it's crucial that he immediately return to the States to be with his own family," JVG said.
"Sydney Kings ownership, management and coaching staff stand united with Steve and fully support his decision to return home at this time."
Blake said he appreciated the understanding of the Kings organisation and hoped fans and the wider basketball community would do likewise.
"I have been enjoying my time with the Kings playing group and under different circumstances, would have been concentrating on our upcoming games. However, my priority at this time is to be with my family," Blake said.
It is not the first time the Kings have released an import on compassionate grounds. In February 2014, Sydney released guard Charles Carmouche because of "personal and emotional issues".
UNITED moved out of the bomb shelter when it beat league-leading Sydney in one of the best games of high quality basketball this season.
The fabulous, drama-packed finish culminated in Casper Ware icing the game for Melbourne with a three-point bomb from the top of the key.
It was a short stay at seventh, Melbourne sent back down a rung when Adelaide followed its form reversal against Brisbane with another stunning road win over Sydney.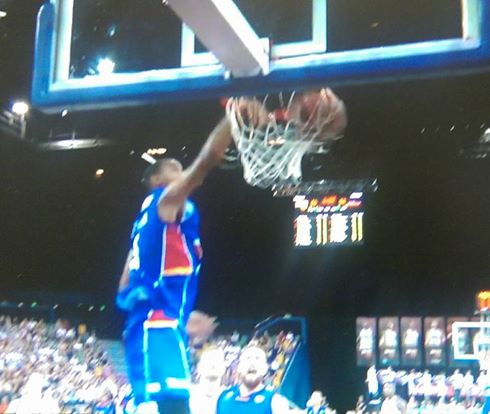 FLYING FERG: Terrance Ferguson with the season's #1 dunk against Brisbane
It meant the first-placed Kings were beaten twice by two different last-placed teams in the same round. There's one for the Statman!
Cairns kept its terrific home record at The Orange Grove intact with a full 40- minute win over New Zealand, Travis Trice providing the Old Spice on what was almost a close shave when the Breakers rallied late. But it was too little. And too late.
Rob Beveridge is the temporary Mayor of Wollongong after Illawarra finally burst its 25-game Perth hoodoo with a thoroughly convincing win at The Jungle.
Don't worry. The home-cooking was at full potency too. Wildcats mentor Trevor Gleeson was screaming for a 3-second call with 1:12 left in the tense conclusion. And he got it.
There were a few phantom travels on the Hawks and an amazing foul call by one referee with X-ray vision against Tim Coenraad as he swatted a ball from Casey Prather's hands. The ref was behind Prather's back and could only have guessed if there was contact.
In contrast, with 35 seconds left, Illawarra still was taking sideball on Perth fouls. Yep. The Hawks weren't in the bonus yet...
YEAH, NO KIDDING
HAVING recently debated changing the name of this weekly review of the TV work on NBL games to "Big Time", could not believe my ears - well yes, actually, I could - during the preamble to the Brisbane-Adelaide game.
We're heading for a huge game, right Steve? And Mr Carfino's first words on the telecast?
"No kidding."
Yeah. No kidding!
Moving on to Huddo, Shane Heal and D-Mac on the United-Kings game.
THE folks at Fox Sports ... hypocritical much?
Accused of committing a $20,000 fraud against the Gladstone Amateur Basketball Association, former NBL legend Derek Rucker is contesting the charges.
But in the meantime, Fox has removed him from the commentary, despite most believing he was the best at it last season.
Cut to United-Kings and there's Heal back on the call, yet just this month charged with three counts of fraud relating to an alleged $750,000 scam. Heal hasn't entered a plea.
I'm saying if it's good enough to have Rucker removed off air, then Heal also should not be on air. And if Heal IS to be on air, then that's fine. So should Rucker.
Consistency? I suspect the NBL Games Review Panel is running Fox Sports' commentary decision-making.
CAN someone please inform Dwayne Russell when he tells us poor viewers something, we've heard it.
He doesn't have to tell us the same thing again. And again. And, again.
Case in point? The Perth-Illawarra match.
"For the past five games, the lower-placed team has won and three times this round," he told us.
Really? That's interesting.
The first time.
But Dwayno told us that five times during the call.
We also now know Shawn Redhage is the greatest games-played player for the Wildcats.
He told us that more than once, too.
GIVEN the national interest in that Hawks-Wildcats match, it was fascinating Illawarra led by eight with 42 seconds to halftime and within second it was back to four.
How?
Well don't ask Dwayne or Brad Robbins because they missed it.
One second, Jameel McKay is scoring (for 44-50) and Redhage is fouled off the ball by Cody Ellis.
That second fact was completely missed by the two callers. Suddenly Redhage (from Perth's inbounds possession) is scoring and it's 46-50. If you weren't paying close attention, you probably missed it. Russell and Robbins sure did.
BRAD Rosen has had some unbelievably outstanding calls.
It's always amusing when Brad gets a word caught in his mind and in tonight's Kings-36ers opener, it was "beauty" which came up for reruns a couple of extra times.
Seriously Rosen family. Christmas is around the corner. A Thesauras. A Thesauras. Brad's Kingdome for a Thesauras.
BEEF of the WEEK
THIS week's beef is supplied by Andrew Smith. I am always open to submissions. Just email Basketball On The Internet at botirnagy@gmail.com if you have one worth consideration. Andrew writes, and I agree with most of his points:
"What really irritates me is that after all these years of basketball on TV they still don't appreciate that play continues after a score.
Many inbound and backcourt incidents are lost in almost every game. Why they think that watching a player running back down the court is more interesting than the main action escapes me.
On commentary, I can't stand any of them. TV sports commentary is the most unnecessary job ever created. For radio yes,TV no.
All the information you need is or can be on the screen. There is room for much improvement here.
If you are at a game and the two persons either side of you gave a loud description of what was happening on the court and their opinion of the performances of the players the coaches and the referees, how long would put up with it?
Not long I think. Why put up with this on TV?
I don't, of course. I turn the sound down. Unfortunately you lose the sounds of the game but that is better than their gabble.
With digital technology it is possible to include in the broadcast a facility to turn off the commentary. Rugby league used to do this."
Rd.8 Results
ADELAIDE 36ERS 101 (Randle 22, Sobey, Johnson 18, Teys 13, Ferguson 10; Johnson, Drmic 6 rebs; Randle 7 assts) d BRISBANE BULLETS 83 (Craig 20, Beal 16, Bruce, Petrie 12, Kickert 11; Craig 9 rebs; Bruce 3 assts) at Boondall Entertainment Centre.
MELBOURNE UNITED 95 (Ware 28, Goulding 15, Wesley 11, Majok, Moore, Andersen 10; Andersen 8 rebs; Ware, Goulding 4 assts) d SYDNEY KINGS 92 (Newley 29, Powell 14, Lisch 12, Whittington 10; Newley, Whittington 9 rebs; Newley 5 assts) at Hisense Arena.
CAIRNS TAIPANS 91 (Trice 31, Jawai 17, Gliddon 12; Worthington 7 rebs; Trice 7 assts) d NEW ZEALAND BREAKERS 80 (Penney 18, Mitchell 16, Vukona 11, Webster 10; Abercrombie 8 rebs; 3 with 4 assts) at the Orange Grove, Cairns Convention Centre.
ILLAWARRA HAWKS 89 (Clarke 20, Coenraad 18, Kay, Ogilvy 12, Norton, Martin 10; Ogilvy 8 rebs; Martin, Clarke 4 assts) d PERTH WILDCATS 85 (Prather 18, Wagstaff, Knight 17; Johnson 5 rebs; Prather 9 assts) at The Jungle, Perth Arena.
ADELAIDE 36ERS 91 (Johnson 22, Randle 20, Deng 11, Sobey 10; Johnson 7 rebs; Sobey 4 assts) d SYDNEY KINGS 85 (Lisch 24, Newley 16, Maric 12; Lisch 8 rebs; Newley 9 assts) at the Kingdome, Qudos Bank Arena.
TOMORROW: B.O.T.I. Players of the Week